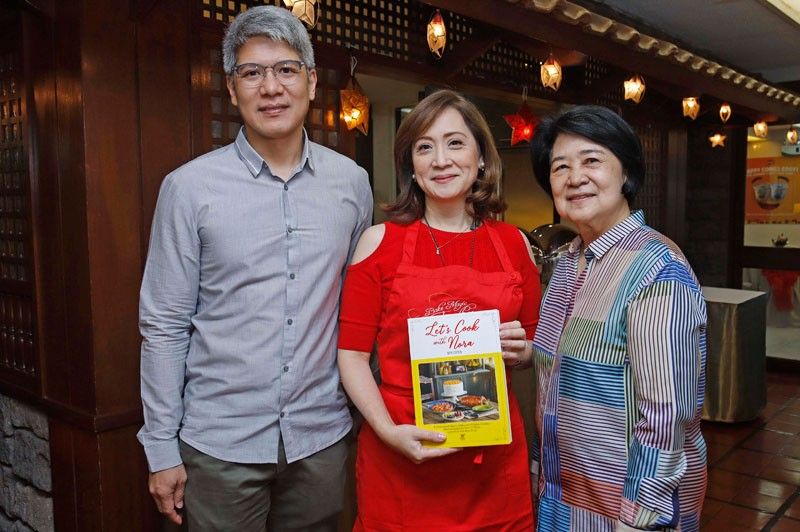 Nina Daza-Puyat is flanked by Liberty Commodities Corp. business development manager Eric Fajardo and Lourdes Fajardo at the launch of the new-edition Let's Cook with Nora cookbook.
Nina Daza-Puyat's ode to her mother
How does one pay tribute to a culinary icon who inspired generations of Filipino homecooks to pursue their love for cooking against all odds?
For Nina Daza-Puyat, the youngest daughter of Nora Daza, it's as bold as updating her mom's best-selling cookbook, Let's Cook With Nora. The book, which was first published in 1969, is considered the culinary bible of anyone wanting easy-to-prepare meals worth serving their loved ones.
Sadly, the book has been out of print since 2016. And so, in 2017, its publisher Anvil asked Nina if she was willing to "edit" the original book.
"There were brands mentioned in the book that don't exist anymore," Nina said with an impish grin. "Also, the names of some of the recipes had to be updated, like Pizza Pie and Pork with Sauce."
Poring through the pages, Nina realized that not only the names of the dishes needed updating, but the recipes, too — from the measurements of the ingredients to the procedures down to plating.
"That's when I told my editor Cris Abiva that I wanted to retest at least 25 to 30 dishes from the original cookbook," shared Nina. "And before I knew it, I was doing revisions already. The first thing I did was revise the presentation of the procedures to make them easier to follow," she noted.
Ingredients-wise, Nina tried to be more accurate and specific.
"I noticed that important details were missing in the recipes. For sukiyaki, for example, the recipe called for just 1/2 cup of water. For a soup dish, 1/2 cup of water wasn't enough. Remember that this book was published in the '60s. My mom wrote the recipes by hand before it was typewritten and typeset."
For the Fish Sticks Italian Style, she identified the cheese as Parmesan.
"In the book, the recipe called for cheese. But now we have different types of cheeses that are readily available," she explained.
Nina also incorporated kitchen hacks, like using a wine bottle — if you don't have a rolling pin — to shape and flatten the dough, among others.
It took Nina over a year to try out each of the 260-plus recipes. The most challenging part for Nina was when she couldn't figure out how a dish was supposed to taste.
"I'm sure those who still have the book have their favorites. I've used this book all my adult life. I have 20 recipes, which I go back to. But I have to admit that there are some dishes that I never really bothered to try or even read. Re-testing all the recipes brought back memories of my childhood in mom's kitchen," shared Nina.
Making mom proud
At the launch of the new-edition Let's Cook with Nora cookbook, Nina Daza-Puyat shared some of her mom's tried and tested recipes in a special cooking demo held at The Maya Kitchen in Makati City.
"Hosting Nina's demo of recipes off the new-edition Let's Cook with Nora brings Maya's bond with her family full circle," said Eric Fajardo, business development manager of Liberty Commodities Corporation. "The Maya Kitchen has always been proud that we've been part of the impact of the Daza family — from Nora to Nina — to the Filipino culinary scene."
Maya and Nora hosted the pioneering cooking and baking competition The Great Maya Cookfest with Nora Daza that ran from 1976 to 1990. It helped launch the careers of a new generation of chefs and cooks.
During the cooking demo, Nina regaled us with stories on how she restyled her mom's timeless noche buena dishes — Daza Chicken Relleno, the Daza family's signature holiday dish; Orange Tart, a must-try at Nora's Au Bon Vivant Restaurant; and Kaleslaw, a healthier version of coleslaw — to make it more relatable to modern-day cooks and foodies.
"For the Daza Chicken Relleno, use the regular ground pork (with fat) for extra moisture," recommended Nina. "We had a family friend who gifted mom with chicken relleno one Christmas. Mom loved it because it tasted 'different.' The secret? Capers. From then on, she told me to always put capers in relleno."
The new edition remained true to the easy-to-follow recipes, but I tweaked some instructions, updated the ingredients list and added variations, so it reflects how we cook today," Nina enthused.
As Nina takes on the mantle to ensure her mom's well-cherished dishes remain relevant in today's homes, the legacy of Let's Cook with Nora remains 50 years on to inspire and delight a new breed of homecooks.