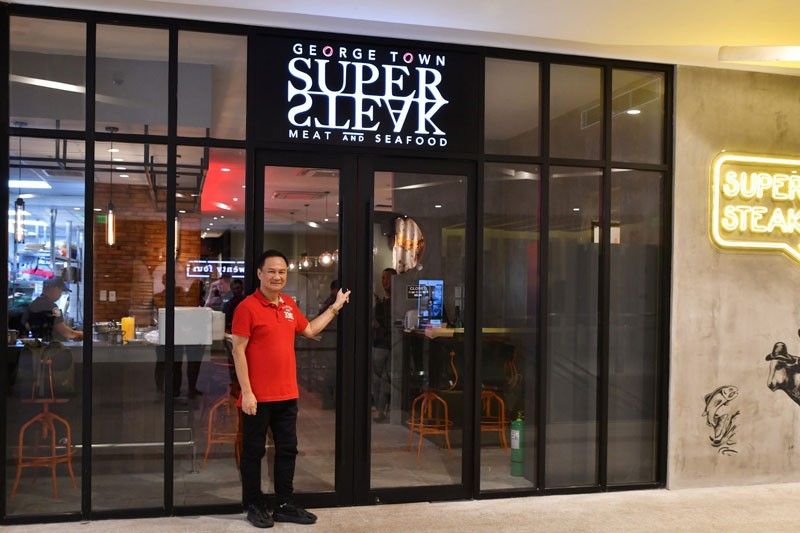 Let's meat: George Town Super Steak's George Pua welcomes diners at the newest steakhouse in the metro.
Is Manila ready for another steakhouse?
Well, based on the number of meat lovers who saddled up and went on a gastronomic ride at One Bonifacio High Street Mall in Bonifacio Global City, Taguig, for the opening of George Town Super Steak, the answer is a resounding yes!
And make no "misteak" about it… this restaurant is licensed to grill.
The restaurant puts the spotlight on fire as its main asset. From the entrance, one is greeted not only by the gracious staff but a mural resembling cave paintings that depicts the destructive power of fire. This adds a rustic touch to the rest of the restaurant's sleek interiors.
There's just something amazing about cooking on an open fire, which dates back to the Stone Age. It creates a distinctive aroma food experts called guaiacol, "the aroma responsible for the deliciousness of grilled meat." I guess that's the reason why we even take the risk of turning that precious piece of prime steak into charcoal in the first place.
The "Rolls-Royce of Grills": The Mibrasa oven from Spain uses charcoal to cook food, taming the fire to simultaneously grill and roast meat, seafood and veggies and bring out their rich, natural flavors.
"I love barbecues," shares George Nocom Pua, the stage actor-turned-restaurateur who brought Tony Roma's and Thai BBQ Original Restaurant to the country. "Nothing beats the tenderness and smoky flavor of meat items grilled in an open fire."
Pua's love for anything grilled spreads throughout all of his restaurants. From Thai BBQ and Rico's Lechon to his unique restaurant concepts such as
K-Pub, Ogawa, Modern China, Oppa, diners will definitely get a whiff of that smoky, meaty aroma, which can turn many of us into drooling fools.
The rolls-royce of grills
We have come a long way since then and the convenience, popularity and ease of our modern-day barbecue means that most of us have the opportunity to cook at home or outdoors with relative ease.
At the restaurant, they have this shiny red and silver contraption that revives the tried-and-tested open-fire cooking technique, but updated to fit the contemporary diner's taste and lifestyle. And it's called Mibrasa.
Touted as the "Rolls-Royce of Grills," Mibrasa uses charcoal to cook food, taming the fire to simultaneously grill and roast meat, seafood and veggies and bring out their rich, natural flavors.
And for restaurateur George Pua, it was love at first bite.
"My nephew and his kids sent me off at Changi Airport in Singapore," relates Pua. "While waiting for my flight back to Manila, one of my grandchildren got hungry and was craving for steak. So we went around the terminal and found a decent steakhouse."
While the kids enjoyed their juicy rib eye, Pua stared at the grilled pork chop on his plate.
"Pork chop is so hard to prepare/cook. It gets so dry when overcooked," he says. "But when I cut into the meat, the juice naturally flowed. It tasted good, too. Not dry at all."
Impressed, Pua looked around the restaurant and observed the cooks doing a myriad of tasks in the open kitchen.
"And then a chef emerged with a rack of lamb on hand and tossed it in the oven," shares Pua. "I discreetly took a photo of him with my iPhone from afar.
When I zoomed the image, I saw the brand — Mibrasa."
Pua did his research and found out that the charcoal oven is the brand of choice of Michelin-starred restaurants, not just in Spain but also around the
globe.
"That happened sometime in March or April. I was set to leave for Barcelona in May," relates Pua. "So everything was laid out for me. I started communicating with the principals of the brand through email."
And the rest, as they say, is food history.
"Not only did I get to bring Mibrasa to Manila; now I'm also the official distributor of Mibrasa ovens in the country," the enterprising foodie proudly announced.
Let's meat at super steak
As the name suggests, an abundance of steaks — from the US, Australia, Argentina and Brazil — awaits diners at George Town Super Steak. There's the succulent, perfectly charred Dry-Aged Rib Eye that's packed with savory juices; the Wagyu A5 Ribeye (375g) with the perfect marbling; the acorn-fed
Iberico Secreto from Spain, among others. A la carte steaks come with two choices of side dishes. I love the corn-on-the-cob and coleslaw.
All the meat items are cooked medium-rare in the Mibrasa oven. Medium-rare steaks give you the maximum amount of tenderness and juiciness while ensuring that the center of the steak is warm.
"Those who wish to cook their steak further can do so. Hot stones will be delivered to your table so you cook the steak to your own level of perfection," explains Pua.
Unlike the use of electricity or gas, the Mibrasa oven uses charcoal to cook food. Yet, unlike the lengthy cooking time that using charcoal entails, the
Mibrasa oven is quick and efficient, distributing heat evenly and keeping it consistent.
"Diners don't have to wait long to enjoy their steaks, too," enthuses chef Jin Ho Yoo. "Because with a Mibrasa oven, a 375g one-inch-thick steak's cooking time is reduced to half. Another factor is that no frozen meat item comes out of the fridge."
I'm not a fan of baby back ribs, but after trying George Town Super Steak's Fire-Grill Baby Back Ribs (P650/half, P1245/full rack), I got hooked. The marinade is absorbed by every fiber of the meat, so once you pop, you just can't stop. Also, the meat is so tender it literally falls off the bone.
"That's the beauty of the Mibrasa oven," Pua says with an impish grin.
But what impresses me most is how the oven works its wonders even on food items as delicate as sea bass and pink salmon. Both their skin were a bit charred, but the meat remains flaky and juicy. And the smoky aroma is enough to send diners into a food coma.
And even if George Town Super Steak is, well, a steakhouse, it doesn't discriminate against diners. Here, you can enjoy the prime cuts, which go from P2,000 to P3000++; as well as steaks for as low as P500.
Vegetarians aren't left out, too. There's the grilled Vegetable Platter that's loaded with zucchinis, onions, tomatoes, carrots, eggplants, forest mushrooms, potatoes and bell peppers, as well as Seafood Gumbo, which is a complete meal in itself.
"Veggies also get that crunch, color, and smoky balance of flavors that satisfy your palate with every bite," Pua enthuses. "Everything we cook in the
Mibrasa oven achieves a different level of deliciousness with that smoky element."
Well, that's the kind of satisfaction you get when you dine in a restaurant that's run by a foodie.
"There are two types of restaurateurs," says Pua. "A foodie and a businessman. A foodie will never short-change his guests — won't scrimp on ingredients no matter how high the cost is — while the businessman is more profit-oriented. I'm a foodie kind of businessman."
No Limits Food Inc. president George Pua with (from left) his assistant Marie-jo Barles, chef Jin Ho Yoo, and VP of No Limits Food Inc.'s Jay Lazaro
* * *
George Town Super Steak is on the third floor, One Bonifacio High Street, Bonifacio Global City, Taguig.