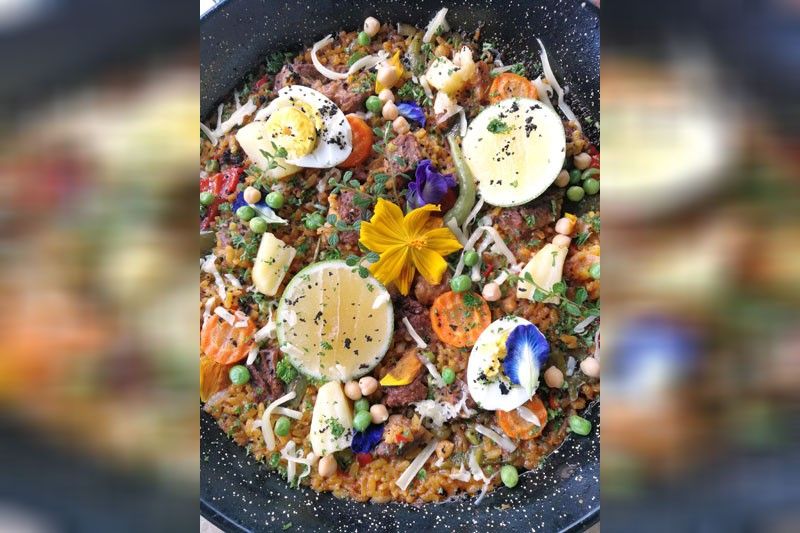 Caldereta paella with green peas, bell peppers, garbanzos, carrots, potatoes, beef chunks, and Arborio rice cooked in rich tomato sauce
Elevated local cuisine & French classics
MILLIE: It has been a very challenging and busy year for Karla and myself, hardly any time to sit and relax, much less travel. So we decided to take off for a weekend since we had a wedding to attend in Tagaytay.
We were warmly welcomed back to Anya Resort by Mikel Arriet, the dashing general manager of Anya from San Sebastian, Spain, whom we met briefly last year.
We were served a welcome drink of calamansi with fresh rosemary from Anya's own herb garden. The staff was courteous and it felt like home as we were ushered to our room.
As soon as we got settled, we ordered bulalo for our room service lunch while getting dressed to go to the wedding. It was soothing to have a bowl of the hot soup with cabbage and potatoes and the beef with bone marrow.
We were introduced to chef Nomer, a local chef who had no formal training but rose from the ranks. Chef Nomer's reimagined Filipino cuisine creations were outstanding.
He first offered us a local dish popularized by the legendary Aling Lucing of Pampanga, which became an instant global delicacy when it caught Anthony Bourdain's eye and taste buds: sisig. But chef Nomer added a so-called twist and threw in a few morsels of foie gras instead of pork
liver. He topped it with edible blue flowers and red-hot chili with a raw egg and calamansi served on a sizzling plate. It was the prettiest and most colorful sisig I have ever seen!
KARLA: Upon serving the sisig, we were asked if we needed anything else. I instantly responded, "Garlic rice, please." Somehow, I think of sisig as something I need to eat with rice rather than pulutan or bar chow. I immediately took it back and cancelled the order when I saw chef Nomer carrying a paellera.
It was not just any paella; it was kaldereta paella with all the ingredients of kaldereta, like green peas, bell peppers, garbanzos, carrots, potatoes, beef chunks and Arborio rice cooked in rich tomato sauce.
During lunch, chef Nomer shared his journey from starting as a construction worker to a steward, and then finally landing in the kitchen as a cook helper.
He has worked under several local and foreign chefs through the years and although he has proven his skills, talent and passion, he continually strives to learn more.
As we learned more about chef Nomer and his journey, we couldn't help but have a sense of pride and admiration for such hard work and determination.
It was truly beautiful to see someone flourish in his element, as well as recognizing that he has found his place in the world: the kitchen.
Aside from understanding food, he has come to realize that it is also very important to know what the guests at Anya Resort would like. Chef Nomer,
together with the Anya Resort management, observed that Filipinos like eating a variety of dishes and therefore end up sharing their dishes. Even though
the portion is good for one person, they prefer to have it served family-style and placed in the middle of the table. So chef Nomer came up with dishes that would be fun to share something new yet familiar for guests to eat.
Just as important as it is for chef Nomer to create a different kind of Filipino menu, chef Jonathan Bouthiaux, Anya's executive chef, has taken on the
challenge as well. Not only does he make sure that everyone is fed well, he also facilitates fun activities for families and for kids. In the afternoons, he
conducts pizza-making classes. These classes are free for all the kids staying at the resort and, of course, the pizza they make is also their free merienda or afternoon snack.
MILLIE: Dinner by chef Jonathan was nonpareil. We were served a creamy dumpling soup, which warmed us on a chilly evening. Chef Jonathan also served us one of his latest and most delightful creations, a seafood pasta with coral prawns and Norwegian salmon that I thoroughly enjoyed.
The main dish was beef Wellington, which was a tender filet of beef baked in a crust and served with an exquisite sauce.
KARLA: Whether you're at Anya Resort with the entire family or a romantic getaway for two, Anya's chefs are prepared to whip up something special for
you: elevated Filipino dishes by chef Nomer Granados and French classics by chef Jonathan Bouthiaux.
* * *
Send email to milliereyes.foodforthought@gmail.com and quichethecook.ph@gmail.com. Find us on Facebook: Food for Thought by Millie & Karla
Reyes, and Instagram: @quichethecookph.