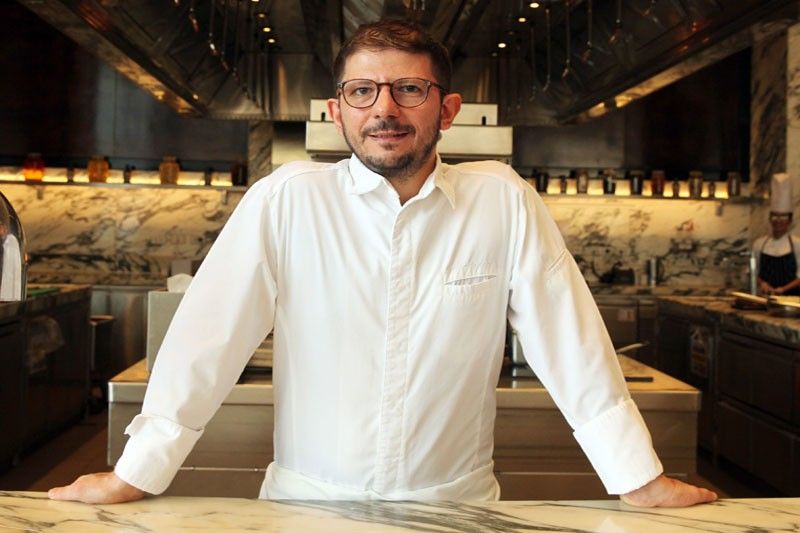 Chef Andrea Spagoni, executive chef of the Michelin-starred Beefbar Hong Kong Photos
Bening Batuigas
Michelin-Star Chef To cook at Finestra in February
If you're a meat lover or connoisseur of all things carnivorous, you can't afford to miss chef Andrea Spagoni's stint at Solaire's Finestra in February the latest in its "Culinary Masters" series.
Spagoni is the executive chef of the Michelin-starred Beefbar Hong Kong, where utmost attention is paid to animal origins and cuts, and what the best cooking methods are to bring their meaty pleasures to the fore.
Consequently you'll get exquisite proteins like Certified Kobe Beef from Hyogo Tajima, Japan dried-pasture and grass-fed; Prime Black Angus from the USA corn-fed for 120 days; and WX Wagyu beef from Australia crossbred and grain-fed for 350 days.
"The local crowd will have the opportunity to explore a different type of cuisine," chef Spagoni says. "In February, we would like to bring the whole Beefbar experience some signature items from our menu, plus other food items that come from my personal experience as a chef."
Chef Spagoni's culinary career spans over 20 years and three continents. As a child, aged 10, in Turin, Italy, he learned how to cook not from his mom but from his grandmother, who taught him her nonna's way of preparing Northern Italian cuisine.
After graduating from culinary school in Turin, he traveled to cities like New York and London, gaining experience at restaurants like Nobu and Rossini in Florence before working his way up to being executive chef and co-owner of Ristorante Pier Bussetti al Castello di Govone, where he played a pivotal role in earning the restaurant a Michelin star.
A year later he traveled to Asia, introducing his brand of contemporary Italian cuisine to Asian diners at Domani Ristorante in Hong Kong.
At present he is executive chef of the Michelin-starred Beefbar in Hong Kong, a temple to all things bovine but where other proteins are respected as well.
"The variety of items on our menu is pretty wide," Spagoni says. "It's not a steakhouse only. If you go to Beefbar, you can definitely go beyond the steak."
We tasted evidence of that via Spagoni's tasting menu at Finestra. The first course was a Beefbar favorite, the Short Rib Tataki slender slices of beef in a tangy yuzu-ponzu sauce with celery and red onions.
If you've ever wondered what bistek Tagalog would taste like if it were elevated and refined to Michelin-star status, this would be it.
"This is an item that brings my experience in some Japanese restaurant a few years back," Spagoni says. "We created this item that is still super-popular among our guests."
The second course displayed Spagoni's facility with other proteins: Fennel Seed Risotto with sublimely tender pork belly and Sambuca sauce. "It's been
sous-vided," the chef notes. "It's a local product and I got amazed by how good it is. It was the first time for me to try, and I was like, 'Wow, wow, wow!"
That pretty much summed up my reaction to this dish as well, where the anise-like flavor of the fennel worked beautifully with the fatty pork and al-dente rice.
The highlight of the meal was still to come, however: Crossbred Australian Wagyu Striploin (M9) served with a dollop of creamy mashed potatoes.
The marbling of this cut of meat, which sits above the tenderloin and is known for its succulence and flavor, was pretty well nigh faultless. Though the steak was over an inch thick, you could cut through it like butter, and the clean, clear flavor was a revelation. It was as if I'd never fully tasted beef until that moment.
"The better the meat you use, the less is your work," Spagoni says. "So you can even say I'm a lazy chef; I won't do too much to it. But jokes aside, that's
the philosophy of Beefbar: we always try to supply top-quality ingredients. Our goal is to respect the ingredients as much as we can, and whenever possible, not to overwork with that."
It was that philosophy that spurred Solaire's vice president for Food and Beverage Knut Becker to bring chef Spagoni in for the third in Solaire Resort & Casino's "Culinary Masters" series.
"The Culinary Masters Series is our way of bringing the best dining experience to our guests that is distinctly Solaire," Becker says. "By bringing in renowned and internationally decorated chefs from all parts of the globe, Solaire gets to share the thought and taste process behind some of the best gastronomic creations that have received praise and recognition, while at the same time widening the culinary horizons of our patrons.
We began with Japanese three-Michelin-star chef Jun Yukimura, followed by Singapore's top celebrity chef Justin Quek, and chef Andrea Spagoni, who garnered his own Michelin star for his imaginative take on Italian cuisine and steakhouse."
David Batchelor, senior vice president of Resort Operations at Solaire, echoes this: "We need to become a place for destination restaurants." At a time when dining out is no longer just dining out, when food has become an "event," Solaire is trying to find a winning hand.
We capped the meal with Finestra's Signature Chocolate, an Insta-worthy dessert that involves your server pouring warm chocolate syrup over a glistening choco sphere that melts away to reveal a rich cake topped with liquor-steeped, gold-flecked fruits basically a chocolate orgy that would gratify a group of three to four.
When Finestra's cart of bonbons rolls around afterward, you might be ready to ascend to chocolate heaven.
Finestra's chef de cuisine Alan Marchetti, who's collaborating with chef Spagoni in February, is also excited about introducing the restaurant's eponymous bottles of organic, extra-virgin olive oil, exclusively cold-pressed from olives grown on the slopes of Mount Etna in Italy by Azienda Agricola Dama.
Just another reason to come out to Solaire's tranquil perch overlooking Manila Bay, where you can enjoy Michelin-star food at a stunning destination restaurant like Finestra Italian Steakhouse.
* * *
Chef Andrea Spagoni's "Culinary Masters" stint will take place from Feb. 5-8, 2020, at Finestra Italian Steakhouse in Solaire Resort & Casino, 1 Aseana
Avenue, Parañaque. For inquiries and reservations, call 888-8888 or email restaurantevents@solaireresort.com.
Follow the author @theresejamoragarceau on Instagram and Facebook.