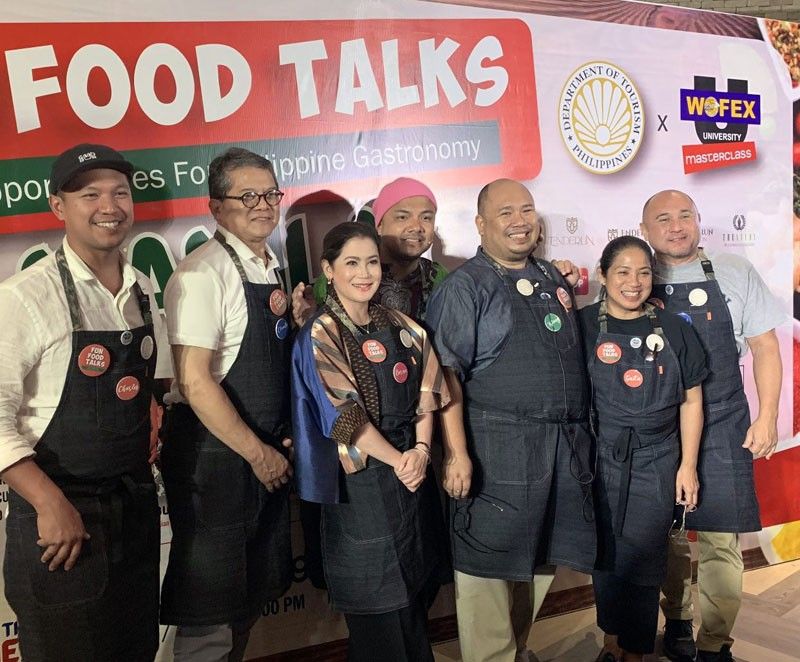 Fil-Am and Pinoy chefs unite: Charles Olalia, owner of Ma'am Sir restaurant in LA, one of GQ's best new restos in America 2019; Pampanga's pride and artist Claude Tayag; Sec. Berna; Tom Cunanan, 2019 James Beard awardee and the owner of Bad Saint in Washington DC.; Tatung Sarthou of Mindanao; Margarita Fores, Best Female chef 2016 ;Lanai Tabura, Great Food Truck Race winner in Hawaii.
Fun, food & heirloom recipes
Kathy Moran
(The Philippine Star) - December 5, 2019 - 12:00am
MANILA, Philippines — We were having lunch at a heritage house in Pampanga when I noticed something interesting. Filipino-American chef Tom Cunanan, 2019 James Beard awardee and the owner of Bad Saint in Washington DC, kept adding buro to flavor everything on his plate.
"My Dad is from Masantol, Pampanga," the chef explained later. "He taught me about Kampampangan food. He would make buro with fish or shrimp and we ate it quite often at home in the States. It is now that I am getting to taste how the people of Pampanga cook it. And I love it."
Cunanan was one of three Filipino-American chefs the Department of Tourism invited to its "Fil-Am Chefs Fun Food Tour," launched at the Augusto P. Hizon heritage house in San Fernando, Pampanga. Tourism Secretary Berna Romulo-Puyat said, "By bringing in the rock stars of the international culinary scene to the country, we are able to promote our food, ingredients and dining culture to the world."
Along with Cunanan, the chefs invited were Charles Olalia, owner of Ma'am Sir restaurant in LA, one of GQ's best new restos in America 2019; and Lanai Tabura, Great Food Truck Race winner in Hawaii.
"There is even a Filipino Restaurant Week in New York," Romulo-Puyat said. "With this steady growth in popularity of our food culture, the concept of the food trip came about."
According to her, while the DOT organizes media familiarization trips regularly as part of tourism promotions efforts, they thought of inviting the Fil-Am chefs to visit the Philippines and learn more about Filipino heirloom dishes, iconic delicacies and culinary destinations so that they could expand their Filipino food offerings and also serve as endorsers for Philippine food tourism.
The DOT made sure that the chef's tour was very inclusive, spanning Manila, Pampanga, Iloilo, Bacolod and Davao to put a spotlight not only on those destinations' iconic and heritage dishes, but also their tourist spots and culture.
Student chefs from different culinary schools in the country were also able to interact with the Fil-Am chefs, as DOT partnered with the World Food Expo University (WOFEX) and included interactive symposia where the chefs engaged with students, tourism stakeholders and food lovers all over the country.
Food as a destination
Culinary or food tourism is emerging locally at such a fast pace that the United Nations World Tourism Organization (UNWTO) has said it is now part of the tourism experience. More and more people are turning to food tourism as their key motivation to travel to a destination.
"Somewhere in the world people are scrolling on their phones, tablets or computers looking for the destination that has the best food," said Romulo-Puyat. "Looking for the best food they can try, a unique farmer's market or culinary tour they can attend that will make them travel to a country. As a country brimming with heirloom recipes, food-centered festivals and as a culture with olden cooking practices, the Philippines is not behind in this field. We are not short of world-class events, nor of homegrown culinary talent, either."
The chefs from the Philippines who toured and educated the Fil-Am chefs as they went around the country are some of the best in the Philippines, including chefs Claude Tayag for Pampanga, Margarita Fores for Bacolod, and Tatung Sarthou for Davao.
They and many other Filipino chefs have shed blood, sweat and tears over the last 10 years to give Filipino food the global popularity it enjoys today.
The DOT believes in the potential of Filipino food so much that it has identified culinary tourism as one of its key products under the National Tourism Development Plan.
Asia's Best Female Chef for 2016 Gaita Fores thanked Romulo-Puyat "because she has really been the force that has brought food and tourism together." Fores started working with Sec. Berna when she was at the Department of Agriculture, where her work already gave tourism a boost.
"Food is what allows people to discover a country and fall in love with it," Fores said. "This project is the best evidence of what we can do for our country — by eating through our country and inviting these Fil-Am chefs to come to the country and then they can promote us even more when they go home."
'Our food unadulterated can stand'
Fil-Hawaiian chef Lanai Tabura said it had been an exciting two weeks and he learned so many things. "I never stop learning in this business," he said. "I am going to go home and cook more and come up with more things in the kitchen."
Los Angeles-based chef Charles Olalia was so inspired he wants to open a restaurant here in the Philippines. "I firmly believe that our food unadulterated can stand," he said. "What we need to do is just stand by it."
He stressed the importance of openness to new versions of traditional Filipino food not just among chefs like himself but also among Filipino diners in keeping the country's diverse culinary culture alive.
Cunanan wants to keep adding to his arsenal of Filipino cuisine and striving for the best version of Filipino food. "I want to keep focusing on the same direction that I am on," he said. "I love what I do and I love Filipino food and I am very proud to be Filipino."
Fores pointed out that chefs cannot do it alone: "It needs to be a partnership between government and the private sector… and I think that this event is one of the best evidences of how working together can get us far ahead."
"Our food isn't just for Filipinos; it's meant for everyone," added Cunanan.
After Iloilo and Bacolod, the guest chefs made a half-day trip to Cebu to sample and learn the process of making Zubuchon before proceeding to Davao for the final leg of their food tour, where another WOFEX University Fun Food Talks forum was held and co-moderated by celebrated Pinoy chef and successful restaurateur, Myke "Tatung" Sarthou.
Food tourism interest continues to grow
Everywhere the "Fun Talks" traveled Pampanga, Bacolod and Davao the interest of the culinary schools were evident, with students getting a chance to sample the cooking prowess of the Fil-Am and Pinoy chefs, while also learning that food is a huge way the country can be promoted as a tourist destination.
"I worked hard to get to where I am," said chef Cunanan in Pampanga. "It was for seven years without a day off to promote my restaurant and to help grow the interest in Filipino cuisine."
The message the Fil-Am chefs helped spread about what they learned about Filipino heritage cuisine and the need to work hard was inspiring, not only for those of us in the media but more so for the students who have set their eyes on culinary careers.
The chefs' five-destination food trip was a deep immersion into the Philippines' rich culinary scene. Through the chefs, both Fil-Am and homegrown, and through succeeding runs in the years to come, the DOT hopes to create an army of food tourism ambassadors and inspire more chefs to bear the Philippine flag through their creations, wherever they may be.
"This is envisioned as the first of a series of similar programs," noted Romulo-Puyat. "The idea is to get more 'Philippine fun food tourism ambassadors' on board to sustain the awareness and interest in the Philippines as a center of food and gastronomy."
Yet, as she plans for the culinary landscape of our country, she also emphasized that it's not enough that we just promote the tourist destinations in our country. "We also need to develop and preserve them in such a way that 10, 20 or even 50 years from now, what we see as beautiful islands and beaches today remain the same, or better, for the future generations."