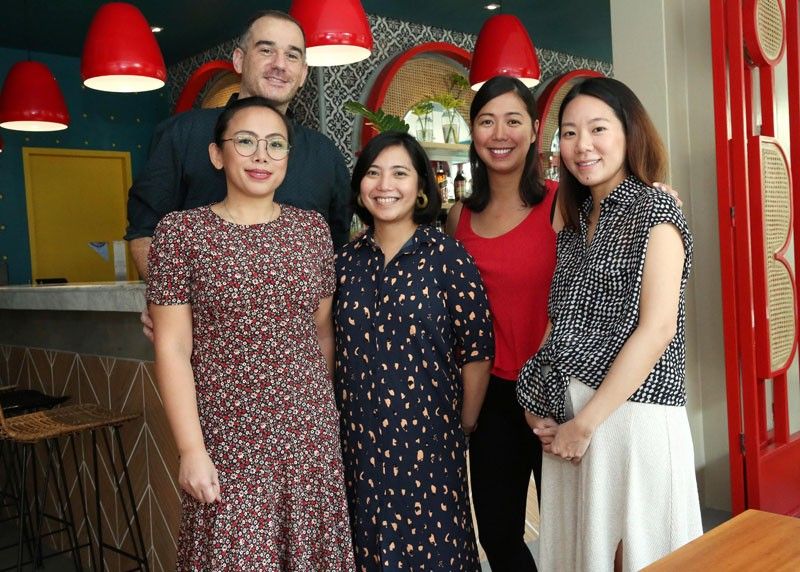 Hola Bombon owners: Marie Garcia, Alberto Sbabo, Melissa Orozco, Nikki Recto and Kaity Chua-Jayme
Ernie Penaredondo
Say hello to the best Pintxos in Poblacion
From the same group that brought us The Wild Poppy the wildly popular eatery that helped make Poblacion the hip and happening food mecca it is today comes Hola Bombon, the newest pintxos bar in town.
While eating at The Wild Poppy is like food-tripping through Asia, Hola Bombon is like traveling to another food mecca: San Sebastian in Spain, home to some of the best restaurants in the world and famed for its pintxos bars, where the locals like hopping from tavern to tavern, eating small snacks while sipping alcoholic drinks, much like Poblacion denizens do.
"We serve pintxos on the bar like in Basque country," notes Alberto Sbabo, one of Hola Bombon's owners. "Our chef does the simplest, most amazing and yummiest Spanish pintxos."
After hitting Hola Bombon's attractively laid out pintxos bar, I wholeheartedly agreed.
First off, Hola Bombon is a bit difficult to find if you don't know where to look. It's on the second floor of a building right on the corner of Fermina and Enriquez Streets. To the left of the parking area (hey, there's parking!), the Hola Bombon sign is painted on a wall next to a stairway leading up to the restaurant.
I immediately fell in love with the bold, vibrantly colorful interiors, which is like stepping onto the set of a Pedro Almodovar movie. Another fact I love is that aside from Alberto a group of five young Filipino women conceived, co-own and operate both The Wild Poppy and Hola Bombon. A high-school barkada from Assumption who've been friends for 20 years, they split the duties based on each other's strengths: Marie Garcia (who trained at two-Michelin-star restaurant Enoteca in Barcelona) is in charge of the food, Melissa Orozco takes care of the bar, Kaity Chua-Jayme is the marketing and PR person, Nikki Recto helms human resources, Isa Sicam does finance, and Alberto "the only thorn among the roses," they laugh does front-of-house service.
"I went to San Sebastian in 2014 and I was like, this is Disneyland for foodies," says Marie. "I try to make a pilgrimage to San Sebastian at least once a year."
Inspired, she convinced the barkada to open a Spanish restaurant and developed the Hola Bombon menu with her mentor Mikel Diro, who is jefe de cusina at Enoteca. The friends also lucked out by finding chef Ruben Beltran Castellnou from Barcelona, who had just finished a stint at a well-known Spanish restaurant and contributed his expertise to the mix, giving later input to the current menu.
Spanish-Pinoy hybrid
Any Hola Bombon experience has to start with the pintxos. The girls recommend Foie, seared foie gras cut with pickled green mango and mango jam, but if seafood is more your thing, try the Salmon y Cangrejo, a salmon gravlax-crab salad mix that had me reaching for more.
Muy Español is Gilda, skewers of olives, anchovies and piparras pickle-like Spanish green peppers but the clearest indicator that Hola Bombon is a Spanish-Filipino hybrid is the chori burger a Spanish chorizo patty laden with goat cheese and caramelized onions.
"We use a lot of Filipino ingredients in our food, paying homage to that time when the Spanish were here," says Marie. Interiors-wise you can see it in the rattan furniture: "We wanted to use a lot of Solihiya because it's very symbolic of the time when the Spanish were here in the Philippines."
Since Pinoys do love their "unli" deals, Hola Bombon features unli, all-you-can-eat pintxos from 6 to 8 p.m. for the reasonable price of P650.
Pintxos like chicken paté on crusty bread dotted with crispy chicken skin and cubes of red-wine gel will remind you that the experience isn't complete without a cocktail in hand. Hola Bombon has some wonderful, inventive and highly Instagrammable ones like Tenerife Sea, designed in collaboration with mixologist LeRoy Thorssen. A tequila-rum-vodka mix, Tenerife Sea's edge is softened by clarified milk punch. The glass itself is nestled in an aquarium-like bowl that evokes a coral reef, chilled by smoking dry ice. Talk about a drink that would launch a thousand Instagram posts.
Other drinks include the Marianito, a strong, vermouth-forward drink that resembles a Negroni; Tinto de Verano, a more refreshing version of sangria; and Jungle Gym, which comes with a packet of powdered Campari attached to it that reminded me of Kool-Aid. "Just pour it in and then mix it," advises Melissa.
Tapas and Paella
Lest you think pintxos are the be-all and end-all at Hola Bombon, after getting your fill at the bar you can sit down and have tapas like chef Ruben's recommendation, Socarrat Negro, crispy paella negra with mussels and aioli; Miguel's Sandwich, a flying saucer containing beer-braised pork belly and apple jam; croquetas de Manchego and Bravas Hola Bombon, fried potatoes that Alberto claims are done differently than in Spain and based on a secret recipe.
Make sure to leave room for the platos and paella. Carrillera, a plate of slow-braised beef cheek with Manchego mashed potatoes, Lucban longganisa and carrots is sublime tender and packed with flavor.
As if this wasn't decadent enough, we chose the Paella de Pato (duck paella) from among the Spanish sausage and squid-ink paellas because it was something new, and it was cooked so perfectly that even if we were fit to burst from eating our way through the menu, I kept spooning the al-dente, umami Bomba rice into my mouth.
For dessert, you have to order the Churros Con Coco, possibly the best churros I've had outside of Spain. The secret is that chef Ruben makes his churros with coconut water, so it's soft inside, crisp outside, and suffused with surprisingly Filipino flavor.
Another quintessentially Spanish dessert that the chef put a Pinoy twist on is the Tarta Santiago, which originated from Santiago de Compostela in Spain, a cinnamon-almond cake topped with chicharon.
Pub-crawl culture
Hola Bombon fits hand-in-glove with Poblacion's millennial pub-crawl culture, since the owners are millennials themselves who, after cutting their teeth at The Wild Poppy, know what their market wants.
"We felt like Poblacion was the perfect spot because people come," notes Kaity. "They have, like, one pintxo, one drink, and then they hop. So we encourage that."
Agrees Nikki, "We encourage people to hang out by the bar and have conversations, have drinks there. That's how it is in San Sebastian, and we want to have the kind of culture where people can just mingle with other people."
Adds Melissa, "In terms of branding, what we've done with our restaurants is always playful and creative. We never want to take ourselves too seriously. It's just casual, easy, nothing too serious."
* * *
Hola Bombon is located on the second level of 5887 Fermina St. corner Enriquez St., Poblacion, Makati, tel. 0917-520-1880 and 7504-2977. Closed on Monday, the restaurant is open Tuesday to Thursday, 6 p.m. to 1 a.m; Friday to Saturday, 5 p.m. to 2 a.m.; and for Sunday brunch from 11 a.m. to 4 p.m.
Follow the author @theresejamoragarceau on Instagram and Facebook.