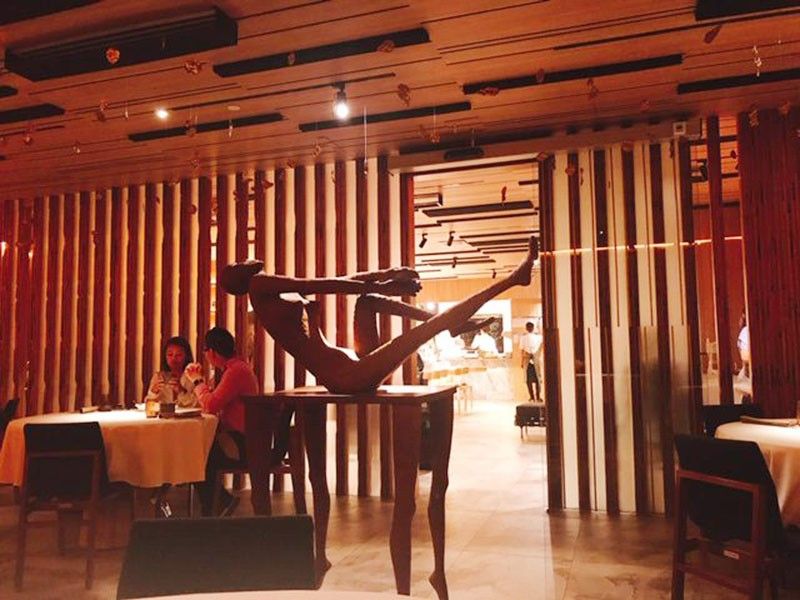 Foodie mecca: Gallery by Chele in BGC features a private room for the tasting-menu experience; past the sliding doors are the bar and a la carte dining area.
Gallery by Chele's new tasting menu is like a greatest hits album
It's been a while since I've had a degustation that totally blew me away, but thus far, that honor in 2019 goes to Gallery by Chele's new Alamat tasting menu.
The nine-course meal is not just an experience but also a journey a metaphorical one through your taste buds and a literal one that requires you to tour the restaurant.
Chele is one of those chefs who's always moving forward, always researching, learning and experimenting. He studied Filipino heirloom rice, as well as our native cacao. He has an affinity with nature, probably from growing up in Torrelavega, a northern Spanish town that's close to the coast and famous for its weekly livestock fair. He also has a restless work ethic and flair for innovation that likely stems from working with the best in the world at the three-Michelin-star El Celler de Can Roca, two-star Mugaritz, and the legendary El Bulli so he knows what it takes to be the best.
His pioneering restaurant in BGC, Gallery Vask, won the Diner's Club Discovery Award as one of the World's 50 Best Restaurants in 2015, then was ranked 39 in Asia's 50 Best Restaurants the following year, climbing to No. 35 in 2017. Despite this, he changed his winning brand name to Gallery by Chele last year, and reconfigured the restaurant on the fifth floor of BGC's Clipp Center.
Chele explains that Gallery now has three areas to cater to three different types of clientele: a U-shaped bar for those who want to drink, dining tables surrounding it for those ordering a la carte, and a private room behind sliding doors for foodies who want to experience the tasting menu. Diners can even mix the tasting menu with a la carte: Chele says they are very, very flexible.
"I wanted something in between casual and fine dining and I think now we've found our path," says the chef. "I don't think there are many restaurants in the world that combine the bar area with a la carte and a tasting-menu area and make it work. We also have a lab and a garden, so why not show people to make them understand better? We're happy to say this is our whole personality, this works for us. We want to be flexible and we want to be a personalized experience."
First-timers to the tasting menu discover different parts of the eatery just as they discover the different components of each dish.
Like a book, the Alamat menu is presented in chapters, and the "authors" Chele, his right hand, chef Carlos Villaflor, and the Gallery team present their philosophy in the prologue. First is their emphasis on "seasonality," represented by a drink and two bar bites. A mojito-inspired cocktail is based on Tamarillo, a sour local tomato muddled with santol juice instead of soda water. It was a sweetly tart foil for red-rice crackers topped with tanigue fish and cadena de amor buds; and a refreshing scoop of homemade kefir frozen yogurt with Palawan honey, Bignay berry jam and local Swiss chard all ingredients in season.
Next came "Innovation," which is what Chele is known for. A box with playful drawings housed Tortang Takoyaki, a deliciously inventive take on the Japanese street food using grilled eggplant-infused batter with pickled green mango to represent tortang talong with green-mango salsa.
Just as we were getting a little too comfortable in our seats, one of Chele's young chefs led us out to the Greenhouse behind the restaurant, where Chele grows his own organic produce. There we tasted Philippine herbs like pansit-pansitan, talinum, and a love plant straight from the vine, giving us an exclusive peek into Gallery by Chele's sustainability efforts.
The science-y Studio Lab was next, with rows of jars lining the wall. This is where the chefs dry-age their meats, make cheese, and ferment vinegars and kombuchas. Chef Charlie made mochi for us out of carabao's-milk white cheese infused with smoked tinapa, which we washed down with fizzy langka kombucha a nice reward at the end of our stroll.
Tour complete, we moved inside to the tasting room.
The third pillar of Chele's food philosophy is "Comfort," and we tucked into two dishes inspired by Philippine comfort foods: Meringue de Sal, chicken adobo mousse sandwiched in between a savory meringue bun; and an ukoy-inspired shrimp cracker topped by fresh sea urchin.
Vinegar tasting followed: six pieces of chicharon to dip into six Studio Lab-created vinegars. My favorites included the sweet pineapple vinegar; spiced tuba, or coconut vinegar; and the cashew vinegar, which looked and smelled like Italy's balsamic.
It's only at this point that the tasting menu begins in earnest. Far from being full, you're well appetized, and can choose between a wine or non-alcoholic-drink pairing. (Scott and I chose the former, of course).
The first dish is "Pearls," inspired by our local ceviche, or kinilaw. Sweet scallops from Aklan are cured in calamansi and cashew nut milk instead of the usual vinegar and coconut milk, and it's a tart wakeup call for your taste buds.
Our sommelier for the evening, the extremely knowledgeable and charming Judd Labarda, served a 2018 Chrismont Riesling from King Valley, Australia, to complement the scallops.
"I like to discover new wines, boutique wineries, organic, biodynamic stuff, but also wines that follow the norm and have an interesting story," Judd said. Our Riesling's story was that it was made from Spanish grapes grown by an Italian winemaker in Australia, and its crisp yet creamy acidity stood up well to the oceanic flavor of the scallops.
Next came "Whey," an exquisite lobster-jicama-basil dish so-called because they get the liquid whey produced from fermenting yogurt and use it to ferment the jicama on the plate. Local pitik, or slipper lobster, is wrapped in banana leaf and cooked to juicy perfection over charcoal.
Enhancing the lobster was another crisp white, Moulin de Gassac Guilhem 2017 from Languedoc, France. Blending sauvignon blanc, Grenache blanc and Terret grapes, "usually you don't find sauvignon blanc paired with lobster, but since this has more body, you can," noted Judd.
The intriguingly named "Zero" is a two-part dish: tomato crackers topped with tapioca pearls, homemade cheese and bottarga to ready your palate for pan-seared yellow-fin tuna with lacto-fermented tomato, local beans and cashew nuts. "Normally they throw the bottarga out at the supermarket, so this dish was named because of zero waste," our server said.
Mirroring the sinigang-like intensity of this dish was a 2017 Torres Viña Esmerelda, a muscat from Penedes, Spain, the region where they make Cava. Its fruity lychee and floral notes balanced the tang of the tomato nicely.
We could tell that the next dish, "Fried Pulpo," was special because it came with a comic book-style placemat drawn by Pinoy graffiti artist Garapata, illustrating an octopus turning into a chicken. "Chele is the octopus in the story, because he's the Spanish guy that goes to the Philippines and falls in love with our Filipino culture," our server explained. "That's why he's becoming more like a Filipino, and the reason most of his creations were inspired by our local dishes."
How do they turn octopus into chicken? By marinating it inasal-style. The smoky, savory result is contrasted with a light, fruity rosé: Hito Rosado from Bodegas Cepa 21 in Ribera del Duero, Spain.
The fifth dish is "Abalone," where the Visayan delicacy swims in an onion broth spiked with local lime. I love that over half of Chele's menu highlights the wealth of seafood to be found in our country, and that he prepares all of them flawlessly by combining modern techniques with traditional methods learned from farmers, fishermen and home cooks.
Next came two meat courses both of them transcendent. "Presa Iberica" is pork shoulder from a black pig marinated in Chinese five-spice, inspired by Cebu lechon. Slow-cooked for two hours, the dish exemplifies our cuisine's mix of Spanish, Chinese and Filipino influences.
Accompanying both abalone and pork was a 2017 Envinate Albahra Garnacha from Spain. "This gets the inner wine geek in me," enthused Judd. "It's produced in La Mancha, which you don't hear a lot of in terms of quality wines; it's made of Garnacha Tintorera grapes, which are unique because the pulp is red, not white; and it's fermented in concrete tanks so you get air pockets that create a more complex wine with raspberry notes and petrichor, the scent when rain hits the pavement."
To cleanse our palates before the main event was Chele's version of halo-halo using three local citrus fruits and grated tonka bean before "Sour Ribs 2.0," in which Chele elevates our humble bistek Tagalog to Michelin-star levels by slow cooking Snake River Farms wagyu for 28 hours, flavoring it with beef jus and black garlic, and topping it with a tangle of fried leeks.
Judd paired this with a Super Tuscan-like All Saints Estate from Victoria, Australia, another under-the-radar winery producing 70-percent-Sangiovese and 30-percent-cabernet blends.
Dessert consisted of a duo of "Pandan," their take on buko pandan with pandan ice cream, latik and homemade nata de coco; and "Pure," which my inner chocoholic reveled in with its multifarious textures and flavors. Chocolate is roasted, sweetened and turned into chocolate mousse, cardamom-spiced ice cream and a crunchy tuile. The literal capper was cocoa kombucha poured over everything to achieve chocolate nirvana.
A fizzy Peliserro Moscato D'Asti from Piedmont complemented both desserts with an acidic backbone that wasn't cloyingly sweet.
Just when we thought we were done came an Epilogue illustrating Pinoy tradition: bibingka as creamy and airy as Japanese cheesecake with cured duck egg yolk and pili nuts on top.
Typically, lengthy tasting menus can be hit-or-miss affairs, with some okay dishes filling the gaps between brilliant ones. World-class chefs cooking at the highest levels may abandon deliciousness in favor of newness, shock value or a high concept your taste buds may not fully comprehend.
But Chele's Alamat menu is like a Greatest Hits album with no fillers whatsoever. Every single bite we took was surprising, mingling new flavors with familiar ones, or turning familiar flavors into something entirely new and different, but every bit of it was delicious, and the wine pairing just boosted our experience into the stratosphere.
I'm thankful that a chef as talented, creative and hardworking as Chele Gonzalez chose to put his roots down in the Philippines. Sometimes it takes a foreigner to see the beauty in what we take for granted, filter it through his own experience and present it to us in a way that also makes us marvel at its beauty. That's what Gallery by Chele has done with its Alamat menu.
* * *
Gallery by Chele is located on the fifth floor of the Clipp Center, 11th Ave. corner 39th St., BGC, Taguig. Call (0917) 546-1673 or go to gallerybychele.com to make a reservation.
Follow the author @theresejamoragarceau on Instagram and Facebook.