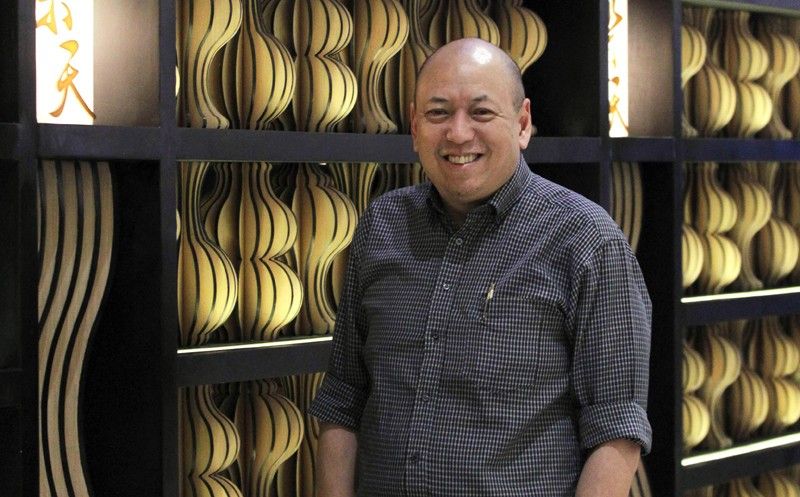 Jonathan Co, operations manager at the warm interiors of Paradise Dynasty at S Maison, which recall the shape of folding lotus lanterns.
A feast of xiao long bao inspired by French Macarons
Fans of xiao long bao, the steamed pork dumpling filled with hot soup, are in for a treat when they dine at Paradise Dynasty, the casual dining restaurant that originated from Singapore and celebrated its third-year anniversary in Manila last week.
Its xiao long bao comes in eight international flavors, whose colors were inspired by the classic French macaron, the colorful, meringue-based dessert that was a fave of the restaurant founders every time they visited Paris. Unsurprisingly, two of the XLBs have a touch of French flavor: black truffle and foie gras. The other six are Paradise Dynasty's signature original, ginseng, crab roe, cheese, garlic and Szechuan. The XLBs are meant to be eaten starting with the original flavor, followed by the subtle ginseng and building up the flavor profile to the last, which is spicy Szechuan.
For me, the best is the black truffle XLB because the manner of properly eating a xiao long bao lets you fully appreciate the black truffle's taste and aroma. First, hold it between your chopsticks with a spoon underneath, and when you bite a small portion to open it up, the distinct aroma of the truffle comes out. This will literally make you pause for a second before eating the soup inside and finally the dumpling. It's a combination of Shanghai invention and a classic French ingredient that works so well together.
Paradise Dynasty has become synonymous with xiao long bao and the Singapore-based Paradise Group runs over 30 restaurants in Singapore and over 20 restaurants overseas in Malaysia, Indonesia, China, Japan, Hong Kong, Taiwan, Dubai, Australia and London.
In the Philippines, the S Maison branch is a fave of local families and Chinese residents in the Manila Bay area, according to operations manager Jonathan Ko. He cites the acceptance of mobile payment platforms such as Alipay as a convenient offering that appeals to their foreign customers.
Apart from its famous eight treasures of XLB, the restaurant serves other imperial and specialty dishes from the northern and southern parts of China. I loved the crystal prawns tossed with red egg yolks and the steamed glutinous rice stuffed in red dates.
According to Jonathan, bestsellers from the seafood selections are the Grouper with Pine Nuts and Fruits, where the perfectly deep-fried fish is doused in sweet-and-sour sauce that is punctuated with crunchy pine nuts and chewy bits of fruit; another is the Grilled Grouper with Tofu in Ma Po Tofu Style, which features flaky white fish plated with pan-fried tofu cubes that have a hint of peppery spice.
Also try the Shanghai Style Braised Pork Belly with fork-tender chunks of pork swathed in thick caramelized sauce and coming with carefully arranged bok choy on the side.
Paradise Dynasty gives diners a taste of Imperial China at affordable prices... and the convenience of mobile payment.
* * *
Paradise Dynasty is located at S Maison in Conrad Hotel, The Podium Mall and SM Aura.
Visit the author's travel blog at http://www.findingmyway.net. Follow her on Twitter and Instagram @iamtanyalara.