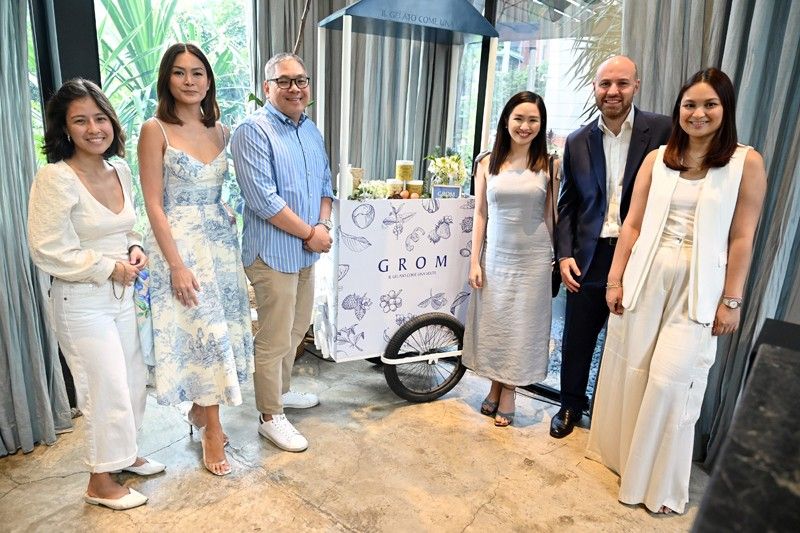 Grom gelato lovers Karina Jalandoni, assistant brand manager, Grom; Apples Aberin, head of PR, Unilever; Bindoy Baltazar, head of marketing, Unilever RFM; Marjorie Chan, brand manager, Selecta; Diego Pacifici, global brand manager of Grom Gelato and Lexi Tan, assistant PR manager, Unilever
After traveling at least 10,000 kms, one of Italy's gelateria brands has finally made it to the Philippines.
"We want Filipinos to get a taste of traditional Italian gelato, not just any kind of gelato," said Diego Pacifici, global marketing manager, Grom Gelato. "Grom's ingredients are sourced from all over the world and are made into gelato in Italy, where gelato-making started."
First, a little history: Grom gelato was founded in Italy in 2002 by friends Guido Martinetti and Federico Grom in the hopes of creating the best gelato in the world. After realizing how a great many gelaterias no longer made gelato the way it used to be made without the use of artificial coloring, aromas, and emulsifiers, the duo committed to creating Grom gelato the way traditional Italian gelaterias used to make gelato with pure, authentic, and Italian craftsmanship.
"That is what makes Grom special," added Pacifici. Every tub of Grom you get is made from raw, naturally sourced materials, either from their own organic farm Mura Mura or from one of their partner suppliers from around the world."
Pacifici, who has been in the gelato business since 2012, added that only the best ingredients are sourced to ensure the most delicious flavor and beautiful color possible for each pint. Once sourced, these ingredients are mixed without altering their natural flavor and color. Grom prides itself on the fact that it uses only the purest ingredients.
We talked more about gelato and it was easy to see Pacifici was so into his gelato. He also shared that he had worked in the ice cream division of Unilever in Italy — this is why he collaborated with Unilever Philippines' RFM-Selecta Ice cream to bring in Grom. And to make sure the gelato reaches its customers in the same condition it left the gelateria in Italy.
"The Grom label is a testament to the brand's commitment to authenticity," he says. "There are no tricks here, just real ingredients. Making our products from scratch allows us to find the perfect key ingredients. While each pint contains only the best-quality fresh milk, cage-free eggs, Carruba flour, and white cane sugar, it's also made without gluten or any added aromas, colorants, or emulsifiers."
At the heart of the brand are its Italian heritage and the founders' desire to bring something they're proud of to the world. Any Grom gelato, be it in pints or in gelaterias around the world, are made in Italy. Pints are mixed, whipped, then shipped all over the globe. Ultimately, each scoop of Grom gelato is Italian in essence and in actual craft.
Vincent "Bindoy" Baltazar, marketing director of Unilever-RFM ice cream, says they hope Grom will appeal to Pinoys like Selecta does. "I am a part of the team that has worked on Selecta in the Philippines," he said. "Selecta has been successful in the Philippines and we hope Grom will grow in the same way based on the market we hope it will reach."
Baltazar said he has been in the ice cream business for 10 years because he believes in the brand and loves his ice cream. He shared that on a personal trip to Italy, among the "to do's" on his bucket list was to try Grom gelato.
"Grom is one of the top gelato brands in Italy and it was definitely a must-try gelato when I was there," he said. At that time the partnership between Grom and Unilever was not even a dream yet. He recalled that the lines were long and when it was his turn to order, he had to rush because there was so many people behind him.
Now he is just so happy that pints of Grom have made their way to our grocery stores. It is his group's job to make sure the brand grows (like Selecta) and that the gelato makes its way to its customers as fresh as the day it was made in Italy. It is no easy task, but Bindoy and his group — with the help of Pacifici — are working hard so this sweet gelato dream come true.
What started as a 25-sqm shop in Italy is now a globally recognized gelato brand present across three continents with flagship stores in New York, London, and Shanghai. Just recently, Grom pints appeared on the shelves of select supermarkets in the Philippines and sold out in a matter of weeks. The brand's four bestselling flavors are Crema Di Grom, made with pastry cream, Venezuelan chocolate chips (one of the most aromatic in the world), and Grom's own Meliga biscuits; Cioccolato, made with Ecuadorian chocolate grown in Arriba Mocache that gives the gelato a floral aroma and notes of dried fruit; Pistacchio, which uses pistachios of different strains and stages of maturity from the Middle East for a balanced pistachio flavor with varying textures of crunch and velvetiness; and Stracciatella, a traditional Italian gelato flavor with Fiordilatte and chocolate chips. To ensure the crunchiness of Ecuadorian chocolate, chopped chocolate is filtered through a large-mesh sieve in order to get only the largest pieces.
"We want our customers to get the experience of eating gelato when they want to," added Bindoy. "And what better way to do that after a long day than in front of the TV and in the comfort of your home with family and friends?"
* * *
Grom is available in 460mL pints for P495 SRP in select groceries and supermarkets nationwide. For information, visit the Grom Philippines Facebook page at www.facebook.com/GromGelatoPH and Instagram @GromGelatoPH.