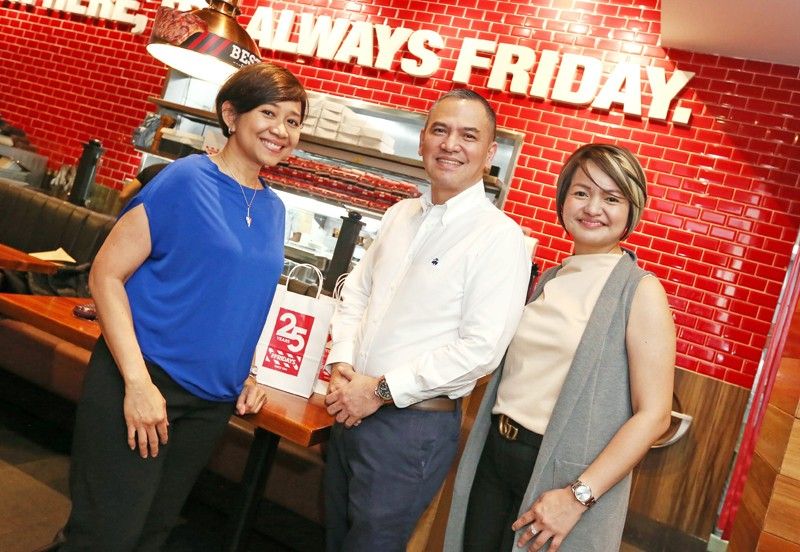 Every day is always Fridays: Jean Paul Manuud, president and COO of The Bistro Group, is flanked by Lisa Ronquillo, VP for marketing, and Rechele Tiongson, VP for operations.
Walter Bollozos
25 years of Fridays magic madness
The big Promise Wall that tells you what day it is (it's always, always rebel-rousing Friday even on paper-pushing Mondays or thank-God-it's-nearly-Friday Thursdays). An airplane propeller to symbolize movement (and a sense of aspiring toward something where only the sky is the limit). Its "eccentric clutter" aesthetic, which is younger and more contemporary than the old "elegant clutter" look. Stripes, stripes, everywhere stripes (awnings, tablecloths, neckties of servers in red and white zebra lines). Pioneering fare such as potato skins and fried mozzarella, as well as many a cowboy's favorite the Jack Daniel's Glaze. Our friends, the bartenders who are constantly mixing something magical. And the servings, oh yeah, the servings.
You know from the very first sentence that we're talking about TGIFridays, which is celebrating its 25th year in the Philippines this December. The American casual dining restaurant opened in 1994 at Glorietta 3 in Ayala Center, which was then the company's biggest outlet at 1,095 square meters.
Jean Paul Manuud, president and COO of The Bistro Group, and VP for marketing Lisa Ronquillo talk to us about why it is always Friday (or somebody's birthday) inside the restaurant with its American comfort food, bottomless ice teas and sodas, cheery waitstaff and flair-tending bartenders.
"We've trail-blazed the casual dining experience in the country, and (after a quarter of a century) we're still the leader in our category," Manuud explains. "We've lined up almost a month of activities for the anniversary and the highlight is partying with our old customers 25 years ago."
The constant challenge is how to evolve in a changing market, adds Manuud, or how to transform the brand from its original roots (started by Alan Stillman in 1965 as surprise, surprise a singles bar in New York's Upper East Side, and then metamorphosed into an establishment that "redefined the idea of the American restaurant"). The point is to try to turn all this into a place with the more familiar tones of home.
From the start, the people behind TGIFridays in Manila always wanted their food to resonate with the taste and flavors of what's Filipino. "We've tweaked with the taste profile of our dishes since we Asians love strong, powerful flavors. And every single year, we innovate from food to restaurant design to training of the waitstaff to the entire dining experience."
But even if the restaurant has evolved in so many ways, the brand DNA is still intact. The concept remains unaltered. "It is a timeless brand," stresses Manuud.
Ronquillo agrees. "There are Fridays classics that remain staples the chicken fingers, the Caesar salad, the mud pie. Because people look for them."
Manuud shares how, in the spirit of innovation, they try to tweak with or drop certain items on the menu. "But we get a revolution from our customers (laughs), so we give in. The strength of our company is what we always listen. We listen to our customers and our staff."
Ronquillo admits that selling a brand such as TGIFridays is a piece of (cheese)cake. "When you have a strong culture and great food those are the things that will do your work for you."
Fridays we're in love
As a way of thanking its ever-loyal Friday group, the restaurant chain is offering new dishes:
The prime ribeye steak is a 16-oz fine-grained USDA ribeye that is packed with juiciness and a sliver of fat. It comes with mango chipotle coleslaw plus a choice between the truffle rice or mashed potato.
A new pasta dish arrives with a dash of a key ingredient: truffle. The new TGIFridays Truffle Pasta has bacon and fennel to complement its truffle flavor.
Now, when you order a "bucket," you'll get something else aside from cold bottles of brew. The Bucket of Bones features TGIFridays signature glazed ribs, eight pieces of chicken wings, two pieces of the famous Fridays' pork chop served with mac & cheese, garlic rice and French fries. (By the way, a portion of the bill goes to Action Against Hunger, which aims to fight hunger and malnutrition in the Philippines.)
These new dishes will be available in all TGIFridays stores until December. There are also a couple of promos.
"We are inviting our guests to share their Best Fridays Experience to win free Bucket of Bones until December," says RC Tiongson, VP of TGIFridays. "It may be old photos of them celebrating an important occasion with the family or partying with friends, having that first date with someone special on Valentine's Day, or a recent video of them being serenaded by our staff during their birthday. It could be anything that shows how memorable dining experiences are at TGIFridays." (To join, use the hashtags: #TGIF25yearsofgreattimes.)
In the "Citibank 2 for 1" promo until Nov. 28, all Citibank cardholders who will order select Friday's Favorites will get another of equal or lower price: the food choices include Fridays Chili Ballpark Nachos Regular, Fridays Signature Burger, Fridays Caesar Salad (to share), and a half rack of Baby Back Ribs. This promo will run Tuesdays to Thursdays from 11 a.m. to 5 p.m.
On Dec. 11, TGIFridays will officially turn 25 and will mark this milestone with "Cheers to 25 years of Great Times!" This is a simultaneous celebration across all TGIFridays branches nationwide. The real-time celebration will happen from 1 to 7 p.m. All tables at these given hours will each get a serving of Chili Ball Park Nachos and drinks of their choice for free. Let the good times roll, as The Cars song goes.
We ask Paul and Lisa this: whenever they go abroad and find a Fridays outlet, do they look for certain elements or pieces of décor to bring back home and incorporate in a Fridays in, say, Bonifacio High Street or Eastwood?
"Actually, our Fridays look much, much better," answers Lisa with a chuckle.
"That's true. In terms of food and interiors and everything," adds Paul.
"The passion is here," concludes Lisa. "It is not elsewhere." And that is 25 years of passionately turning each drab, humdrum day into throbbing, pulsating Fridays.
* * *
For details, visit TGI Fridays Philippines on Facebook, @tgifridaysph on Instagram and www.fridays.com.ph.