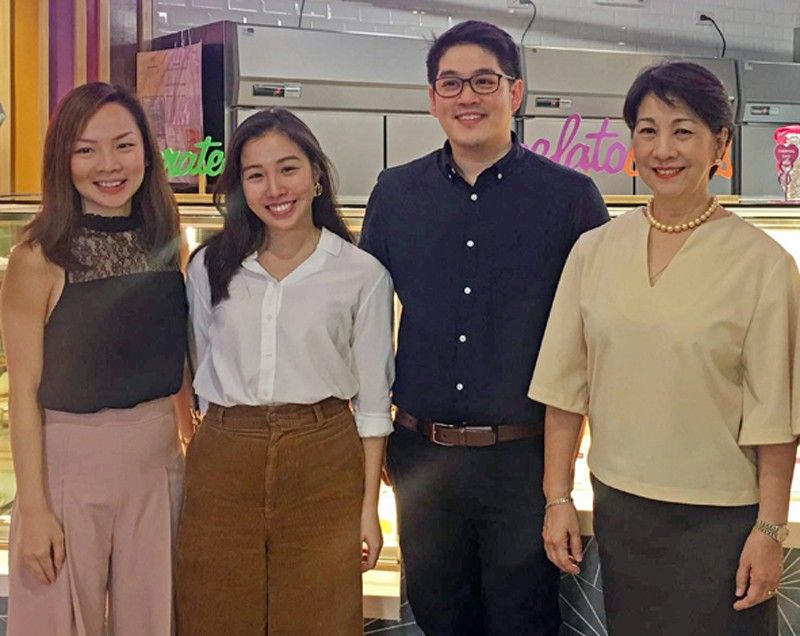 A family affair: Melissa Tan-Moran; Pammy Moran, marketing manager of Amici and Cara Mia; Paolo Moran, executive chef; and Tessie Moran, founder
Here's the scoop: Cara Mia now offers gelato sandwiches
Two scoops of my favorite pistachio gelato just got sandwiched in between sans rival wafers — coated with chocolate then rolled on crusted pistachios — and it's deliriously good!
Now in its 10th year, Cara Mia Cakes & Gelato never fails to tease the palate by coming up with new products that, yes, break the internet. Prior to its official launch, photos of these round, creamy and nutty delights circulated on FB and IG, which further stirred up excitement.
An ingenious idea of Amici and Cara Mia executive chef Paolo Moran, the gelato sandwiches are now available for P150/piece at all Cara Mia branches.
"I love ice cream sandwiches," enthused chef Paolo. "But I wanted to make something that blends in with the Cara Mia line."
And since Cara Mia offers sans rival products, chef Paolo decided to "bookend" the gelato by sans rival discs.
"It's a fairly simple product to make," explained the amiable chef. "The challenge lies in how to tone down the sweetness level."
Chef Paolo and his team tried different combos, made the chocolate coating a little thinner and finally settled on three variants: Pistachio, Ferrero and Mango Cream Pie.
"The pistachio came out really good. There's a tinge of sourness in the Mango Cream Pie, which kind of balanced the sweetness of the sans rival wafer," he explained. "As for the Ferrero, the dark chocolate gave a nice contrast to the rest of the sweet ingredients."
Dipped in white chocolate and rolled in cookie crumbs, the Mango Cream Pie gelato sandwich reminds you of the mango float freezer cake — creamy and tangy.
The Ferrero Gelato Sandwich is dipped in melted in dark chocolate then rolled in chopped almonds for the win.
There's actually a fourth variant — the Ube Gelato Sandwich — but it came out too sweet. It's inspired by Cara Mia's Ube Cake, touted as the "Best Ube Cake in Town."
"We're still doing some adjustments, but as we move along, we'll definitely include it in the lineup along with new flavors," chef Paolo said.
Some have associated Cara Mia Gelato Sandwiches with locally made silvanas. So if you are an avid fan of that pastry, you're in for a sure treat!
Bigger and Better
The launch of the gelato sandwiches coincided with the opening of Cara Mia's flagship store in Glorietta 4.
"This is our 29th branch, including the ones found in all of our Amici stores," noted Pammy Moran, marketing manager, Amici and Cara Mia. "We've always wanted to find a spot in Glorietta. In fact, we're so excited that we tagged Glorietta 4 as Cara Mia's flagship store."
The look is definitely different — it's well lit, a bit modern. There's bar-like seating in one corner for those who can't wait to try Cara Mia's delicious offerings.
"We even put the 'Best Ube Cake in Town' signage by the counter to really claim it," enthused Pammy.
* * *
Cara Mia Gelato Sandwiches are now available across all Cara Mia branches for dine-in and takeout. If you care for a sweet treat after a hefty meal, Cara Mia's friends in Amici will also be serving the gelato sandwiches for dine-in only.