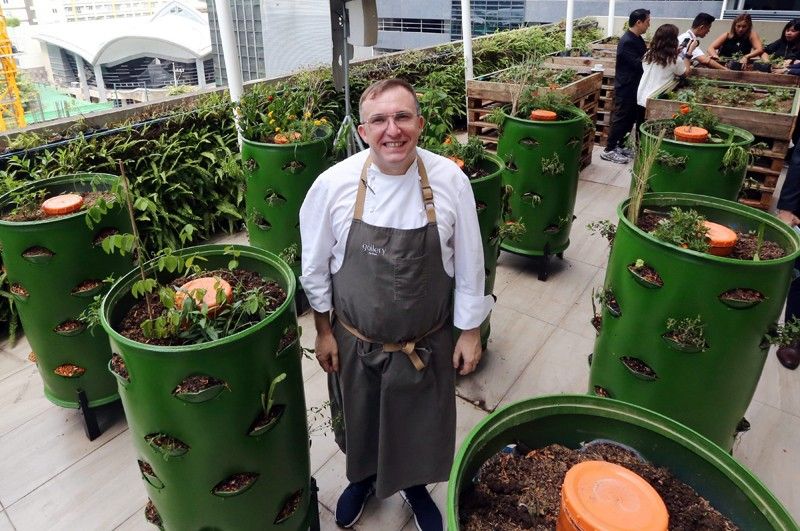 Greens and the city: Chef Chele Gonzalez in his Greenhouse at Gallery by Chele, an organic garden he started on the open deck behind his restaurant on the fifth floor of the Clipp Center, BGC.
Photos by Walter Bollozos
Chele Plants a greenhouse in the middle of the city
Urban gardens and locally grown produce are two of the hottest trends in the food industry today, and how much more local can you get than your own back of house?
Wanting to reduce their carbon footprint while sustainably accelerating the farm-to-table pace, Gallery by Chele recently launched its Greenhouse, an organic garden chef Chele Gonzalez set up on the open deck right behind his restaurant in a BGC high-rise.
"When in the city all around is construction, we don't believe that much in cement, we believe more in nature," says the Spanish chef. "We want to challenge ourselves to be more interactive with nature and respect the environment."
With the help of his team, like chefs Carlos Villaflor and Borja Sanchez, Gonzalez put up vertical plant boxes and clay pots to organically grow around 40 kinds of herbs, vegetables, vines and small trees; there's even a wall covered in pako, the edible fern so popular in Filipino salads.
"I'm very happy to know many farmers here," Chele says. "This year we took the big step of having the test kitchen. We're starting to work with farmers on seasonality in the Philippines, what are the ingredients that are endemic and make a calendar documenting these endemic and seasonal ingredients."
These seasonal ingredients — some of which Chele calls "forgotten plants" because they grow like weeds and have been dismissed as such — include talinum, a leafy vegetable that is the Philippine equivalent of spinach, and pansit-pansitan, a medicinal herb known for its analgesic and anti-arthritic properties.
Other botanicals that have caught Chele's imagination are aratilis (Jamaican cherry), a small tree that produces sweet and juicy red fruits containing hundreds of tiny seeds that the chef likes for their crunch; small rattan (yes, the same palm used for furniture), the starchy young stems and shoots of which can be eaten roasted or raw, and the fruits of which contain a red resin called "dragon's blood" that tastes like citrus; begonia, a crisp, citrusy flower with a lemony flavor and lots of vitamin C; lipote (Java plum), a fruit tree indigenous to the Philippines that bears dark red-to-black fruits similar to duhat; and bignay (currant tree), a calcium-rich plant with edible young leaves and sour fruits that can be made into jelly, jam, or fermented into vinegar, brandy or wine.
"It's something we've never seen before and is completely new for us," notes Chele. "And we try, like other countries do in the world, to know what's going to happen next season, and be ready with endemic, wild Filipino produce."
Chele says they needed to go to different parts of the Philippines to get the soil that was most compatible with their native plants, and to mix their own compost — worms included.
"The idea for that is that since the plant is providing for us, the only thing we can do in return is feed it to the soil," explains chef Carlos Villaflor, motioning to the orange compost receptacles in the middle of each plant box. "So it goes both ways. We're trying to minimize our food wastage, so most of our disposal in the kitchen will be enough to feed all the drums in the garden. Eventually it will be self-sustaining."
Villaflor says they're still adding more edible plants to the mix, traveling to places like Bicol to acquire more seeds: "We're trying to see what we can get outside Metro Manila and bring it here."
By planting their own greens and making compost out of food waste from the kitchen, Gallery by Chele has formed its own closed-loop supply chain, and proven that you don't need a large plot of land to start hyper-local sourcing from your own urban garden.
"It looks not that much, but it's really a lot of work," Chele says. I ask if they have an irrigation system and he laughs: "The chefs are going to be the irrigation system — hand by hand. Very artisanal."
While it's too early to harvest the produce in the Greenhouse at Gallery by Chele, in the near future I can imagine having my salad freshly plucked from the Greenhouse at Gallery by Chele and brought to my table within minutes, illustrating that what starts as an idea and then grows into a dream, can — with vision, teamwork and love — always become reality.
"A small change like this will make an impact in the future," Chele says, and I heartily agree.
* * *
Gallery by Chele is located on the 5/F of the Clipp Center, 11th Avenue corner 39th Street, Bonifacio Global City, Taguig. Call (0917) 546-1673 or go to Gallerybychele.com to reserve a table.