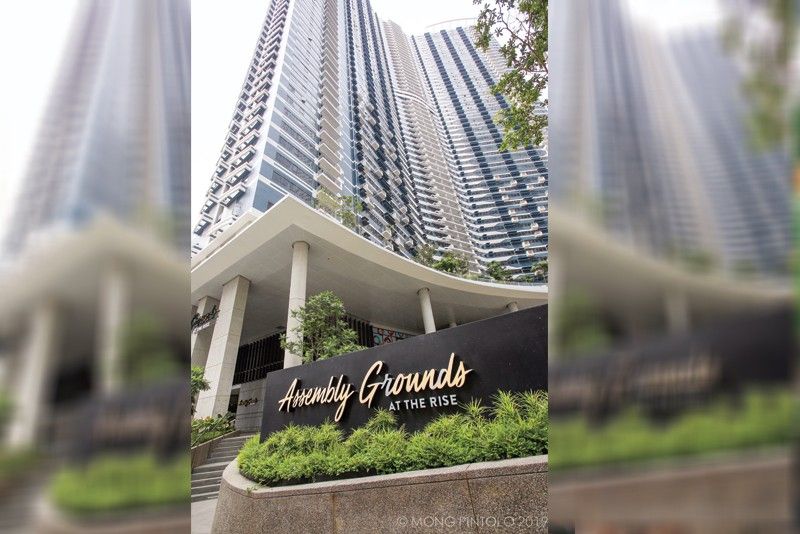 Assembly Grounds is more than just an assembly place. It's bound to be Makati's hottest dining destination.
Assembly Grounds: North Makati's new foodie meeting place
Okay, guys, let's all assemble at, where else but the Assembly Grounds at The Rise, the newest foodie address on Malugay St., Makati, where you'll find unique food concepts all under one vibrant roof.
North Makati is only too happy to welcome the Assembly Grounds, a two-story boutique mall that's integrated into The Rise, a residential and commercial development by Shang Properties, as it promises to be the hottest meeting place of young professionals and millennials, what with its exciting mix of restaurants, cafes, services, and essential stores that are meant to serve the residents of the 63-story The Rise condo. No need, for instance, for the residents to venture out of the area to satisfy their caffeine cravings, as Starbucks Reserve is literally a hop, skip and a jump away.
As you step out of your condo, what's brewing in your mind is this question: What do I feel like eating today? As for us, we thought we'd try Buffalo's Wings N' Things for a quick late lunch. Soon winging its way to our table was a basket of our choices: creamy salted egg wings, garlic Parmesan wings, honey barbecue wings, New York's Finest, just a few of over 1,000 ways you can enjoy your wings here.
For the "Things," we ordered some chicken tenders and freshly cooked nachos. But of course, you can choose how hot or spicy you want your wings to be — it can go from K-Pop to K-Bomb to the Ultimate Wingsanity, where you'll probably have to call a fire station to put out the fire on your tongue.
If you really like it hot (or, should we say, fiery), there's Fiery Style, where you can have a hearty meal that's light on the pocket. Imagine a humongous serving of quartered fiery grilled jerk chicken with jalapeño, side salad, and a choice of rice for only P218, or a 5oz rump steak with crispy squid rings, half-grilled tomato, and rice for only P228.
To calm your taste buds a bit, try the flavors of Hokkaido at Yuki Cafe. Here's the beef: beef gyudon, a bowl of steamed rice topped with beef and onions simmered in a mildly sweet sauce. And hai, the Japanese also make good waffles, crepes, and pancakes.
At Mey Lin Express, you can make your own bento meal by choosing from the various dishes, turo-turo style. One main course with one side dish will cost you only P185.
There's really nothing like a hot bowl of ramen on a cold rainy day. And Ramen Daisho is where it's at.
A seafood fest awaits at Tong Yang Express, which promises to be a favorite "meating," place, what with its Australian lamb and Angus beef offerings.
But if you really want to pig out, Zubuchon, Cebu's pride, is the place to be. Aside from Cebu, Assembly Grounds is also bringing in homegrown favorites from the different parts of the country.
If you love Korean telenovelas, you will love Premier The Samgyupsal's Korean hot pots and barbecues even more.
If there's one Filipino restaurant that has discovered the recipe for success, it's Recipe with its good, old Pinoy dishes.
If you just want to literally grab a bite, Assembly Grounds has 7-Eleven for sandwiches, siopao, hopia, fuwa custard bun, and even ready-to-heat packed meals, hot and cold beverages. This 7-Eleven branch is big enough to provide seats for its customers, so you can linger a while and enjoy your snack with friends.
For more quick bites, there's BreadTalk, which offers food-on-the-go for the eat-and-run crowd. It's affordably priced, too.
And to wash it all down, there's Starbucks Reserve or Yi Fang Taiwan Fruit Tea.
But there's a lot more coming to Assembly Grounds: other food places worth waiting for are Casa Mia (a famous Italian resto in Palawan), Raging Bull + Burgers, Pepper Lunch, Chatto Bites (Americanized Japanese and Asian fast food), Vinatrang Cuisine (for a good bowl of Vietnamese pho and more), Kuya's, Salad Bowl, Spektral (for local artisanal beer brews), Mihimihi (for Asian eclairs with custard filling).
Assembly Grounds aims to give everyone a good mix of the things we crave. But aside from the dining spots, residents of The Rise do crave some pampering, too, at the end of a long, hard week. Which is why Assembly Grounds has more than 20 retail and service outlets: For beauty and wellness, there are Nisce Skin Medispa, Pink Parlor, BOHO by Nail Tropics, and /nook/Salon. For home furnishing, True Value is your true friend. For lifestyle and novelties, there's Daiso Japan. And you can bank on the Bank of the Philippine Islands for your banking needs.
For male (sometimes female, too) pampering to the max, there's the newly opened Sanbry Men's Grooming House that looks more like a charming house full of antiques than a barbershop. Despite its elegant ambience, a haircut will only cost you P395, which comes with a shampoo and massages.
Opening soon are the Acero Dental Clinic, Besa's Footwear and Bag Restoration, Curate, Lomi Imua Relaxation Hawaiian Spa, Security Bank ATM, and Tapout Fitness.
Surely, Assembly Grounds is more than just an assembly place. It's bound to be Makati's hottest dining destination.
* * *
For inquiries, call 8298-8000 local 4. Follow Assembly Grounds on Facebook, Instagram, and Twitter @assemblygrounds.