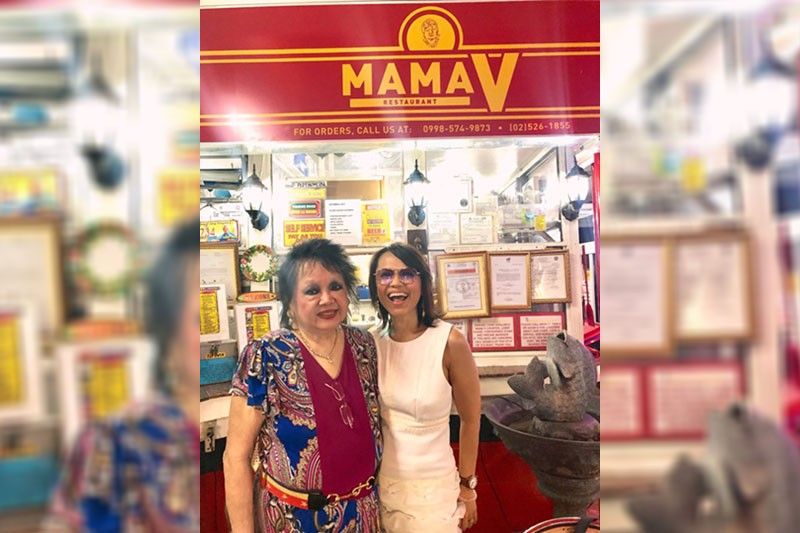 Mama V is owned by Tina Vitas, and her mom, Lucita Campos Vitas, better known as Mama V.
Mama V feels like Christmas all year round
Whenever you visit Mama V restaurant, it is Christmas all year round with Christmas lights all over the place.
Mama V is owned by Tina Vitas, who, after 17 years of living in the United States, decided to come back. She opened the restaurant with her mom, Lucita Campos Vitas, better known as Mama V. Mama V was one of the top exporters from the Philippines selling local fashion accessories made out of shell.
"She is my mother, first and foremost, my best friend, my idol, my inspiration and my rock," Tina says. "I wouldn't be who I am today and wouldn't be where I am in my life without her constant example, strength, support, laughter and inspiration. To say that I adore this woman is an understatement. But she and I can also out-lady boss each other, like feisty and accomplished mothers and daughters can sometimes, do!"
For the past few years, Mama V has been giving family and friends her rich and delicious Bacon Carbonara as gifts. Both adults and children kept raving about how good it was each and every time, without fail. This is how Tina got the idea of bringing the party-tray, family-style Mama V food to people's homes, gatherings, parties and special occasions. This restaurant with Mama V's home cooking is Tina's venture into entrepreneurship.
"I left after high school and studied, worked and lived in Boston, Los Angeles and New York for 17 years from 1986 to 2003," Tina says. "With two dragon ladies (mother and daughter) vying for the boss position, you can imagine it wasn't easy. I was a tough-as-nails New Yorker who wouldn't budge at that stage in my life."
Aside from catering to the nearby school district (St. Scho, College of St. Benilde and De La Salle University), Mama V Delicious expanded its offerings to not just Bacon Carbonara but many other dishes like barbecue, breaded fish and salmon with delicious calamansi butter, garlic sotanghon and many more to complete a whole meal for a party. They now have Delicious Meals To-Go and can deliver anywhere in the city, definitely delicious at your doorstep. They also have frozen foods that are packed and portioned: Angus beef tapa, chicharon bulaklak and dishes like adobo, chicken curry, beef and chicken mushroom, kaldereta and many more.
This mother-and-daughter tandem is inseparable. They are so endearing and always offering their healing products from Easy Cures.
* * *
Look for Mama V on Instagram @mamavdelicious.ph and Facebook as Mama V Delicious Meals. They can also be reached on mobile, Viber and WhatsApp at 0917-811-7580, landline number at 502-4210. Her Kitchen, located in Providence Tower, Ground Floor, 2471 Leon Guinto Street corner Estrada, Malate is open from 10 a.m. to 10 p.m. Monday to Sunday.