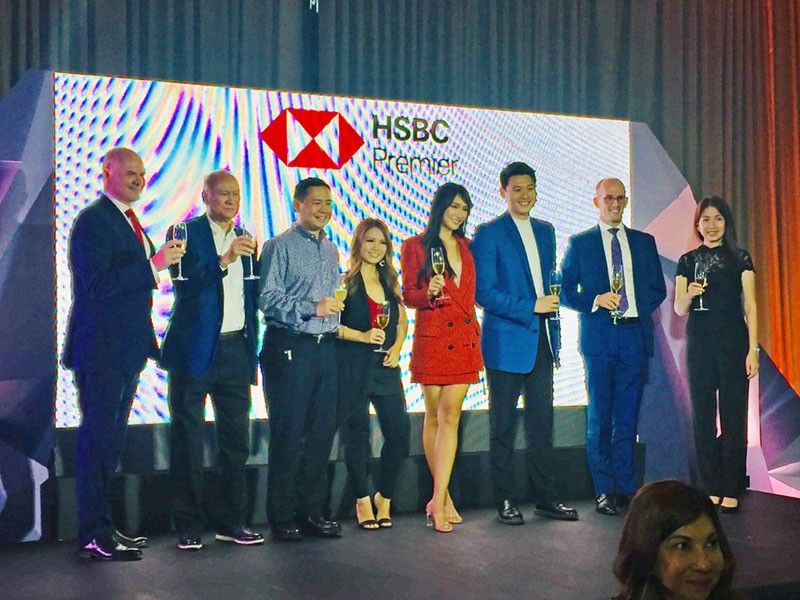 HSBC CEO Graham FitzGerald, Jun Magsaysay, Paco Magsaysay, Cheryl Tiu, Bea and Eric Dee, Peter Faulhaber, HSBC head of retail banking and wealth management, and Cheryl's mom Lianne Tiu
A very unusual food pairing
What's better than a three-course meal or a three-layer cake?
Well, if you're attending the launch of HSBC Premier at Peninsula Manila's Conservatory, it's a special three-course dinner prepared by chef Richard Glaze to celebrate the "3 Tiers" of financial security that the new HSBC product provides.
Those are:
• Safety and Protection
• International Connectivity
• Wealth
Those three goals offered by the HSBC Premier program were paired with a very special menu, served to guests by a cadre of waitpersons bearing gifts: for the first course ("Safety"), we opened up a personal safety box that contained appetizers of Iberico pork sisig croquettes, garlic aioli foie gras, Norwegian salmon gravlax, and wasabi black truffle tartlet.
"When your future is locked in safely, you can rest assured of your family's investment," read the statement inside the box — a sort of fortune cookie of financial security.
The second course was an excellent miso and sweet corn velouté with roasted tiger prawns and tandoori spices, served beneath a demi-globe: this represented "International Connectivity," because one thing HSBC Premier offers is the security that allows you to travel the globe, always within access of your Dedicated Relationship Manager (by phone or otherwise, I presume; I'm not sure that they magically appear wherever you are like a genie) who can make sure your financial questions are answered and your needs covered.
The third course represented the tier of "Wealth," which our chef represented with a slab of slow-roasted beef tenderloin, served with roasted field mushroom, cheese fondue, sweet and sour jus and arugula — crucially, it was presented on a wooden board, representing the "solid" foundation for wealth management offered by HSBC Premier. But, as host Issa Litton put it, "Let's just say it: this course also represents indulgence!" Indeed it did; we tucked into an excellent piece of tenderloin, serenaded by vocal group The Muses, and pondered the messages presented by three HSBC Premier members: globe-trotting food writer Cheryl Tiu, Carmen's Best ice cream founder Paco Magsaysay and Sunnies Studios duo Eric and Bea Dee.
Cheryl Tiu enjoys that HSBC keeps her connected with her family, even when she's traveling around the world, and though her mom used to pay her bills for her when she was away, "the HSBC Premier card offers online banking that allows me to pay my bills anywhere I am in the world."
Paco Magsaysay says growing up, his father would talk about the virtues of honesty, integrity and hard work. "When an opportunity to do something different came up, he was there."
Paco's dad agrees: "Paco just had the passion to sell, so I had to support him," and HSBC Premier made some of their dreams come true.
Coming from the restaurant success of Rikki Dee's family, Eric and Bea Soriano Dee needed local banks they could trust to bring Sunnies Studios to life, and create something they could pass on to their own kids. Fortunately, HSBC Premier was available for them.
How does the HSBC Premier program work? Well, if you maintain a "Total Relationship Balance" (TRB) of P3 million or its foreign equivalent with HSBC; commit P300,000 or its foreign equivalent to your savings per month; or upgrade your Advance status to Premier by taking out an approved home loan of at least P6 million, you gain access to the Premier perks.
These include a dedicated Relationship Manager supported by a team of specialists; an HSBC Premier MasterCard for free, with no annual fee for life; Premier Overseas Education benefits (these include HSBC's Global Safety Net to provide emergency cash advance or next-day credit card replacement, as well as guidance to your loved ones studying abroad on issues of identity theft and personal safety); Premier benefits for your kids, such as Premier Junior Pack and Premier NextGen; recognition of HSBC Premier status in all countries where you bank with HSBC; and access to world-class products.
The three featured HSBC Premier members each represented one of the tiers.
"This is how I travel the world, worry-free," says Cheryl, an example of international connectivity.
"This is how we pass on creativity and the entrepreneurial spirit," says Paco, representing wealth and growth.
"This is how we take care of our children's future," say Erica and Bea, offering a path of safety and protection.
HSBC Philippines president Graham FitzGerald had this to say: "As a banker, as a father and husband, and as a Premier customer, I'm really excited to see what's on the horizon for HSBC as your reliable partner and trusted advisor and most especially in addressing your family's financial needs."