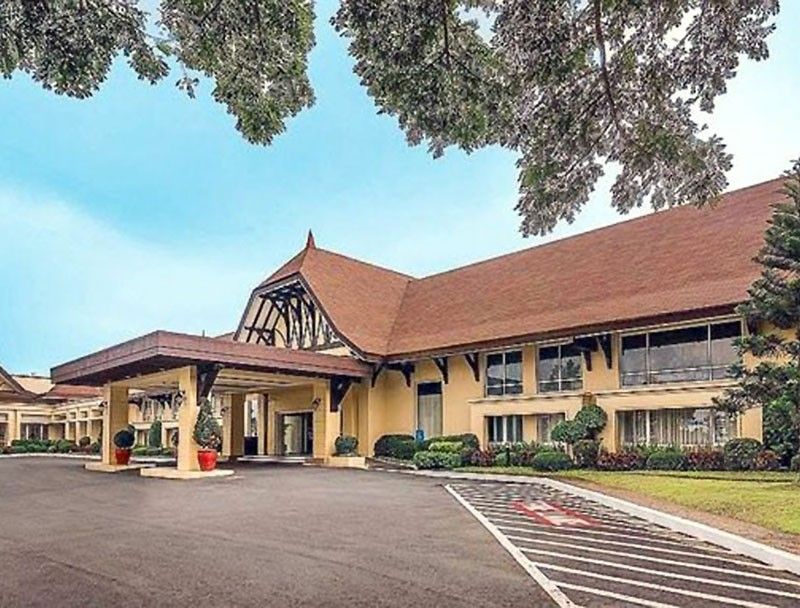 Taal Vista Hotel, the grand dame of Tagaytay, marks its 80th anniversary with an extraordinary themed luncheon aptly called "As Time Goes By."
Savor the flavors of history at Taal Vista Hotel
The grand dame of Tagaytay — Taal Vista Hotel — celebrated its 80th anniversary last Monday with an extraordinary themed luncheon aptly called, "As Time Goes By."
Held at the elegant Taza Fresh Table, the seven-course lunch featured dishes from the Commonwealth era up to the 21st century.
Curated by Clang Garcia and interpreted by Taal Vista executive chef Jayme Natividad, the menu — inspired by the food and cuisine through the (eight) decades — took a good two-and-a-half months to conceptualize.
Clang curated the dishes, while chef Jayme interpreted them.
"Clang and I, together with arts advocate, educator and former CCP president Nestor "Nes" Jardin, started discussing this as early as May or June. Clang did her research, I did mine and we would meet twice a month to discuss everything," recalls chef Jayme, who had a stint at Gramercy Tavern and Balthazar, New York. Prior to joining Taal Vista, chef Jayme was executive chef of Pico de Loro and Park Inn by Radisson.
The late Henry "Tatang" Sy Sr.'s favorite dish, Adobong Dilaw, was served on pan de bulilit as part of the hors d' oeuvres with Shrimp with Desiccated Coconut.
"These two dishes were inspired by 1930 to 1940s' significant events — the Commonwealth period and the establishment of the first Philippine Republic — that shaped the country and its culinary culture," explained Clang.
During the Second World War, food security was a threat. The locals anchored on maximizing local food sources.
"The Shrimp with Desiccated Coconut is symbolic because during this period, Franklin Baker, an American businessman who introduced desiccated coconut in the US, invested in a plant in San Pablo, Laguna, due to its proximity to coconut abundance in the province," explained Clang.
The 1950s was a period of celebration after the war. Fiesta food emerged with the cookbook of Enriqueta David-Perez titled Recipes of the Philippines. Chicken relleno became so popular during that decade. And so, chef Jayme and his team served their version of the dish as a pass-around during the luncheon.
After the cocktails, we were led to our assigned tables to partake of the seven-course anniversary menu featuring the dishes popular during the 1950s to year 2000.
Clang and chef Jayme paid tribute to the doyennes — Nora Daza, Glenda Barretto, Myrna Segismundo —who helped shape the country's culinary scene. Also on the list are power couple Amy Besa and Romy Dorotan, who carried the flag of Philippine cuisine in Manhattan; and artist/chef Claude Tayag, who brings his creative genius to every dish he prepares at his popular restaurant, Bale Dutung in Pampanga.
For appetizer, we had the delicious, bite-sized Lumpiang Sariwa with Pansit Buko served on buko shell. This dish is reminiscent of the 1960s culinary scene when Nora Daza delighted foodies in New York and Paris with her elevated Filipino dishes.
It was followed by Cocido, braised beef, chicken and pork soup that warms the tummy and the soul. This dish is an ode to Glenda Barretto, who promoted Filipino dishes in international events.
For the mains, we had the delicate Poached Seabass with potato puree, baby carrots and zucchini with saffron beurre blanc and saffron foam. This dish was influenced by chef Myrna Segismudo, the 1980s culinary icon.
Hibiscus Tarragon Sorbet was then served to cleanse our palate before we proceed to the star of the menu — Sous Vide Bukidnon Wagyu Strip Steak.
Served with marble potatoes and mixed mushrooms, the steak dish was made more flavorful by the Amadeo coffee port sauce.
Capping off the delightful meal was the Blue Pea Coconut Cheesecake, which is light, creamy and oh, so yummy.
"In creating these dishes, I had to imagine what it was like to be back in that specific time — what was going on socially, politically and economically," shared chef Jayme. "Replicating these dishes isn't as difficult as long as you have all the major ingredients at hand. Giving it your own touch and not to lose the essence of the dish needs restraint."
Well, the historic allure of Taal Vista Hotel coupled with the scrumptious anniversary dishes, indeed, took us back to the memorable and historical events in our history, one bite at a time.
* * *
In celebration of Taal Vista's 80th anniversary, the hotel offers promos for the whole family. The Senior Suite Savor promo includes an overnight accommodation in the spacious One-Bedroom Batangas Suite or One-Bedrooom Deluxe Suite for three adults, buffet breakfast for three adults and two kids at the Veranda all-day dining, 20-percent discount at Veranda or Taza Fresh Table, 15-percent discount at Cake Shop and Lobby Lounge, complimentary extra and more, all for as low as P10,880.
The Anniversary Super Flash Sale, on the other hand, is Taal Vista's biggest sale of the year. For as low as P8,090, the promo includes room accommodation for two nights, buffet breakfast for two adults and two kids (seven years old and below), 20-percent discount at Veranda or at Taza.
The Senior's Suite Sale is valid until Nov. 7, while the 80th Anniversary Super Flash Sale is valid until Nov. 15.
Taal Vista is along Kilometer 60, Aguinaldo Highway, Tagaytay City.
For reservations, call 917-8225, (46) 413-100, SMS 0917-8091254 or visit www.taalvistahotel.com.