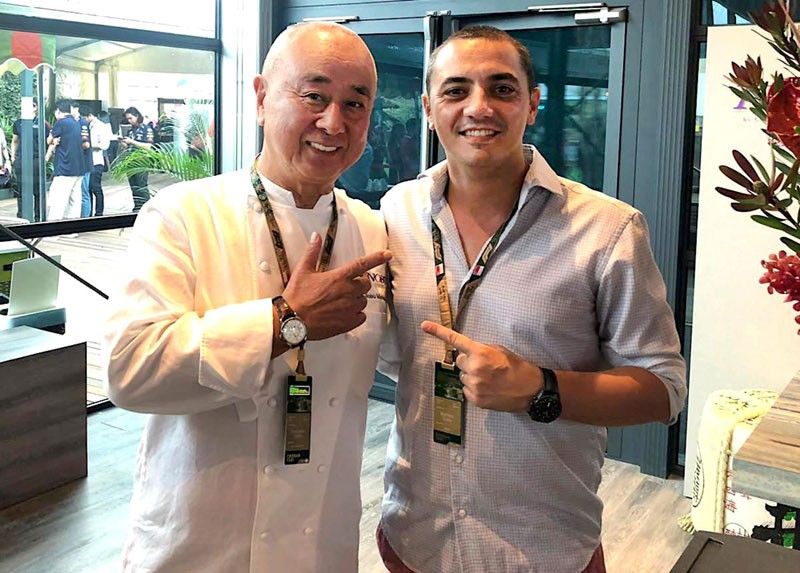 Julien Royer of Asia's No. 1 restaurant, Odette—which also just received its third Michelin star—and Nobu Matsuhisa at the Paddock Club
Heston blumenthal, Nobu Matsuhisa & Neil Perry headline Singapore Grand Prix
SINGAPORE — You're probably wondering, "Why am I reading about the Formula 1 Singapore Airlines Singapore Grand Prix in the food section?" The truth is, the home of the first F1 Night Race (it's been held at night since 2008 to keep within the European time zone) does not only boast a star-studded entertainment lineup ("It's bigger than Coachella and Glastonbury when it comes to the lineup," Singapore GP executive director Michael Roche shared with us) but also culinary legends.
While around 60,000 people flocked to the Padang stage each day to watch Swedish House Mafia, Gwen Stefani, Muse and the Red Hot Chili Peppers, the different hospitality suites were populated with Michelin-starred restaurants, popular casual concepts, and cocktail bars.
Paddock Club
The Paddock Club (SG$8,880 for three days) is the most exclusive (and expensive) of the lot. Apart from being in a predominantly air-conditioned environment — alongside heads of state, billionaires and celebrities — and having their own private pit-lane experience (the rest of the world have to line up for almost two hours just to walk the tracks), guests are treated to unlimited gastronomic fare from some of the best chefs in the world.
Heston Blumenthal (of the three-Michelin-starred Fat Duck, two-Michelin-starred Dinner by Heston and numerous television shows) was the talk of the food world. He had brought in his Michelin-starred gastropub The Hind's Head — the first time it has traveled outside of the UK — for this very special occasion. Hash of snails, venison carpaccio, and spinach with celeriac were some of the dishes that guests enjoyed from the serve-yourself-as-much-as-you-want spread.
Neil Perry, of the acclaimed Rockpool Bar and Grill in Sydney, served wood-fired grilled meats like lamb racks and wagyu rump, and sustainable seafood like yellowfin tuna and king prawns.
Nobu Matsuhisa of his eponymous Nobu empire brought his crispy Kurobuta belly with spicy miso, along with various sashimi and sushi platters, and an assortment of sakes that had guests forming long queues just to get in his Nobu at the Boardwalk.
The Como Dempsey group showcased their various concepts: Michelin-starred Candlenut by Malcolm Lee, Dempsey Cookhouse by Jean Georges Vongerichten, Ippoh and Como Cuisine. Candlenut's lobster laksa and Dempsey Cookhouse's truffle pizza were crowd favorites. Tarte by Chery Koh provided sweets and desserts.
For drinks, when guests wanted a change from the free-flowing Taittinger and the variety of red and white wines, Hong Kong's Stockton bar churned out beautiful craft cocktails. All the food and drinks were unlimited.
Twenty3
Twenty3 is a new hospitality suite (SG$5,850 for three days) that was introduced only in 2018. It's another foodie heaven with an array of Michelin-starred restaurants, casual eats, a speakeasy, a lounge/ nightclub and a sky bar, whew!
There were three Michelin-starred restaurants from Japan (Takagi, two stars), Portugal (Largo do Paço, one star) and Italy (San Domenico Ristorante, one star) and Podium Izakaya that occupied the different floors, each with window seating fronting — as in the name — Turn 23 — the final corner of the circuit.
Downstairs, a more casual environment saw the UK's popular Burger and Lobster, local fare like mee siam, laksa, satay, and desserts from Harrod's Knightsbridge London pastry chef Philip Khoury, N2 Brunch Club's Eddie Stewart and Min Chai, and Prague's Good Food Coffee and Bakery. There was even a speakeasy by La Maison du Whisky where rum and whisky-based cocktails inspired by the race were specially created: Flying Start, Peat Stop and Final Lap.
So after Ferrari's Sebastian Vettel sped through the finish line, gourmands celebrated with glasses of champagne on hand and delicious bites until Red Hot Chili Peppers took the stage to close the event — and even then, they had the option of walking about half an hour to the Padang stage or watching the giant screen from the comforts of their trackside suite.
By the way, those were 10,000 bottles of champagne consumed in three days!
* * *
The Singapore Grand Prix 2020 will take place from Sept. 18 to 20, 2020. For more information, visit www.sinaporegp.sg.
Singapore Airlines flies from Manila to Singapore daily. For more information, visit www.singaporeair.com.
You can reach the author at inbetweendeadlines@gmail.com, on my blog www.cheryltiu.com, on Twitter at www.twitter.com/cheryltiu or on Instagram at www.instagram.com/chertiu.