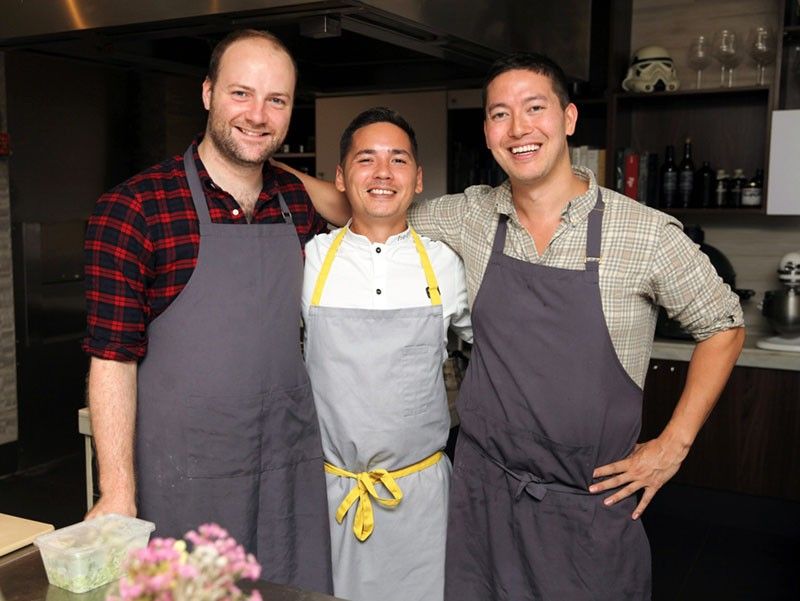 Culinary nomads: Chef Josh Boutwood (center), Le Bon Funk chef-owner Keirin Buck (right) and Open Farm Community head chef Oliver Truesdale-Jutras at the Nomad Series event "Le Bon Funk x Helm" Photos by BENING BATUIGAS
Funk" can mean either something stinky or rhythmic music that makes you feel like dancing.
Helm chef-owner Josh Boutwood brought in the good kind of funk — literally — by inviting Le Bon Funk chef-owner Keirin Buck from Singapore to do a culinary duet with him in the second installment of his Nomad Series.
The two met at a chef's conference last year in Manila and hit it off, probably because they share many similarities. Both are culinary nomads who've lived and worked in different parts of the world; both own their own restaurants where they're free to express, experiment and create through food; both have a passion for the best local produce, and both have Asian blood running through their veins. They even look sort of alike.
Buck, whose mom is Japanese-Irish and originally hails from Toronto, Canada, moved to Singapore four years ago and worked at the Michelin-starred Burnt Ends as sous chef before opening his own restaurant, Le Bon Funk, on Singapore's Club Street — a neighborhood bar specializing in natural wines and his brand of contemporary food.
"In Toronto it's a bit difficult to break out of the scene; there's a big dining-out culture," Buck observes. "In Singapore everyone eats out every day of the week."
Buck's inventiveness with food — another trait he shares with Boutwood — gradually became clear as we progressed through the collaborative lunch, which was held at Boutwood's 10-seat Helm at Arya Residences in BGC.
Buck delivered the opening riff with Foie Gras, Cedar, one of his signature dishes at Le Bon Funk. I watched him spread cedar jelly — sent to him by his parents, who are organic farmers in Ontario — on toasted, house-made brioche, before finely shaving a mound of foie gras over it with the help of Oliver Truesdale-Jutras, another culinary nomad from Canada who's settled in Singapore as the head chef of Open Farm Community.
The heap of foie gras melted into the honeyed jelly and toast like the most unctuous butter, and it was so eye-closingly good I wanted to either sing aloud or grab the whole tray and keep it to myself.
Our sommelier for the lunch, Zeus Grageda of Sommelier Selection, was like the rhythm guitarist accompanying our funk duo. He paired Buck's crostini with a biodynamic, organic Cava Azimut Brut Nature from Cellers de Can Suriol, Penedes, Spain, which was an apt touch considering the chef's preference for natural wines.
Not to be outdone, Boutwood countered with his own intro: Goat Cheese, Tomato, Lardo, which took your breath away with its visually arresting chips of red, white and black hiding something underneath.
"It's fermented tomato jam paired with whipped goat's cheese, topped with our smoked picnic bacon and smoked pork back fat that's been lightly cured," Josh revealed. The chips, made with beetroot juice and cuttlefish ink, had the surprisingly sacred texture of communion wafers, while the tart, airy cheese held together the chewy bits of pork nicely.
Boutwood followed his flashy opening verse with a romantic-sounding chorus: an Abalone, Mushroom, Green Pea salad dressed in malunggay oil that he topped with seasoned tuna heart cured in rose petals and pink peppercorns. We mixed it up with an emulsion of red miso and garlic before tearing in like true heartbreakers.
Buck led into his next course with a two-part harmony of house-made charcuterie before unleashing a dazzling solo: Venison, Master Stock Jelly, a bowlful of heaven with crunch provided by popped local red rice.
Normally I'm lukewarm towards both game and aspic, but my seatmate, young Spanish chef Borja Sanchez, the R&D director of Gallery by Chele, summed it up best: "I enjoyed the jelly the most. It's difficult to make complex because it's cold, but he made it very expressive."
Boutwood improvised with his own pièce de résistance: Veal cheek, Rutabaga, Hazelnut — pure, carnivorous comfort on a plate. The veal slice was poached in milk for tenderness and roasted to caramelize its exterior before Josh topped it with puffed Adlai for texture, enriching it with brown-butter smoke and micro amaranth for spice.
The sommelier selection for this was Corriente, a stellar DOCa Rioja from rock-star winemaker Telmo Rodriguez of Spain. While "corriente" means "electricity" to us, in Spanish it's defined as "stream" or "current," which means it's best when drunk right away, though I suppose aging would make it even better.
The dessert wine was another Rodriguez creation, MR Mountain Wine 2015 from Malaga. "MR Mountain is one of the vineyards that he revived in Spain," Grageda informed us. "It's a very fruity, sweet but complex dessert wine."
It accompanied a surprising medley from both chefs: vegetables for dessert.
Buck's was another signature Le Bon Funk dish, Celery custard with Buckwheat, a daring combination you have to try to believe that it totally works as a refreshing meal ender.
Boutwood served roasted cauliflower ice cream atop a cashew nut and Thai basil crumble, with lemongrass-infused caramel on the side. "It's like that whiff of lemongrass you get when you punch open a lechon — that's kind of what it tastes like," he says.
Why serve veg for dessert? "Our menus are reversed," Boutwood explains. "This is a dish off our current menu, so when guests arrive, they'll start off with a cheese course — a Comte cheese tart — then go to mango sticky rice. Guests believe they'll start with dessert first before they get into the main course," he chuckles.
Just another jazzy inversion from the British-Pinoy chef, whose Test Kitchen and now Helm and Savage hijinks are pleasing and astonishing BGC diners.
Not surprisingly, the Le Bon Funk x Helm gig on Sept. 26 was sold out, with its gustatory mix of soul, jazz and R&B. But most of all, there was funk. And it was good.
* * *
Le Bon Funk is located at 29 Club St., Singapore. Visit www.lebonfunk.com for details.
Helm is located on the G/F of Arya Residences, McKinley Parkway, BGC, Taguig. Call (0906) 234-1900 to make a reservation or visit www.joshboutwood.com.ph/helm for details.
Follow the author @theresejamoragarceau on Instagram and Facebook.