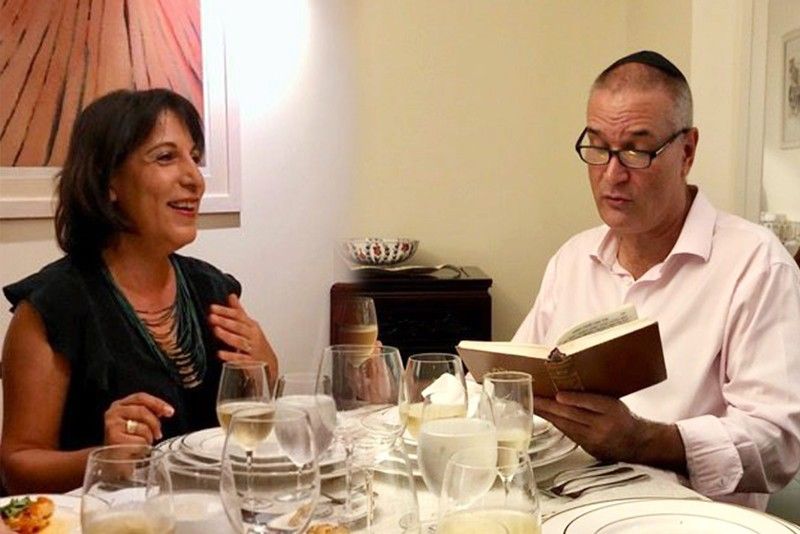 Ambassador Rafael Harpaz and his wife Shuli Harpaz invited the author Heny Sison and her husband to a pre-departure dinner at their lovely home. The lady of the house, Shuli, prepared delicious, home-cooked Israeli food. She explained to me each dish. We started the dinner with the ambassador saying their prayer before the meal.
Understanding the cuisine of Israel
A TASTE OF LIFE
-
Heny Sison
(The Philippine Star) - September 26, 2019 - 12:00am
When we think about Israel, we think about our faith, and the faith of millions of others birthed in this country. We think about Old and New Testament parables, stories, and the many films inspired by the entangled records of people and their miracles. My first visit to Israel a few years back was an unforgettable spiritual experience, part of a pilgrimage tour that transformed my understanding of the Bible into vivid reality. And just recently, my second trip back made me fall deeply in love with everything connected to this glorious place from its breathtaking natural scenery, charming and friendly people, to its unique culture — and above all, the food!
Food doesn't immediately come to mind when we talk about Israel. But the Land of Milk and Honey is aptly called so, because Israeli food culture is as sweet, diverse and historically colorful as its people.
Last July 2019 I was privileged to be invited by Ambassador Rafael Harpaz, the Israeli ambassador to the Philippines, to join a group of celebrity chefs, foodies, journalists and influencers from around the world to go on a culinary visit, as part of an effort to introduce Israeli cuisine. The country is only 70 years old after all, and although we are familiar with Middle Eastern and Indian delicacies like falafel and shawarma, their Israeli counterparts are solely (or should I say "soul-y") their own — molded, adapted and innovatively embraced through their diaspora, culture and religion.
We embarked on our Food Trip organized by the Ministry of Foreign Affairs of Israel and G&S Travel. We arrived on the Sabbath where religious customs observe a day of rest, and began our tour the next day. in the morning we had a guided tour of the Old City including a culinary tour with Nurit Hertz, who described "Israeli Food" as a mix of Lebanese, Indian, African and European flavors that Jews have acquired in their two-millennia-long wandering before the establishment of the country in 1948. Over this time, the Jews have evolved their food wonderfully, to create a unique food tradition.
We had lunch at the Hatzot, a restaurant in the Old City of Jerusalem in the Machane Yehuda Market, famous for a special dish called Meurav Yerushalmi — Jerusalem mixed grill — which consists of kosher innards like chicken hearts, livers and spleen fried with lamb fat and copious amounts of onion and spices. They say that this dish has become a metaphor for the mixed nationalities of Israeli households. We also sampled their in-house pita breads. In the afternoon, we went to the Zaltzer cheese and yoghurt farm where Omer Zaltzer, the proprietor, toured us and let us try the different cheeses they produce. They have been operating as a family business for 40 years, making artisan cheeses straight from their home. They learned how to make cheese from the cheese-making nuns of the monastery, and Omer told us that his mother bought their first two goats from them.
We had our first dinner back at the Machane Yehuda Market, which transforms into a spot for young professionals and tourists as the night wears on — the lively chatter of vendors and customers in the morning become the subtle beats of music and pulsing strobes, and the bright stone facades become dark walls reflecting the moonlight. The market is a must-see in the morning as well as at night.
With our tour guide Yana Milanevski, we began our second day immersing ourselves in the Jewish neighborhood of Mea Shearim where a local invited us in her home to show us how Israelis eat and entertain guests. We were served a typical Jewish breakfast of kugel — baked pudding that's most commonly made from egg noodles or potato. Afterwards, we made our way to the Church of the Sepulchre and the Western Walls. I remember the first time we made our pilgrimage through the very same streets, only now, I was experiencing it for the first time through food.
Throughout, Hebrew was spoken and heard as we took our time tasting the different products in the marketplace like tahini, kubeh (a soup dish with ground ingredients made into balls and then boiled or fried), dried cheeses, frankincense and myrrh, date fruits, halal meats and local Israeli fruits originally imported from Iran in the old times. We based our route on the local app Bite Mojo, which helped our group move around. If you're visiting the Machane Yehuda Market, you might want to consider using this app on your phone —it's a culinary app and tour of the market, developed for a more convenient and meaningful stay inside the city of Jerusalem. You will even be able to find the vendor who sells white and black olive-flavored ice cream.
We capped off the night with a spectacle of flavors, music and acrobatics at the Hamotzi Restaurant by chef Avi Levy, which serves authentic and comforting homemade food. Chef Levy combines a North African cooking style with a Jerusalem flare to create a rich fusion of flavors. We were treated to a communal dessert spread parade prepared and plated by the chefs straight onto our foil-covered tabletop, caried out rhythmically with song and music. Think of a boodle fight but with desserts, and with everybody dancing.
The next day we went out for a dip in the Dead Sea. We enjoyed floating on the surface of the saltwater lake until lunch time when we ate a Morrocan spread from the shorefront resort and restaurant Biankini owned by Dina Dagan. This restaurant in the heart of the Judean Desert serves authentic dishes overflowing with spices from Morocco. Meanwhile, we filled up with a more familiar Spanish dinner at Vicky Christina restaurant for dinner in Tel Aviv. We went on a guided tour around Shuk Ha'Carmel, or Carmel Market, the main local market in the boisterous and lively city of Tel Aviv. This is where you will find various sweets and delicacies such as panna cotta made of yoghurt, Babka, a sweet leavened bread made with a rich dough (often containing raisins), and nuts and vegetables like green almonds, okra, snowpeas, and fruits. We sampled street food like the bureka, a pastry made with egg and cheese filling, and enjoyed the sights and smells of the different teas, herbs and spices available. We went to the oldest bakery that served almond maruchino cookies made with no flour and no gluten.
We also visited Café Levinski 41 in Levinski Market to try their gazoz, a refreshing soda water beverage with fermented fruits and sometimes even flowers to make the drink aromatic, tasty and pretty to look at. In front of their store is a small open truck where you can sit among the flowers decorating the inside. The food blogger Gil Hovav accompanied us on this leg of the trip.
During our street food lunch at Hamiznon restaurant, chef Eyal Shani shared with us his love and passion for local food, and emphasized focusing on your own cuisine before giving in to a desire to master a foreign one. Since we were French, Kenyan, Mexican, Italian, American, Vietnamese and Filipino, all eager to taste and learn global cuisines, we were reminded of what is more important. I told chef Shani that that is my advocacy back home — to champion Filipino cooking and traditions.
We went to Shtraus factory, a concept and start-up incubator cooking school. We learned about start-up companies like Yo-Fix, Estella and Zero Egg, a company that produces plant-based egg substitutes proving that you can make anything with plants, and Aleph Farms, a pioneer of the slaughter-free revolution that actually clones edible parts of meat for consumption, resulting in a more positive environmental and ethical impact.
In the evening we went to Kitchen Market restaurant located in Tel Aviv Port's indoor market where they practice market to table seasonal dishes. For dinner, our hero ingredient was cherry tomatoes, done in numerous delicious ways. We tried halva desserts, sweet crumbly confections usually made from tahini (sesame paste) or other nut butters, such as sunflower seed butter.
On our last day we toured Akre Market with chef Alaa Mussa who was born in the city of Akre and worked at a famous fish restaurant there in his childhood where was first exposed to fish and seafood. He now owns a restaurant and conducts regular cooking workshops and tours in his hometown. Being a port market, Akre is famous for fresh fish meat and ingredients. We had our fill of ceviche in his restaurant Al-Marsa, and afterwards, found the best hummus around, as well as colorful candied nuts, baklava, konafi and rolled desserts. Because Akre was a seaside location along the Silk Road, the place is now teeming with a unique combination of ancient traditions.
Our final stop was Tulip Winery owned by the Itzhaki family, a boutique winery that combines their love of wine and social responsibility, employing adults with special needs and providing the opportunity for inclusion in the mainstream workforce.
Despite surviving 2,000 years without calling one place home, the Jews stayed resilient and united through their customs and their food. They took what was from different places and made it all uniquely Jewish, producing a complicated flavor profile that can only be described as Israeli. Today, they remain proud of their food and continuously discover different facets of their own history, ready to progress into modernity with the rest of the world.
My six-day Israel culinary experience was delightful and eye-opening. We'd only covered a small part of Israel across three different cities and five different markets, locations of both historical and religious sites. I wonder how much more beauty the rest of the country holds?