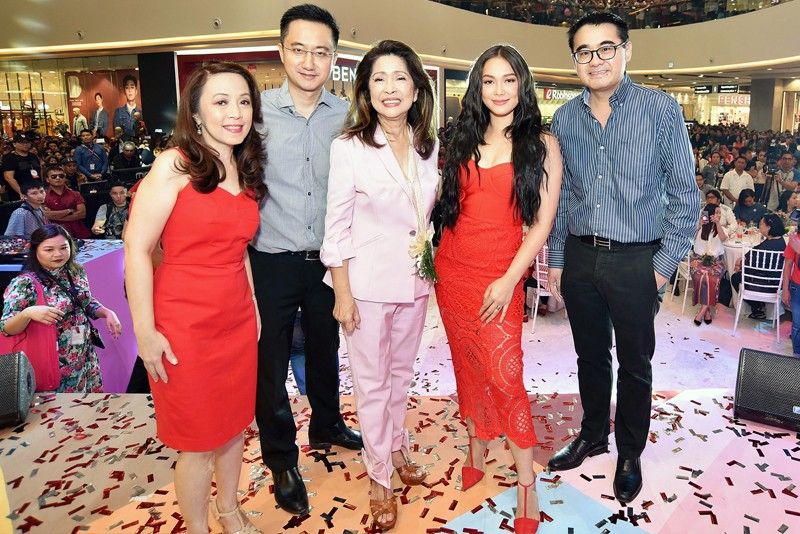 Robinsons Land Corporation (RLC) president and CEO Frederick D. Go (right) with (from left) RLC senior VP and business unit GM for commercial centers division Arlene G. Magtibay, RLC Executive Vice President Faraday D. Go, San Pedro City Mayor Lourdes Cataquiz and RLC Ambassador Maja Salvador at the opening of Robinsons Galleria South in San Pedro, Laguna
Art is all around you at Robinsons Galleria South
There's a metal sculpture in the al fresco area of a premier mall in San Pedro, Laguna that not only draws in the crowd but stirs their curiosity as well.
Titled "Book of Life," by Miami-based Fil-Am artist Jefre Manuel, the gleaming five-meter-high work of art is a stylized rendering of the Book of St. Peter in honor of the city's namesake.
"They say that when we die, we will be greeted at heaven's gate by St. Peter. But you can't enter heaven just yet unless your name is in the book," explained Robinsons Land Corporation (RLC) senior VP and general manager for Commercial Centers Division Arlene Magtibay with an impish grin at the opening of Robinsons Galleria South, the mall chain's third Galleria, which is considered its premium mall brand.
And so finding a Filipinized version of one's name in the sculpture (with the requisite selfie, of course) is a must-do ritual for first-time visitors to Robinsons Galleria South.
More funky, quirky and whimsical art pieces can be found inside the mall. Here, everything is IG-worthy — from the emoji-inspired seating areas to the quirky topiaries, artistic columns and the life-sized Japanese kokeshi dolls found in the Japan-Korea (JK) Zone on the third level of the mall.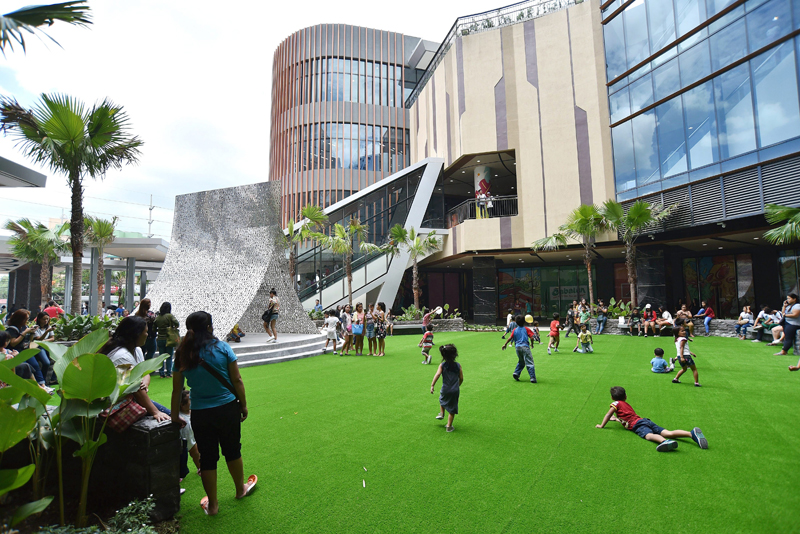 Jefre Manuel's sculpture "Book of Life" greets shoppers at the entrance of Robinsons Galleria South.
But the most prominent design feature was inspired by San Pedro's most famous product — the sampaguita. The colorful murals around the mall and a ceiling accent above the main atrium are inspired by our national flower.
When RLC opens a new mall in the province, it tries to incorporate local elements of the region in its design to make sure the culture and heritage of the city are fully embedded in the establishment.
"One of the elements that really inspired us in designing the mall is the sampaguita," shared Sophia Puyat of Asya Design, one of the design firms tapped by RLC to design the new mall. "Every February, San Pedro, Laguna celebrates the Sampaguita Festival. So you'll find sampaguita design elements scattered around the mall so the people of San Pedro have something they can really be proud of."
According to Magtibay, they put a premium on making this mall — RLC's third Galleria — really beautiful and one-of-a-kind.
Even the comfort rooms have graphic murals. The artsy details are all part of Robinsons Malls' plan to make sure that this mall is not just another boring box-type edifice.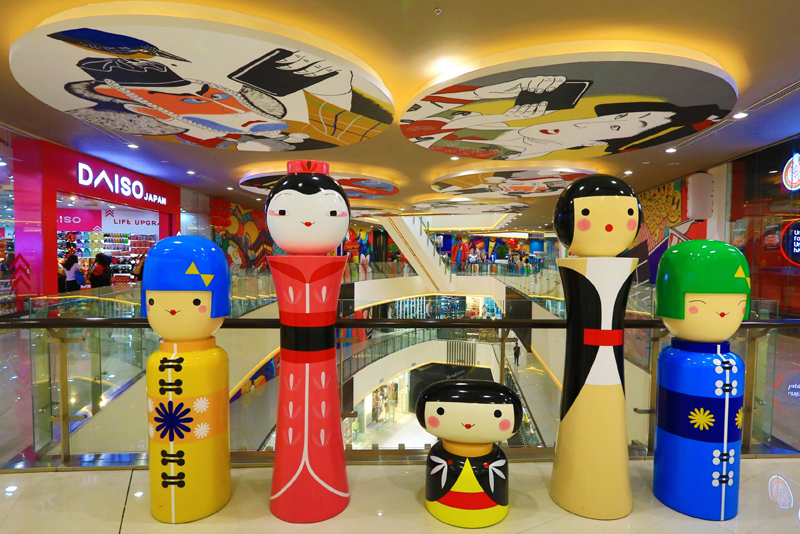 Life-sized Japanese kokeshi dolls are found in the Japan-Korea (JK) Zone on the third level of the mall. Photo by Walter Bollozos
"We really poured so much effort into making this third Galleria beautiful. Not only was it built and designed by local architects headed by architect Albert Yu, we also hired some foreign consultants to take a look at our plans and our designs. We also collaborated with young and upcoming artists to give this mall a unique character," Magtibay enthused.
Just like Robinsons Galleria in Ortigas and Robinsons Galleria Cebu, Robinsons Galleria South has a more premium feel compared to the Robinsons Place Malls. The architectural design is more modern and dynamic, and it's also bigger than most of the malls. Robinsons Galleria South occupies a 3.8-hectare lot and has a total of 115,000 sqms of retail space, including the parking building.
"Here, we tried to make every corner photogenic because everyone is into social media nowadays," noted graphic artist Robert Alejandro, who was tapped by RLC to design each thematic zones of the mall.
He was responsible for the graphic murals and quirky art pieces such as the dog plant boxes, emoji seating areas, the life-sized Japanese kokeshi dolls in the JK Zone, and a space dedicated to East Asian shops. This is where the popular Japanese shop Daiso Japan is located and the extremely popular Korean BBQ restaurant Samgyupsalamat.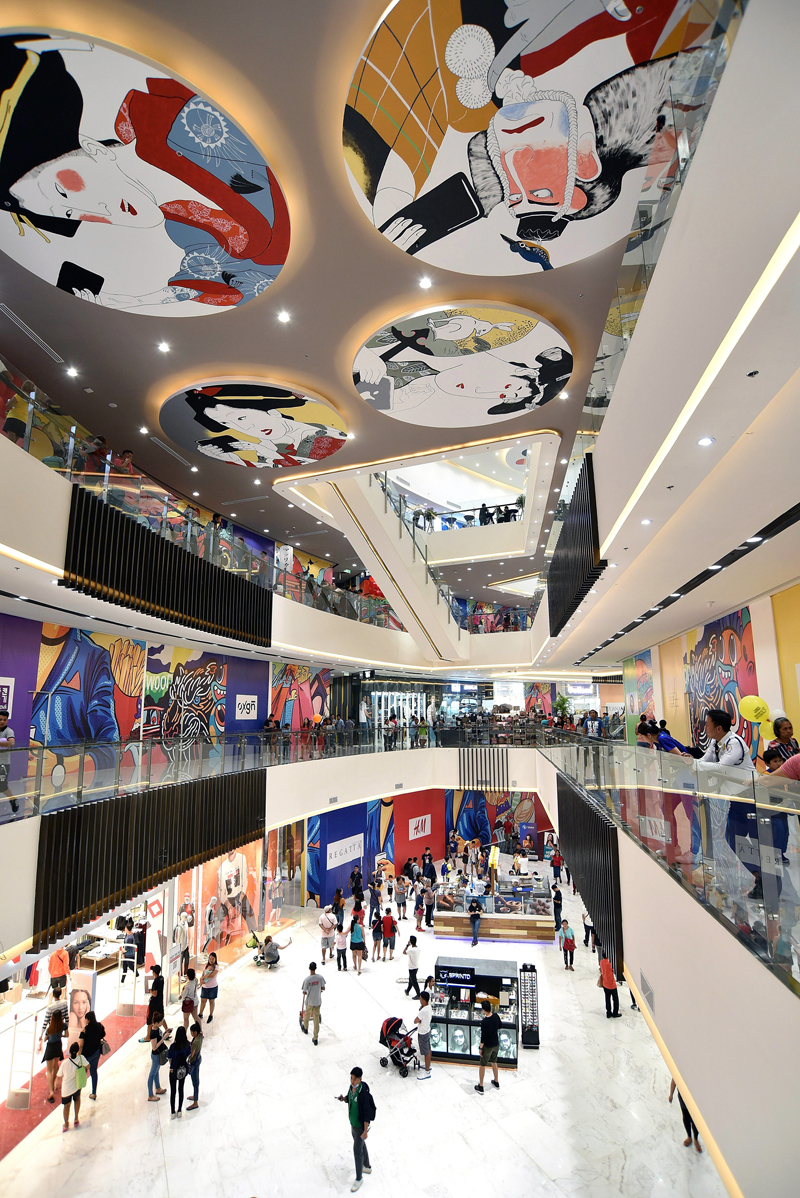 Japanese art as ceiling accent
"I'm really grateful to Robinsons because they are open to new, young design ideas," enthused Alejandro. "Robinsons is a very exciting team to work with."
Alejandro was also behind the redesign of Robinsons Galleria in Ortigas' food court, now called Eat Street.
The food hall brand was brought to Robinsons Galleria South and Alejandro likewise designed Eat Street Market Hall it into a selfie zone with playful, colorful and quirky design elements.
"Part of my job as design consultant for the Eat Street Market Hall is to look after all the partners (resto owners) and their store designs. I help them improve their store designs to make it more current and to blend with the look that we're trying to achieve at Eat Street. That way, more diners will be encouraged to visit their food stalls and try their offerings," added Alejandro.
Gateway to southern luzon
"Back in 2001, my family decided to move here in San Pedro, Laguna," shared Magtibay. "This is where we built our home. And it's been a good 18 years; we've witnessed how this city progressed. But there's one inconvenience. We didn't have a mall we could call our own."
And so when RLC president and chief executive officer Frederick Go asked Magtibay if they should get this land for their future mall, the latter said yes in a heartbeat.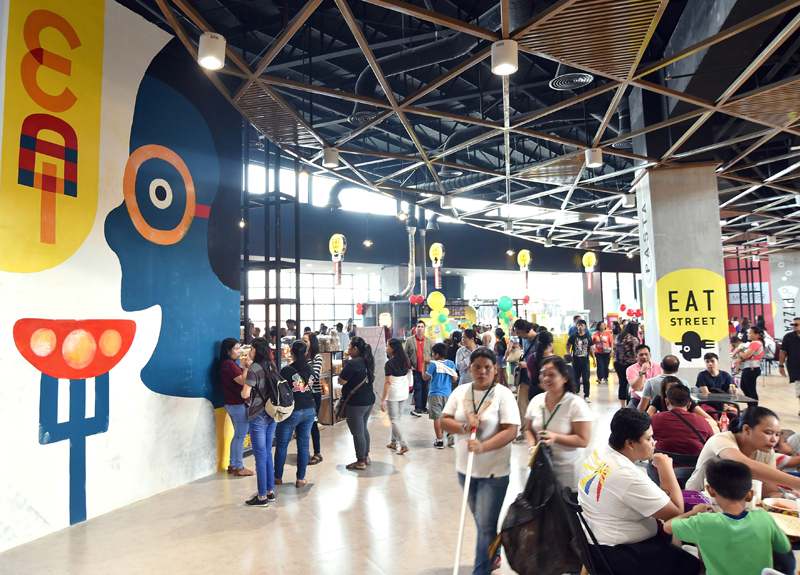 Eat Street Market Hall is a selfie zone with playful, colorful and quirky design elements.
"Robinsons Galleria South is a special mall of us. This is our third Robinsons Galleria mall and the reason for this is we really see this as a gateway to Southern Luzon," shared Go. "San Pedro is situated between Metro Manila and the rest of Calabarzon, all the way to the south. We think that this is a very important location and so we spared no expense to make this mall beautiful and functional."
It's all here
Galleria South is RLC's 52nd mall and San Pedro's first full-service mall. It is also the company's third and biggest in Laguna.
The new mall brings Robinsons Malls' retail expertise to one of Laguna's first-class cities. Before, the locals would have to travel to neighboring cities of Muntinlupa and Sta. Rosa just to shop and watch movies. Not anymore.
The mall chain brings in its affiliate brands like Robinsons Department Store, Robinsons Supermarket, Handyman, Robinsons Appliance and Daiso Japan.
The Department Store has one of the biggest athletics and active wear sections that carries 16 brands.
Robinsons Movieworld boasts six state-of-the-art cinemas including a VIP Cinema that has a beautifully designed lounge.
"This is the first Robinsons VIP Cinema in Luzon," boasted Bomboy Lim, Robinsons Movieworld general manager. "Later on, we'll have one in Robinsons Galleria and at Bridgetown. Soon, in Robinsons Magnolia expansion."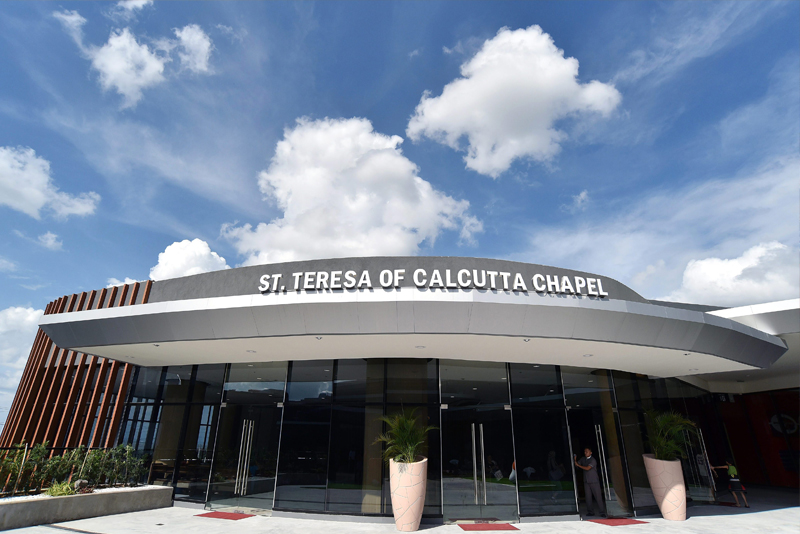 The 250-seat St. Teresa of Calcutta Chapel is accessible — by escalators at the main ground floor entrance of the mall — even before normal operating hours
Aside from the lounge, what makes the VIP Cinema special is that films are shown via a laser projection system.
"I'll be a bit technical on this. The (regular) projector uses lamps or bulbs. Here, we use laser. It's not only Dolby, it's Dolby Atmos," explained Lim. "It delivers the highest grade in terms of cinematic experience when it comes to sound than projection system. So you'll notice that the images are clearer and more consistent. This technology makes storytelling a lot better."
Aside from the affiliate shops, the mall brings in local international brands like National Book Store, Bench, H&M, World Balance, Levi's, Penshoppe, among others.
The mall also has Robinsons Malls' Lingkod Pinoy Center, the flagship pubic service program of Robinsons Malls. It houses satellite government offices like SSS, PhilHealth and the Overseas Workers Welfare Administration (OWWA).
"Finally, the residents of San Pedro now have a world-class, full-service mall that they truly deserve," added Magtibay