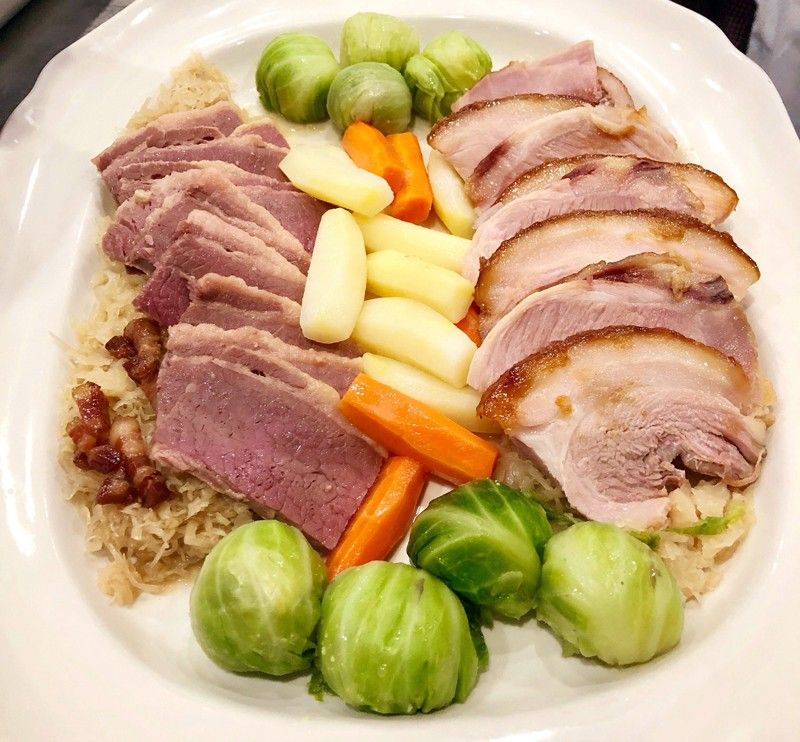 Chef Karla Reyes' version of Bourdain's Choucroute Garnie using The Plaza ham and corned beef
Two chefs, Eric Ripert and Jose Andres, who were very close to Anthony Bourdain, invited everyone to celebrate Tony's life on June 25, his birthday. They dubbed it #BourdainDay and invited everyone to join the celebration and post videos of people toasting to his life.
Only half awake, I opened Twitter and saw two chefs, that I admire, Eric Ripert and Jose Andres, talking on a video. With my interest piqued, I rubbed my eyes furiously and played the video again, this time with the sound on. As it turns out, the chefs, who were very close to Anthony Bourdain, were inviting everyone to celebrate Tony's life on June 25, his birthday. Instead of feeling sad about Tony's death anniversary (June 8), they wanted to celebrate his life on his birthday instead. They dubbed it #BourdainDay and invited everyone to join the celebration and post videos of people toasting to his life.
The wheels in my head started turning. Tony was such a huge inspiration for the life I've lived; I've gone on to helm a restaurant, host a travel show, authored books, and he was always the guiding voice inside my head. Instead of just posting a video toasting Tony, I figured I could do something more meaningful that Tony himself might appreciate. All my sleepiness gone, I started formulating my plan to host a Bourdain-inspired popup, with all the proceeds going to building a public school library.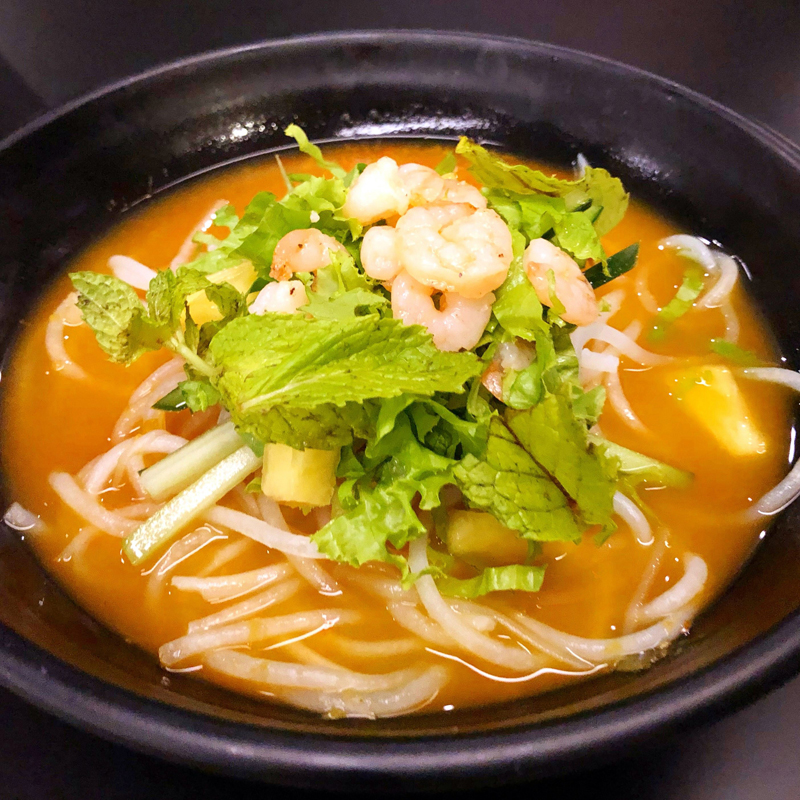 Bourdain always loved laksa, including Asam laksa.
With such a short lead time (about three weeks), I knew I needed help, so I turned to family. By that, I mean my Philippine STAR family. I messaged "Let's Eat" writer Spanky Enriquez and told him of my plan. Spanky, apart from writing delicious stories for the monthly magazine, is an expert at bringing people together. He told me to give him a day to secure a venue. Meanwhile, he suggested I might need a collaborator to help with the food.
Since I had just finished a fundraising popup in May, I knew I needed help to create a new menu and bring in new diners. I turned to fellow STAR writer, chef Karla Reyes, who writes for this section with her mom, Tita Millie. She responded generously by agreeing to sponsor two of the four courses. We began to plot the menu and quickly realized it was no small task.
How do you pick just four dishes to celebrate a man who's been to every continent in the world and eaten over 5,000 dishes? I wanted a "deeper dive" into his life. Sushi, sisig, bagels and lox were too easy. I wanted to create a menu Bourdain himself wouldn't mind serving his friends.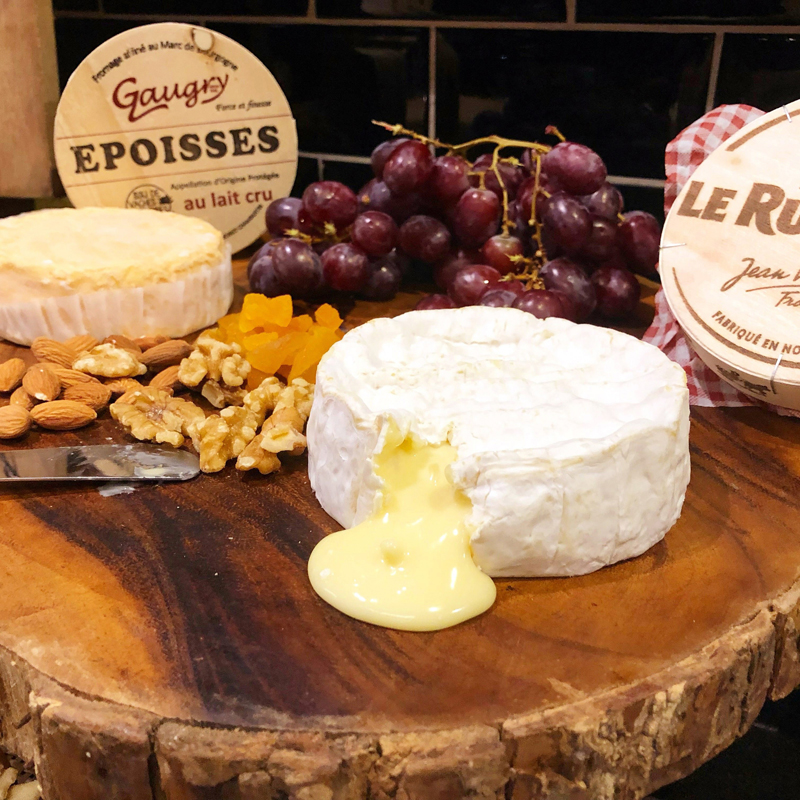 As Bourdain would have liked, a cheese buffet instead of dessert, courtesy of La Petit Fromagerie.
Since Tony was famously not a dessert lover, he mentioned several times that a cheese course was a perfectly acceptable way to end a meal. It was only natural then that Karla would handle a cheese course with her catering company La Petit Fromagerie. She surprised me by volunteering an entire cheese buffet instead of just one plate.
For the meat course, we wanted to delve into Bourdain's French side. For the longest time before he got famous, Tony was executive chef of Brasserrie Les Halles, and he made some classic French dishes not necessarily in fashion anymore. One of those dishes was Choucroute Garnie, a collection of cured meats with sauerkraut. This dish fell right into the lap of Karla's Plaza Catering, whose ham and homemade corned beef are the stuff of legend.
That left me with handling the first two courses. For the first course, I wanted to pick a recipe from Appetites, Tony's last cookbook, which he dedicated to his daughter. I was surprised to find that the recipe his crew loved most was a simple Macau-style fried pork sandwich. I decided to follow his recipe to the letter and then added my XO sauce and pickled onions, both made from scratch.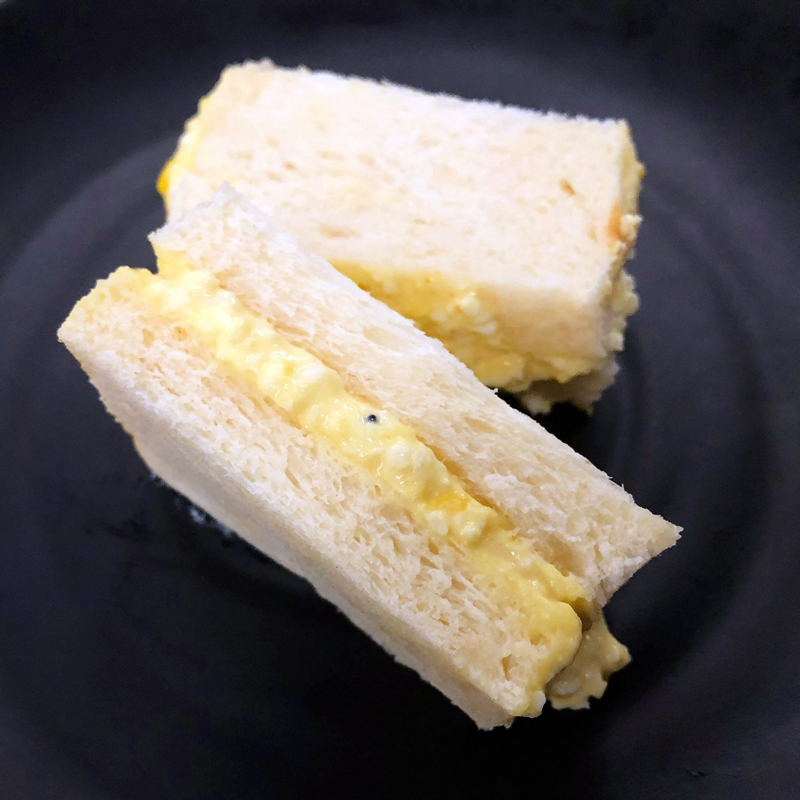 Convenience Store Style Egg Sandwich was a surprise appetizer.
Meanwhile, I agonized over the second course. I decided that no meal would be a true Bourdain meal without an Asian noodle soup like laksa, but then I couldn't decide which laksa to make. Tony favored the Kuching version, but he also loved the Singaporean and Penang versions as well. How would I decide which one to make?
The answer became clear when I started re-watching some of my favorite No Reservations episodes. Like him, I had done a travel show in Penang and realized we both enjoyed the Penang laksa, and were both effusive in our praise of the dish. I had learned how to make a classic Asam laksa from Nazlina Hussin in Penang and it was time to show what I had learned.
Spanky proved true to his word. In just a day, he informed me that he had secured a venue. Alex and Carter Yu of U Hotels Makati in Poblacion agreed to let us use their lobby for our popup. In fact, they were so supportive of the idea that they also included coffee and waiter service for our event. Plus, they had their marketing team help us with posters and social media posts. Everything went as smooth as I could have hoped for.
Our good fortune continued all the way to the event. Despite heavy rains, we had a total of 34 diners come in (my initial goal was just 25) and everyone had a blast. I added a surprise course of a Japanese convenience-store egg salad sandwich, Tony's favorite, while the generous folks at Pedro Brewery, Jamie and Nadine Fanlo, sponsored the evening's booze with their wonderful beers. In the end, I got what I initially wanted: a night of great food Tony would be proud of, free-flowing beer, money raised for a public school library and a bunch of Bourdain fans sharing stories and toasting to his life.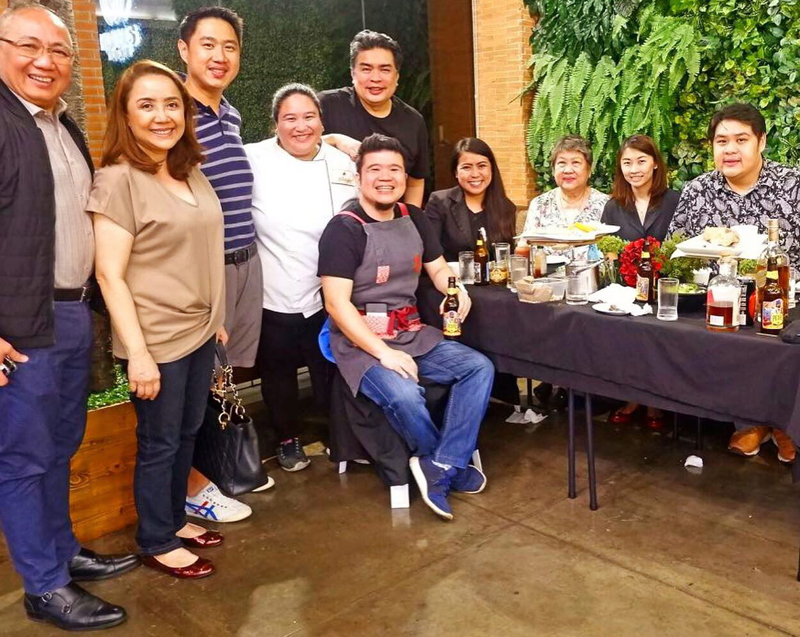 All smiles: Manny and Pearl de Guzman, Alex Yu, chef Karla Reyes, Spanky Enriquez, the author, chef Sharwin Tee, Ericka Aquino, Elena Yu, Yvette Yu and Carter Yu
I've already told the others: I'm doing this on every #BourdainDay from now on.
* * *
Sharwin's book, So, You Want To Be A Chef? is available at all National Book Stores and Powerbooks nationwide. Follow Sharwin's food adventures on Instagram @chefsharwin and for questions, reactions, recipe and column suggestions, contact him on www.sharwintee.com.