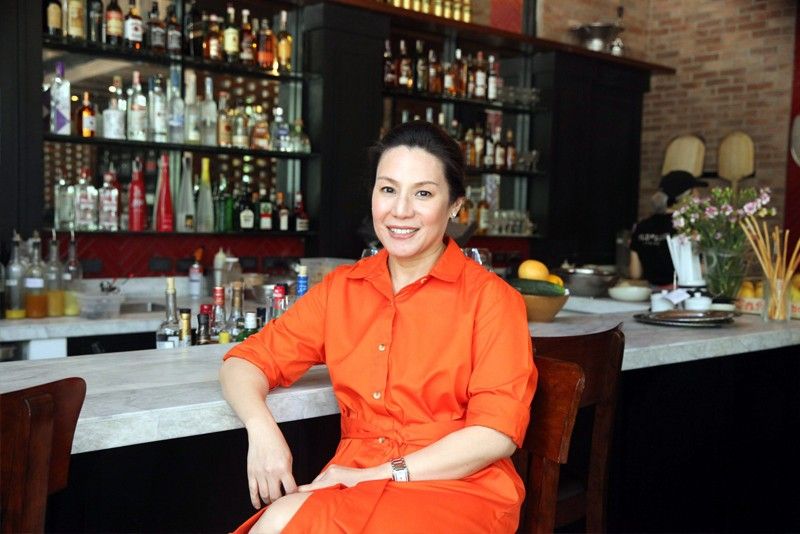 Wildflour CEO and co-owner Ana Lorenzana De Ocampo at Wildflour Italian in BGC: "Everything is made from scratch, and about 90 percent of our ingredients come from Italy."
Photos by Joey Viduya
Wildflour explores its Italian side
MANILA, Philippines — Every Filipino, it seems, has a little bit of Italian inside them, or at least a love of Italian food. As a kid, chef Ana Lorenzana De Ocampo, who runs Metro Manila's seven Wildflour branches, grew up on nostalgic favorites like Italian Village. Eighties kids will recall the tricolor logo with a rambling villa below it.
"We used to go there when we were kids," she says as we sit in Wildflour Italian, the latest concept in the successful restaurant chain. "But the Italian places I liked are closed already," she says, noting that Cibo and Caruso are still go-to's for her and the family.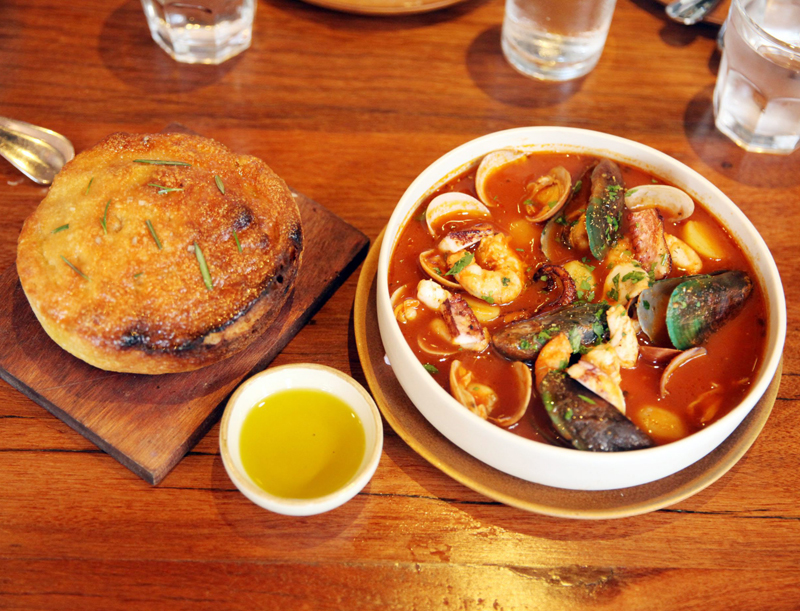 Soup-er: The cioppino reminded Scott of his Sicilian grandmother's seafood stews. Make sure to dip the house-made focaccia in the broth or in olive oil.
But make no mistake: Italian food is having a moment now — you could call it a "renaissance," if you want to get cute — with new eateries opening in Manila left and right. Perhaps it's a wave of nostalgia: a desire for foodies to reclaim some of the feel of those early Italian restaurants, while somehow modernizing the experience. The trick is to do Italian differently, or else to do it absolutely right.
Wildflour Italian does it right, with a heavy emphasis on imported ingredients — possibly 90 percent, according to Ana — including Italian semolina flour, mascarpone and ricotta for the desserts. A lot of the vegetables are local, but some, like the Romanesco broccoli, is flown in from France every week. "Even our fish," notes Ana. "The fish comes in every Friday. We just order for the week and if it runs out, that's it. Because we can't freeze the fish; it has to be served the freshest possible way."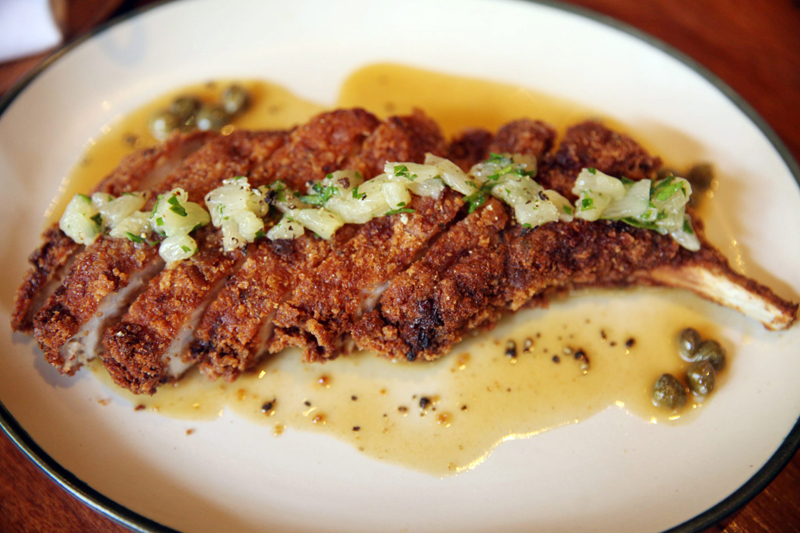 Must-try: The piccata is made with incredibly tender Kurobuta pork. There's also a version using rack of lamb.
And, of course, there's olive oil: "It comes in a gold-leaf bottle — it's like gold! We use it for most dishes that need olive oil. I think that's what makes a difference. I think if you're going to serve good Italian food, you have to use great olive oil, great flour, great greens. Everything should be good."
Indeed, the olive oil, when served with a fresh-baked focaccia, is like a translucent dip into a vat of summery goodness — a glossy pleasure.
Taking an italian turn
Ana doesn't know why their seventh Wildflour — which opened last June 6 at GF, BGC Finance Center, near 26th and 9th — took an Italian turn. But she notes several dishes were already popular at Wildflour, such as lasagna, squid ink mafaldine, spinach torchiette, focaccia and a French-style tarte flambee pizza. The interiors — again designed with her partners, sister Margarita Lorenzana-Manzke and husband Walter, who run République in Los Angeles — echo the look of other Wildflour branches (Lara Barrios is the architect), but with Italian notes: there's wood, brick and stone, and vaulting windows, but with the addition of cavern-like rounded ceilings recalling an Italian wine cellar.
"All of our branches are similar in a way, but unique in their own way," notes Ana. "This branch, you can tell it's Wildflour, but an Italian version. The ceilings will remind you of old restaurants in Italy. There's a wine-cellar element, more wine and alcohol."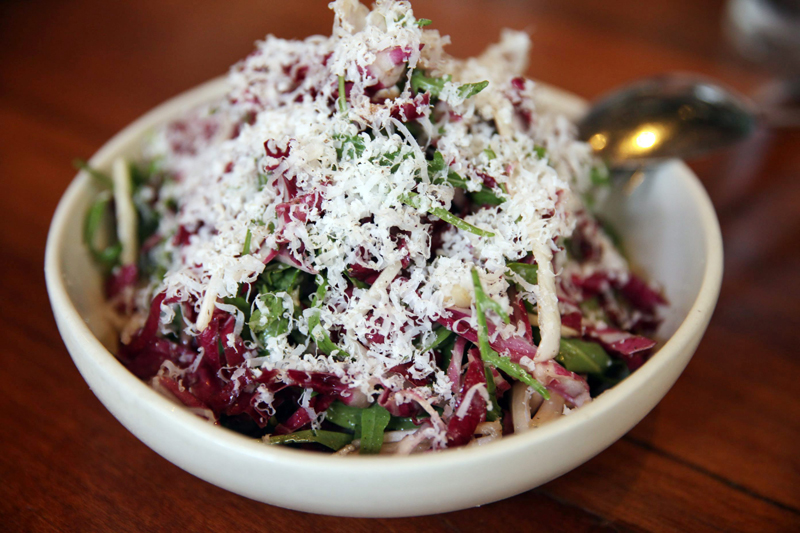 Italian colors: Tricolore salad of arugula, radicchio, endive, olive oil, lemon and Parmigiano
She mentions the chairs are perhaps more formal, and WF Italian now only handles lunch and dinner for 90 seats (including outside). "It's not fine dining, exactly, but it's not a café like other Wildflours," clarifies Ana. "It's a restaurant."
The lunch crowd is heavy (Ana notes the branch attracts many Japanese diners, perhaps sensing a trend for Italian food among their countrymen) as our waiter brings out antipasti of crostini (duck liver, foie gras and pancetta on fresh-baked bread), Romanesco al Forno (fried egg over arugula and bagna càuda, a Piedmont hot dip with garlic and anchovies) and Tricolore salad (arugula, radicchio, endive, olive oil and lemon, covered in a fluffy blizzard of Parmigiano). Ana leaves us to enjoy the food, which is, as advertised, very fresh.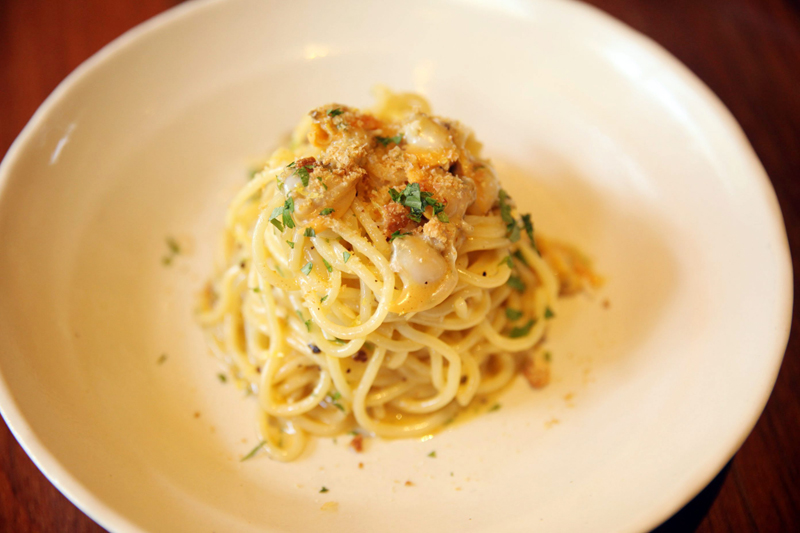 Spaghetti alle vongole is Wildflour Italian's al-dente take on a Pinoy favorite.
The cioppino soup gets Scott's attention. His grandmother was Sicilian, and he does remember her cooking fondly. When he tried the soup — with its fresh seafood broth — he was instantly transported back to the flavors of those soups.
Scott couldn't decide which was better: dipping the focaccia (baked on the premises in their wood-fired oven) in the olive oil, or in the cioppino soup. Sous chef BJ Mantuano says the broth stews for about four hours; throw in some thinly sliced onions, a bit of garlic, the juice from their tomato sauce; some vegetable stock, fennel, and olive oil. "The flavor really comes from the seafood we put in towards the end," he says.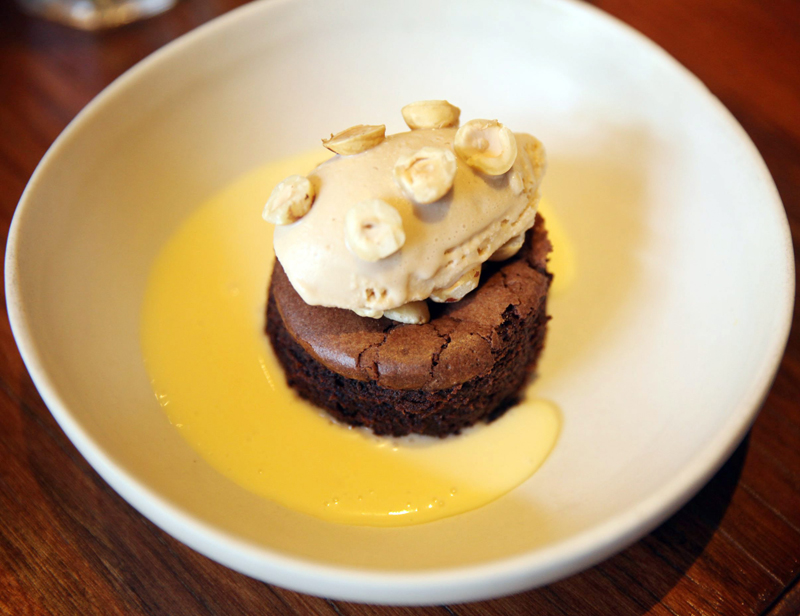 Chocoholic's choice: Torta di Cioccolata, a delicious molten cake with ice cream topped with Frangelico liqueur
Ana also touts the lamb chops ("one of my favorites") and says, "I'm very proud of the pizza," advising us to tuck in while it's hot. We're served the mushroom with béchamel, porcini, white button and Parmigiano, and, with its thin, crisp crust cradling the tasty toppings, it's possibly one of the best pizza experiences we've ever had.
There's more to come: WF Italian's version of Pinoy fave spaghetti alle vongole (Manila clams, garlic, white wine) is cooked perfectly al dente; and the Kurobuta pork chop piccata offers, as its name suggests, a kick from the zesty lemon slices on top and a crusty baguette crumb wrapping that reveals incredibly tender Japanese pork. We vowed to try the rack-of-lamb version of this next time.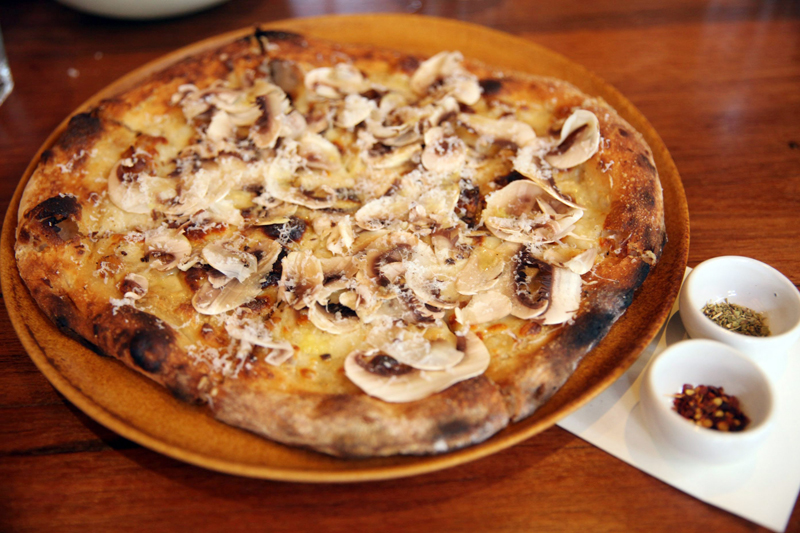 Best in pizza: Wood-fired mushroom pizza with béchamel, porcini, white buttons and Parmigiano
Then there's dessert: Ana and her sister Margarita devised around six items for the menu, including cheesecake ("We use imported mascarpone") and Torta di Cioccolato, a delicious molten cake with ice cream and Frangelico liqueur. The gelato on top is a hazelnut made at the Wildflour commissary. "Everything is made from scratch," Ana reminds us.
"When we were kids, Italian was always a part of our eating experience. I think most Filipinos are like that," she points out.
It's something we're all familiar with. Most Filipinos who eat out know what a vongole is, know what a pepperoni pizza is, they know all of that. So in that sense, it's traditional."
But Wildflour Italian saw a chance to raise the traditional from mere nostalgia to something perhaps even closer to heaven. Or Italy, whichever is closer.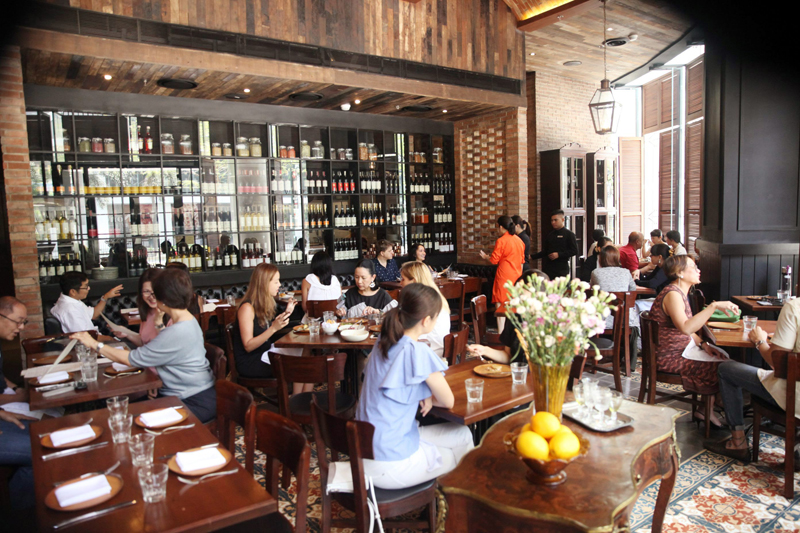 Warm and welcoming: Wildflour Italian's interiors are inspired by an Italian wine cellar.
* * *
Wildflour Italian is located on the G/F of The Finance Centre, 9th Avenue corner 26th Street, Bonifacio Global City, Taguig, tel. 0917-632-9384.