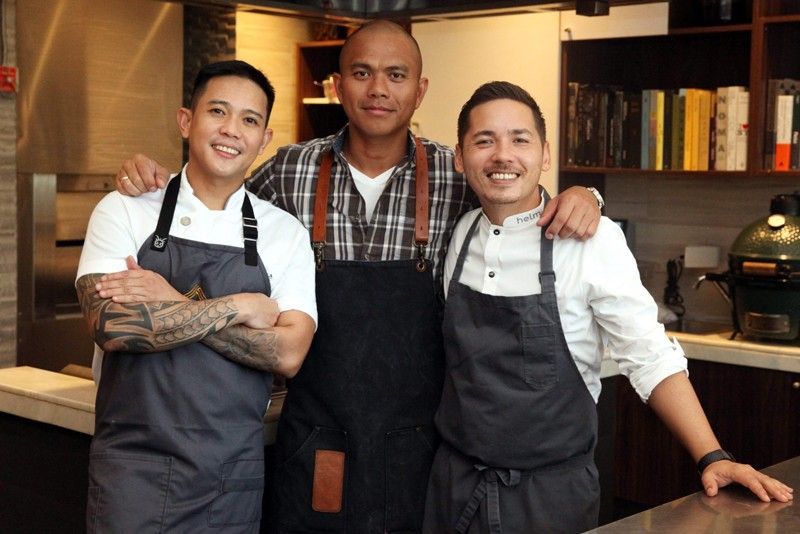 Nomads all: (from left) Chef Allan Briones of Old Manila, Rico Deang, beverage manager of The Peninsula Manila, and chef Josh Boutwood of Helm
Photos by Bening Batuigas
What happens when culinary nomads get together?
MANILA, Philippines — Born in England, raised in Boracay and trained in the kitchens of Europe, Josh Boutwood is undoubtedly a culinary nomad.
"I make food that is inspired by many traditions that are not necessarily my own," says the chef, founder of gustatory playgrounds The Test Kitchen, Savage (where all the cooking is done over open flames) and signature restaurant Helm (where the epicurean experiments he began at The Test Kitchen have reached their delicious apotheosis). Oh, he's also the corporate chef of The Bistro Group. "The world is my home and my diners are better because of it."
Spurred by curiosity, generosity, or a seemingly unquenchable desire to face new challenges, Boutwood has initiated The Nomad Series, a succession of collaborations with nomadic chefs like himself who were either born or have worked abroad but have since come home to share their talents with the dining public.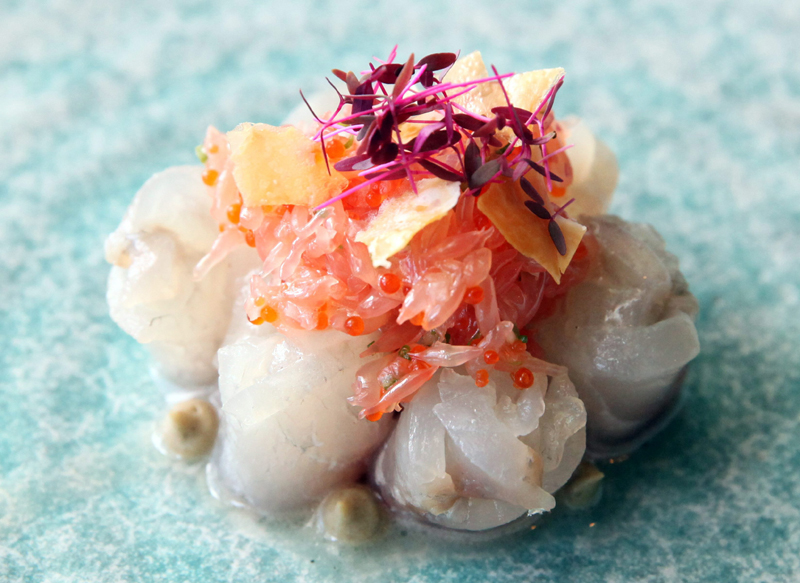 World-class refinement: Chef Allan Briones' cured Mediterranean sea bass with aubergine, burnt coconut and grapefruit
The first collab was between The Peninsula Manila's fine-dining outlet Old Manila and Helm. For the first time in history a Filipino chef, Allan Briones, is heading Old Manila, and, if his dishes are any indication, he's letting the fresh winds of modernity blow through the 43-year-old institution.
"Historically he's the very first Filipino chef for any five-star fine dining, as far as I know," notes The Pen's director of public relations Mariano Garchitorena. "He's Michelin-trained and his food is very fine in technique."
Briones learned from three-Michelin-starred chef Marco Pierre White at his London and Abu Dhabi outposts. When he came back to Manila he applied to The Pen, but the only opening at the time was for a banquet chef. Briones took it, even if he was distinctly overqualified, but you can't keep a good man down. Within eight months he was chef de cuisine of Old Manila.
"Working at Marco Pierre White, it was very traditional but more methodical, so what I do right now is basically a mixture of tradition and trends," Briones explains. "At Old Manila I don't really focus on certain cuisines, I focus more on seasonal ingredients and the methods that we use."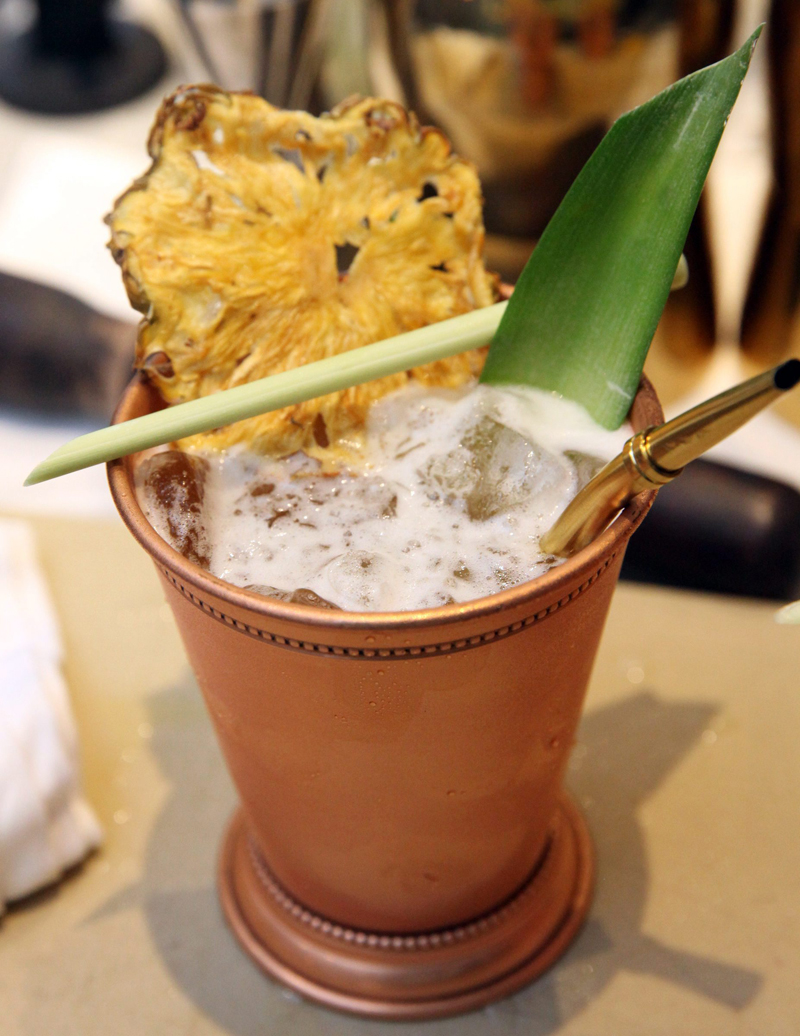 Luxe piña colada: Rico Deang's Start Me Up with white rum, chili pepper, lemongrass, kaffir and pineapple
The third pair of hands in this six-handed collaboration belonged to The Pen's beverage manager Rico Deang, who used to work in Singapore as the bar manager of Cut by Wolfgang Puck, and Red Door.
"This is the first time I'm pairing my cocktails with dishes because as much as I love cocktails, whenever I eat, it's wine," Deang says. "So I looked at their menu and matched it up with ingredients that would enhance the flavor."
Deang started us off with The Blondie, lemon-infused gin with elderflower and Prosecco. Like a fizzy lemon drop in liquid form, it was sparkling, refreshing, and as chic in attitude as its home: The Pen's nightclub lounge Salon De Ning.
It led in perfectly to the Baby Gem salad, chef Briones' modern, nearly weightless take on the done-to-death Caesar salad Pinoys love to order in restaurants. Consisting of a boat-shaped heart of romaine lettuce ferrying precious cargo of sourdough croutons, cured egg yolks and dehydrated jamon Iberico, it made the original seem unnecessarily heavy.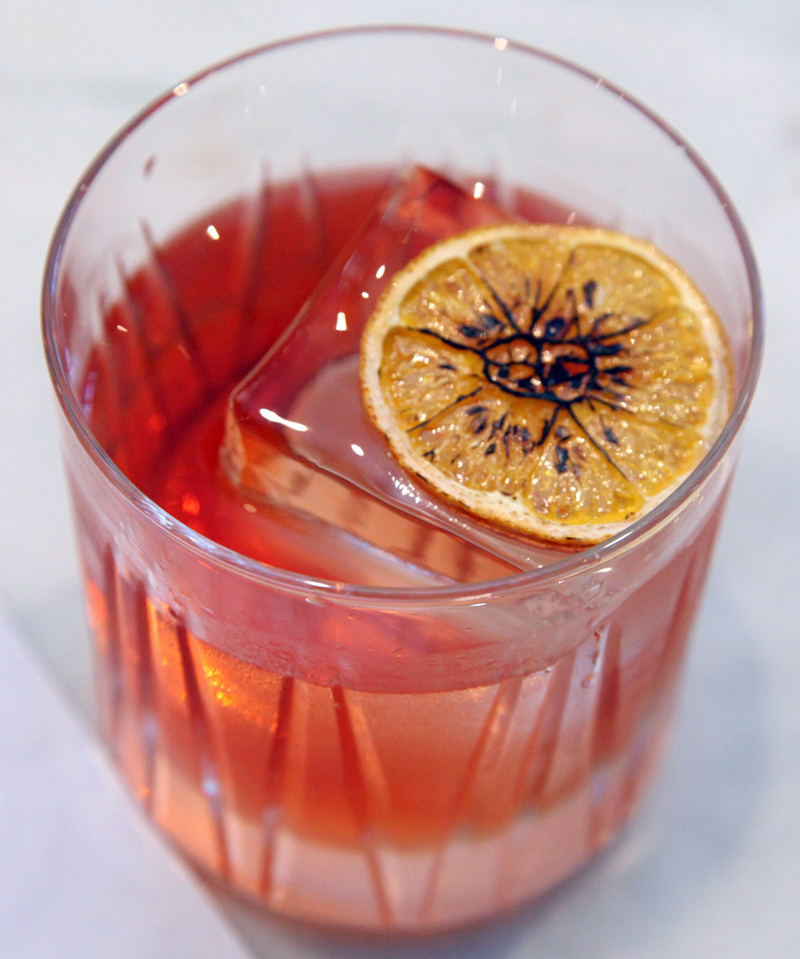 Chic cocktail: Americana by Rico Deang
Boutwood then took his turn with Surf & Earth, Japanese rice porridge with octopus, snail and moringa powder. Crunchy, chewy and umami all at the same time, this risotto-taken-to-the-next-level absolutely floored me.
As if to prove a point, Deang's next cocktail was Start Me Up, a luxe piña colada beautifully presented in a copper tumbler with a spicy kick provided by siling labuyo.
Its coconut milk, kaffir lime leaf and lemongrass mirrored the ingredients in Boutwood's "Grains" course: unpolished barley and Alaskan king crab cooked with a variety of aromatics, spices and herbs.
Chef Allan's fish course of cured Mediterranean sea bass and main of sous-vide lamb loin revealed his precise attention to detail and devotion to modern techniques, resulting in refined, world-class dishes. "First I sous-vided the lamb loin in brown butter with the lamb fat," he said about his entrée. "Paired it with a blue-cheese fondue using Cabrales, put walnuts toasted with cumin seeds and carbonated grapes on top. Peeled the grapes in a canister with CO2, so it will have that certain fizz in your mouth."
Deang again weighed in with Poor Man's Tea, a swoony elixir of genmaicha (popped brown rice)-infused vodka, fresh lemon juice and sugarcane syrup, also available at Salon De Ning.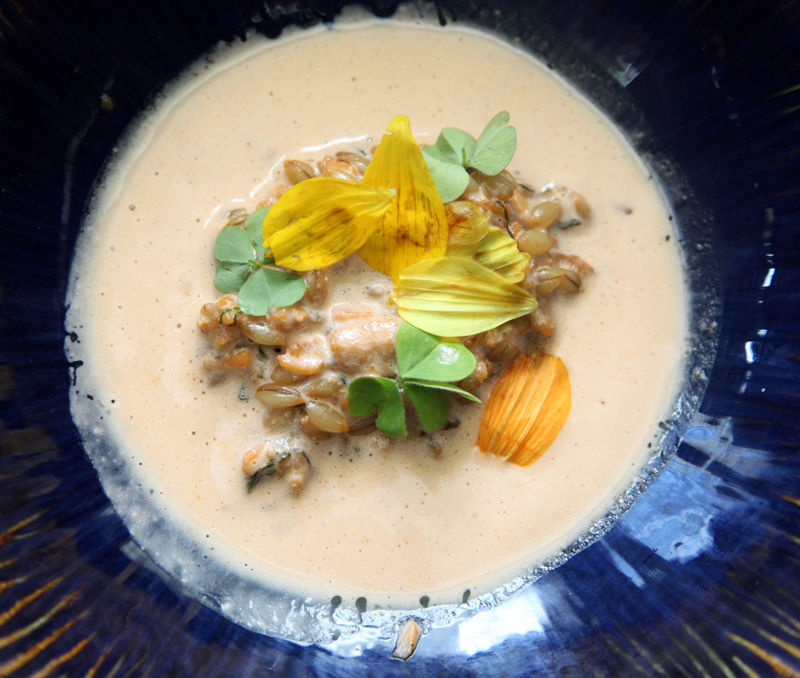 Bring on the umami: Chef Josh Boutwood's Grains course with Alaskan king crab, Thai basil, lime leaf and chili
Boutwood named his duck dish "Ugly Duckling," a self-deprecating misnomer when you considered the pretty plate in front of you. "You know we love our bread," said Josh, who is no slouch when it comes to modern techniques himself. "So we take our sourdoughs and steep them for 24 hours to reduce it into a very thick glaze. Then we paired it with oats that we cooked with morel mushrooms, then a miso emulsion to round off some of those savory flavors."
Deang presented us with his final cocktail, Americana, a bittersweet Negroni for which he used Bianco sweet vermouth. I have to say that all of Rico's cocktails are stunning to look at, as well as being easy to drink. Garchitorena says that while certain cocktails were designed for certain Pen outlets, they're available throughout the hotel; all you need to do is ask.
After the stellar mains the two chefs thoughtfully prepared light desserts: Boutwood's was An Ode to The Test Kitchen, a scoop of his famed black-rice ice cream in a pool of smoked caramel.
Deang supplied an Intermezzo, a shot of coffee with dark chocolate, cocoa and vanilla vodka before we tucked into Briones' White Chocolate Magnum, a popsicle on a stick with gel made out of The Peninsula's Champagne, fresh berries and mint.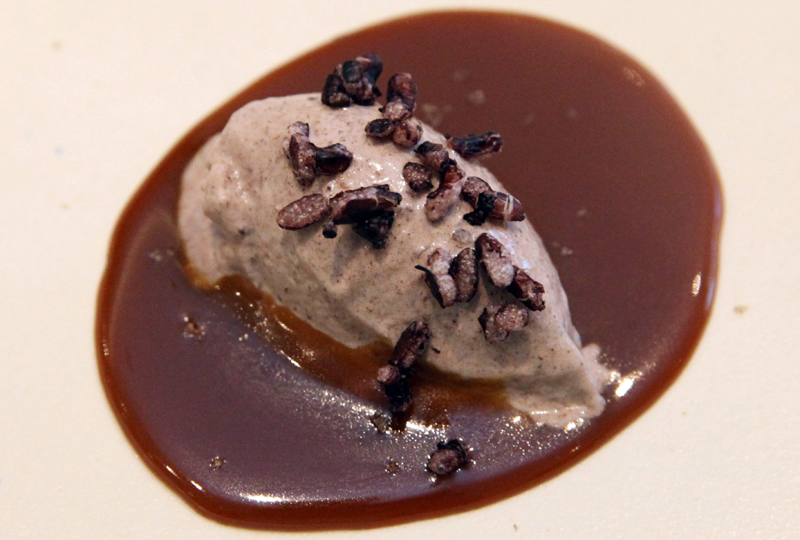 An Ode to the Test Kitchen: Chef Josh Boutwood's famed black-rice ice cream with smoked caramel
While I wouldn't say the two chefs have dueling styles, they presented an intriguing contrast. Briones' dishes are exquisitely plated but his flavors are subtler and very refined. Boutwood's dishes look more rustic on the plate but he favors the umami —flavors that are bright, clear and spot-on.
Josh said this Nomad collaboration was a couple of weeks in the making. "I wanted Allan to send me his menu first and then I did my menu based around his sequence," he said. "Rico then came in when we had the final menu to do the beverages.
"Allan's such an amazing guy, an amazing chef, and it's been really nice to be able to cook with him."
The Nomad Series will continue with Boutwood facing off with chefs Jordy Navarra and then Chele Gonzalez in the kitchen. If this lunch was any indication, it will definitely be something to look forward to.
* * *
You can try chef Allan Briones' dishes at Old Manila, and Rico Deang's cocktails at Salon De Ning, Spices and The Lobby in The Peninsula Manila.
Helm is located on the G/F of Arya Residences, McKinley Parkway, Taguig. Call 0906-234-1900 for reservations.
Follow the author @theresejamoragarceau on Instagram and Facebook.