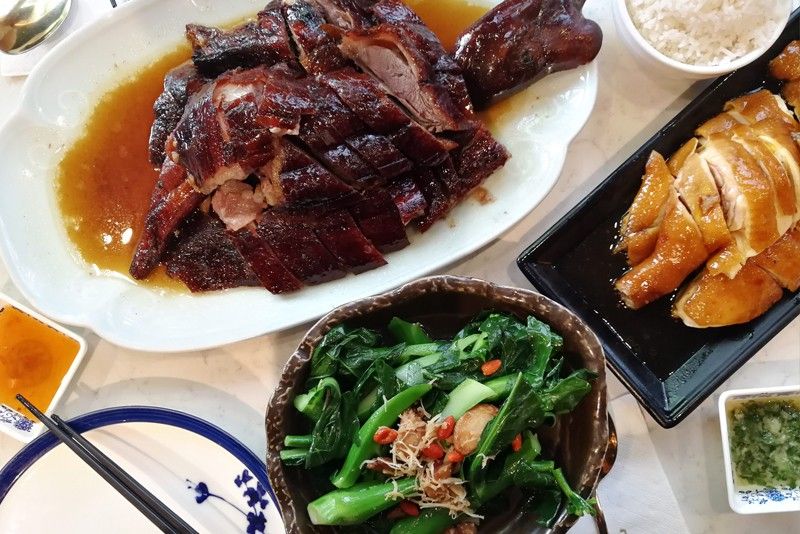 Roasted goose, soy chicken and kailan from Goose Manor on Ashley Road, Kowloon, Tsim Sha Tsui in Hong Kong.
Millie: One of my best trips ever was a recent one, unplanned and on a whim. Karla bought tickets from a seat-sale promo of Cathay Pacific and we flew to Hong Kong for a weekend. Armed with a list of places to eat, we were excited to try new places and go to our usual favorite restaurants. A friend, Donna del Rosario, who was just as excited to eat and enjoy, joined us.
High on the meal agenda was Goose Manor on Ashley Road in Kowloon, Tsim Sha Tsui. We heard it had started in the New Territories. Another friend, Nancy Tso, recommended it, and her advice was to make a table reservation.
We ordered half a roast goose, which was very tasty and not too fatty. The skin was nice and crisp and we enjoyed it so much that we wanted another half order. But then we remembered we had also ordered soy chicken and oh, so yummy honey yuzu-glazed spareribs and a side order of fresh, steamed kailan.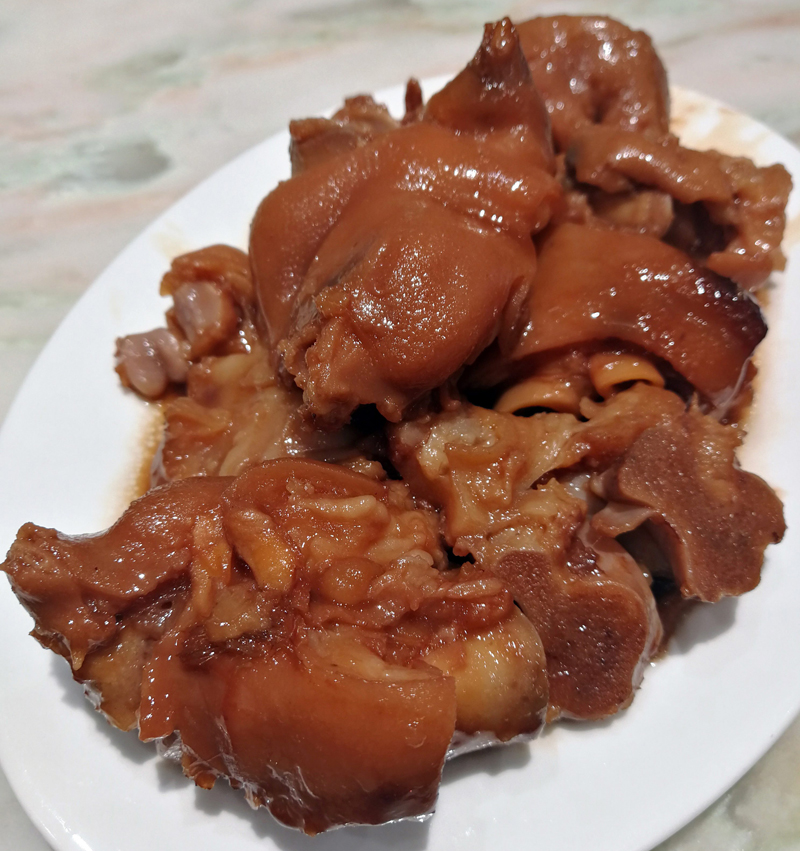 Braised pork hock from Mak's Noodle, known for their wonton noodle soup
Karla: The next day, we had to forego our hotel breakfast. It was sufficient but we wanted to discover more. Tita Donna wanted her wonton noodles, so we went to Mak's Noodle.
Mak's Noodle has earned a Michelin star and expanded throughout Hong Kong, as well as other countries. Though the original branch still remains at Wellington St. in Central, we went to the branch on Lock Road, Tsim Sha Tsui, for our convenience. Tita Donna ordered the signature wonton noodle soup, of course. The wontons were freshly made, and the shrimps were plump and juicy. I ordered the stir-fried noodles with prawns and dried shrimp roe, and mom ordered the braised beef with tendon.
Just as we were about to finish our meal, a server passed by with a plate of braised pork hock. Though everyone at our table was silent, we all gave each other approving glances. I assumed this meant I should order some, so I took the initiative. When it came, we devoured it. The meat was fall-off-the-bone tender and the sauce wasn't too strong. Sometimes the braised pork hock has a strong anise taste, but this version was well balanced.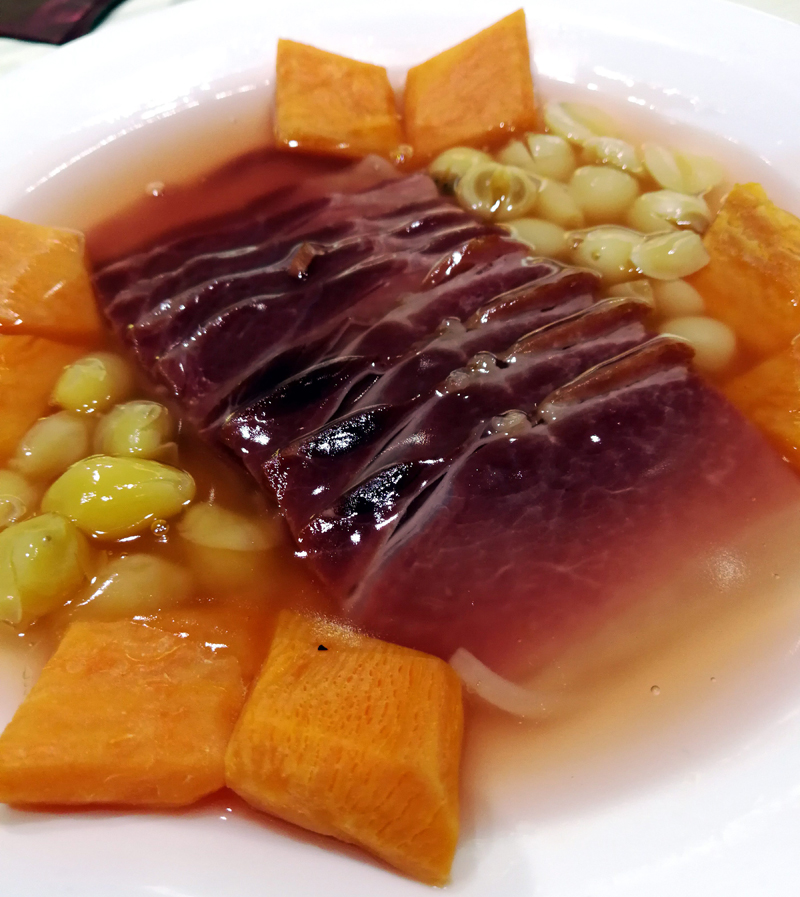 Honey-glazed ham with flat steamed buns from Shanghai Club, which was a specialty at our former Chinese restaurant called the Willow Court back in the '60s.
Millie: For dinner, my school friend Coleen Tung took us to the Shanghai Club on the Hong Kong side for dinner. For starters we had jellied ham, vegetarian goose made of bean-curd skin stuffed with mushrooms, crispy fried fish, rice crackers with tiny river shrimp in tomato sauce and smoked tea duck.
The dish that brought back memories was honey-glazed ham with flat steamed buns, a specialty of our former Chinese restaurant, the Willow Court. For dessert, Coleen order small bowls of tong yuan in fermented rice wine with osmanthus flower.
Karla: Another discovery during that trip was Ki's Roast Goose all the way in Causeway Bay, but trust me, it's worth it. A small and casual eatery, it's very possible that you may have overlooked it in the past. What I love about the roast goose at Ki's is that it has a smoky smell and flavor, especially the skin, which is new and surprising. We also ordered the lechon Macau or suckling pig, and pork asado. Dinner was so good that I've been itching to go back since.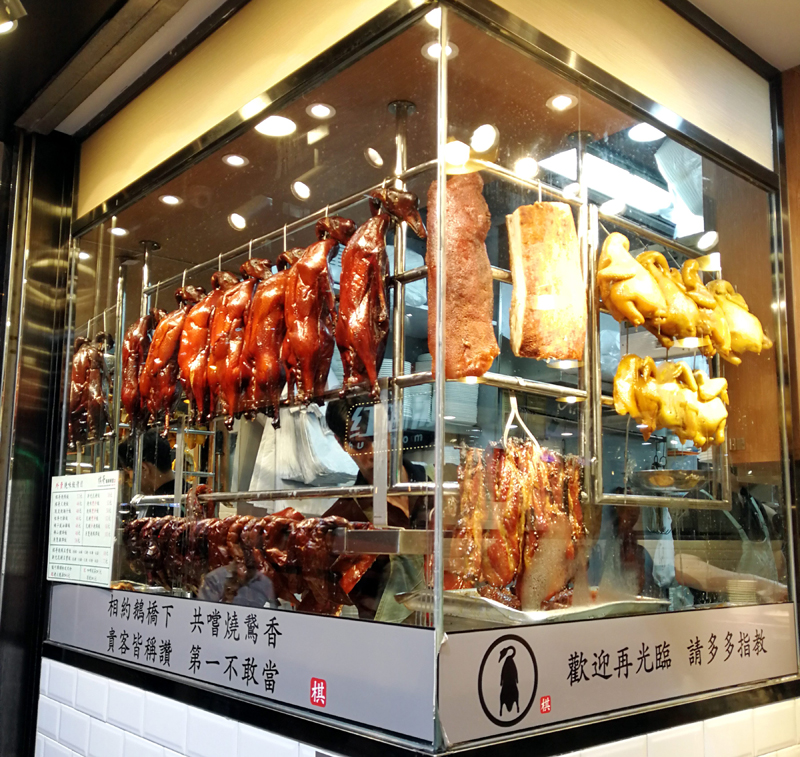 A display of roasting specialties from Ki's Roast Goose in Causeway Bay, Hong Kong: The roast goose has a surprising hint of smokiness, which adds flavor and aroma to the dish.
Millie: Karla had wanted to go to a traditional dim sum place where food attendants would roll in their dim sum pushcarts and noisily shout, "Shiu mai" as they paraded with their bamboo baskets fresh from steamers. But gone are those, I think, as we ended up in Jade Garden at the Star House in Kowloon and were surprised that the restaurant had been renovated, upgraded and is now posh looking.
Even the dim sum menu had somewhat been upgraded, introducing new and exciting selections while offering the traditional dim sum delights as well. We ordered taro puffs with scallops, which were served looking like swans, beef hofan, rice rolls with pork BBQ, barbecued pork and lovely green pea sprouts that were in season, traditional dim sum delights of steamed siomai and shrimp hakao, and for dessert, pineapple buns.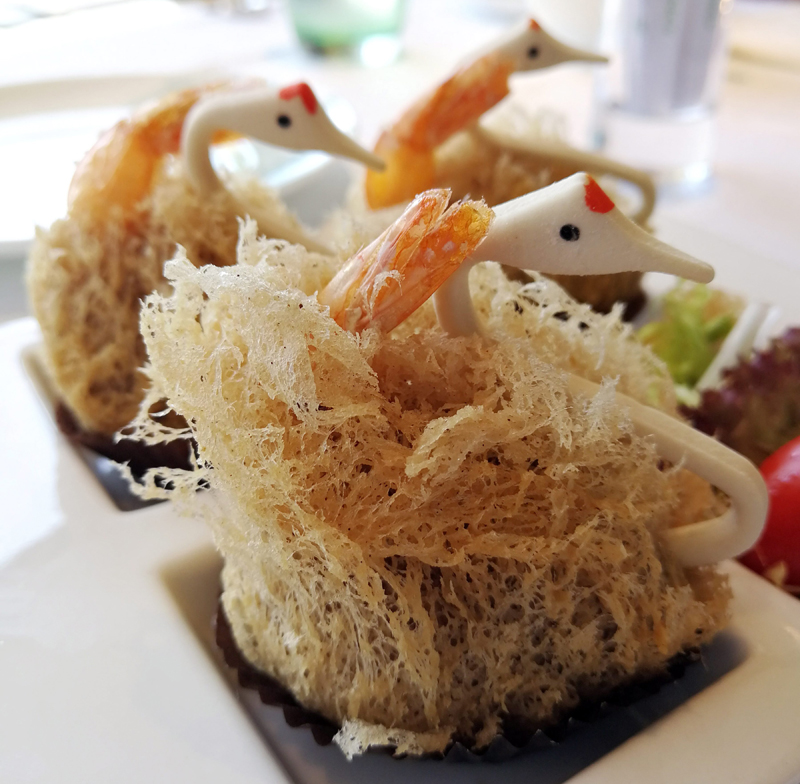 Swan-shaped taro puffs from Jade Garden at the Star House in Kowloon
For pigeon, we would normally go to Macau Pigeon House on Lock Road in Tsim Sha Tsui, but on a recent trip to celebrate my best friend Verne Reyes' birthday, we tried The Social Place on the third floor of the Silver Cord on Canton Road, as recommended by friend Mike Ong.
We were with a group of friends, all seven of us with different food preferences, so it was quite difficult to order. Karla and I wanted to try almost everything but simply had to zero in, so we ordered some of their signature dishes. We tried the roasted white king pigeon, which sells for HK$33 a piece. Another signature dish we tried was their flaming pineapple with beef; the whole pineapple was set aflame and the dish tasted a bit like our own mechado. We ordered some dim sum as well, like the chili pork dumpling and sesame pork dumpling, pan-fried buns with peppered chicken and onion, and pork belly sliders.
Our friends Rene Alcala and Leo Tiopes are lamb eaters and could not resist ordering the rack of lamb with herbs, which was tender to the bite. Karla ordered the rice noodles with prawns and shiitake mushroom buns, which were made to look like shiitake mushrooms with a diced mushroom-and-truffle filling.
Karla: Within Lock, Ashley and Nathan Roads, there are so many places to go. My cousins Gerrick, Kaki and I separated from the group and went on our own food adventure. Gerrick took us to this dumpling stand on Lock Road, right in front of Macau Pigeon House, called Cheung Hing Kee Shanghai Pan-fried Buns.
They are basically pan-fried soup dumplings that come in several variants. Be careful on your first bite, as the soup filling may be hot. We tried the original buns and the ones with truffle. They also have soup and noodle dishes that we didn't get to try. The only dine-in area of this place is a ledge on its side, where you can stand while having dumplings. Since Mom didn't come with us, I bought takeout for her and she loved it.
Shiitake mushroom buns from Social Place on the third floor of Silver Cord, Tsim Sha Tsui: The buns are made to look like shiitake mushrooms and filled with diced mushrooms and truffles.
After the soup dumplings, we looked for The Alley along Nathan Road to get some milk tea then looked for Top 1 Bakery in the Mirador Building on Nathan Road to get some macadamia tarts. Of course we helped ourselves to samples of the different kinds of tarts. Mind you, this was all before lunch.
On Ashley Road, there are so many places to eat as well. There's Ebeneezers for late-night eats and Delicious Kitchen for their pork chop with steamed vegetable rice. On the same street is Kowloon Taphouse for some craft beer.
For Tita Verne's birthday dinner, we first had cheese and cocktails in her hotel suite, then moved to a restaurant called Wooloomooloo, an Australian steakhouse that offers a picturesque view of the city lights. Wooloomooloo offers a wide range of items aside from their steaks. Among other things, we ordered a tomahawk steak. It was cooked perfectly! We also ordered creamed corn, fries, potato puree, creamed spinach and a sampler of the sauces.
Millie: The fabulous thing about Wooloomooloo was that the wait staff was Filipino and they were more than happy to serve us. When they realized we were celebrating Verne's birthday, they brought us a bottle of champagne! It was truly a perfect evening!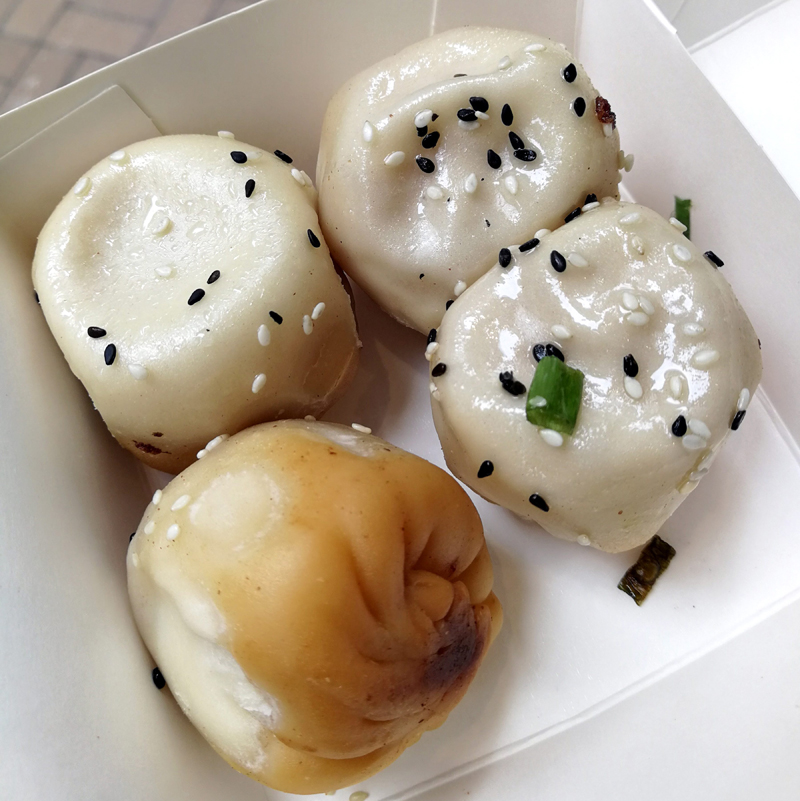 Pan-fried soup dumplings that come in several variants from Cheung Hing Kee Shanghai Pan-fried Buns on Lock Road in Tsim Sha Tsui
* * *
Send email to milliereyes.foodforthought@gmail.com and quichethecook.ph@gmail.com
Find us on Facebook: Food for Thought by Millie & Karla Reyes and Instagram: @quichethecookph.