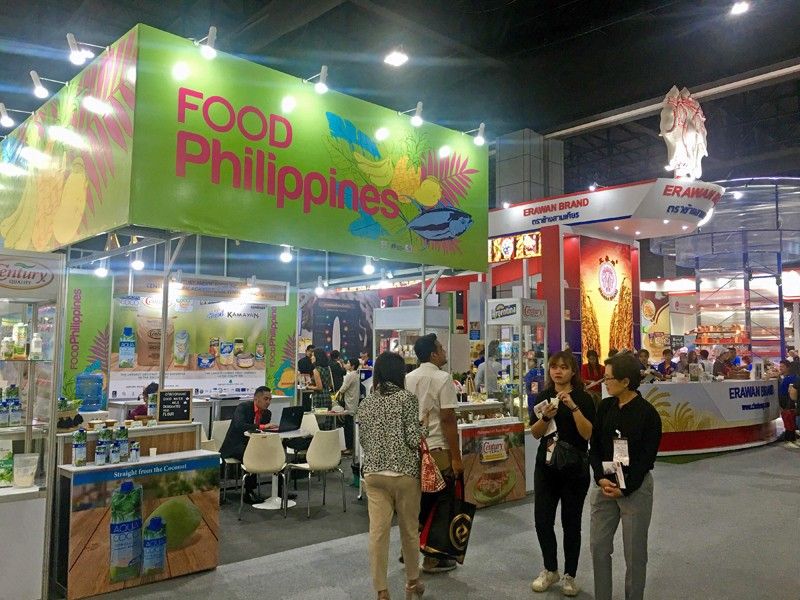 ThaiFex-World of Food Asia 2019 boasts 11 exhibition halls and featured 2,700 exhibitors from 42 countries — including the Philippines — and regions, making it Asia's largest dedicated F&B trade show.
So you want to be your own food boss? CCA Manila shows the way
Starting any business in today's environment is tough, but the food business has an advantage over other enterprises simply because we all have to eat! Plus, we have different tastes and diets, which allow for new food ideas/products to succeed. Or so we thought.
Having a good idea for a new restaurant or catering business does not ensure that the rest of the process will be easy.
Most startup restaurants, food trucks and food kiosks fold up at alarming rates. This also happens in carinderias in your neighborhood — that one corner of commercial space that morphs into a new eatery in barely a year.
"In putting up a food business, it's not enough that you have a good idea, a good recipe," explains Center for Culinary Arts (CCA) Manila corporate communications and PR manager Ana Beatrice "Bea" G. Trinidad over a delish Thai dinner at LonLon Local Diner in Bangkok, Thailand. "You have to know all the aspects in running a business, like human resources, finance, and food costing."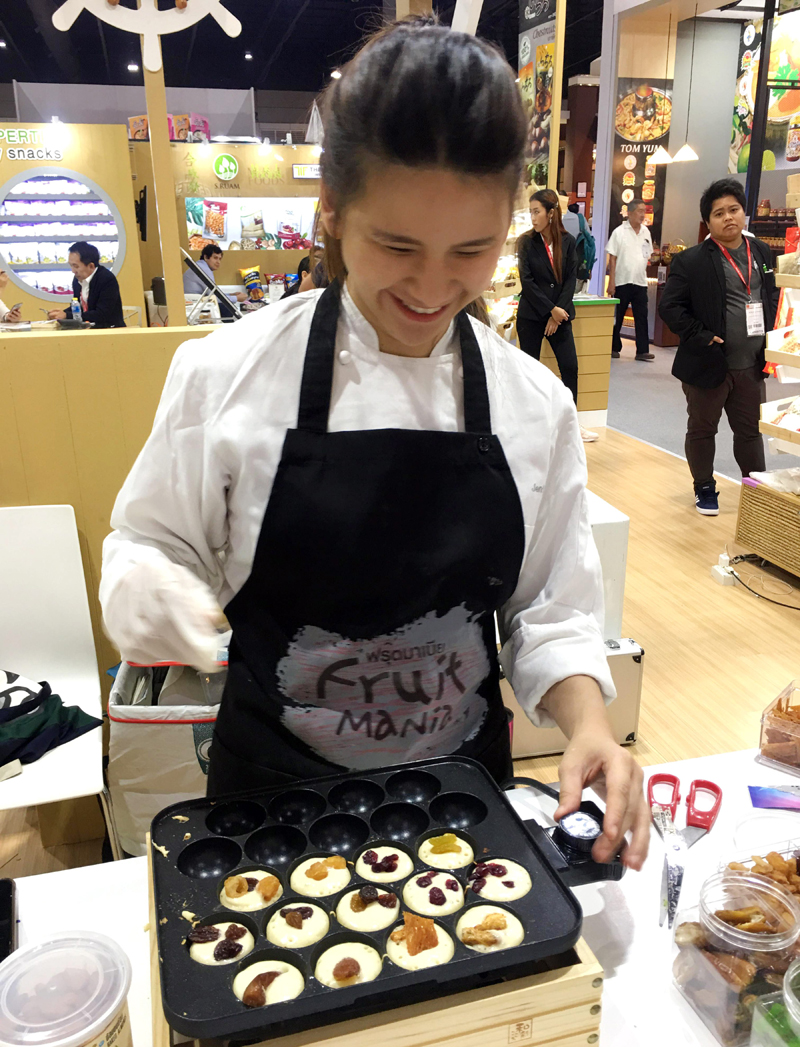 Takoyaki pastry balls filled with dried fruits and nuts at ThaiFex-World of Food Asia 2019 held in Bangkok, Thailand
Bea is the daughter of The Cravings Group CEO Badjie Guerrero-Trinidad and director Rico Trinidad. She recently joined the company not just to continue the family legacy, but also to bring the business to new heights.
Bea and I were in Bangkok for ThaiFex-World of Food Asia 2019, the region's largest food and beverage trade show, which was held recently in Bangkok, Thailand.
Just like me, it was Bea's first time to attend the ThaiFex.
"As corporate communications of CCA Manila, I felt it's important to immerse our students in events like these since most of them are planning to put up their own food/resto business," she said. "Not only will they learn about the food trends, the latest technology and food innovations, they also get to network with a host of suppliers."
The event, which took place at Impact, a large exhibition center in Bangkok with 11 exhibition halls stretching 107,000 square meters, featured 2,700 exhibitors from 42 countries — including the Philippines — and regions, making it Asia's largest dedicated F&B trade show.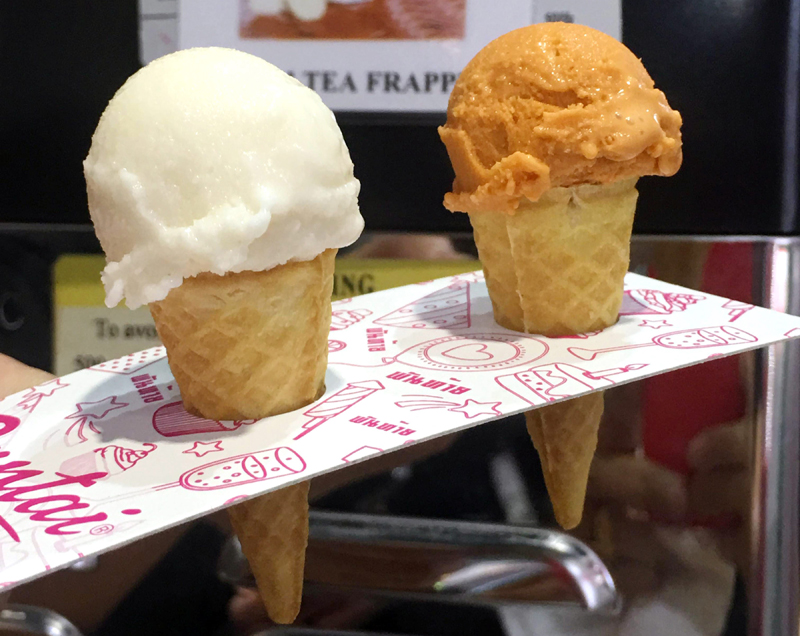 Thai milk tea ice cream, anyone?
ThaiFex stays at the forefront of exhibiting the latest food trends in Asia with new exhibition zones.
Nineteen-year-old Monellyzza Bustos, who's taking up Diploma in Culinary Arts and Technology at CCA Manila, enjoyed checking out the different booths that showcased exciting food concepts, which she feels would click with the Filipino market.
"There's one booth that offers takoyaki balls, but not the savory kind," Elyzza shared. "The demo girl used pancake batter and put dried fruits and nuts as fillings. It's perfect for children's parties or I could put up a kiosk selling these sweet treats."
Elyzza is planning to put up a pastry shop with her mom when she graduates from CCA Manila.
Paulo De Los Santos, whose family owns a hotel and restaurant in Laguna, was impressed at the revolutionary technology that's changing lifestyles relating to food production and consumption. Paulo is taking up the Institut Culinaire Disciples Escoffier (ICDE) program of CCA.
Some of the interesting companies he discovered are Fling Asia, which explores the possibility of drones for delivering food; and the Asian Food and Feed Insect Association (AFFIA), which is exploring mass marketing insects as the food of the future.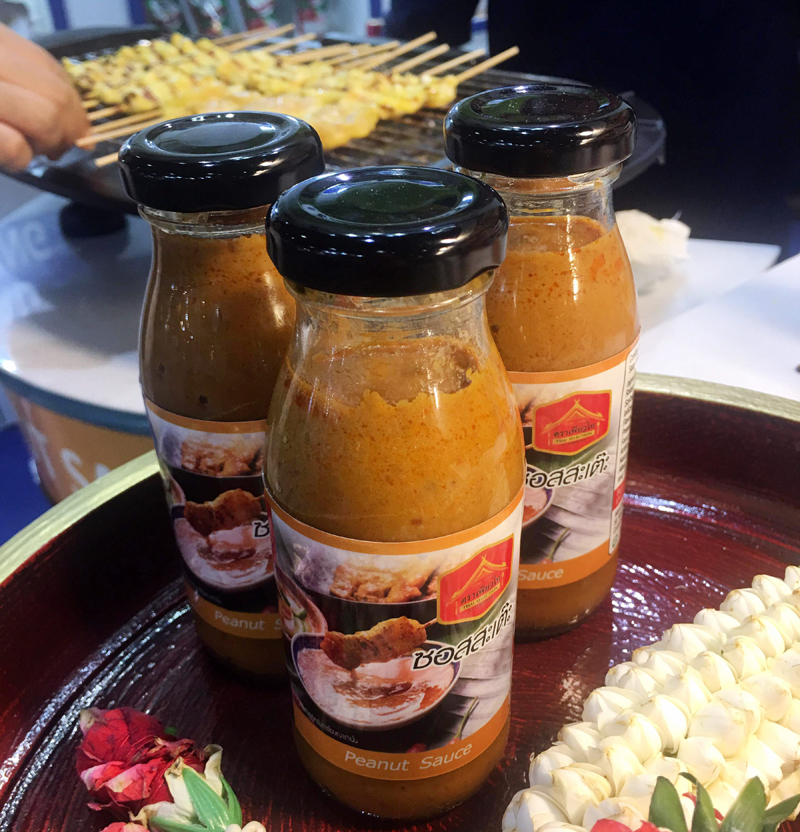 Ready-made satay sauce
"We got curious how these insects tasted so from Impact, we went straight to Asiatique Riverfront, and enjoyed the edible insects and bugs," CCA Manila program and operations director Rheine Marc De Villa, who accompanied the students at the expo, shared with a hearty laugh.
Other booths featured ready-to-cook Phad Thai kits for single servings; Thai milk tea soft-serve ice cream mixes; pickled fruits and veggies in bottles; and freeze-dried tom yum goong and massaman chicken curry blocks. They're similar to our Knorr cubes, only bigger. Imagine, you don't have to make the tom yum goong soup from scratch. Just put water on a pot, bring to a boil, pop the block then add the seafood and veggies. And voila! You get to savor the delicious Thai soup in a jiffy.
Freeze drying is one of the latest innovations in the food industry. It is a process used to dehydrate products by freezing them and reducing the pressure to make the frozen water content in the products sublime. This way does not damage the product structure like other dehydration processes, which require higher temperatures.
So the products have a dry and solid outer surface and are lightweight, enabling easy transportation and storage.
Freeze-dried products also have the closest color, taste, texture and nutritive value that is closest to that of fresh products.
CCA Manila is still on top of its game
As the top pioneer school in professional culinary education in the Philippines, CCA Manila has long produced graduates who are not only competent in the kitchen, but also proficient in business and food management.
When the school was established in 1995, the expectations for culinary students were limited to the confines of a kitchen or hotel. Well, times have changed.
"Today, the culinary arts industry is not just relegated to hotel kitchens and restaurants, it's everywhere," noted Bea. "The culinary field has elevated itself beyond working in the kitchen."
And CCA Manila is equipping its students who want to start building their food business.
CCA Manila recently partnered with Thames International, a business school known for its innovative programs.
"Early this year, Joel Santos of Thames International came up to us and asked if we were interested in handling the technical aspect of running a food business in their school," shared Bea. "That sounded interesting so CCA Manila readily agreed."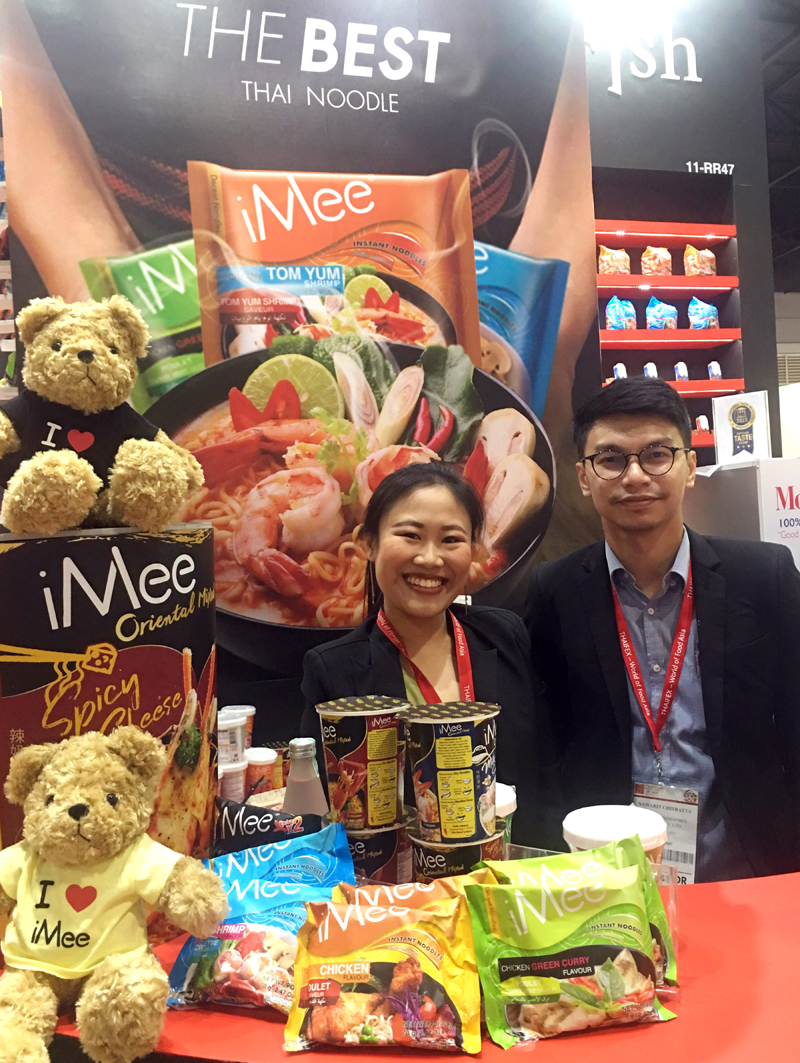 iMee, Thailand's best instant noodles, come in delicious flavors like Green Curry, Tom Yam Goong and Seafood.
The partnership between the two institutions allows CCA Manila to offer students a "Diploma in Food Entrepreneurship" and a "Certificate in Food Business and Innovation."
"The Diploma in Food Entrepreneurship aims to produce successful chefs who can become leaders in the competitive food industry," explained Bea.
The six-month program gives students a strong foundation, the mindset, skill set and tools to make their culinary business dreams become a reality.
"It's designed for people who have a business idea in food or they already have a food business, but they want to scale up," she added. "Nowadays, a lot of people want to own a food franchise, put up an online food business, or join bazaars. Sometimes they fail because they don't have the right tools and have no idea what's the next step to take."
And since the Diploma in Food Entrepreneurship is an extensive program, students will understand the vital roles of each key player in the food service system.
"They will also learn how to achieve the highest level of efficiency and, of course, maximum profit," Bea shared.
At the end of the program, students will be knowledgeable on a wide array of processes, from menu planning, purchasing and inventory to storage and distribution, among others.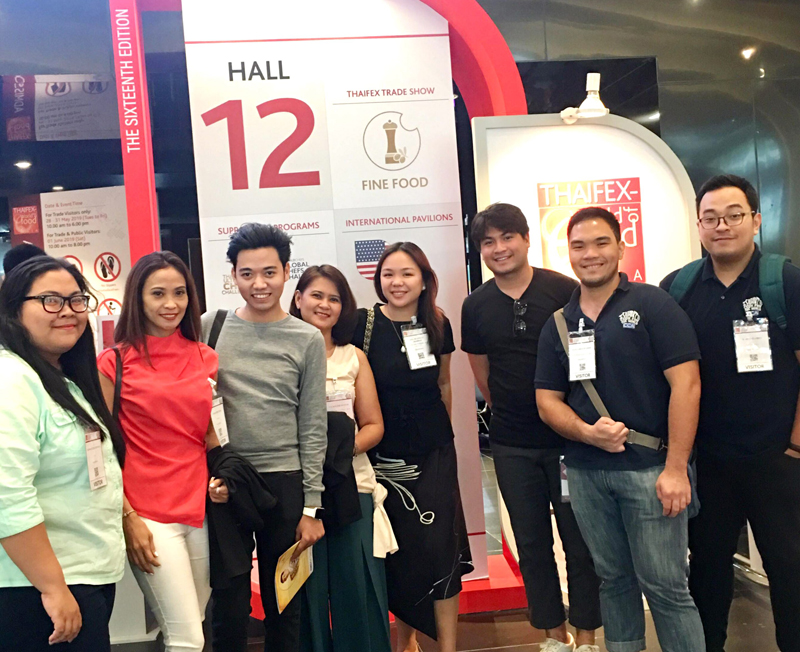 Team CCA at ThaiFex: Center for Culinary Arts (CC A) Manila corporate communications and PR manager Ana Beatrice G. Trinidad (fifth from left) with students (from left) Monellyzza Bustos, Geraldine Pura, program and operations coordinator Rheine Marc De Villa, Paulo De los Santos, Dan Carlo S. Pambid and Karlo Rafaele Flores at ThaiFex-World of Food Asia 2019 held in Bangkok, Thailand
The "Certificate in Food Business and Innovation," on the other hand, is designed for those who are eager to break the mold in their food business.
"The rationale behind this certificate course is that it is not just enough to offer good food to customers," said Bea. "One has to be more innovative and groundbreaking considering the tight competition among food service providers."
This course will help students develop concrete product concepts for their food business. They will also learn about nutrition and food safety.
"But most of all, this will equip them with fundamentals of culinary arts to make them get ahead of their competitors," Bea enthused.
The culinary field has elevated beyond working in the kitchen, and CCA Manila is equipping its students who want to start building their food business.
With ample knowledge, the right tools, hard work and a positive attitude, the future is bright for these young food-preneurs.