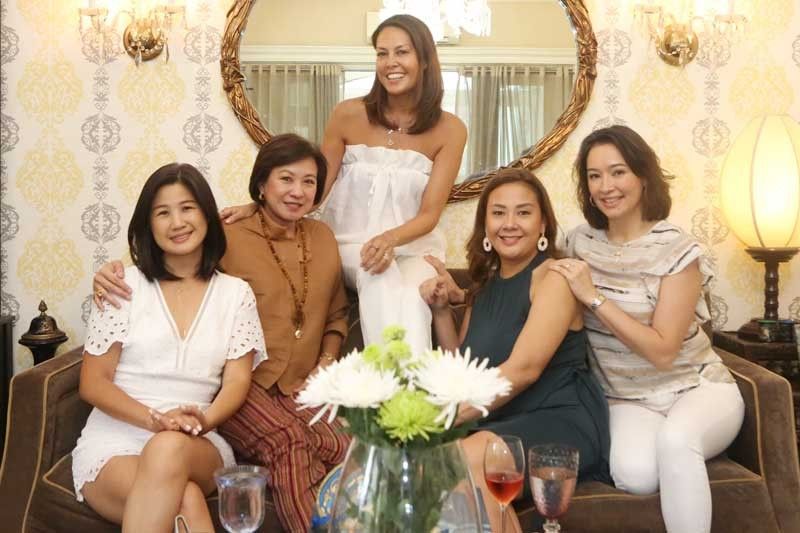 Great women: Trish Panlilio of Mulberry Door (center) with (from left) Melanie Go of Holy Carabao, Jeannie Javelosa of Great Women, Jenny Yrasuegui of Backyard Farms and Michelle Aventajado of MothersWhoBrunch.
Photos by WALTER BOLLOZOS
Mulberry Door's Trish Panlilio collaborates with Hindy Weber, Jeannie Javelosa & Jenny Yrasuegi on a series of dinners for a cause.
Most restaurants, when celebrating an anniversary, will either hold a big party or have special promos for diners. Supermodel-turned-restaurateur Trish Panlilio wanted something different to mark her restaurant Mulberry Door's second year in the food biz.
"I opened Mulberry on May 17, which was the birthday of my Mom (the late jeweler Fe Panlilio)," Trish says. "Last year we had a really big celebration because we turned one, so this year I thought instead of doing the same thing, maybe something more relevant. So it's all about women empowerment and just really promoting local."
An empowered local entrepreneur herself who founded catering service NawwTy's Kitchen before opening Mulberry Door, Trish happened to be friends with three women who embodied those very same qualities — Hindy Weber of Holy Carabao Holistic Farms, Jenny Yrasuegui of Backyard Farms, and Jeannie Javelosa of Great Women — and decided to collaborate with them on a series of benefit dinners called #NawwtyGivesBack.
"Hindy and I have been friends forever, Jeannie is the sister of one of my best friends since we were six, and Jenny is another good friend, so I was lucky enough to have found all these women who are already doing that," Trish says. "March was International Women's Month, but instead of just doing it for a month, we decided to spread out the dinners and make it a series, so it's going to be for the whole year (in June, August and October)."
The dinners are meant to raise funds for select beneficiaries. The first, which Trish calls "Harvest," will be held on June 18 at Mulberry Door in BGC, featuring organic produce from Holy Carabao, the Laguna-based farms of Hindy Weber that grow food using organic, biodynamic and permaculture principles.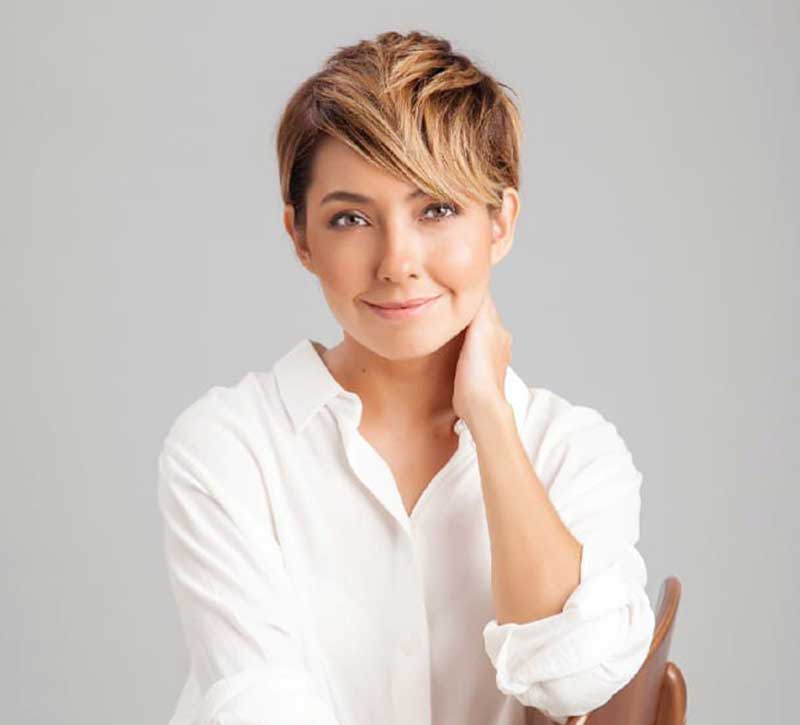 Hindy Weber of Holy Carabao Holistic Farms.
"This is my first collab with Trish," Hindy says. "I frequent Mulberry Door, though, and I love her food. We are happy about this collab. Our chosen beneficiary is SOIL (Samahan ng Organikong Industriya ng Laguna), a coop we belong to that works, supports and trains small-holder farms around Laguna that are trying to do the right thing: grow food in a natural, sustainable, regenerative and ethical way. Many of these small-holder farms don't have the means to build structures or buy materials, so we'd like to support them in their enterprise."
We got to try some of Holy Carabao's offerings at an intimate lunch in Trish's home, where she used the holistic farm's organic tomatoes and arugula in Mulberry Door's famed quinoa salad, tossing it with a champagne-balsamic vinaigrette. The (holy) carabao's milk was also the base for dessert: panna-cotta topped with iced blueberries and raspberry coulis. Everything tasted not only farm-to-table fresh but also whole — nutrient-wise and flavor-wise. The tomatoes were sweeter, the carabao milk creamier, and the arugula packed a peppery punch.
Pasture-raised vs. Free-range
Mulberry Door's second dinner in August will be with Jenny Yrasuegui and her Backyard Farms, the proceeds of which will go to Best Buddies Philippines, a non-profit that creates opportunities for individuals with intellectual and developmental disabilities.
Jenny explained to us that Backyard raises poultry that's hormone-free, antibiotic-free and pasture-raised — a step above free-range, in her opinion.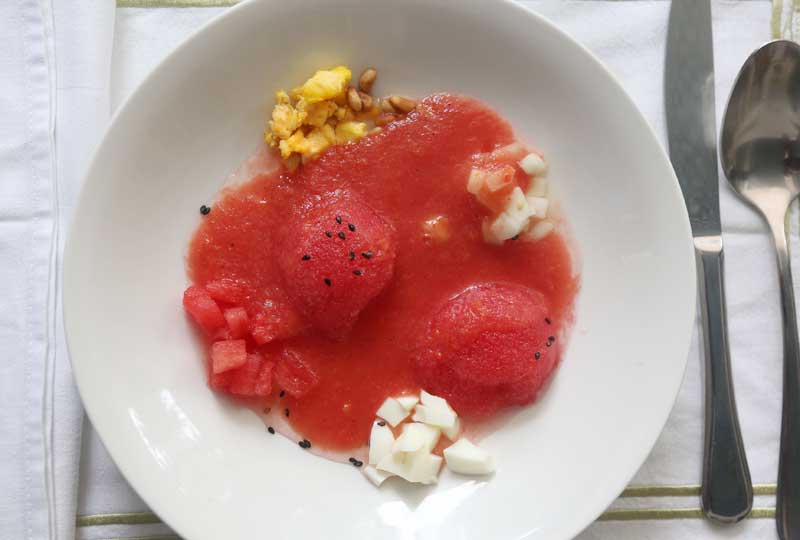 Summer refresher: Watermelon gazpacho.
"We found out after doing extensive research that if you're a chicken brand, you can say 'free-range' and all it really means is that you have access outdoors," she explains. "Which is misleading, because the chickens can be inside a house, but if there's an opening that leads to a farm, you can already call that 'free-range.' Pasture-raised is really feet-on-the-ground."
Backyard doesn't farm native chickens but a French breed of spring chicken suitable for roaming and feeding on pastures. "We're three times the price of commercially grown because they also grow three times the number of days," notes Jenny. "A commercially grown chicken is bombarded with antibiotics, and you can harvest them in 25 to 28 days. Our chickens take 60 to 70 days."
Javelosa adds that all the hormones and antibiotics commercial chickens are injected or fed with have been proven to cause cancer. Plus, there's the matter of flavor.
"There's really a big difference between that and commercial," Jenny says. "I had a chef saying, 'So this is what chicken really tastes like.'"
Trish braised Backyard Farms' chicken in a Marsala sauce, making the skin on top nice and crisp. Tender and so flavorful it didn't need any of the sauce served on the side, the chicken was so good I had to ask Trish for another piece.
Women Helping Women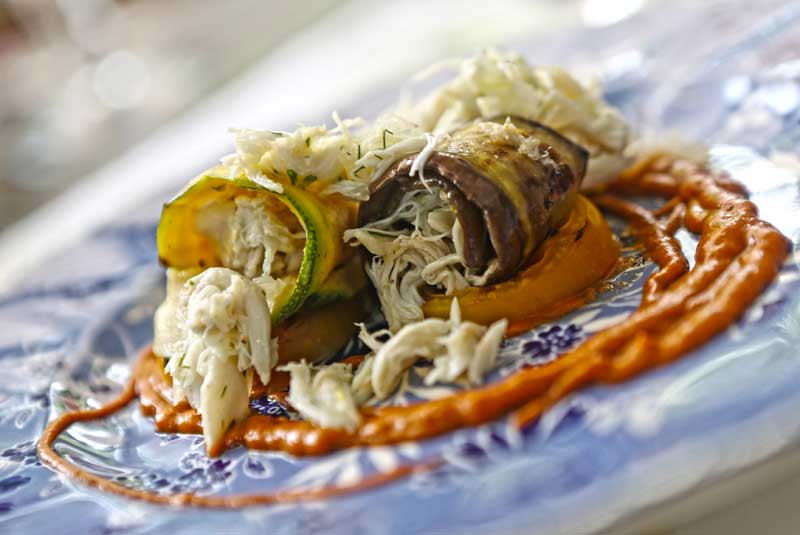 Crab mentality: Lemon crabmeat with aubergine.
The final event in October will be the biggest of the three: a dinner and fashion show in Y Space at the Yuchengco Museum benefiting Jeannie Javelosa's Great Women, a social enterprise and brand platform dedicated to helping Filipina weavers all over the country, from providing thread to pushing their products to market.
Trish says they'll choose particular fabrics and have designer friends turn them into runway-worthy ensembles. "We're considering auctioning them to make it part of the fundraiser, but haven't gone there yet."
Like Hindy and Jenny, Jeannie is an advocate of slow food and also slow fashion. "The food industry is the worst pollutant in the world, and number two is textile," she informs us. "Fast fashion is getting so intense. They have designers on the ground drawing, and in a couple of weeks the designs are on the racks, which is unthinkable for a global supply chain. And then cheap material goes to landfills because it's low quality and synthetic, so this is where we make our stand for slow fashion. It's quality."
Jeannie likes the idea that the Mulberry Door dinners are all about women, "because Great Women is about women supporting women. If we don't help ourselves, who's going to help us? Global statistics show that 58 percent of those purchasing are women, and they have the decision-making role globally. That's a market."
Inspiring Women, Great Food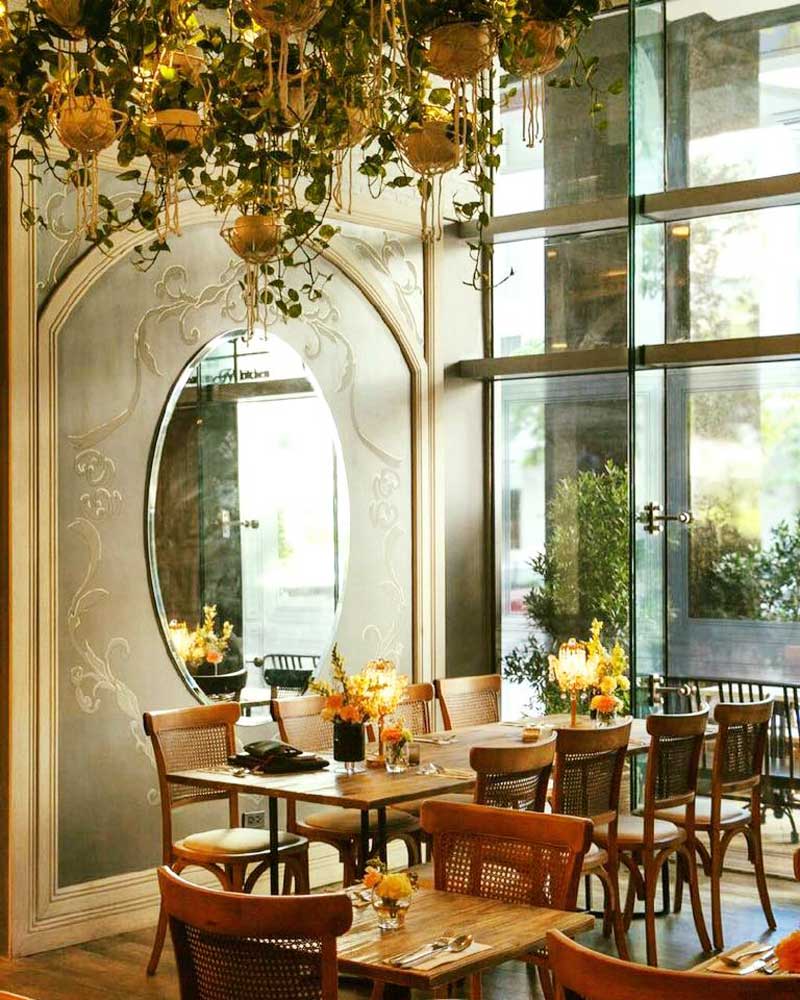 Home, sweet resto: Mulberry Door in BGC is like an extension of Trish Panlilio's home, with its warm, welcoming touches and lovingly prepared food.
Trish's lunch was an inspiring assemblage of women conversing over great food — there's a lot to be said about organic ingredients grown in an unhurried, humane way, then lovingly prepared so as to let their natural flavors shine.
I also enjoyed her watermelon gazpacho and lemon crabmeat with aubergine, another memorable crab dish in the league of NawwTy's signature crab-fat paella.
"I really enjoy what I do, I find cooking very therapeutic," Trish says. "I'm consistently developing new recipes here at home."
Mulberry Door is like an extension of her home, full of warm, welcoming touches and beautiful tableware from her personal collection. Best of all, her partners are her sons Quintin, Luca and Matteo, "so it's great to work together and it's a good platform to teach them about work ethics — how it's important to work so that they grow up not thinking that they don't have to."
Now they see their mom giving back, another valuable lesson in Trish's household.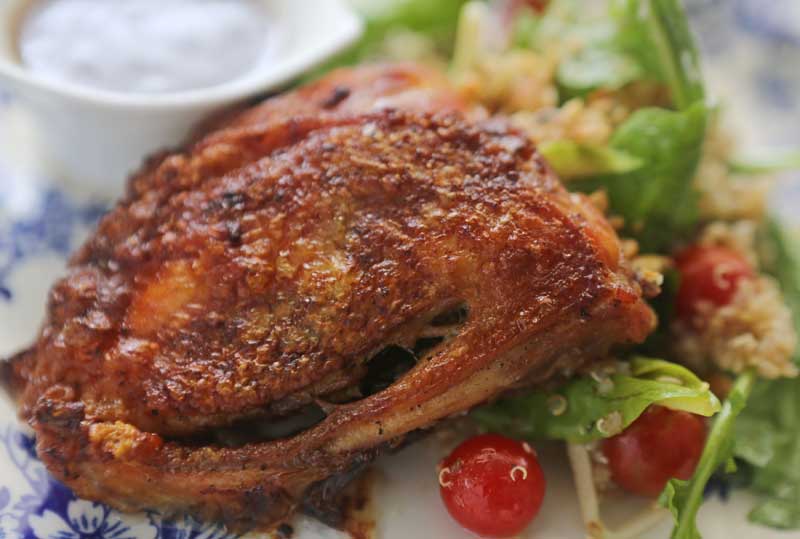 Hot chick: Braised chicken and quinoa salad using Backyard Farms' pasture-raised poultry and Holy Carabao's tomatoes and arugula.
* * *
To buy tickets for the dinners, call 810-5427, (0918) 998-7474 or (0906) 496-3745 or visit the Mulberry Door Facebook page and Instagram @mulberrydoor for details.
Mulberry Door is open daily from 11 a.m. to 11 p.m. at 8 Forbestown Road, Bonifacio Global City, Taguig City. For reservations, call the numbers above. For bookings and private events, email mulberrydoor@gmail.com or send a message on FB or IG.
NawwTy's Kitchen offers a la carte food orders and custom catering services for all-occasion private and corporate dining. For reservations, call the above numbers, email nawwtyskitchen@gmail.com or message the NawwTy's Kitchen Facebook page or IG @nawwTy.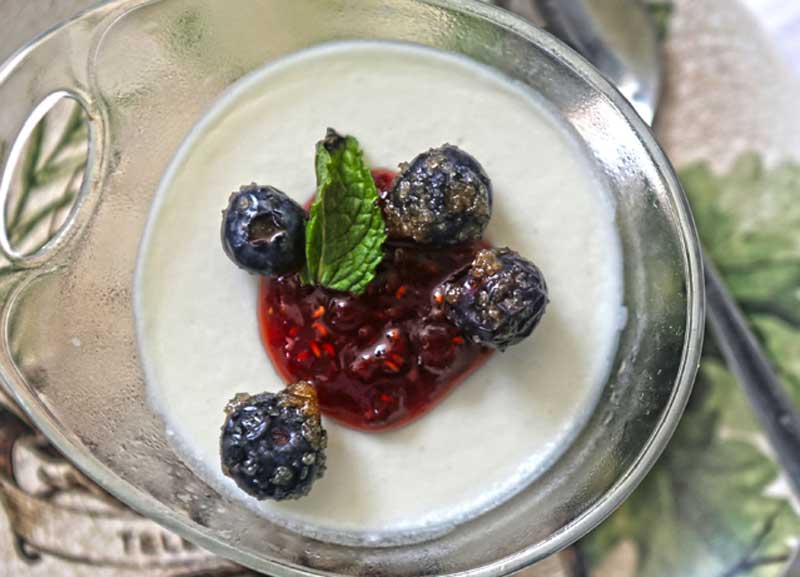 Berry good: Carabao milk pannacotta with blueberries and raspberry coulis.