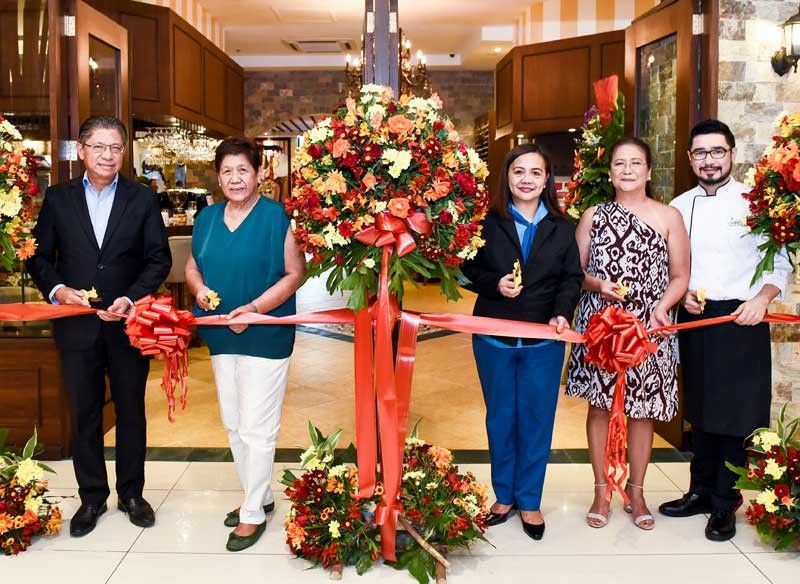 Cutting the ceremonial ribbon are (from left) Jaime Ysmael, Ortigas & Company president; Linda Salvador, wife of the late Jaime Salvador, business partner of Alba; Atty. Dianeth Valencia, Pasig City administrator and Dolora de Alba, wife of the late Señor Alba.
Photo by WALTER BOLLOZOS
Alba gets a delicious makeover
As they say, "something good never gets old."
For over 60 years now, Alba Restaurante Español still manages to slug it out in the restaurant game despite a slew of new local concepts opening in the country.
The secret? The quality of the food has not changed a bit. Add to that, its impeccable service.
Chef Miguel de Alba, son of its founder Anastacio de Alba and heir to the (cast)-iron (paellera) throne, prepares the dishes the old-fashioned way — the way his dad used to. No shortcuts.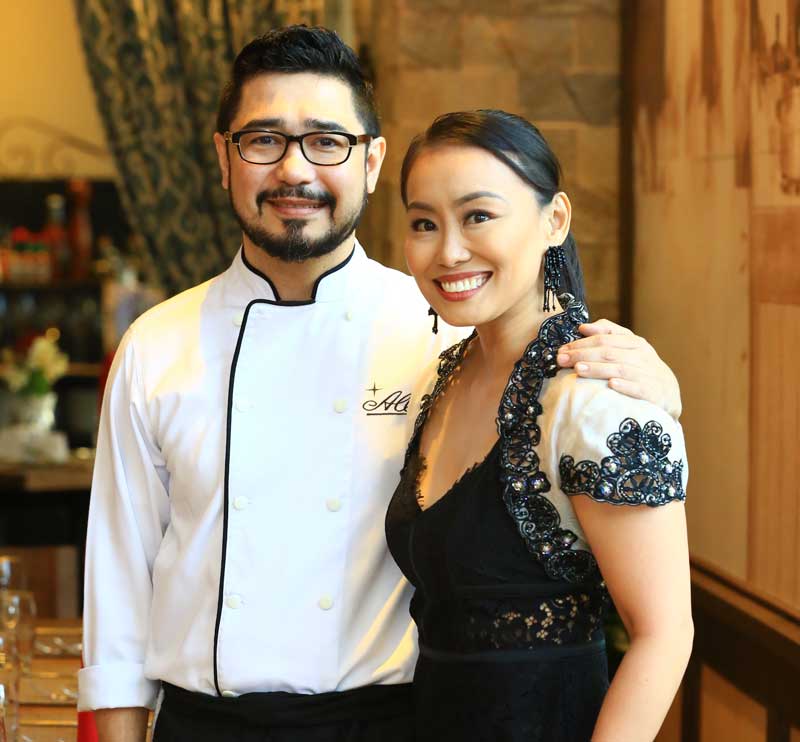 Power couple: Chef Miguel de Alba, president and general manager, Alba Restaurante Españoland wife Cachelle Guiao-de Alba.
"We cook our paella for 30 minutes, while the callos and lengua take three to four hours to prepare," noted chef Miguel. "I was taught in cooking school (at the Center for Culinary Arts) how to speed up the cooking process, but we just couldn't do that at Alba's. To bring out the natural flavor of the ingredients, slow cooking is the way to go."
In terms of service, chef Miguel trains his staff well. "We put our heart in everything we do and the relationship we build with people. Here, the customer is still king. We want them to leave the restaurant happy. Everything is customer-centered; there's just no other way," he enthused.
Keeping The Flavors Alive
Chef Miguel was in grade six when he started working in the family business part-time as a cashier.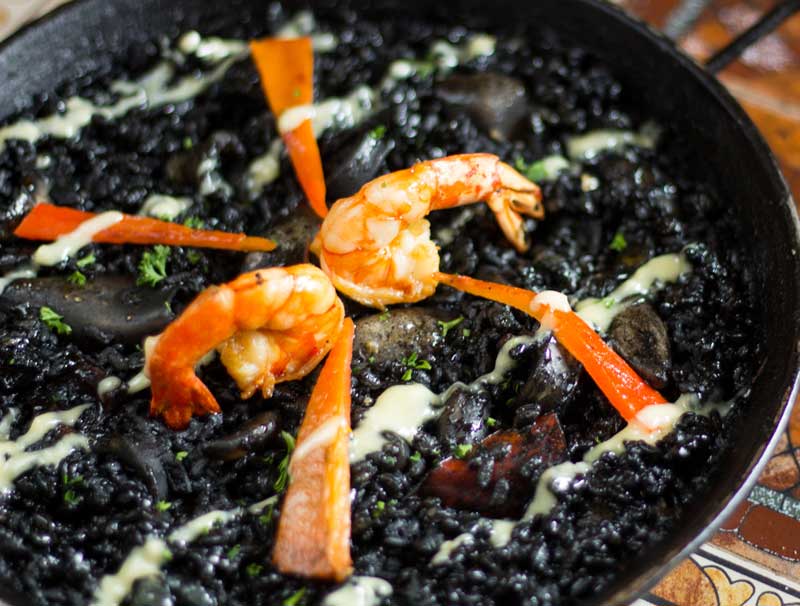 Paella Negra, moist black (squid ink) rice with squid slices and shrimps.
"I remember Papa would cook us 'wet' paella,'" he says. "He made a stock out of the bones of the bacalao with potatoes and jamon Serrano. When Papa did his thing in the kitchen, nothing went to waste. He would use everything."
That's the same principle chef Miguel adheres to in running the resto, especially with the opening of Alba Restaurante Español's fifth branch at Estancia Mall in Pasig.
"We definitely try to keep the flavors alive," he says with an impish grin.
The mere mention of Alba Restaurant conjures up images of Spanish chorizo and cured meats, stewed ox tongue, stewed ox tripe, beef stew and its centerpiece, Cochinillo Asado, oven-roasted suckling pig.
Alba is also famous for its authentic paellas, such as the house specialty, Paella Valenciana that has everything on it: chicken, pork, chorizo, seafood, and vegetables. I personally love the Paella Negra, moist black (squid ink) rice with squid slices and shrimps. Also check out the Paella Marinara (seafood), Paella de Bacalao (dried salted cod fish and potatoes) and Paella de Verduras for those who prefer their paella loaded with veggies.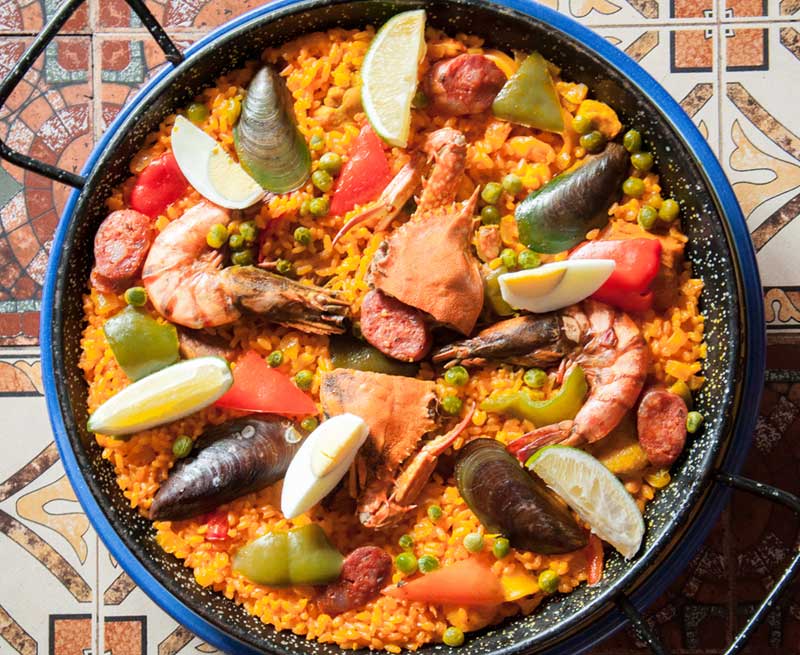 Paella Valenciana, Alba Restaurante Español's house specialty.
The restaurant sources ingredients not only overseas but also locally.
"Papa liked to support local suppliers and growers. He would prefer local ingredients like lapu-lapu and the beef from Batangas in making steak or salpicao,"shares the amiable chef.
And what's a Spanish restaurant without tapas? Here, there are about 55 choices of tapas, such as chorizos, jamon, gambas, champignon, Pamplona, mortadella, salchichon, mahi-mahi, and Pa amb tomaquet, among others.
"Our menu remains the same, because our regular clients order the same food items," says chef Miguel. "We only get playful with our tapas and salads."
And to keep this established brand relevant, Cachelle Guiao-de Alba, chef Miguel's loving wife and Alba marketing manager, turns to social media.
"The market is also growing. Our clientele is also a young market and they're socially active. The platform for PR and marketing has really changed. Everything revolves around social media," notes Cachelle. "We have a Facebook page, an Instagram account and a website. We also try to be active in those new apps coming out like Zomato and Food Panda."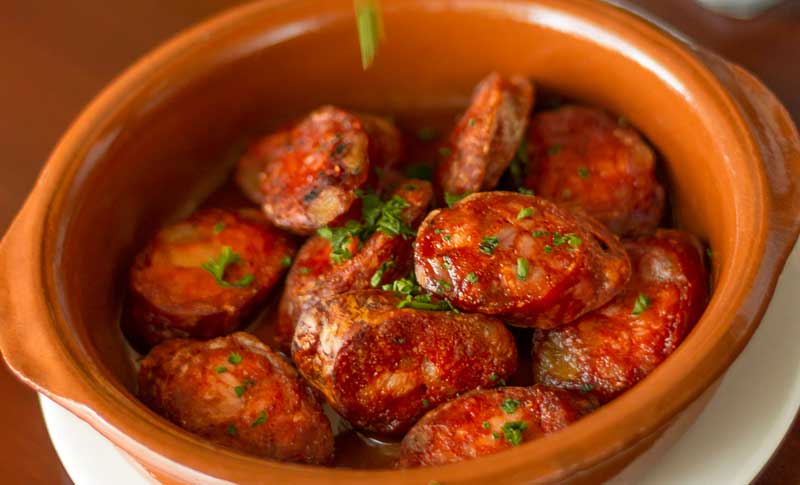 Chorizo Fritos.
Not only that, the power couple also revamped the look of the resto to make it Instagram-worthy.
The painted paelleras (depicting a matador, a winery and a flamenco dancer) are up on the stone walls. These were painted by Maya, the daughter of chef Miguel and Cachelle.
A mural of the castle of Segovia, a neighboring city of Avila where Señor Alba hailed from, serves as the backdrop for a kitchen-island-type buffet table, just above the postres, as if drawing guests into the sweet heart of Spain right here in Manila.
From the entrance, guests are greeted by a bigger (tapas) bar adorned with beautiful Mediterranean-patterned tiles. This corner is for those who want to unwind and spend Happy Hour with booze and tapas.
There's also a deli bar, which offers Spanish cold cuts and the newly launched chorizo burger patties and frozen, ready-to-eat callos and lengua.
Boldly written on the main hall's wall is Reunirse, which means "to meet, assemble and get together."
Situated on the second floor, North Wing of Estancia Mall, the 170-seater restaurant is envisioned to be a bigger and more celebration-centric venue for families and friends in the nearby residences and corporate offices within the Capitol Commons township.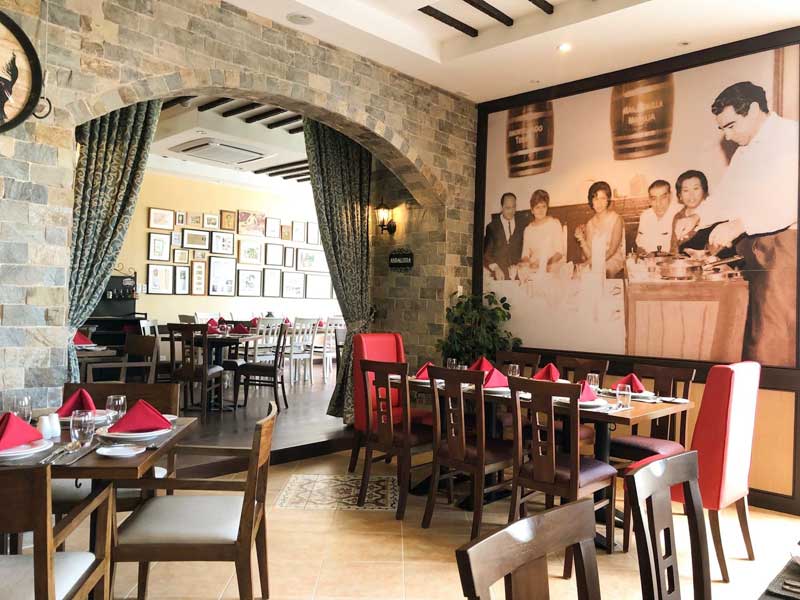 Alba Restaurante Español's fifth branch at Estancia Mall is a bigger and more celebration-centric venue for families and friends.
The cutthroat competition keeps chef Miguel and Cachelle on their toes, but they've always been clear about the direction of Alba.
"Nothing much has changed through the years. We serve traditional Spanish comfort food. This is what we do best," enthused chef Miguel.
* * *
Alba Restaurante Español has branches at 38 Polaris St., Bel-Air, Makati, 896-6950; Tomas Morato corner Scout Lozano, QC, 925-1912, 928-7129 and 901-3431; Westgate Center, Filinvest, Muntinlupa City, 771-2178 or 79; fourth level of Prism Plaza, TwoEcom Center Bldg., Bayshore Ave. corner Harbor Drive, Mall of Asia Complex, Pasay City, 808-2326; and on the second level of Estancia Mall, Capitol Commons, Pasig City, 253-8272.
Follow Alba on Facebook at alba.restaurant.espano and Instagram at albarestaurante_ph.