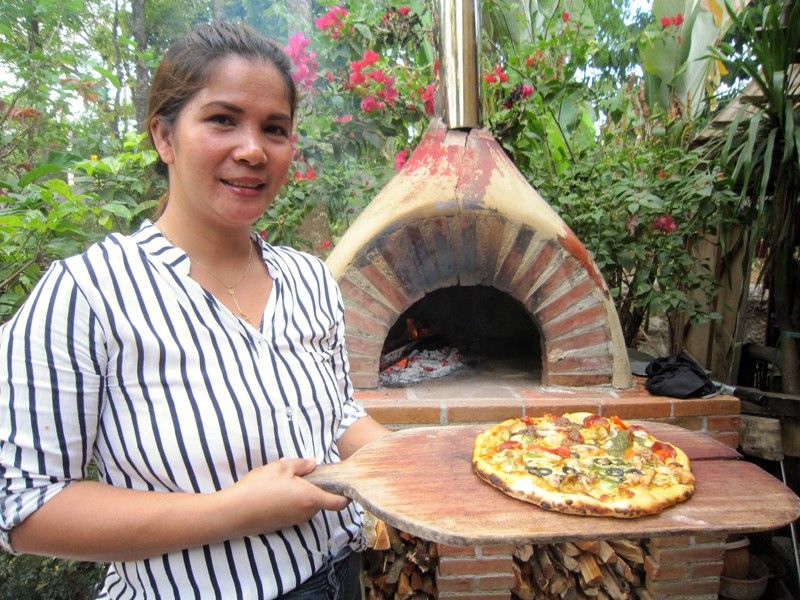 Aya Balanlayos of Lutong Pugon shows off their bestselling Gambaretto Pizza cooked in their wood-fired stone oven.
Why Rizal will be the next food and art destination
MANILA, Philippines — Rizal is going to be the next Tagaytay, east of Manila."
This is the fearless forecast of San Miguel Pure Foods culinary services manager Llena Tan-Arcenas. "Rizal has become a favorite weekend destination for many because of its proximity to Metro Manila. It's just about an hour's drive away. The roads are well paved. There's no traffic and congestion. And the weather is nice and cool."
This we experienced for ourselves recently during the "Rizal Circuit: Food and Art Tour" organized by the San Miguel Pure Foods Culinary Center (SMPFCC). The two-day road trip took us to six towns in Rizal province: Cainta, Antipolo, Binangonan, Angono, Pililla, and Tanay.
Cainta: Bibingka capital of the Philippines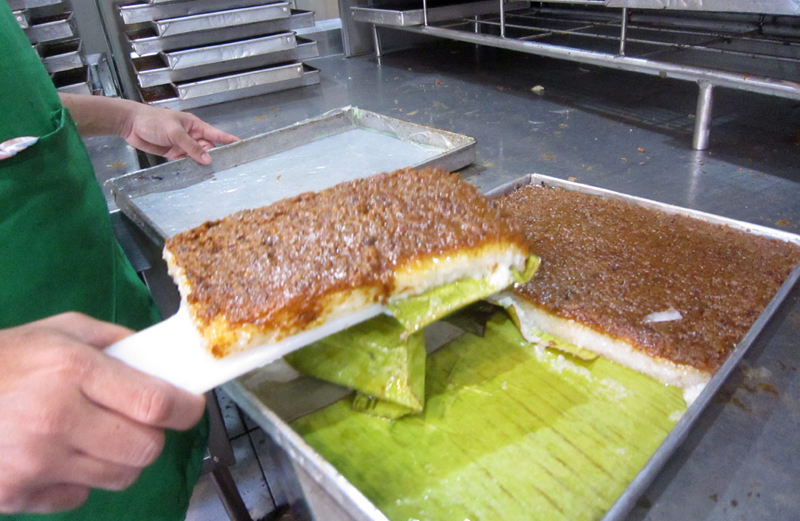 Aling Kika's special bibingka in Cainta, Rizal
Cainta is one of the oldest municipalities in Luzon as well as one of the most urbanized towns in the province of Rizal. It is also known as "the bibingka capital of the Philippines."
On one of its busy streets, Bonifacio Ave., is Aling Kika's Food Products store, which is famous for its special bibingka. Unlike the fluffy and soft rice cakes that we associate with Simbang Gabi at Christmastime, Aling Kika's special bibingka is more like biko or kalamay made with malagkit (sticky rice) and topped with latik. While most kakanin (rice cakes) feel rather heavy in the tummy, this one actually feels light. It's great to get for pasalubong as well.
Antipolo: Pottery & pork belly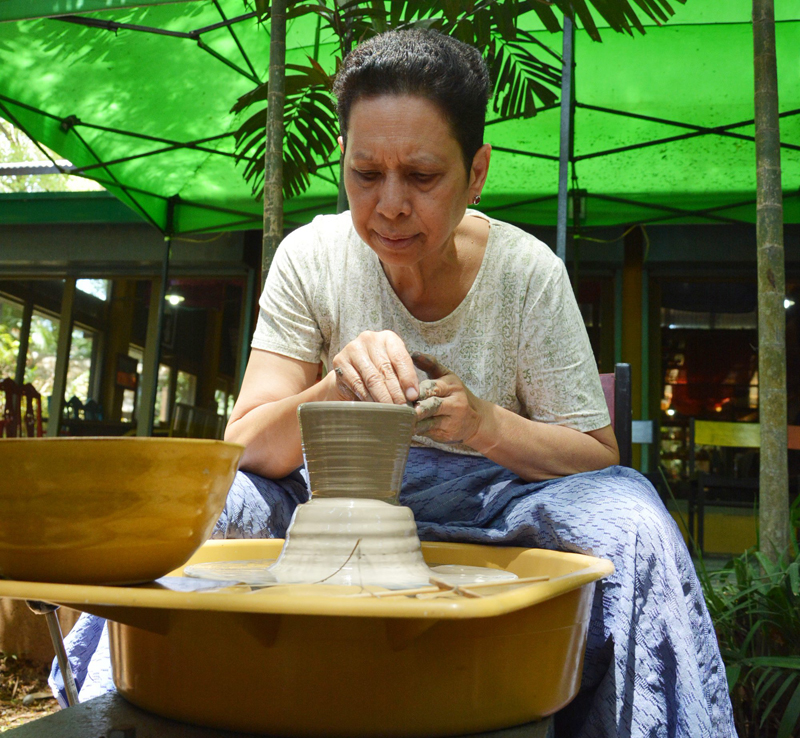 Artist Lanelle Abueva-Fernando
North of Cainta is Antipolo City. Here, pilgrims go to the shrine of Our Lady of Peace and Good Voyage at the Antipolo Cathedral.
Another spot worth visiting is the Crescent Moon Café and Studio Pottery on Ascencion Road in Barangay Dalig. We were pleasantly surprised to find this popular restaurant still as it was when we first visited it many moons ago, with its equally popular ceramics studio that supplies hotels, restaurants, resorts and homes with unique stoneware pieces.
Artist Lanelle Abueva-Fernando — who, together with her late husband, Bey Fernando, a lawyer by profession, founded the restaurant and ceramic studio in 1997— graciously gave us an impromptu pottery-making demonstration on her foot-powered potter's wheel.
In-house chef Krystle Cayco gave an outdoor cooking demo using San Miguel Pure Foods products. She used Magnolia chicken breast fillets for the Salted Egg Chicken tenders, and Monterey Pork Belly for the Grilled Pork Belly with Green Mango dish. We had both dishes for lunch as well as the Indonesian vegetable salad Gado-Gado, red rice, and a suman platter. The restaurant serves Southeast Asian dishes. They are also famous for their Alagaw appetizer made with Alagaw leaves picked fresh from their garden.
Binangonan: Prehistoric petroglyphs
Chef Krystle Cayco of the Crescent Moon Café shows how to cook Sa l ted Egg Chicken Tenders using Magnolia chicken breast fillets.
In 1965, National Artist for Visual Arts Carlos "Botong" Francisco discovered what is now known as the Angono-Binangonan Petroglyphs while on a field trip with a troop of boy scouts. While the actual site is located in Binangonan, it was also named after Angono, the hometown of Botong Francisco. The 127 human and animal figures carved on the rock wall dating back to 3000 B.C. is believed to be the oldest work of art in the Philippines. Not a few would like to think that the thriving community of artists in these parts can trace their ancestry to those early prehistoric artists.
Angono: Art capital of the Philippines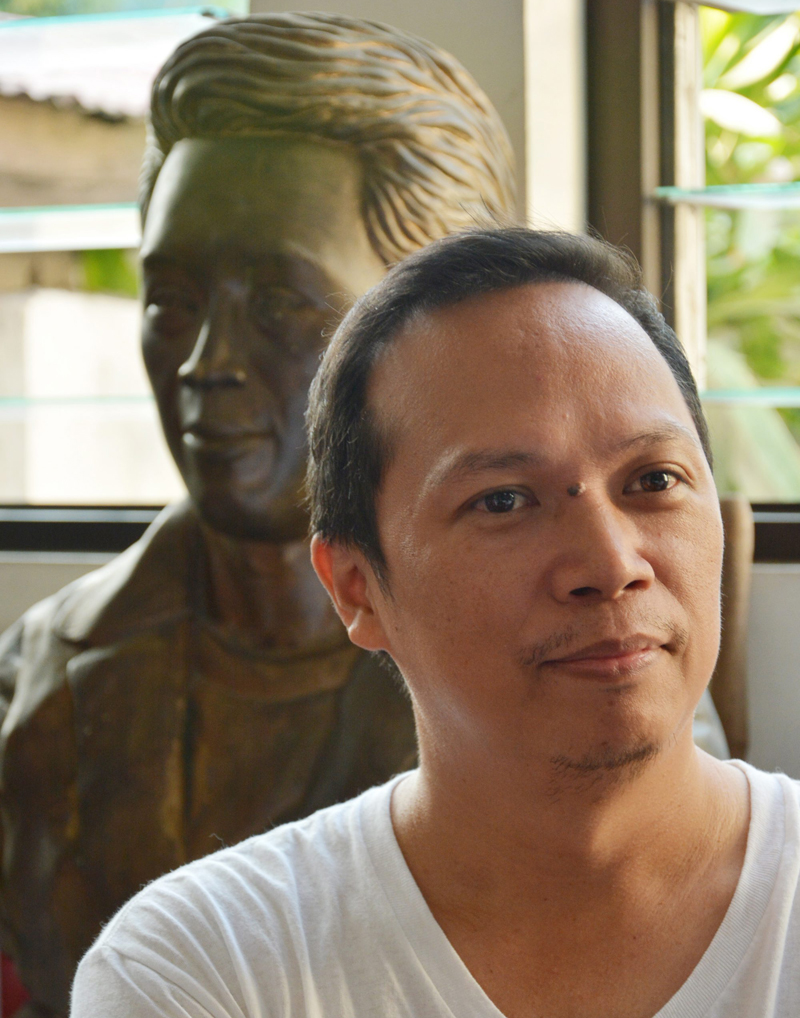 Carlos "Totong" Francisco II with a bust of his grandfather, National Artist Botong Francisco, behind him
Angono is often referred to as the "Art Capital of the Philippines." The home and studio of National Artist Botong Francisco on Dona Aurora St. is open to anyone who might be interested or simply curious about the life and works of the renowned artist. His grandson who carries his name, Carlos "Totong" Francisco II, gave us an annotated tour of the studio-cum-museum, and spoke with loving pride about his grandfather, who greatly influenced a new breed of modernist artists during his time. Totong himself is an artist favoring an abstract cubist approach in his works. Along Dona Aurora St., on the concrete walls are paintings of Botong Francisco done by muralist Charlie Anorico.
Angono folk artist Perdigon Vocalan was one of the many local artists influenced by Botong Francisco. Many of his paintings and wooden sculptures were inspired by native myths and folklore. In 1982, Vocalan opened Balaw Balaw Restaurant and Art Gallery on Dona Justa St., which became famous for serving exotic dishes such as sautéed ants and crickets, as well as traditional Rizal dishes.
Dinner the night we were there was no less exciting. For starters, we were served Nilasing na Hipon and Crispy Alamang. The fried itik (duckling) was shredded and guests can wrap it in pita bread with fresh veggies and condiments that were cleverly presented in a wooden sungkaan (traditional Filipino board game).
The main event was the Minaluto, chicken adobo using Magnolia 3-way Chicken Gata served with balaw-balaw, rice mixed with Star Margarine, salted eggs, tomatoes and steamed okra, all served on banana leaves in a deep wooden bowl and shared "boodle fight" dining style. Balaw-balaw is a Rizal specialty side dish made of shrimp paste and fermented red rice called angkak, which gives it its distinct pinkish-purple color.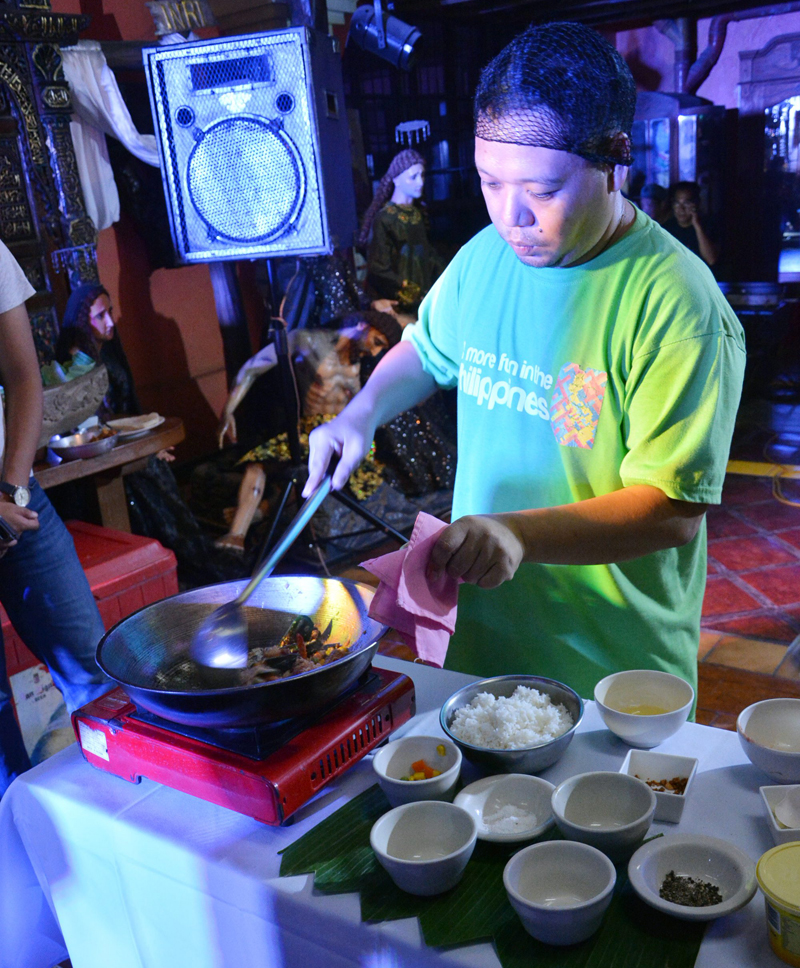 Andre Vocalan of Balaw Balaw Restaurant shows how to cook Puso ng Saging with Monterey Pork Liempo.
The Magnolia 3-way Chicken comes in packs of precut chicken that is already marinated in gata, tomato or ginger. You can have tinola with the ginger variant; kaldereta, afritada or pochero with the tomato pack; or pininyahang manok, curry or adobo sa gata: "All you need to do is boil the chicken and add your vegetables such as sayote or papaya and talbos ng sile for your tinola, and it's ready to serve," chef Rene Ruz of SMPFCC explains. "It's a great product, especially for those who have no more time to cook due to traffic, coming home from work. Instead of buying ready-to-eat fast food, you can enjoy a hot meal and still get the traditional flavors of a home-cooked dish."
After dinner, Andre Vocalan, Perdigon's son, who owns and manages the iconicestablishment he inherited from his late father, gave a live cooking demonstration.
He showed how to prepare Puso ng Saging with Monterey Pork Liempo. The rest of the night was spent in fellowship with a lot of singing and San Miguel beer, as well as Ginebra San Miguel Premium Gin.
From the breakfast buffet the next morning at the Thunderbird Resort-Rizal where we were billeted, we enjoyed all-time favorites such as Purefoods Corned Beef, Purefoods Classic Bacon Honeycured, Magnolia Brown Eggs and Essenso Microground Coffee.
Pililla: Wind & bamboo farms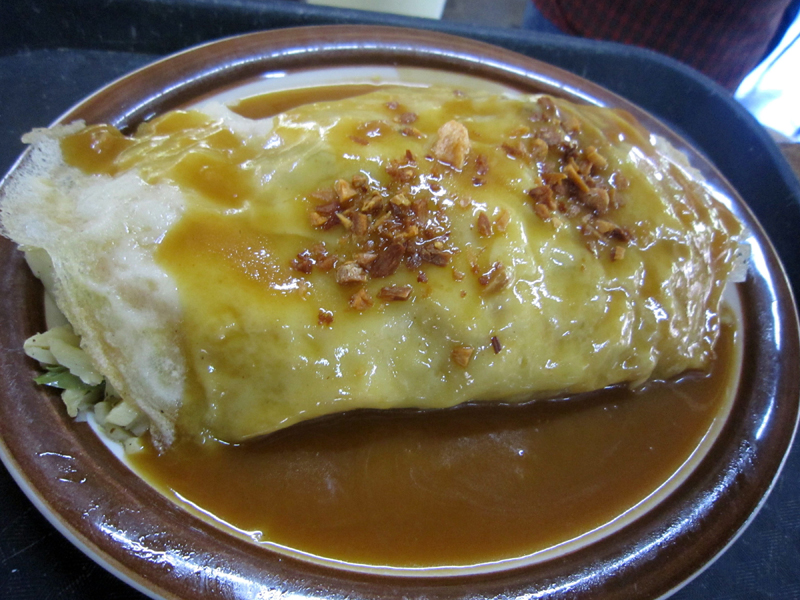 Labong lumpia at Kawayan Farm Restaurant in Pulilla, Rizal
The Wind Farm in Pililla with its 27 giant wind turbines standing on sloping hills towering over Laguna de Bay is fast becoming the newest tourist attraction not far from Metro Manila.
Less well-known but no less interesting is the 10-hectare bamboo farm in Brgy. Halayhayin, where the Kawayan Farm Restaurant can be found. "The restaurant came about quite by accident," says farm owner Veronica Olitin. They are the main supplier of the giant bamboo species used for the fish pens in Laguna de Bay. Bamboo is environment-friendly. They will grow anywhere where grass grows and they require hardly any maintenance care.
At the restaurant, we were served fresh labong (bamboo shoots) lumpia almost the size of a small plate. The lumpia is cooked fresh upon order, its wrapper made from scratch using a mixture of cornstarch, flour, and Magnolia brown egg. For the filling, the fresh bamboo shoots are boiled three times, allowed to drip dry, not squeezed so it remains crunchy, and cooked with Magnolia Nutri Oil and Magnolia Free Range Chicken. The cooked labong smells and tastes like corn. "Ubod ng sarap," everyone agreed.
Tanay: Gourmet pizzas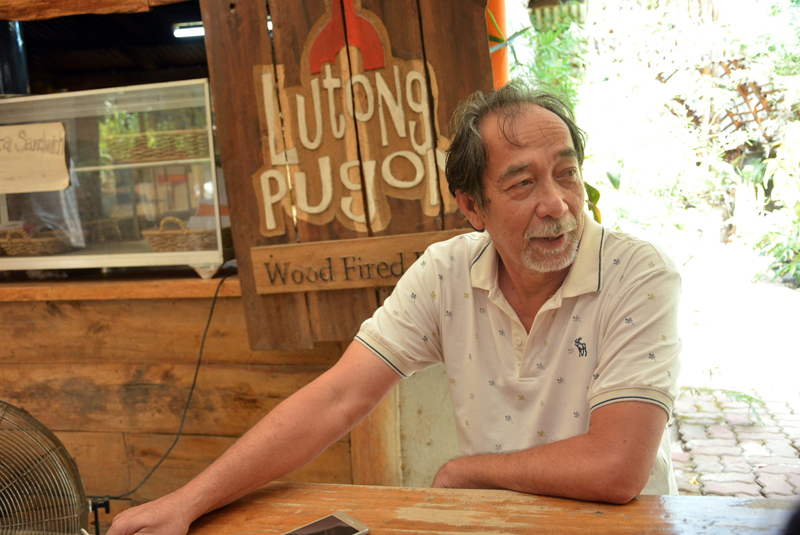 Artist Jun Tiongco at his restaurant Lutong Pugon Tiongco's Garden in Tanay, Rizal
Just a few kilometers away from Pililla is Tanay, which is bordered by Laguna de Bay in the south and Antipolo City in the northwest. It contains portions of the Sierra Madre mountains.
Tucked somewhere in its interior is a charming garden restaurant named Lutong Pugon Tiongco's Garden, which serves gourmet pizzas cooked in an ipil wood-fired stone oven built by the owner himself, artist Jun Tiongco. The pugon was originally intended to bake Jun's pottery, but the gourmet pizzas that his wife Aya made proved to be more profitable. They gained popularity through posts on Facebook by satisfied customers who liked taking selfies in the Instagram-friendly restaurant.
During our visit, we were able to sample two of their bestsellers: Gambaretto Pizza made of prawns, olives, pesto, basil and Purefoods Chicken in Brine; and Pepperoni Pizza with Purefoods Pulled Pork BBQ and Primo d'Italia Pepperoni. The Beefy Penne Pasta made with Monterey ground beef was also good.
A two-room bed and breakfast is scheduled to open next month within the 3,600-sqm property.
This food and art tour in the Rizal circuit brought us many pleasant surprises, underscoring the richness not only of our regional cuisines but also of our artistic heritage.
"We want to remind people that they don't necessarily have to fly or go to the usual road trip destinations to sample new experiences," Llena Tan-Arcenas remarked. "Just an hour's ride or so east of Metro Manila, there are already so many things to discover. We want people to try what is out there."