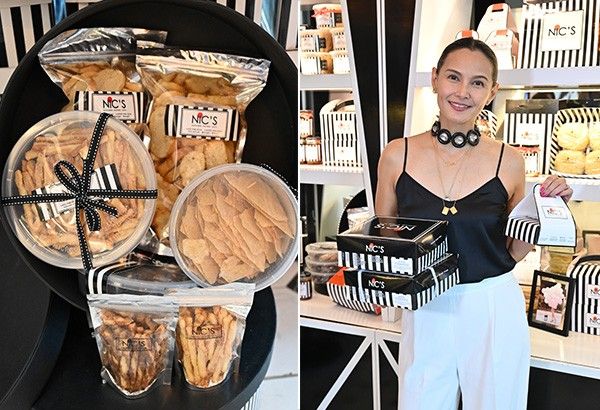 From left: Assorted NIC's gift products ideal for any occasion; Tweetie De Leon Gonzalez showcasing fashionable NIC's packaging
Photo release
(Philstar.com) - May 7, 2019 - 12:44pm
MANILA, Philippines — From a wholesale commissary back in 2001 supplying a variety of desserts and savories to several cafes and restaurants throughout Manila, restaurant chain NIC'S, by Rina Go and her late sister Maggie, has expanded even further into retail, having two restaurant branches: one in UP Town Center (Katipunan), which opened five years ago, and the newly opened store in Park Terraces (Makati).
Owner Rina Go, who was the original founder of '90s local fashion brand VISEVERSA, decided to dive into the food business while simultaneously still running the chic female clothing line. She pursued further studies in Fashion at Tobe-Coburn , New York, and ended up living and working in New York for 10 years. She, along with her sister, absorbed different culinary influences whilst applying dishes on their siblings during the holiday seasons. When she foresaw fast fashion entering the Philippines and got an offer for VISEVERSA, she decided to sell and focus solely on NIC'S.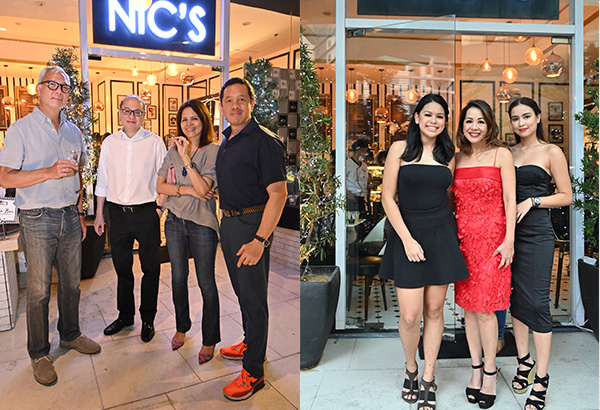 Ting Feliciano, Anton Periquet, Roseanne and Kevin Belmonte (left photo); Rina Go with Daughters Madion and Nicole (right)
When the NIC'S UP Town Center branch renovated a while back, Interior Designer Tina Periquet-Galicia took on the project and suggested to rebrand to a black and white, New York inspired vibe - connecting Rina's past with her current life in the food industry.
Diving deeper into the branding, Rina's daughter Nicole, who NIC'S is named after, used her vast experience in Public Relations by curating a different kind of experience for customers - integrating taste in food and fashion.
With the tagline, "Where Fashion Meets Food and Taste Matters," Nicole believes that taste goes beyond food - it can be fashion, music, film, travel, Broadway, sports etc - the list goes on. Her involvement has helped NIC'S become more relevant to the millennial market, while still being a brand that is timeless and class; grabbing inspiration from the 1930's up to today's day and age.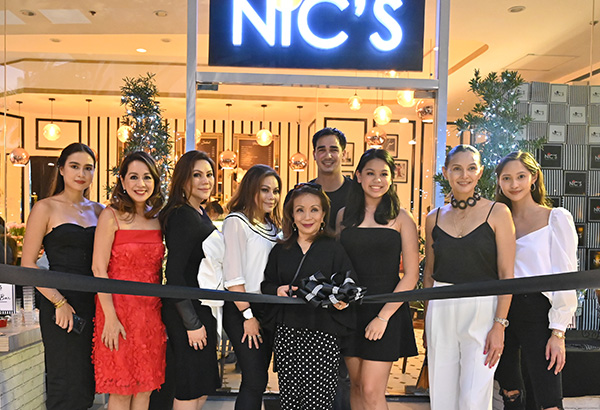 NIC'S ribbon cutting with Nicole Thorp, Rina Go, Cynthia Almario, Ivy Almario, Tokie Tantoco-Enqiruez, James Younghusband, Madison Go, Tweetie De Leon- Gonzalez and Sabina Gonzalez
NIC'S takes pride in being self-sufficient with supplying its own restaurants - creating delectable dishes that cater affordable Filipino and European comfort food, as well as several pastries, bread, coffee, cake shakes, and now even cocktails. The breads, dough, and sauces of the sandwiches, pizza, and pasta are all made in the commissary.
Apart from dine-in food, the brand also offers to-go dry goods and bottled items such as Seven Herb Cheese and Parmesan Pimento Dips, and the favored Parmesan Wheat Crisps which are popular to be given as gifts during the holidays and special private occasions such as weddings or company events.
More than its products and quality service, NIC's provides a lifestyle experience that one can either relate to or aspire to have. They collaborate with different budding local brands that are aligned with the brand's DNA. Having price points that are very reasonable, NIC's makes sure that anyone can enjoy luxury without having to compromise for it.
In the latter part of 2017, Rina and Nicole worked closely with Atelier Almario's Ivy and Cynthia Almario in conceptualizing the design for the Park Terraces branch, which had its soft-opening last November 2018. Creating a glamorous and classy dining experience, NIC'S Park Terraces has become a place for many to meet, treat, and enjoy themselves to the food and ambiance on a daily basis.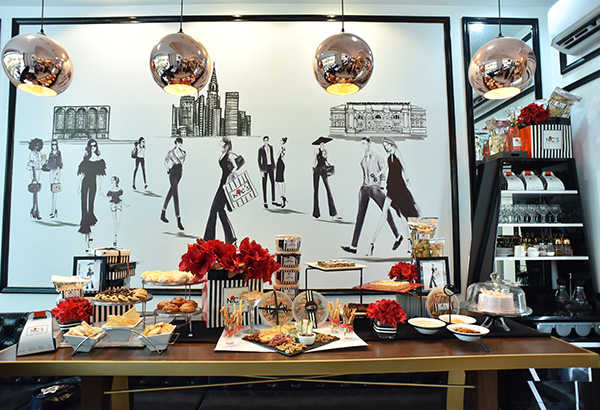 Flat layout station showcasing favored products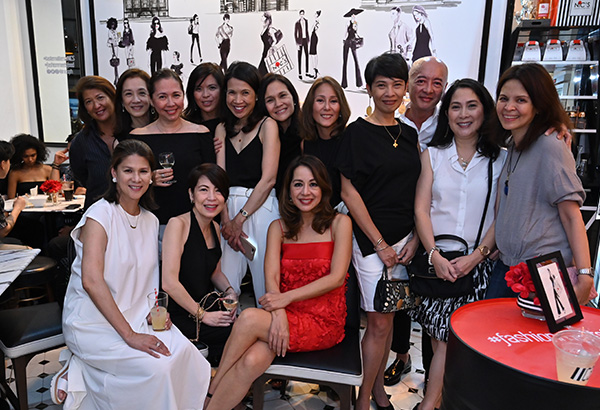 NIC'S grand opening guests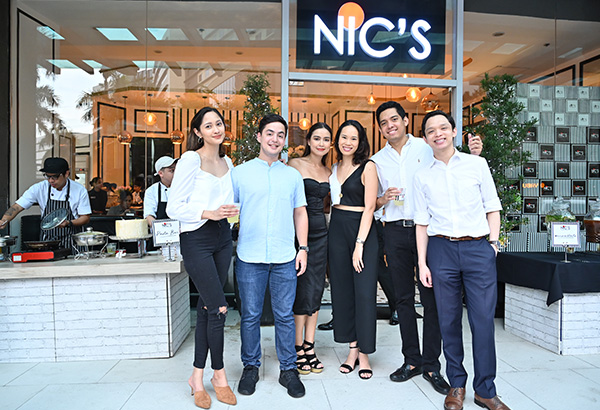 Sabina Gonzalez, Joaquin Atayde, Nicole Thorp, Patricia Hechanova, Tomas Cabili, Alec Bautista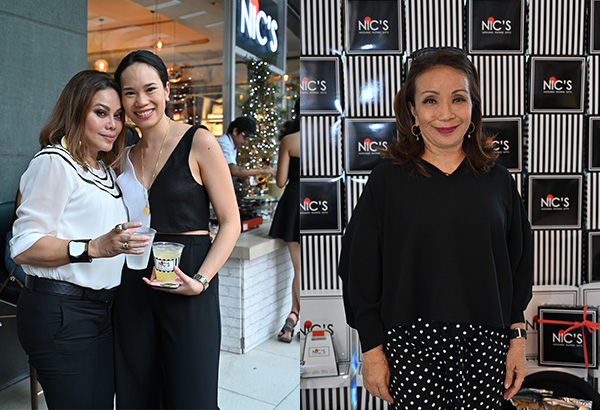 Ivy Almario with Patricia Hechanova (left); Tokie Tantoco-Enriquez (right)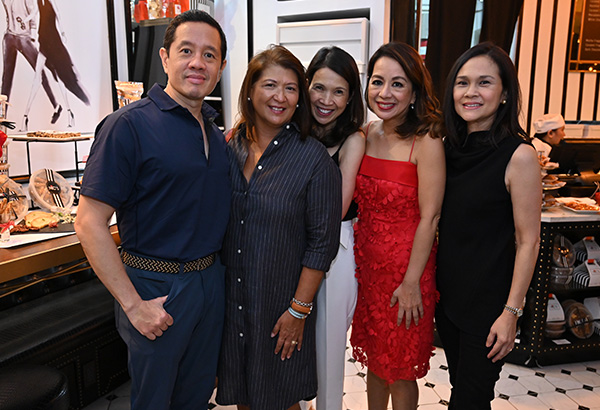 Kevin Belmonte, Ces Manosa and other guests at the grand opening.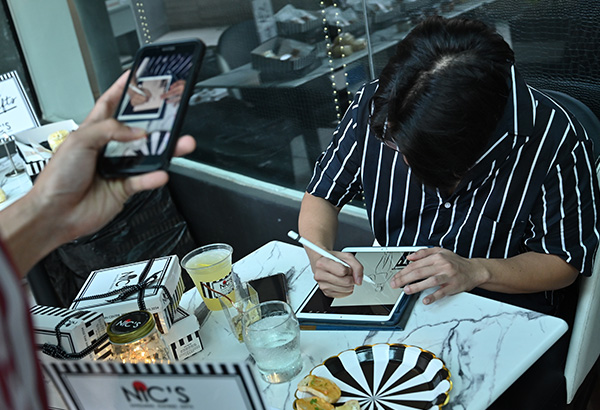 Digital OOTD featuring different NIC'S products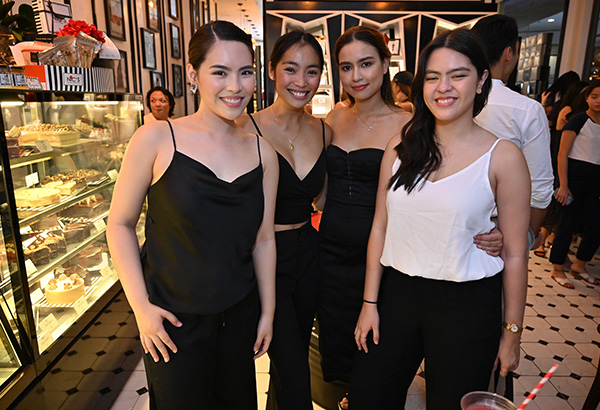 Gabbie Isabela, Ina Ongsiako, Nicole Thorp, Danielle Isabela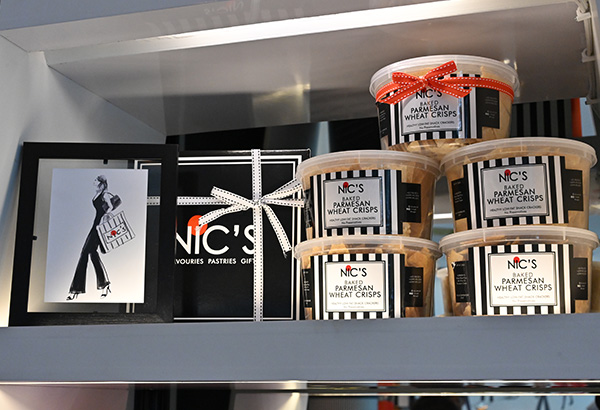 A closer look at the photowall featuring NIC'S Parmesan Wheat Crisps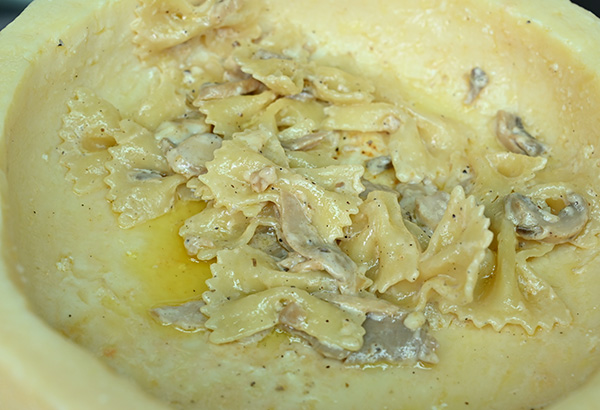 Truffle Mushroom Pasta mixed in a parmesan wheel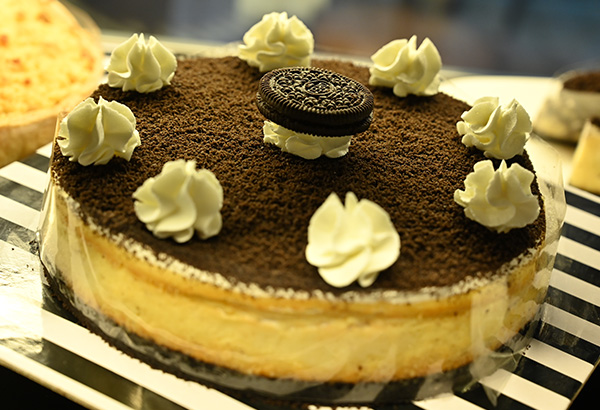 NIC'S Oreo Cheesecake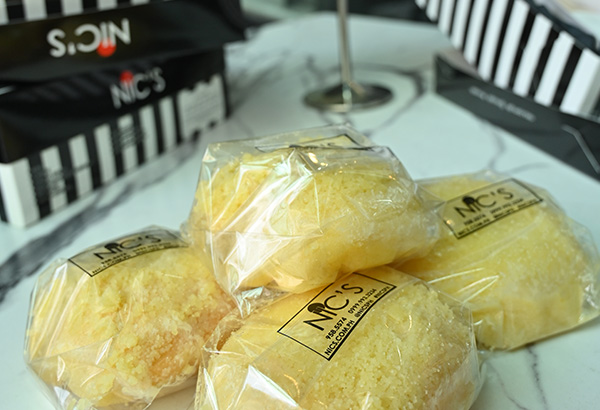 Make your own giveaways with different NIC'S products