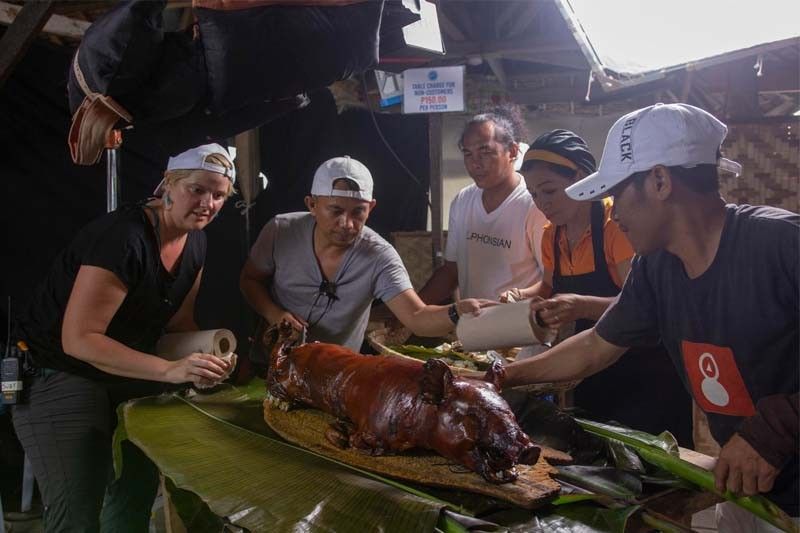 This image shows some behind-the-scenes footage from the new Netflix original series "Street Food."
Netflix/Released
'Never been featured': How Cebu was handpicked for Netflix's 'Street Food' series
MANILA, Philippines— Cebu City's inclusion in the Netflix's new original series "Street Food" all started with Google, according to food writer Jude Bacalso.
Jude said the makers of the series, which will feature the street food of nine cities across Asia including the Philippines, first searched for keywords "street food" and among the top search results showed "Philippines" and Filipino treats such as "balut" and "sisig."
Upon further research, the production team then came across Jude's article on bakasi or the 12-inch eel which can be found in Cebu and showed interest in it.
Jude was contacted by the Netflix team in August through foreign photographer Jacob Maintz, now based in Cebu. She was asked to curate a list of Cebuano street food and went on a process of elimination and the rest was history.
"They wanted stuff that was different, something that has never been featured at all," Jude told members of the press during the launch of the series.
"Because you know they really wanted to shine the spotlight on something that has never been in the spotlight," she added.
Jude and Myke Tatung Sarthou, chef and book author, who is also part of the upcoming series, defended the online streaming giant's decision to choose Cebu.
"Cebu provides something different in terms of culinary sensitivity. It's simple…It's unapologetic.. It is what it is," Chef Myke said, referring to Cebuano food.
Food series to feature four Cebuano heroes
Jude shared that the process of elimination took a while as the makers of the series also asked her to suggest Cebuano personalities involved in street food. She, however, first showed them the sophistication of Filipino food and let the team take it from there.
She disclosed how the series is anchored on personalities or the chefs behind Cebuano's treasured street food. These include Leslie Enjambre, Ian Secong, Rubilyn Diko Manayon, and Florencio "Entoy" Escabas.
The food writer shared that it is probably Cebu's cooking style simplicity that sets it apart from other street food in Asia also featured in the series.
She cited that since Cebu is geographically near the sea and the mountain, the ingredients are always ready and the food is always fresh.
"We never felt the need to mask our flavors," Jude said.
Myke told Philstar.com that the series was shot around October and took only about a week. Both Myke and Jude are proud and excited for the global launch of the series, which will be streamed in 198 countries.
It also features street food fromThailand, Japan, India, Indonesia, Taiwan, South Korea, Vietnam and Singapore.
"Street Food," from the makers of "Chef's Table," will be streaming globally starting Friday, April 26.