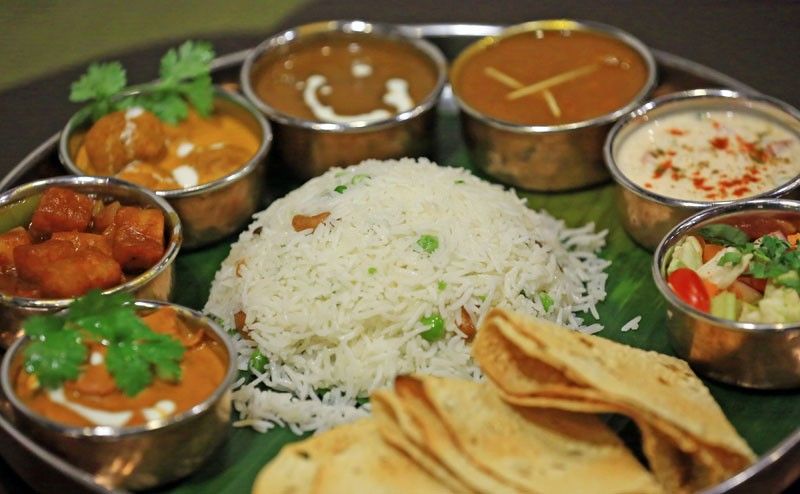 The Indian Thali platter comes with crisp papadum and seven special dishes.
Photos by Walter Bollozos
Deep down inside, Radhey Shayam, the new Indian specialty chef at Spices in Peninsula Manila — and the man behind its menu of crispy chicken samosas, braised goat, tandoori jumbo prawns and salmon masala — is a strict vegetarian.
At least he was, until age 25, when he visited Nanjing and accidentally had his first serving of fried rice with beef cubes. Not understanding the Mandarin characters, he thought it was a vegetable dish. But with one bite, his culinary outlook changed forever.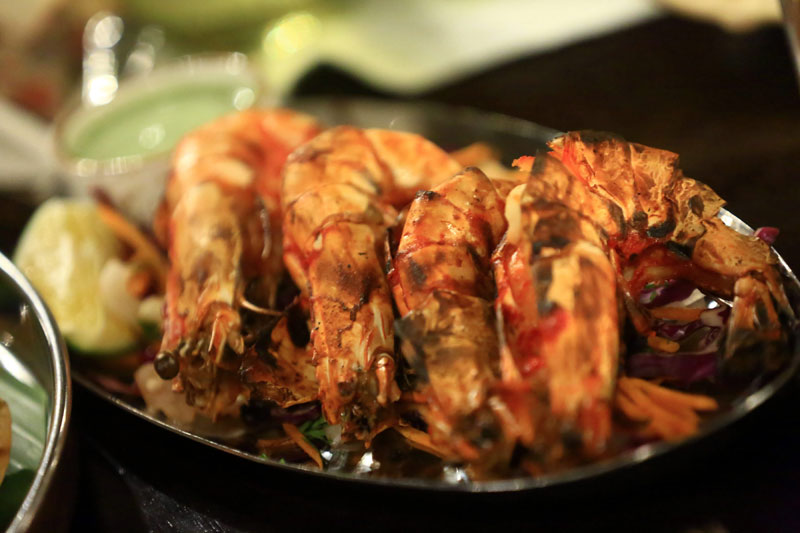 Tandoori jumbo prawns
Now, as Spices holds a big coming-out party for their new (six-months-new, that is) specialty chef with a sample of their expansive Indian menu, Shayam sticks to his Pandit Brahmin diet, a sattvic or yogic diet that even avoids eggs and fish. But he tastes all the sauces before the meat and fish are added.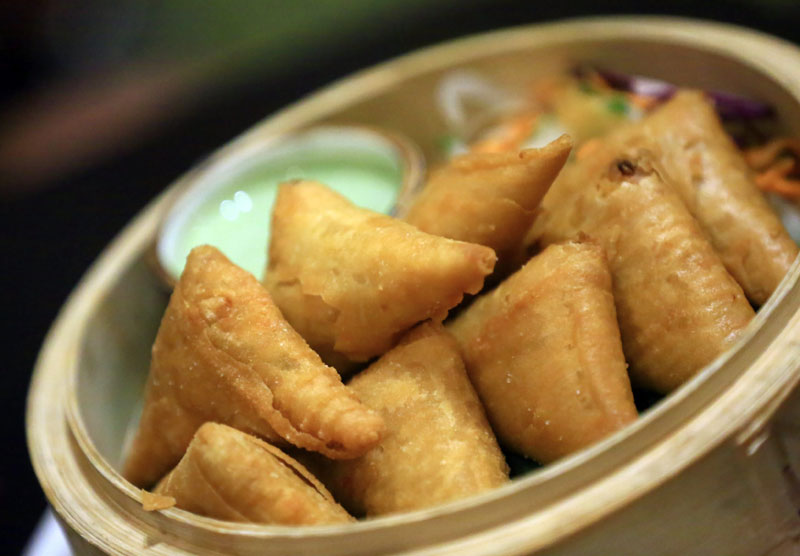 The crispy chicken samosa spring rolls are made from free-range chickens farmed in Abra.
To a non-vegetarian like myself, that menu is pretty delicious. As media gathered in the pan-Asian-themed restaurant for a sitdown, new Peninsula Manila beverage manager Rico Deang mixed up some gin and tonic cocktails that reflected his recent stint at Marina Bay Sands in Singapore; over in the corner, just for the night, a duo of Indian musicians served up some sounds on sitar and Indian harmonium (plus some MacBook-driven tabla beats, apparently). So the mood was authentic enough as staff brought out huge Thali platters — a serving of papadum (crisp Tandoor-baked seasoned bread) circled by small tin dishes, each with something exotic and interesting, like goat rogan josh (an aromatic braised curry goat stew with cumin and cardamom spices), murgh makhani (chef Shayam's specialty butter chicken), or chili paneer (a fusion of Indian and Chinese cuisine blending paneer cheese with stir-fried capsicum and onion and a chili glaze, for a spicy Szechuan-style treat).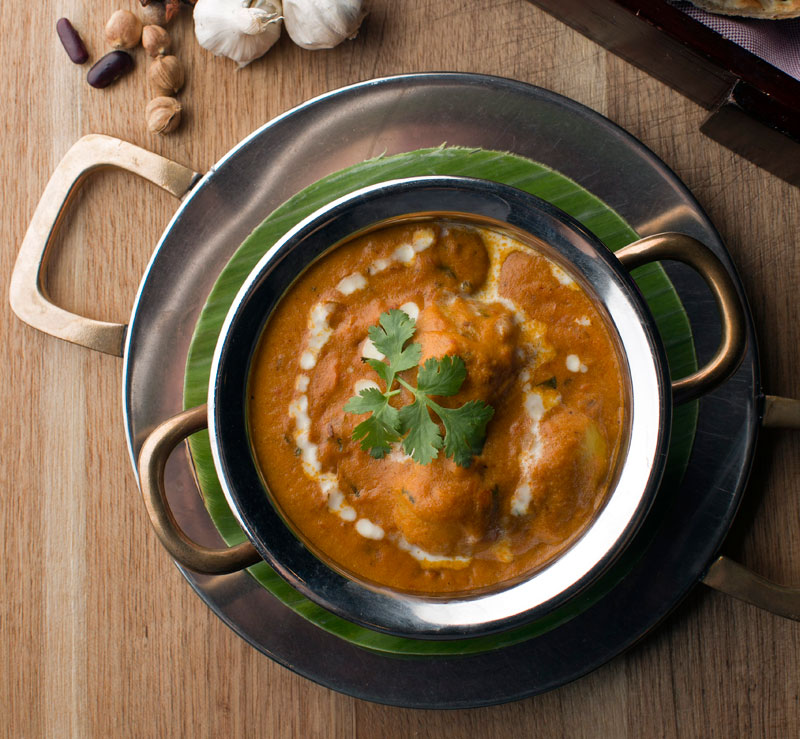 Chef Shayam's signature dish is murgh makhani, also known as "Butter Chicken."
Alongside these non-vegetarian delights was a fluffy, chewy garlic naan bread (a recipe Shayam learned from his mother, good on its own or with one of many stew dishes on the menu) and a signature dahl makhani — a stew of creamy Punjabi braised lentils, and the first dish chef Shayam ever cooked in his native Rishikesh near the Himalayan foothills of China and Nepal.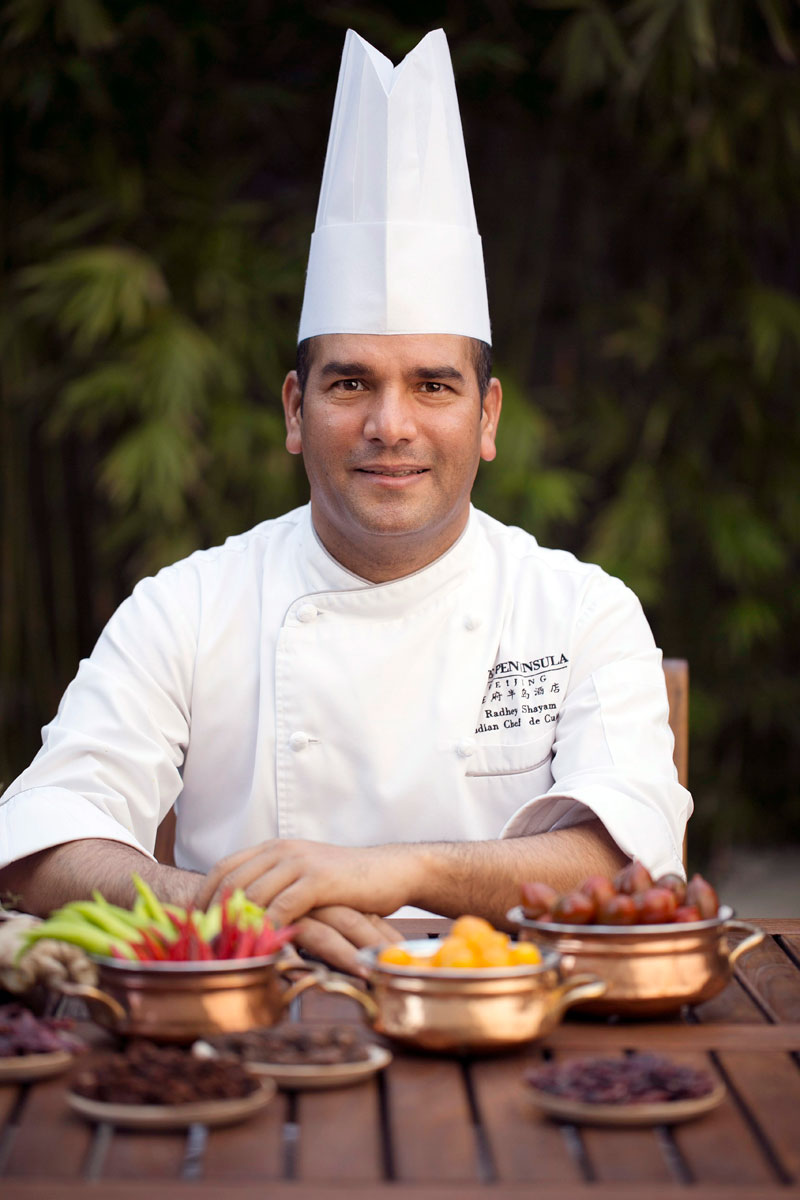 Meet Radhey Shayam, the new Indian specialty chef at Peninsula Manila.
"Nobody taught me how to cook," he says. "I was living in the kitchen, observing my mother and grandmother cook. When I was 12 or 13, I was asked to cook for 30 people, mostly relatives."
His facility with Mandarin brought him to the Chinese capital, and his cooking skills kept them there, serving as the Indian chef specializing in tandoor and curry specialties at the exclusive Red Club 96 Nanchizi in Beijing's Old Quarter.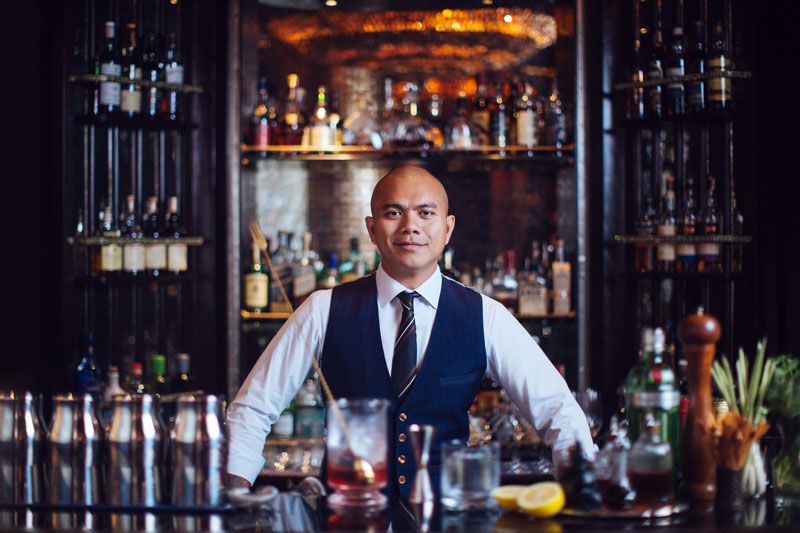 Peninsula Manila's new beverage manager Rico Deang mixed up special G&T cocktails.
From there, he took his special skills to The Peninsula Beijing, and eventually Peninsula Manila's Spices restaurant.
Host and Pen Manila director of public relations Mariano ("Garch") Garchitorena introduced the chef to famished media, who had spent a pleasant hour sampling gin-based cocktails and mocktails by bartender Deang. As Indian music played in the background, Spices — which Highlights Thai, Vietnamese, Indonesian, Chinese and Indian cuisine — became that little hometown of Rishikesh, and guests made chef Shayam feel very welcome, basically by eating everything in sight.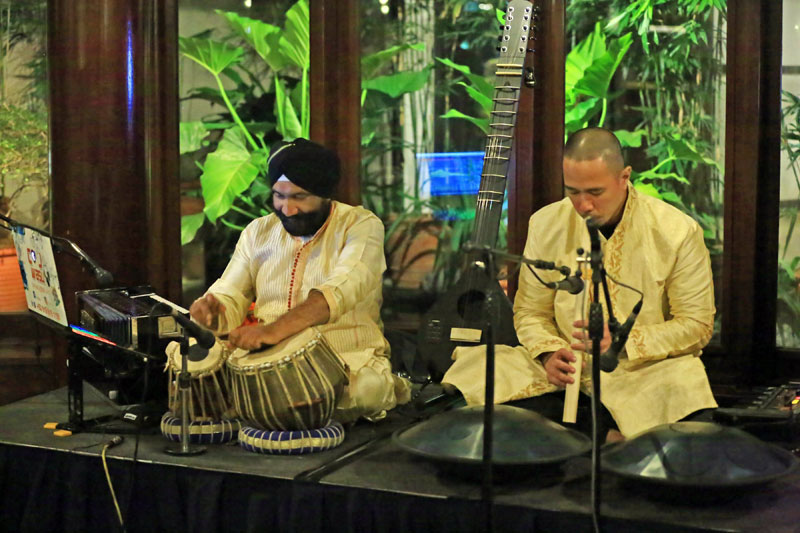 Wonderwall: Indian musicians on sitar and harmonium added extra authentic flavor to Spices.
The highlights for me were those terrific Thali bowls, including the rogan josh (soft and buttery curried goat), the salmon fillet tikka masala (Norwegian salmon delicately spiced with a fenugreek-based sauce), and the crispy samosas, fried in chicken stock, served hot and fresh, and made with free-range chickens from the Samora Farms in Abra.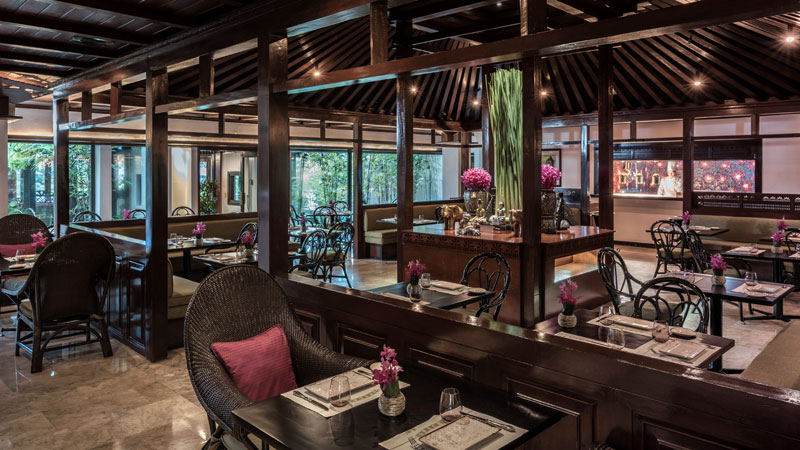 Main dining room of Spices
Yes, it's surprising that a strict vegetarian chef could produce such meat-friendly dishes. But in Manila, anything is possible. And if this menu doesn't turn you from vegan to avid meat eater, whether by accident or by choice, not much else will.