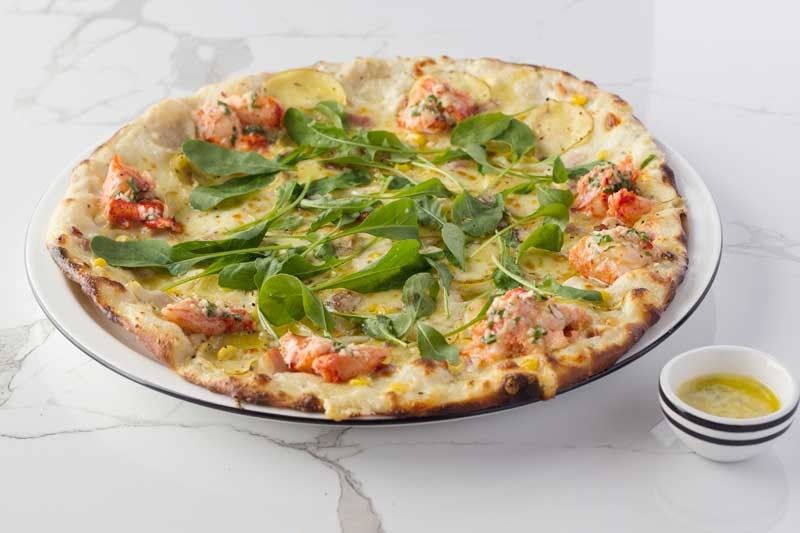 PizzaExpress and Bun Appetit's co-crafted Lobster Chowder pizza
Photos by WALTER BOLLOZOS
When Life Gives You Lobster, Make Pizza
Pizzaexpress X Bun Appetit
Sometimes the best branding and products come out of a good, old-fashioned brand partnership.
Two of our favorite brands at Power Plant Mall's The Grid Food Market banded together to co-craft something irresistibly good in this season of abstinence.?Global pizza brand PizzaExpress and Bun Appetit, known for its signature lobster rolls, create two delicious and exciting dishes so delish they will make your eyes roll in satisfaction.
Available until April 21, diners can now enjoy Bun Appetit's Maine lobster claw not in a roll, but on PizzaExpress's new pizza and pasta dishes: Lobster Chowder Pizza and Lobster Pomodoro Cream.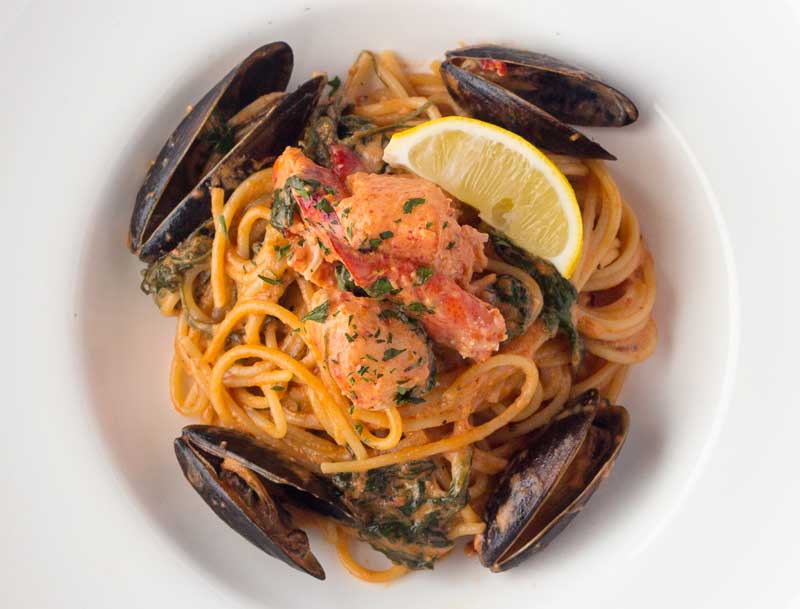 Lobster Pomodoro Cream: Tender Maine lobster claw, spinach and spaghetti in rich pomodoro, cream and white sauce.
PizzaExpress, a 50-year-old pizza chain from the UK, believes in innovation.
"The brand really cares about what the market likes," said Sabina Lee, assistant marketing manager, Tasteless Food Group, the company that brought PizzaExpress to the country.
But coming up with a fresh idea isn't always the easiest or a surefire hit, so sometimes brands collaborate to create something better than anything they could make individually.
"We've always wanted to partner with brands that have the same commitment to fresh and quality ingredients," said Lee. "Bun Appetit is such an exciting brand to work with. The owners — couple Lawrence and Iya Cua — are young, cool and their product is great."
Let The Seafood Shine?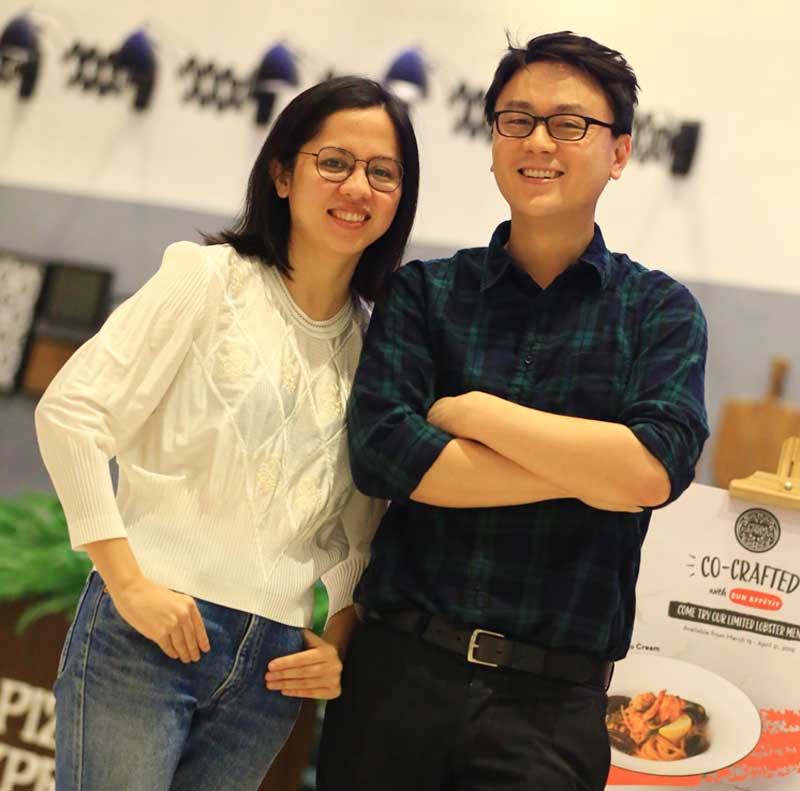 Power couple: Bun Appetit's Lawrence and Iya Cua.
Lawrence and Iya travel for food. And Bun Appetit isn't something they planned.
"When we travel, we hardly shop," shared Iya. "Our itinerary revolves around food."
On one of their trips, they got to try this lobster roll in New York.
"Lobster is a treat in itself, and most Asians enjoy it with rice like we do," Iya related. "So lobster on a roll is something different and we really loved it."
When the couple got back in Manila, they couldn't find a shop that sold lobster rolls the way they wanted it.
"There were actually few and most of them were mixed with something else," lamented Lawrence. "Make that a whole lot of something else like mayo, other seafood items or veggie fillers."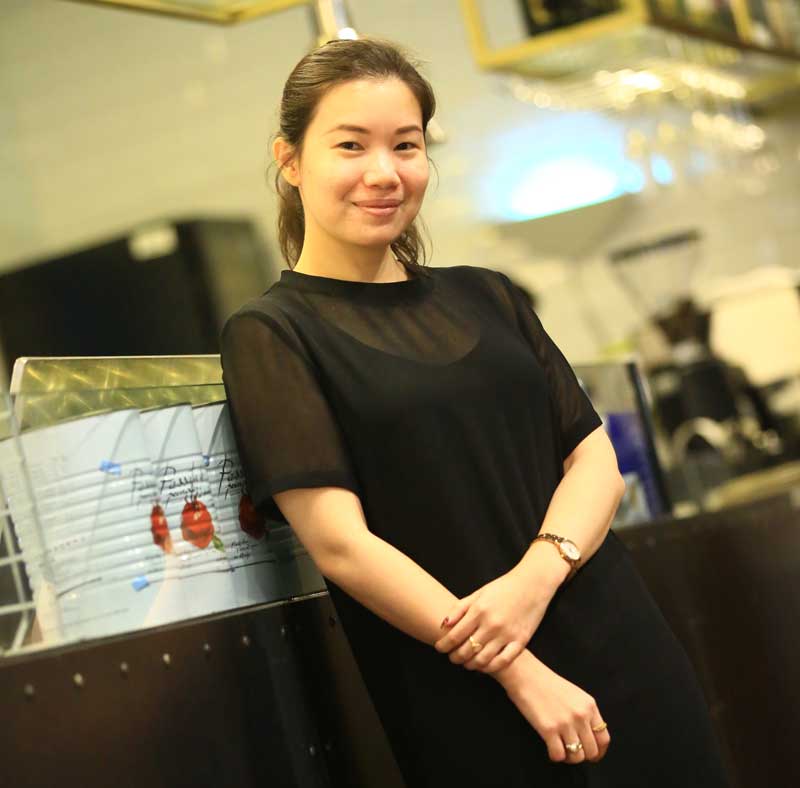 Sabina Lee, assistant marketing manager, Tasteless Food Group.
So when the craving struck, they just recreated the lobster roll in their kitchen.
"Things started going crazy when Lawrence posted a photo of our lobster roll on IG," said Iya.
The couple was surprised by the response it got from friends and family. "In fact, a lot of our friends were willing to pay us good money for it," added Lawrence.
So the couple started with home and office deliveries in August 2014. Lawrence and Iya would prepare the orders early in the morning and deliver them before heading to their day jobs during weekdays. Weekends were spent delivering all day.
"One of our biggest breaks early on was getting into the Salcedo Community Market," shared Lawrence.
Though scheduled on Saturdays only, the market gave them a fixed outpost where their customers could find their lobster roll on a regular basis.
"We started with just lobster, crab and shrimp, plus a lone side dish or garlic noodles. A few months later, we were allowed to add our grilled corn to the menu. We introduced seafood grilled cheese sandwiches a year later," said Lawrence.
Five years, a permanent location in Power Plant Mall and new menu items later, Lawrence and Iya's goal for Bun Appetit remains the same: "Keep it simple and just let the seafood shine."
Lobster Goodness On A Pizza
According to Iya, it was restaurateur Charles Paw who planted the seed for this collab. "Charles and my husband Lawrence got to know each other mainly because of the The Grid partnership," shared Iya. "At Bun Appetit, we couldn't play around with our signature ingredient — lobster — because we want to keep the menu really basic."
So when Charles approached the food-loving couple for this partnership, they readily agreed. Lobster on pizza? Cool!
"We grabbed the opportunity right away. This partnership got our creative juices flowing," enthused Iya.
Lawrence and Iya worked with PizzaExpress in-house chef Him Uy de Baron. What the trio did was basically take the ingredients of a clam chowder — bacon, potato slices and corn — and use them as the perfect bed (with béchamel sauce) for the sweet Maine lobster.
If you prefer your lobster in pasta, the Lobster Pomodoro Cream is as decadent, with al dente spaghetti in creamy pomodoro sauce combined with spinach, white wine and cream.
When asked if PizzaExpress had a hard time getting permission from the pizza chain's principal to introduce this new pizza variant, Sabina hastily replied: "No. PizzaExpress is all for customer's satisfaction. And this isn't the first time for the pizza chain. In Singapore, they have the Chili Crab Pizza, while they offer Peking Duck Pizza in Hong Kong."
Also, PizzaExpress is working on various collaborations for the rest of the year. "The next one we're working on is Type A coffee," shared Sabina. "Soon, we'll be offering drinks and desserts co-crafted by Type A."
At Pizza Express, every dish has character, as shown in the way it's conceptualized, plated and served.
* * *
Pizza Express has branches at Uptown Mall in BGC and SM North EDSA.
Like PizzaExpress Philippines on Facebook and follow @pizzaexpressph on Instagram. For inquiries, visit www.pizzaexpress.ph.