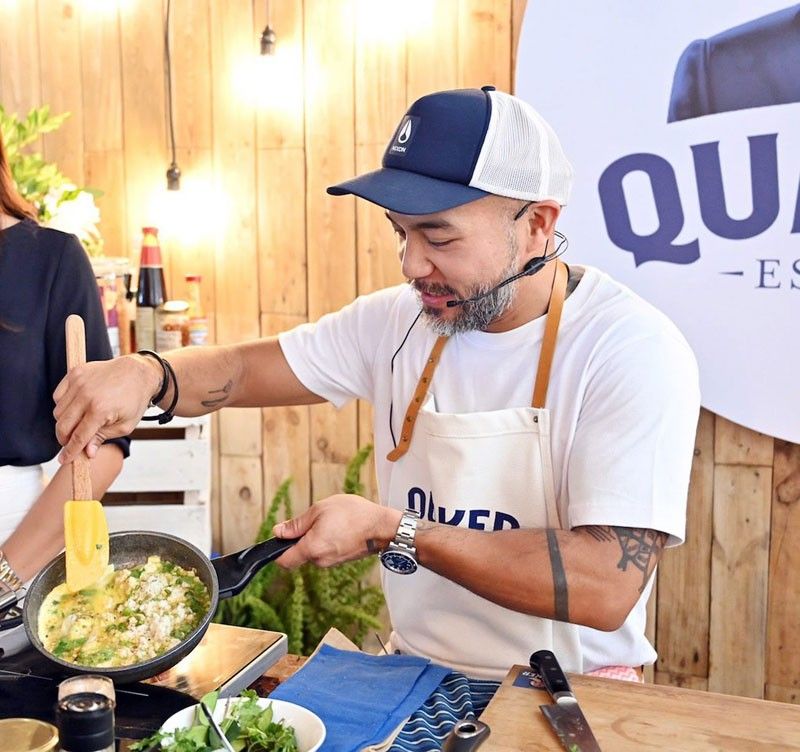 Chef JP Anglo demonstrates how you can incorporate Quaker Oats into your usual Filipino breakfast.
And now, oatsilog from chef JP Anglo
I'm a bit of a grumpy old lady when it comes to that thing called fusion. Don't put tuyo on my pasta, sushi in my burrito or Nutella in my siomai. So I must confess to arriving at the Quaker event with one eyebrow pre-raised at the notion that "Oatsilog" could actually be a thing.
"Tell me more about this new campaign of yours," I said to marketing manager for Quaker Oats Kay Paras, polite speak for "What the #$%$#% were you thinking?!"
"We wanted to show Filipinos that oatmeal is far more versatile than they realize," Paras said.
"But what's wrong with eating oatmeal like God intended, with nuts and fruit and maybe a little honey?" I persisted.
Paras replied, "Nothing at all! But we wanted to give people more options, especially since Filipinos like savory breakfasts, especially rice. Quaker Oats happens to be great in savory dishes and is high in nutrients, protein and fiber, which not only lowers cholesterol, but also makes your breakfast that much more filling and satisfying."
I was unconvinced but had to admit celebrity chef JP Anglo's event demo of a chicken and mushroom omelet with oats looked and smelled tempting. Ah, but a pro can make anything look and smell tempting, my inner GOL (grumpy old lady) argued. The proof, she insisted, is in the omelet.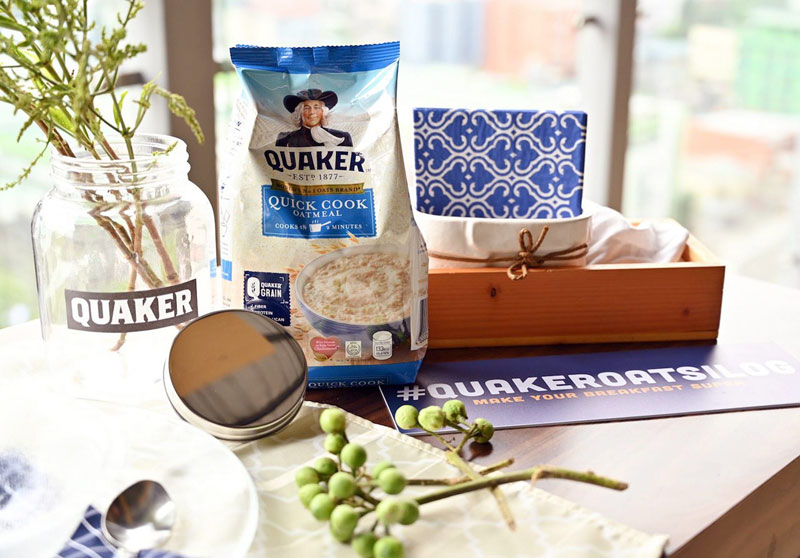 Make your breakfast super with Quaker Oats.
The GOL finally shut her trap when I tried the omelet. A couple of tablespoons in the eggs lent a welcome heft to the omelet, reminiscent of a brunch frittata, and another couple of tablespoons of toasted oats on top enhanced the omelet in terms of both flavor and texture. It's definitely a trick I'm trying the next time I make an omelet.
I even came home with recipes for microwaveable eggs in a mug, the perfect breakfast for when you're in a rush or just feeling too lazy to break out the pots and pans.
However, I'm not about to give up my favorite way to eat oatmeal — with some fruit, nuts and granola. In fact, one of my favorite uses for oats is homemade granola, which is made with, wait for it… oats. Granola is lovely to have in your pantry and makes a great topping for oatmeal, yogurt and lots of other dishes.
So, here are a couple of recipes for you to choose from. Keep some Quaker oats on hand, and you're guaranteed to have your choice of champion-worthy breakfasts in minutes, whether you like them sweet or savory. Just make sure you leave them out of my siomai, or I'll come whack you with my cane.
* * *
For questions, comments and suggestions, email me at Johanna.garcia@gmail.com or follow me on FB (Real Girl Toy Kitchen)/IG: realgirltoykitchen.