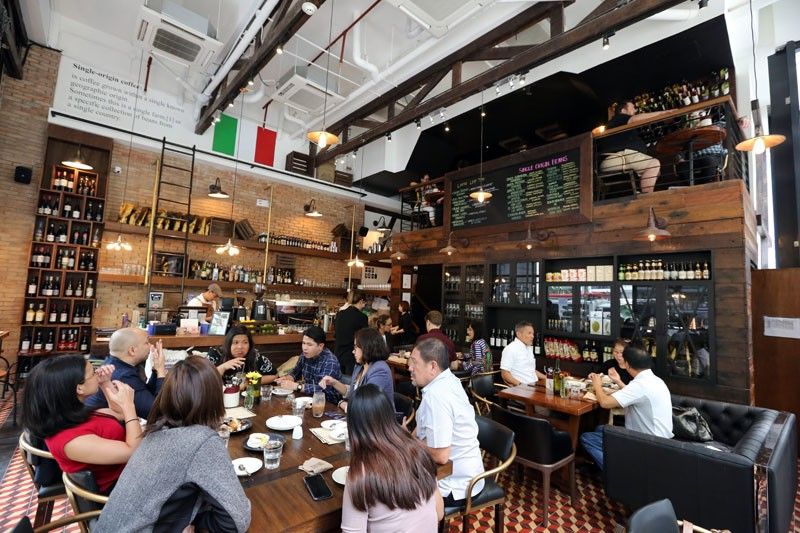 Single Origin Osteria is their cozy new fourth branch, found at the Frabelle Building, corner of Tordesillas and Bautista, Salcedo Village.
Photos by Walter Bollozos
The origin story of Single Origin Osteria
MANILA, Philippines — You would think that Manila was already saturated with Italian restaurants, but Carlo Gordon Lorenzana, the restaurateur behind Nikkei (and offshoot Nikkei Nama), La Cabrera, and Single Origin, still felt something was missing.
"I saw a void of good Italian restaurants in Manila," Lorenzana says as we sit down over a Chemex-extracted Ethiopian Adado. "There are a couple segments of Italian that are met — basic, fastfood and casual; then there's fine dining, but they're kind of old and run-down."
Which is why he launched Single Origin Osteria in Salcedo Village, Makati where excellent coffee meets homey Italian favorites with a twist.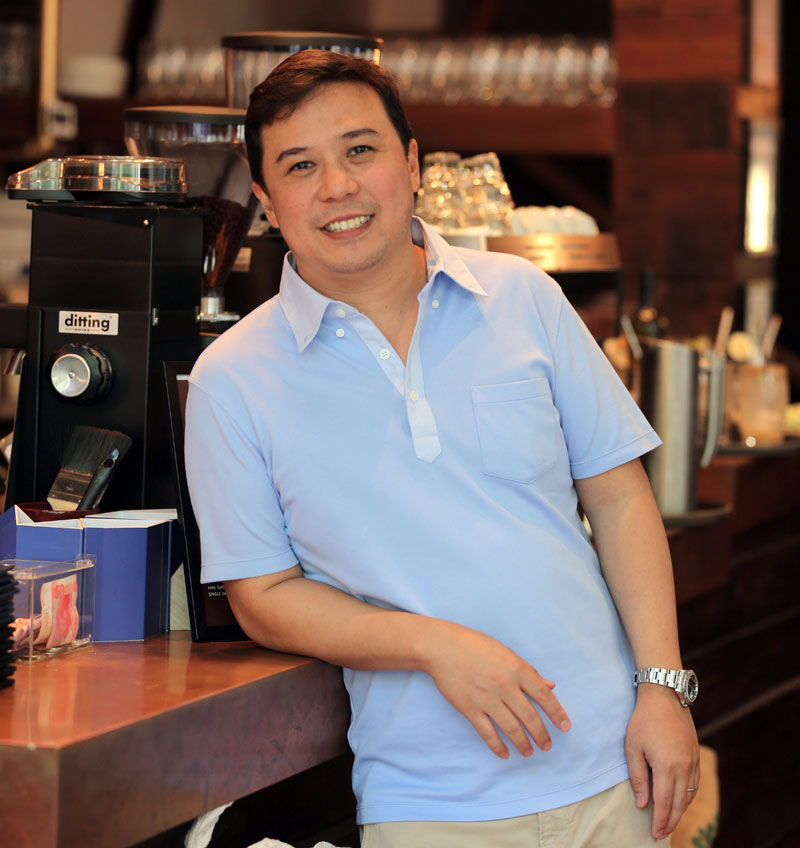 Single Origin owner Carlo Gordon Lorenzana: "I saw a void of good Italian restaurants in Manila."
In Italy, an osteria is a place serving authentic, homemade, simple Italian food. Single Origin Osteria is tucked into a gorgeous corner location on Tordesillas with an upstairs and only 58 seats; it's cozy, and perfect for lunch and brunch crowds, coffee breaks, dinner, cocktails and — yes — everything in between.
Working with Argentinian chef Juan Barcos, Lorenzana devised a menu that's "more American-Italian." Like his other concepts, something familiar gets reinvented: a whole new menu (plus bespoke cocktails) was devised for Osteria.
Count on Lorenzana — who is reportedly shy, but sat down to give us the lowdown on the new concept — to make it special.
We start with the Melanzane salad, which is eggplant with passata (a tomato-based sauce) topped with a local bacon and fried egg. A perfect brunch dish, it's got the bang of breakfast (egg) with a lean towards lunch (gratin of mozzarella).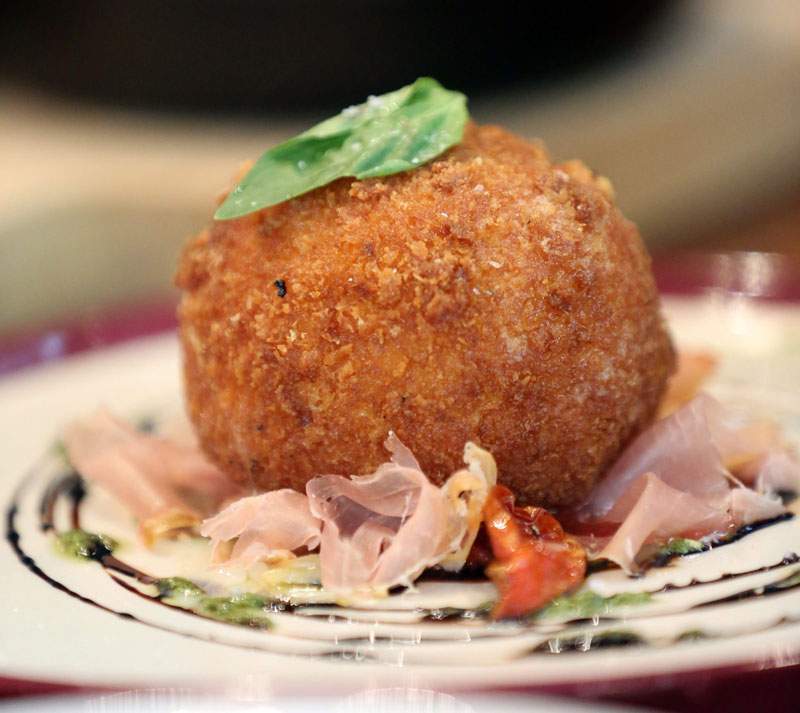 The fried mozzarella is deliciously stringy, packed in a finely breaded shell, served on a bed of prosciutto.
Next to that was the fried mozzarella, the delicious stringy cheese packed in a finely breaded shell, served on a bed of prosciutto, swirled and drizzled with balsamic and pesto sprinkled with almonds.
Even more evocative of Italian eateries was the Burrata salad — like a Caprese, but using cow's-milk cheese made with mozzarella, stracciatella and cream; served chilled over passata, baked and fresh tomatoes, balsamic and olive oil, it was a refreshing delight.
We asked if Carlo and Juan had to "tweak" the recipes for Filipino tastes.
"When Juan and I do a menu, we do a lot of back and forth," Carlo says. "He's very European and South American; Pinoys have a stronger taste, so I tell him to make it a bit tastier." For Carlo, who admits he's not a natural chef, "It's Italian, traditional; but when you eat it, you feel like Grandma's cooking in the kitchen."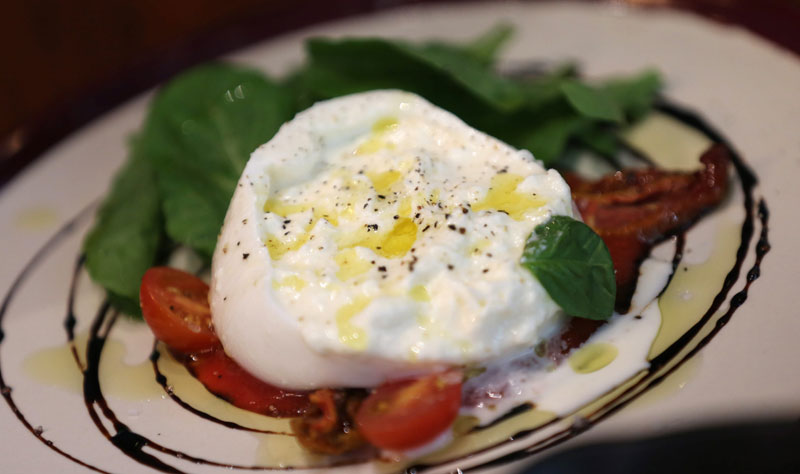 Osteria's Burrata salad — like a caprese, but using cow's-milk cheese made with mozzarella, stracciatella and cream
That taste definitely comes through with the Lasagna Della Nonna, a three-layer pasta served with ricotta, spinach and Béchamel sauce, one of five French "mother sauces." As its name suggests, chef Barcos' grandmother was Italian, and the lasagna does remind Scott a little of home-cooking from his half-Sicilian Nana: the cheese, strong, earthy spinach, and spicy tomato sauce.
Next comes a Margherita pizza — Osteria uses long-fermentation Italian flour, with pizzas home-cooked in their special gas-fueled Alfa oven. Tomato-based and seasoned with basil and passata again, it has a very fresh, delicious, buttery-cheese taste.
Spicy cocktail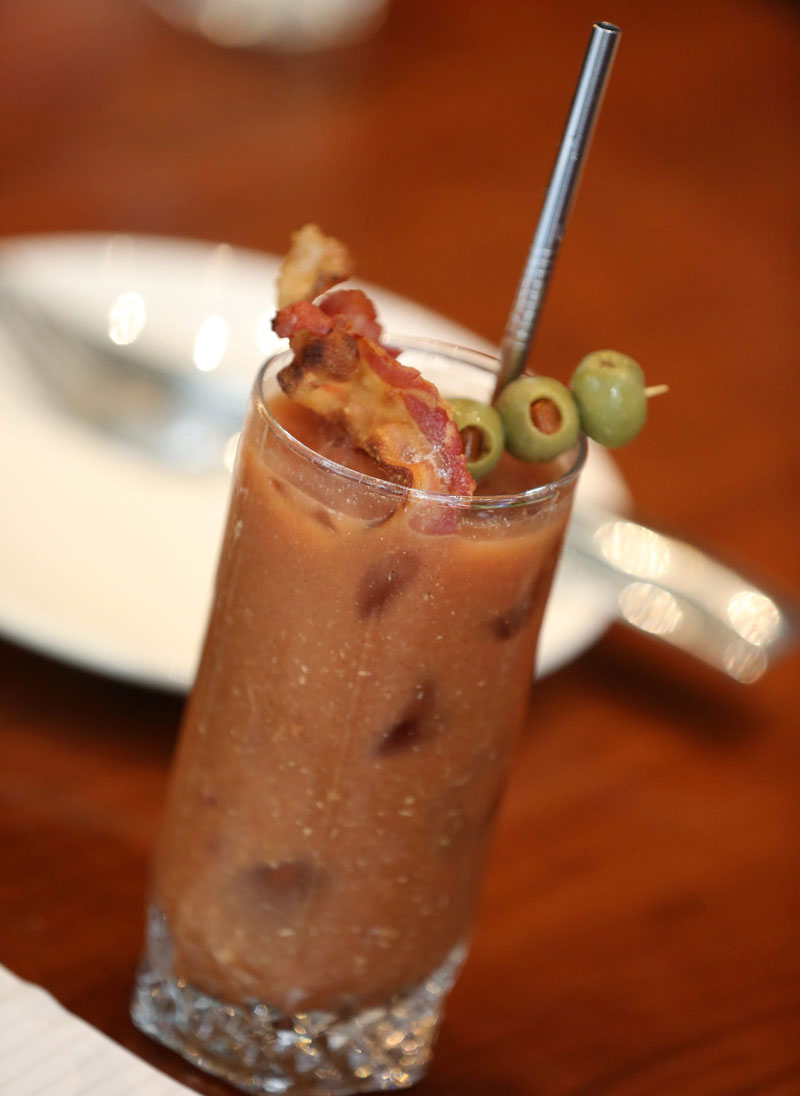 Bacon-Infused Bloody Mary? Si!
As all this wonderful food comes out, we peruse the drinks menu: Therese is on a keto diet, so she begs off alcohol; Scott overcompensates by ordering a special Osteria signature cocktail: the Bacon-Infused Bloody Mary. Presented with a tall glass with a steel straw, a swoosh of olives and stuffed with bacon slices, it's not your usual "bloody" tomato juice color — it's actually a Bloody Mary mix with a bacon infusion, plus the typical horseradish and Worcestershire sauce — and it is spicy, but fits in well with the Italian concept. "Some Filipinos are not quite into the spiciness," says Carlo's marketing manager Monica Modomo, but Scott pronounces it "breakfast, lunch, dinner and cocktail in one glass."
Ravishing risottos & Argentinian wagyu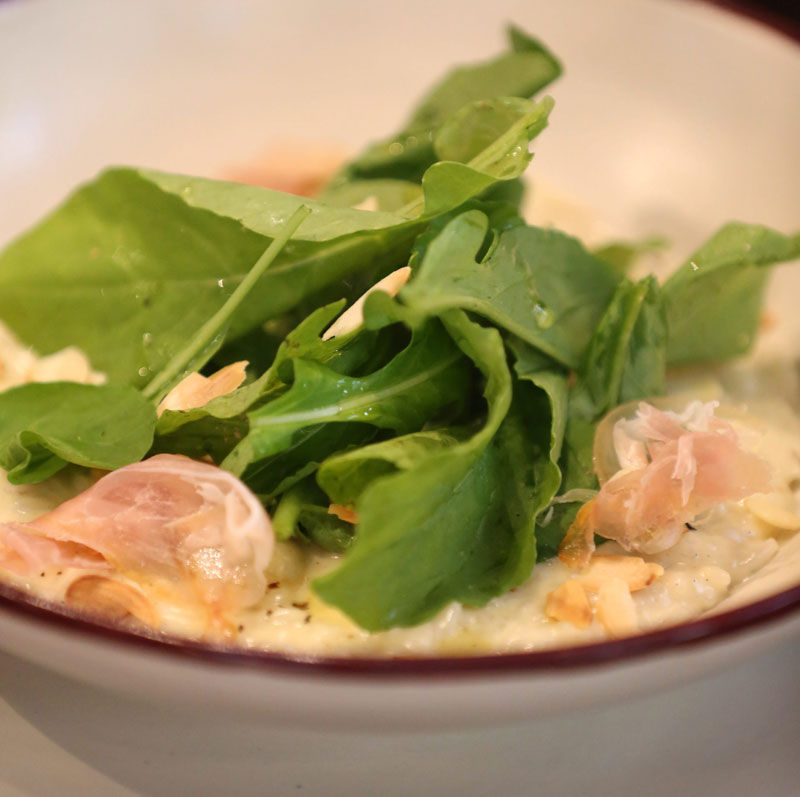 The Arugula and Gorgonzola Risotto is creamy and light, sprinkled with almond slivers and curls of prosciutto.
We continue on with two risottos (much to Therese's torture), and they are the real deal: the Arugula and Gorgonzola Risotto is creamy, very light, lovingly sprinkled with almond slivers and curls of prosciutto.
Want something more filling? The Risotto Milanese with saffron is served with a generous chunk of veal beef cheek, much like ossobuco. "It's so tender you can use a spoon" to break down the beef cheeks, says Carlo. Mark our words: these are delicious risottos.
Carlo then brings out an off-menu surprise: a plate of thinly sliced beef that looks like carpaccio: it's actually Argentinian wagyu beef, made by the chef's father, a genetic scientists who raises Japanese cows there and sells the beef in limited stocks. It's sliced almost paper-thin, served like cold cuts, with a bit of olive oil. "It's not on the menu yet, but hopefully it will be," says Carlo, if there's demand.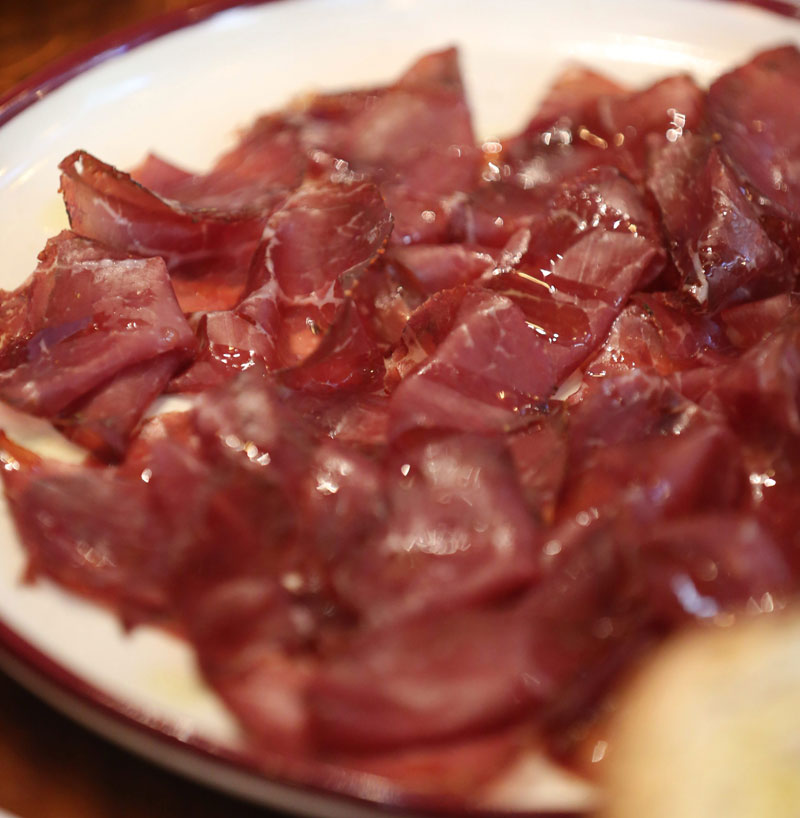 Off-menu treat Argentinian wagyu beef is served like cold cuts or carpaccio with a bit of olive oil.
From coffee to cocktails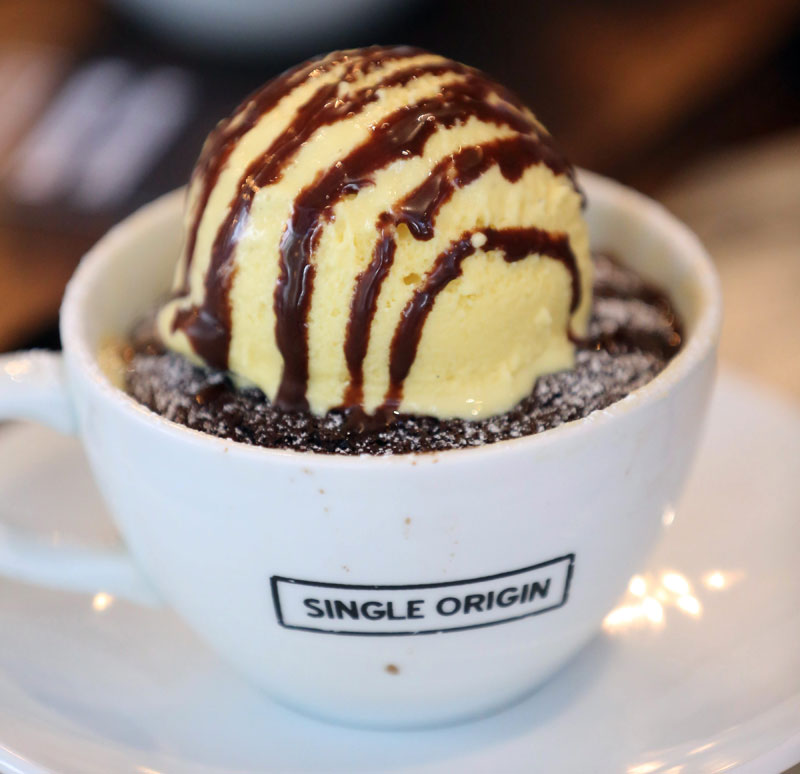 Cappuccino Lava Cake is a Single Origin best seller.
This being the fourth Single Origin (with other branches at Greenbelt, Boni High Street, Podium), it's worth repeating what led Lorenzana to launch his concept in 2015. "It's an all-day brunch place," he says. "We wanted to do a coffee place but not just end at coffee: really put on a full menu and put on a whole bar that would go through to the late hours: coffee, cocktails, wine, beer. Luckily, we were able to do it in a way where everyone was satisfied at any time of the day, getting what they want."
Sourcing single-origin beans from a reliable California supplier, Lamill Coffee in Los Angeles, plus loose-leaf teas, he's found a way to use coffee as the launching pad for new dining experiences. The coffee is very important: the menu includes exotic, sweeter concoctions like Espresso Crème Brulee, Valrhona Mocha or Orange Infused Cappuccino, plus an exotic Single Origin menu that includes Brazilian, Ethiopian, El Salvadoran, Guatemalan, Nicaraguan, Ethiopian, and fine loose-leaf teas (Japan Coconut Ginger Green, Organic Rooibos Bourbon, Eves Rose Petal, and other organics). You can also choose your extraction — Siphon, Chemex, Hario V60 Pourover, French Press, or German Sowden method.
Taking coffee culture a step forward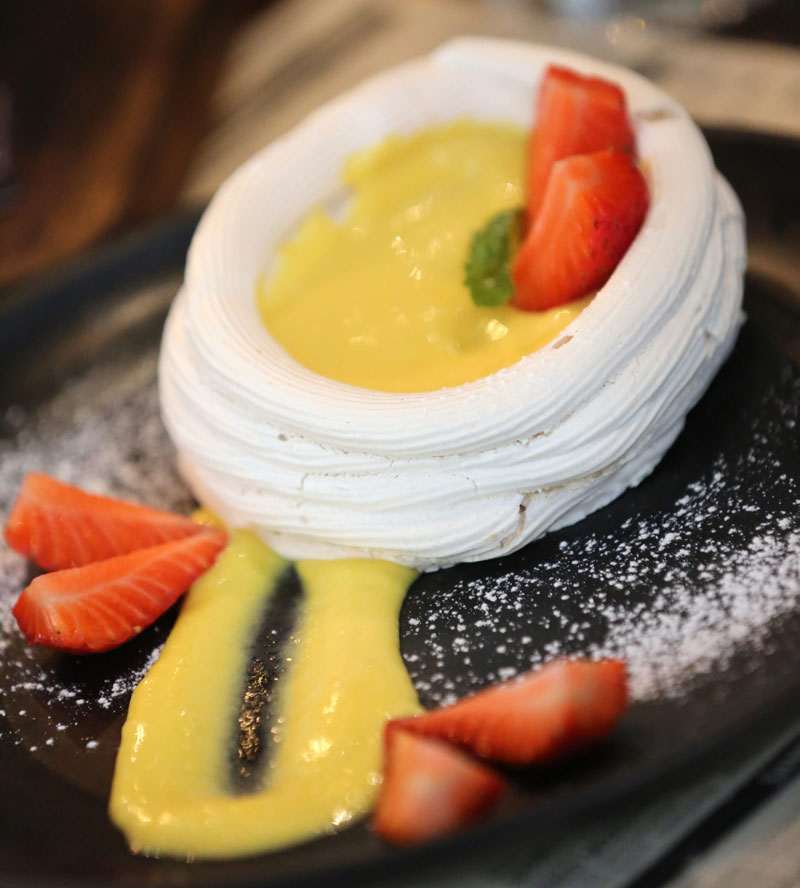 Osteria features its own signature desserts, like the Pavlova Italian baked meringue.
Sticking to tried-and-true concepts is not what Lorenzana is known for. From his family's Shi Lin Taiwanese restaurant, he went South American with La Cabrera back in 2014; then Single Origin took coffee culture a step further, offering menus that take you from breakfast, brunch to dinner and cocktails. Then, with Nikkei (and his collaborating chef Juan Barcos), he went in a Japanese-Peruvian direction, not such an easy sell with Filipinos. But the move paid off; it's a favorite with office crowds, millennials and, yes, trendy diners.
It's not like Lorenzana is trying to veer off the reservation, cuisine-wise. "You can only be so trendy," he cautions. "When we open a new concept, we want Filipinos to be familiar with it a little before anything. I'm not trying to open something people don't know — I mean, Nikkei has a Japanese connection, and Osteria is more American-Italian style. I'm not that courageous!"
* * *
Single Origin Osteria is at the Frabelle Building, corner of Tordesillas and Bautista, Salcedo Village, Makati.