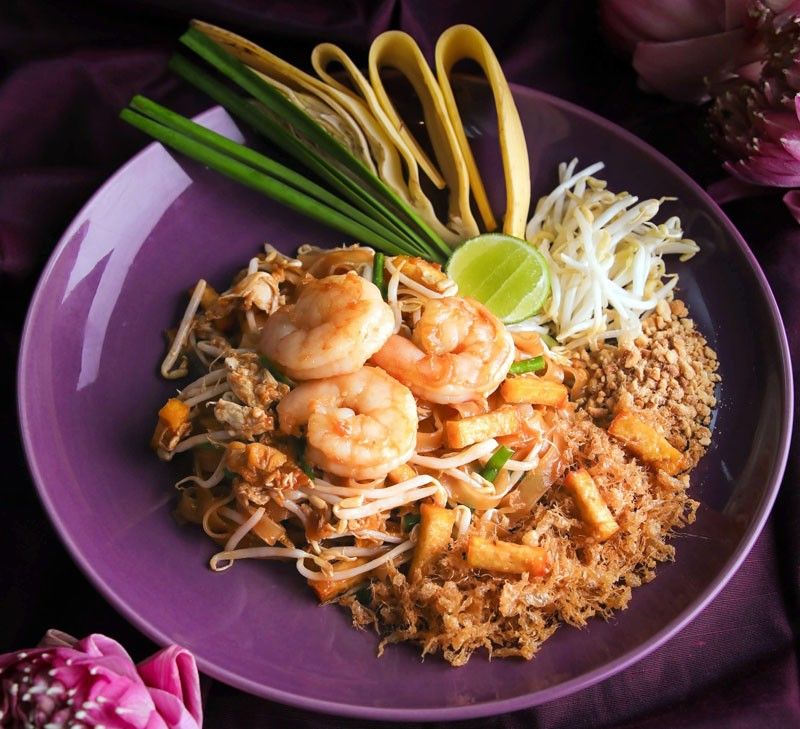 Getting crabby & loving Thai for Valentine's Day
If artisan chocolates don't work on her anymore, maybe a delicious curry dish will. Make that stir-fried crab with yellow curry sauce from Nara.
I know it isn't an ideal Valentine's Day date dish — because, yes, it's messy to eat — but the restaurant staff takes the mess-work out of crab eating for you. Besides, the crabs are already cracked and disposable gloves are provided so you just have to savor the dish with gusto. Coated in silky layers of sweet and savory eggy curry, this crab dish will surely sweep her off her feet.
Located on the third level, Fashion Hall, SM Megamall in Mandaluyong City, Nara exudes that feminine vibe.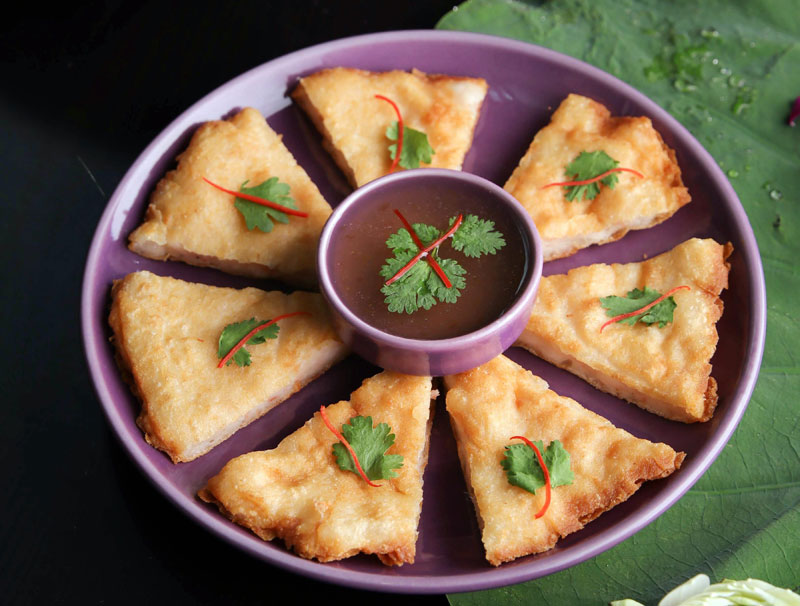 Prawn pancake
At the entrance, ladies are drawn to the authentic carved Thai bell and a giant wooden boat filled with fresh orchids hanging on the wall. Inside, there are canopied couches and mirrors framed by hand-woven details — some of the elements that reflect Nara's distinct feminine yet modern identity. The same aesthetics that attracted the entrepreneurial instincts of Sheila Bermudez-Romero of Roku Group Inc., the visionary and restaurateur who brought Nara Thai to Manila just a year ago.
Nara — Sanskrit for "Thai women" — was founded in 2003 by a group of female entrepreneurs in Thailand.
"So if you're taking her to Nara on your first date, it's like going on a culinary trip to the Land of Smiles together," says Sheila with an impish grin.
At Nara Thai, each fragrant dish transports diners back to Thailand, a melting pot of exotic aromas, interesting sights and visual delights.
Something old, something new
Uncompromising, authentic Thai recipes and ingredients were the cornerstone of the Nara dining experience. Here, you can have your fill of popular Thai dishes and the not-so-common ones, which makes the dining experience a bit exciting.
"I'm proud of the authentic flavors of our massaman beef curry and the yellow curry crabs and prawns," recommends Sheila.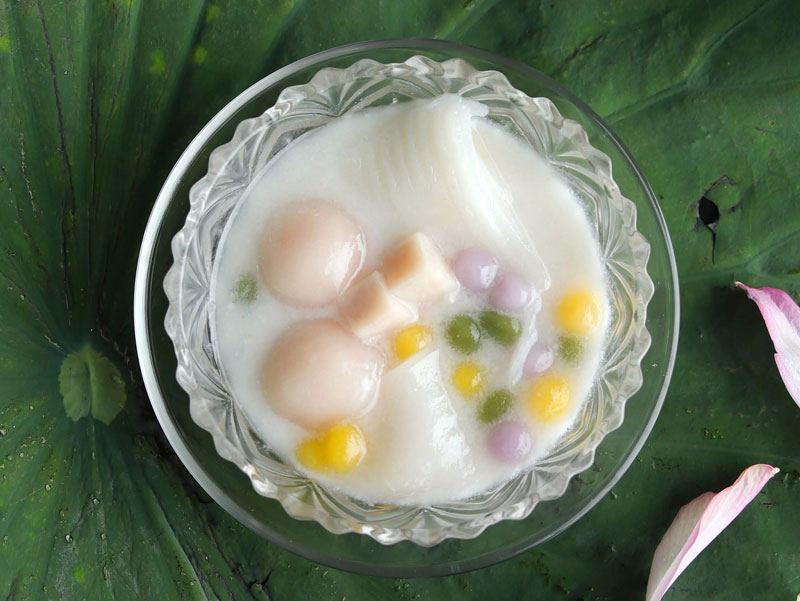 Bua Loy
Now in its second year in the Philippines, Sheila and her team beefs up Nara's already extensive menu.
There's Tom Ka Gai, the vegetarian's tom yam goong. This white, sour coconut soup is loaded with tofu and straw mushrooms.
The Pla Muk Phad Khai Khem, stir-fried squid in salted egg, goes well with the Khao Phad Sapporo (pineapple fried rich).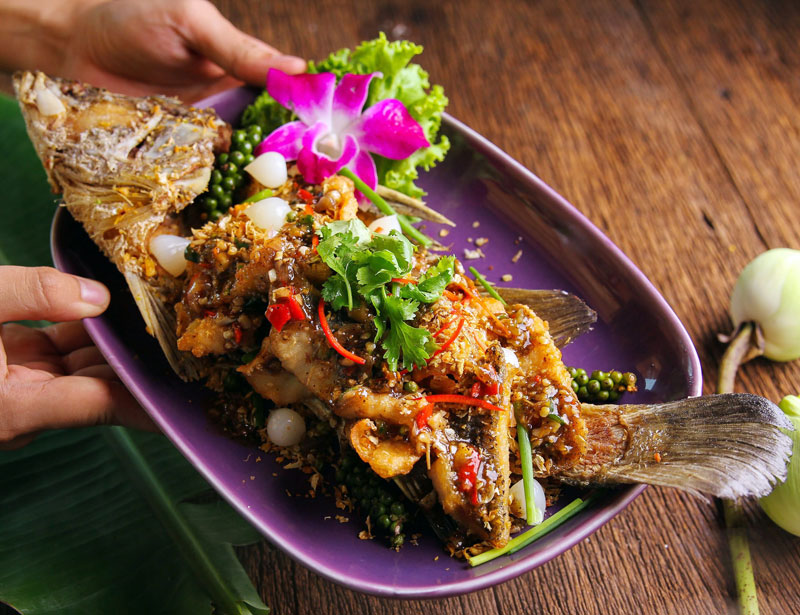 Crispy fried grouper with garlic peppercorn and herbs
Also check out these dishes that highlight a wider range of Thai flavors: Ka Nar Pla Khem (stir-fried kale with Thai anchovy), duck in crispy hot basil, prawn pancakes, steamed grouper in lime basic and fried rice in chili.
For dessert, there's Khao Niew Lam Yai Nai Marrow (longan sticky rice with coconut ice ream) and Bua Loy, which reminds me of our own ginataang bilo-bilo, but the rice dumplings are filled with salted egg!
Thai select
It has only been a year since Nara opened in Manila and yet the Thai resto has already impressed Manila's discerning palates.
Last month, Nara was awarded the Thai Select seal, a distinction shared among select food establishments around the world, for its commitment to serving the highest-quality, authentic Thai food.
According to Sheila, an establishment must first meet strict criteria before it is given the Thai Select seal, "one of which is that there should be a Thai chef running the kitchen."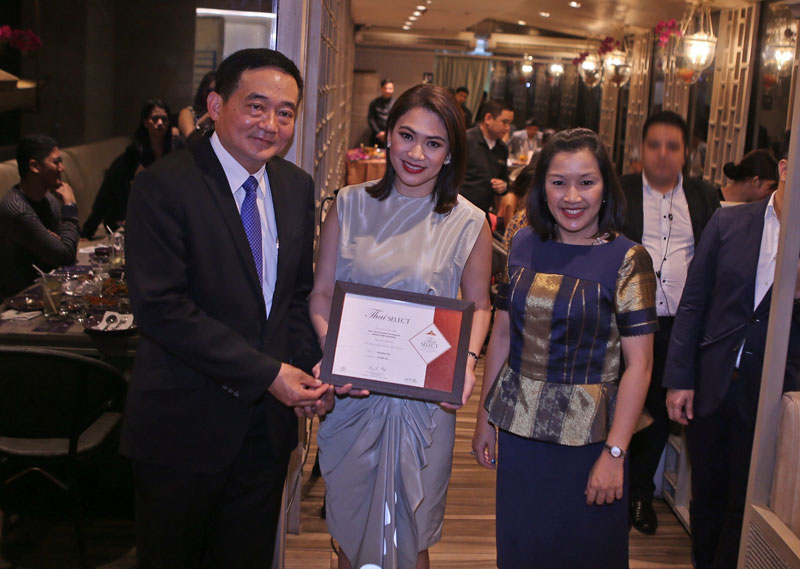 Thai Select: Thai Ambassador Vasin Ruangprateepsaeng and Royal Thai Embassy commercial counselor Khankhanit Anphuprapa award the Thai Select certificate to Nara Thai restaurant's Sheila Bermudez-Romero. The Thai Select certificate is awarded to quality Thai restaurants around the world. Photo by Joey Mendoza
This system of identifying and classifying establishments isn't merely a form of recognition; it also serves as a guide for diners looking for certified authentic Thai food — similar to a Michelin Guide.
"When you enter an establishment with the Thai Select seal, you can be assured that you're getting the real deal," Sheila adds.
So take her to Nara Thai today and enjoy a delectable, memorable and romantic Valentine's Day dinner.
* * *
Watch out for the opening of Nara at the Ayala Malls Manila Bay in May. By January 2020, it will open at Greenbelt 4 in Makati City.