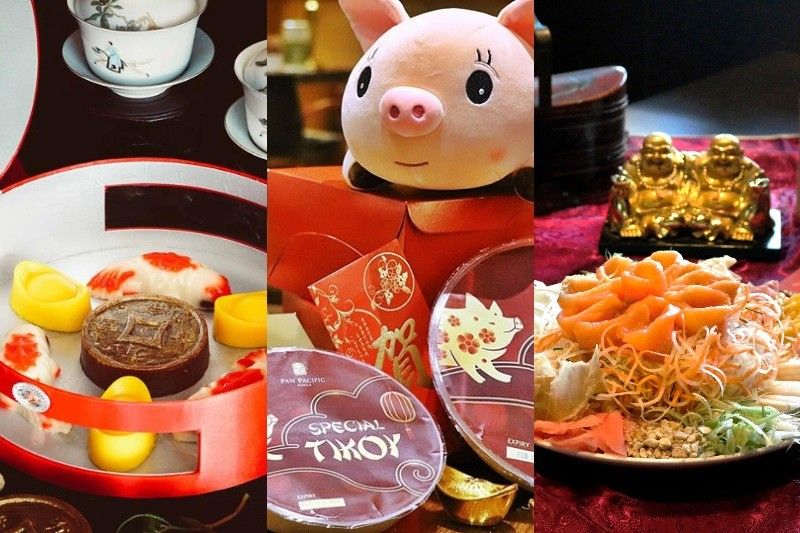 Composite photo shows the Chinese food to try for the Year of the Pig on February 5.
Photos from releases of Conrad Manila, Pan Pacific Manila, New World Makati
LIST: Chinese treats to try this Year of the Pig
MANILA, Philippines — Several restaurants and food establishments are offering extravagant and traditional feasts for the upcoming Year of the Earth Pig.
To welcome the Lunar New Year on February 5, food establishments and restaurants have announced that they are offering promos to make sure 2019 would be a year of "prosperity" and "abundance."
The Year of the Pig will start from February 5 until Jan. 24, 2020.
Ancient Chinese said the pig symbolizes "abundance and benevolence."
Here are some of the food treats and feasts to look forward to this Year of the Pig:
Nian Gao or Tikoy
Since the Lunar New Year is one of the most important events in the Chinese calendar, Chinese families value togetherness. One of the most famous foods that represents "togetherness" is their sticky glutinous rice cake called "nian gao," more popularly known as "tikoy."
Tikoy is also a favorite among non-Chinese revelers.
Hotels and restaurants such as China Blue by Jereme Leung, Manila Hotel, Shangri-La Hotel, Pan Pacific, Marco Polo, Man Ho at Marriot Hotel are all offering tikoy in an artsy way.
They offer tikoy in various shapes such as koi fish, pig and the traditional round cake. These also come in various flavors such as pandan and sugar flavors.
Tikoy is not only a signature treat at reunions but can also serve as souvenirs to family, friends and colleagues.
Authentic Chinese feasts
Aside from tikoy, Chinese are known for sumptuous feast during the Lunar New Year to attract fortune and luck.
Chinese Chef Yui So Chan of Spiral by Sofitel and award-winning Chinese executive chef Wong Kam On of Jasmine by New World offer abundant delectable dishes that showcase authentic Chinese cuisine. These include dimsum treats, handmade dumplings, roasted suckling pig, steamed live garoupa, among others.
Food market to explore
Meanwhile, at the heart of the oldest Chinatown in the world, in Binondo Manila, Lucky China Town foodies can delight into an exciting food adventure at the Meisic Food Market.
The food market boasts mouthwatering array of Chinese cuisine, street food and other treats until February 10.
Love and Happiness cake
Finally, those who wish to welcome the Lunar New Year with love and happiness can savor Banapple's "Very Happy Berry Custard Cake." The dessert, which symbolizes love and happiness, is a fluffy vanilla pound cake with strawberry and custard filling.
RELATED: LIST: Lunar New Year festivities for Year of the Pig