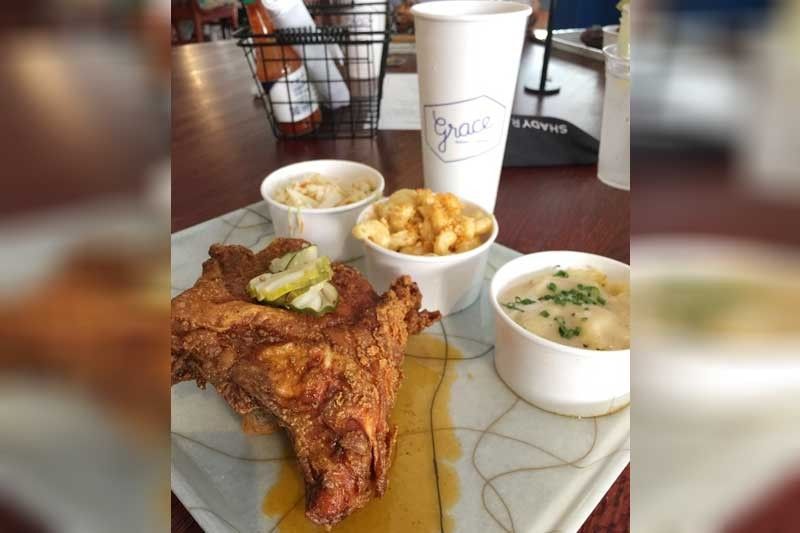 Nashville hot fried chicken plus three sides is a must at Grace.
Sinigang fried chicken, the Flying Pig & meat-plus-3 in St. Louis
While countless Pinoys travel to the United States every year and stuff themselves with great food, I know of very few who make an extra trip to St. Louis for a food trip. That is a big mistake. If you find it hard to believe me, let me present to you Exhibits A, B, C, D and E.
Exhibit A: Meats
While St. Louis is technically still in the Midwest, it is a hotbed for some delicious smoked barbecue. Big Baby Q is a low-key joint, but the meats are definitely not. I got to try not only the smoked brisket, which was tremendously flavorful and tender, but the baby back ribs and smoked pastrami as well.
The pastrami was definitely a revelation, with a beautifully dark and crusty bark and the perfect amount of spices enhancing the juicy meat. It went great with some of the Alabama white sauce, which is a creamy sauce with a hint of horseradish.
BBQ sides are just as important for me and the mac and cheese, potato salad and collard greens were all spot-on. This was my first meal in St. Louis and it was the perfect way to start a trip. I heard a bit of bad news: Big Baby Q is closing at the end of the year, but the great news is, the chef is collaborating with new partners to open even more BBQ places — this time in the city instead of the suburbs. That means I have more reasons to go back to St. Louis!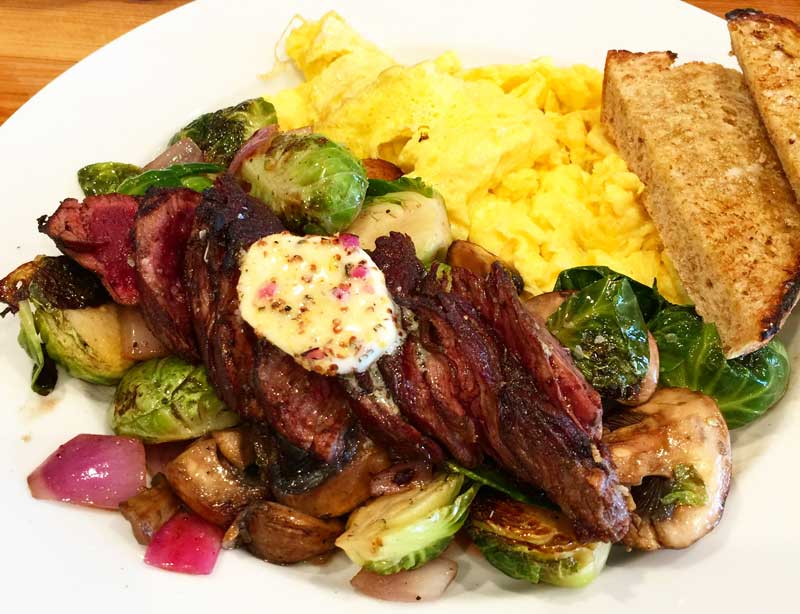 The steak and eggs at Half and Half are perfectly executed.
Meanwhile, another Southern tradition is "meat plus three," where you order one protein and three side dishes. Grace Meat Plus Three is one of those places that specializes in that. I made sure to grab the spicy fried chicken (Nashville style) and then munched some mac and cheese, coleslaw and mashed potatoes. A traditional sweet tea (with the classic small cubes of ice) is the perfect complement to this massive, food coma-inducing meal.
Exhibit B: Brunch
Brunch is a big Midwest thing, apparently, and St. Louis has its share of big hitters, too. Southwest Diner is one of those great choices. They do a lot of brunch-time favorites, but with a Southwestern flavor slant. I went with classic bacon and scrambled eggs, but they made the eggs spicy and I appreciated that. Bacon was appropriately crisp and so were the hash browns that came with the plate. Meanwhile, the scrambled eggs were creamy and runny, the way most chefs enjoy them.
Another great choice for brunch is Half and Half. The talented crew makes a bunch of brunch favorites with modern touches, and I didn't hesitate to order one of my brunch favorites, steak and eggs. Here, their version is a hanger steak cooked perfectly medium-rare and seasoned beautifully, with expertly cooked soft scrambled eggs. The surprise of the dish however, was the lovely griddled Brussels sprouts and mushrooms, which became even more excellent with hints of bacon grease running through them. You can't go wrong with either of these places.
Exhibit C: Filipino food
You won't be seeing the true highlight of the St. Louis dining scene if you don't visit my friends at Guerilla Street Food. Chef Brian Hardesty and business partner Joel Crespo present huge portions of Filipino food, both classic and reinterpreted, and their success has netted a total of five outlets now.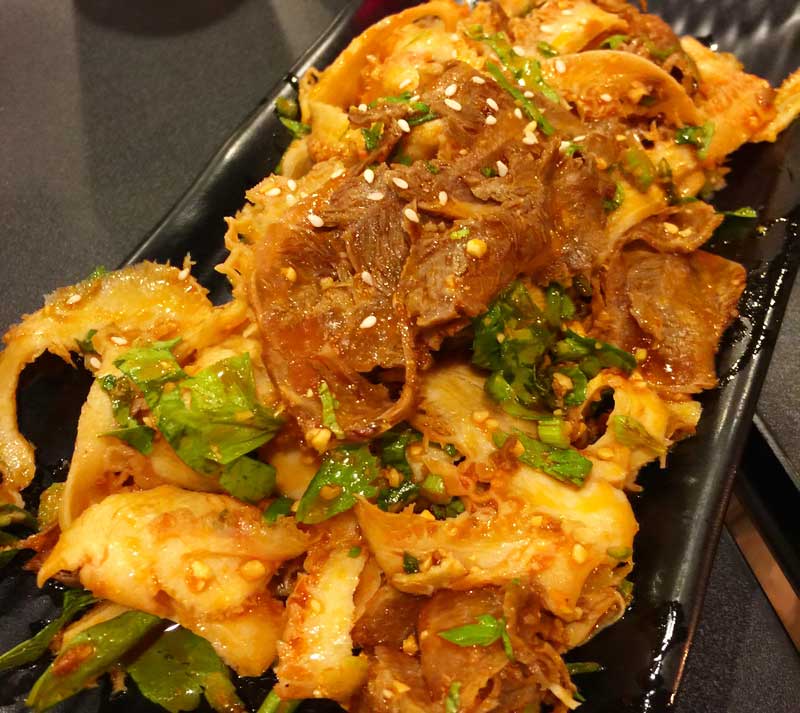 Ox Tripe and Beef at Cate Zone is a must-order.
I made sure to try the Sinigang Fried Chicken, absolutely crisp fried chicken dusted with tamarind powder and their original dish, The Flying Pig (think pulled pork asado). Both, while looking like American classics, actually taste tremendously Filipino. These guys are good guys, too! Every winter they leave coats at their restaurant for anyone to get when they need to battle the cold. It's always fun to support a business intent on helping others.
Exhibit D: Chinese food
I never thought I would get decent Chinese food in St. Louis, let alone really great Chinese food, but Cate Zone is a must-visit. It has all the characteristics of a great Chinese restaurant, from simple Chinese decor, to ordinary chairs, to a weird name (that was apparently a product of miscommunication with the sign maker), but the real highlight is the food.
The spicy ox tripe and beef is a wonderful display of contrasting textures and has the mouthwatering "ma la" type of spiciness that Szechuan cuisine is known for. Another can't-miss dish is their cumin lamb, where strips of lamb stir-fried with vegetables and a ton of cumin provides quite a flavor bomb.
If you're feeling bad about eating too much meat, they have a lovely fried eggplant dish and the classic salt-and-pepper squid waiting for you as well.
Exhibit E: Treats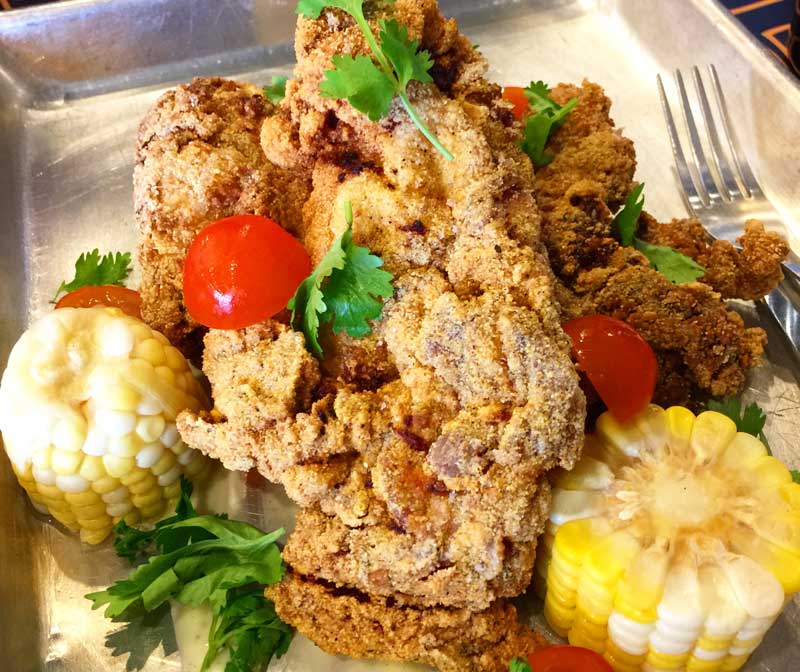 Sinigang Fried Chicken from Guerilla Street Food is mouthwatering!
St. Louis isn't all about the meat, even though I have no problems with that. Ted Drewe's Frozen Custard is a must visit. Their "concrete," where frozen custard is blended with your choice of ingredients (and it's inverted right before its served to you) is actually the predecessor of what Filipinos know as a "blizzard," so you get a piece of history right with your treat. I went simple with plain custard blended with strawberries, but they have over 50 combinations for those who'd like it more complicated. Make sure to order the small size because their portions are huge!
Meanwhile, the true must-visit in St. Louis is John's Doughnuts. They open at 11 p.m. and it's fun to go at that time when all the doughnuts are freshly cooked. All — and I mean, all — their doughnuts are great, but their apple fritter is the single greatest apple fritter I have ever tasted, absolutely soft but also with crunchy bits running all throughout the fritter; you also get chunks of apple every few bites. I don't eat a lot of sweets, but it takes all the willpower in my body not to have two dozen of these things the minute I enter the shop.
Is it necessary to line up with the others at 11 p.m.? Not really, but they often sell out in the morning and they close at 11 a.m., so be smart and go early. I mean, late.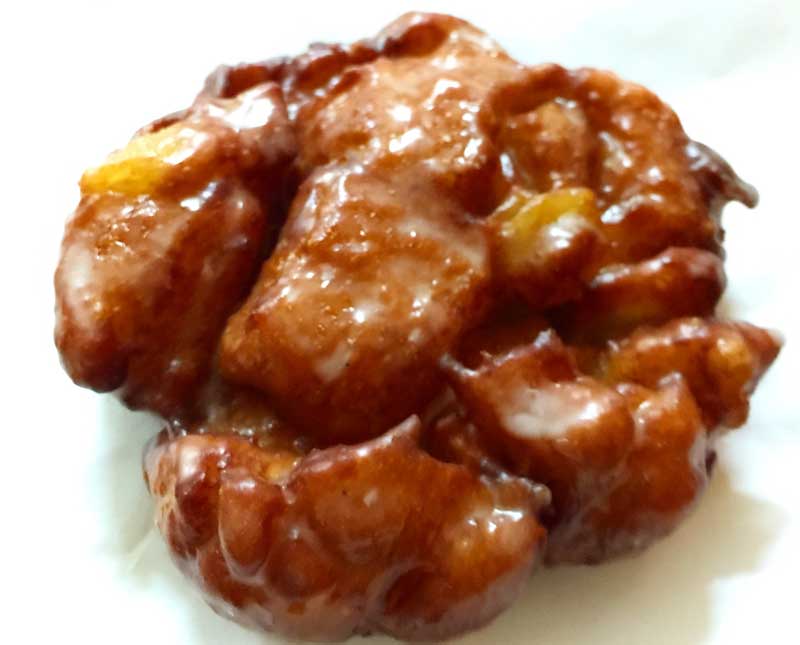 The apple fritter of John's Doughnuts is the best.
* * *
You can see Sharwin cook for and interview the country's hottest celebrities every Sunday at 11:30 a.m. on Let's Do Lunch on GMA News TV. Follow Sharwin's food adventures on Instagram @chefsharwin and for questions, reactions, recipe and column suggestions, you can contact him on www.sharwintee.com.