Peru on your plate at Shangri-La The Fort
December 13, 2018 | 12:00am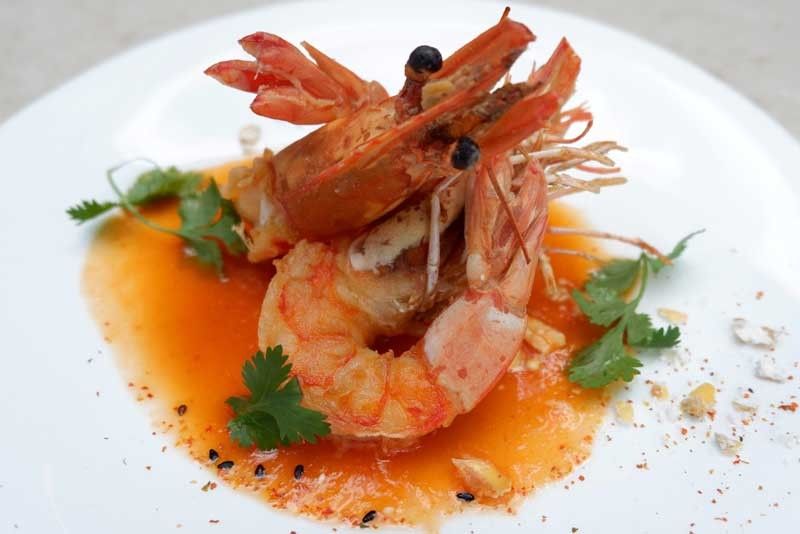 'The flavors are there, very much like my grandmother's cooking, homey and comforting, but we give a twist to the presentation,' says chef Carlo Huerta Echegaray.
Christmas, to me, is as much a scent as it is a holiday. No matter where I go or what I may do, there are certain aromas that have a stronghold in my arsenal of olfactory memories related to Christmas: dusty cinnamon sticks, warmed by the tropical heat, infusing the space with spice… the buttery sweet scent of fried bananas mixing with intoxicating bacon… heady roasts with caramelized juices making the air a delightful mix of savory and sweet. Certain dishes just bring you back to childhood home.
What if home is somewhere else for you? Like Peru, perhaps? High up in the Andes in Cusco, with a culture not far from ours: noche buenas and family gatherings, belens and reheated leftovers the next day — the familiar enveloped in a blanket of exotic flavor and layered in spice. "Christmas has a smell for me," says chef Carlo Huerta Echegaray of Samba at Shangri-La The Fort, sharing my sentiments. "It's all that cinnamon, chocolate, the moss that they bring down from the mountains to decorate the mangers. It's got that grassy, fresh-earth smell."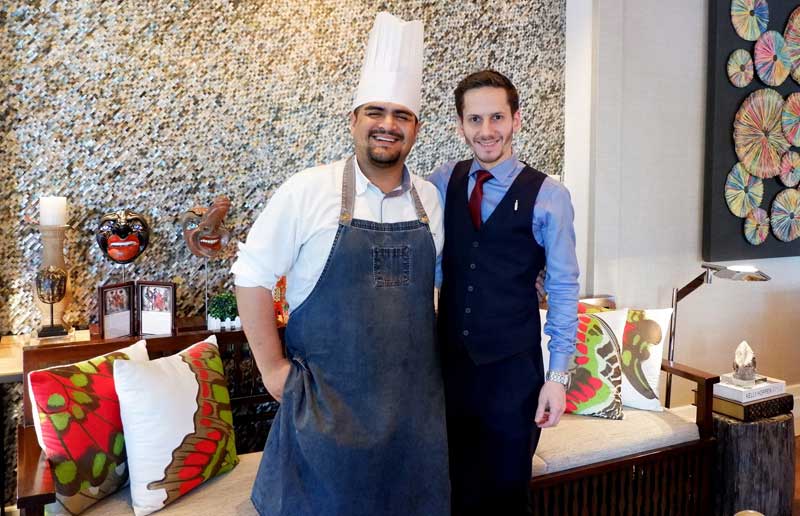 Chef Carlo Huerta Echegaray and head mixologist Ulysse Jouanneaud
He smiles as he describes the ambient scents of the traditional crafts market, Santuranticuy, in his hometown of Cusco. "Christmas in Peru is pretty much very European, but in Cusco, we go every year to the Santuranticuy. It literally means 'where you sell the saints.' It doesn't matter how many belens or mangers you have, you will buy something each year. These artisans are called imaginarios, and make beautiful pieces."
Inspired by all the scents and flavors of his hometown, chef Carlo's Christmas menu is like an epicurean holiday in itself. "The flavors are there, very much like my grandmother's cooking, homey and comforting, but we give a twist to the presentation," he said.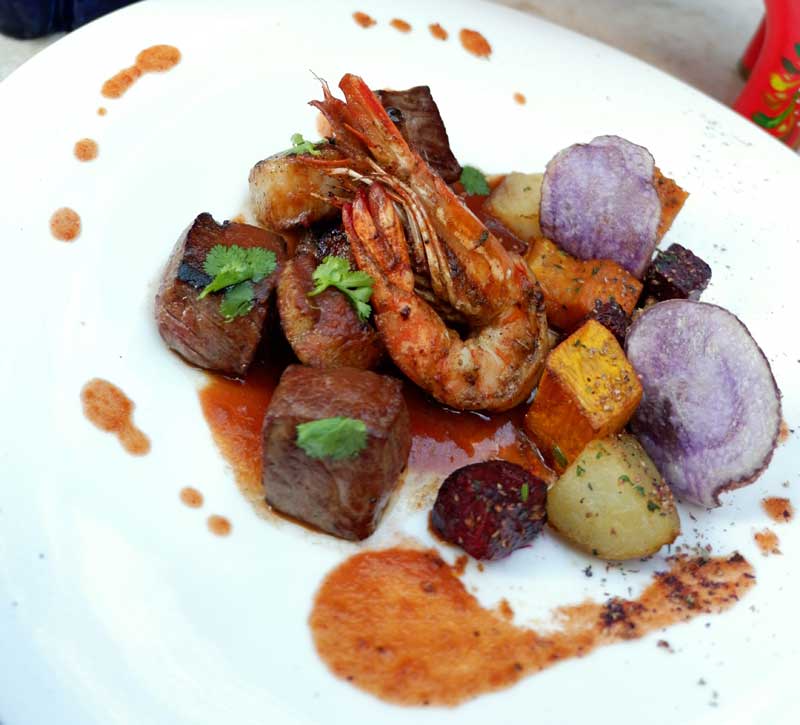 Lomo A lo Macho
Ceviche is a menu highlight, with his latest creation, Ceviche de Conchas y Camarón en Crema de Rocoto — plump tiger prawns and juicy scallops with beautiful fresh lime flavors, zingy with a bright heat. The leche de tigre dressing was so vibrant and addicting, I kept coming back to it, dipping my spoon for more. A true party in my mouth that gave me all the same sensations as when I hear Latin music, a certain heat that creeps into my blood, infusing me with a happy rhythm.
"Lomo a lo macho is like my version of a surf and turf," explains chef Carlo of his main course. A delightful combination of tenderloin, sweet Peruvian scallops and prawns, "They are all cooked differently to bring out maximum potential. The tenderloin is charred, the scallops are cooked in butter and the prawn is cooked on the grill. Even the chilies — one is fresh and the other is boiled."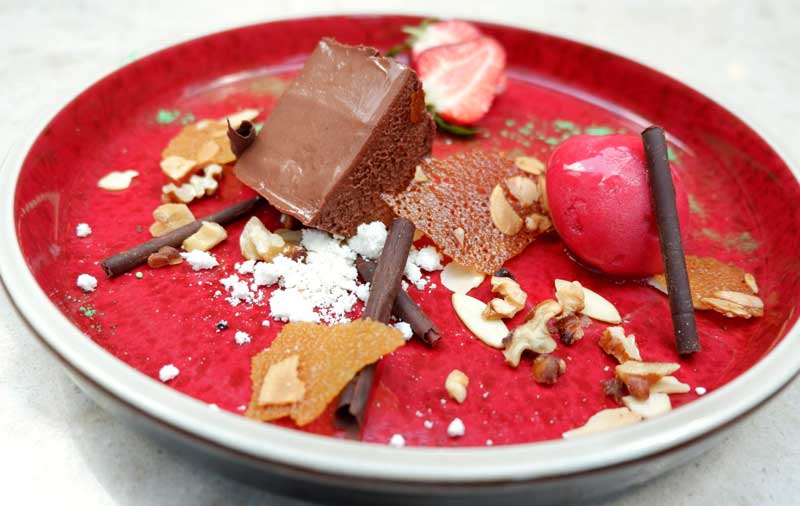 Zamba de Chocolate
The sauce is a rich jus that has a smoky spice to it, layered with ahi panca, ahi limo and oregano.
I don't have much of a sweet tooth but I am a sucker for good chocolate. The Zamba de Chocolate is a sophisticated chocolate mousse made from 70-percent-cacao Peruvian chocolate, with crispy almond flakes, some cinnamon, tarragon, olive oil powder and a gorgeous raspberry sorbet. A little bit of everything in a spoon is enough to make you do a happy dance in your chair.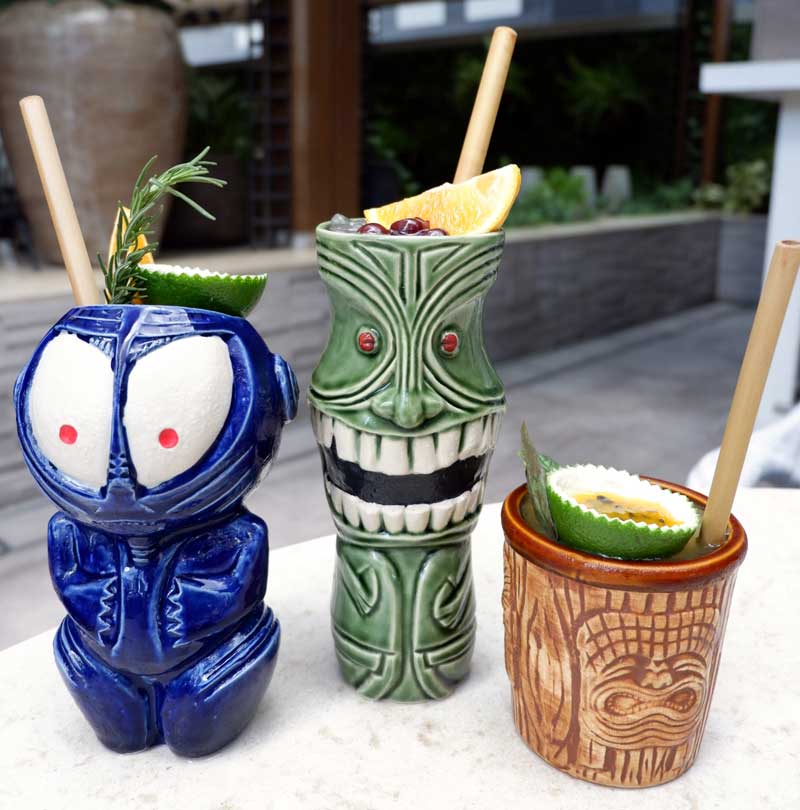 A variety of tropical and Latin cocktails
Another thing to keep you dancing happily is a great cocktail. Apart from the delightful tropical and Latin selection of potions Samba has to offer, head mixologist Ulysse Jouanneaud has come up with a festive Ramos Fizz. "It's sweet and fresh and the white cream reminds me of snow," he says. "The rosemary also looks like a Christmas tree!"
This cocktail would make a great addition to any party and thankfully, it is so easy to make. Ulysse kindly shares with us the recipe, but do drop by to see him in action at The Backroom — if you manage to charm your way past the door!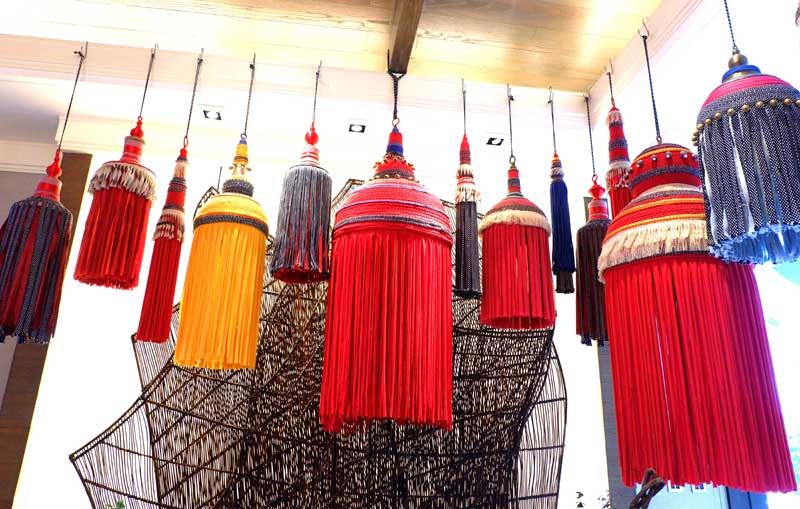 Beautiful holiday tassels at Shangri-La The Fort by Bea Valdes
I love the bohemian décor of Samba as well: gorgeous big tassels designed by Bea Valdes hang by the entrance that make you want to shimmy. Between that, the vibrant food and drink, plus the Latin ambience, the holiday season just got even more festive! It's a welcome break from the usual spread and a wonderful occasion for a culinary escape to Peru, through all the bold flavors of chef Carlo's cuisine.
The six-course plated holiday menu at Samba starts at P2,900 per person. The menu offerings change every day.
Recipe File: Ramos Fizz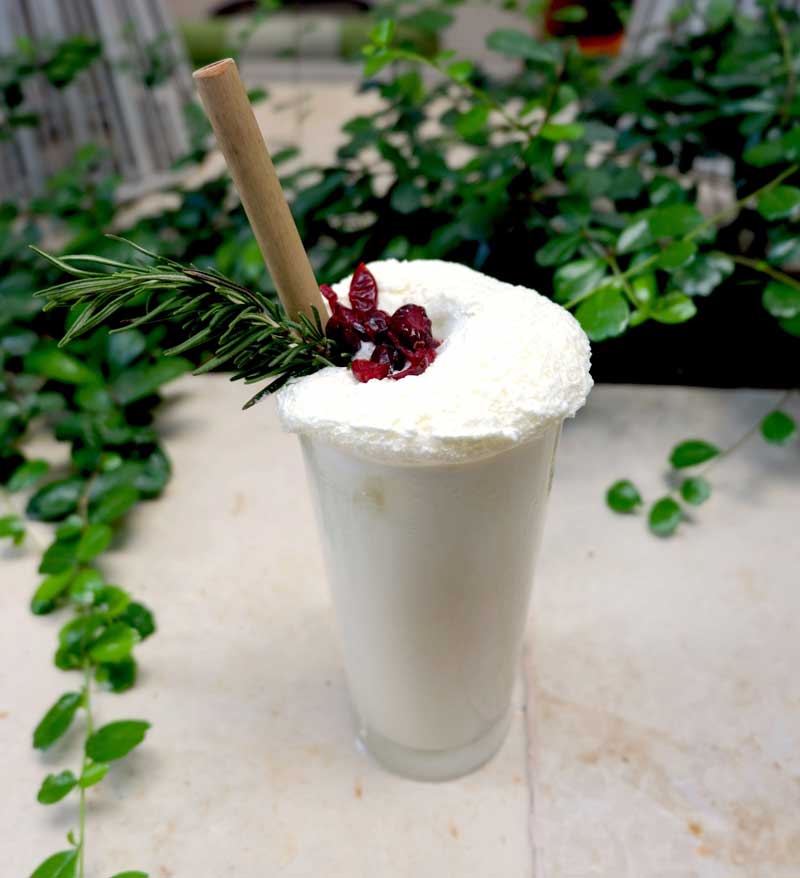 Ingredients:
50 ml Beefeater gin
25 ml Lemon juice
20 ml sugar syrup
20 ml cream
2 dashes vanilla extract
1 egg white
Soda water for topping up after shaking
Whipped cream
Dried cranberries
Fresh rosemary
Procedure:
Chill your glass with ice. Pour all ingredients except soda water into a shaker using a jigger. Fill your shaker with ice and shake for 15 seconds. Use a fine strainer into the glass, top up with soda water and garnish with whipped cream, dried cranberries and rosemary.
* * *
For information on Shangri-La The Fort's offerings for the holidays, call 820-0888 or email slfm@shangri-la.com. In its quest to care for the environment, the property decided to go paperless this Festive Season and released its offerings online. To know more about the rates and promotions, view the e-brochure here: https://bitly.com/slfmtheholidayvibe.