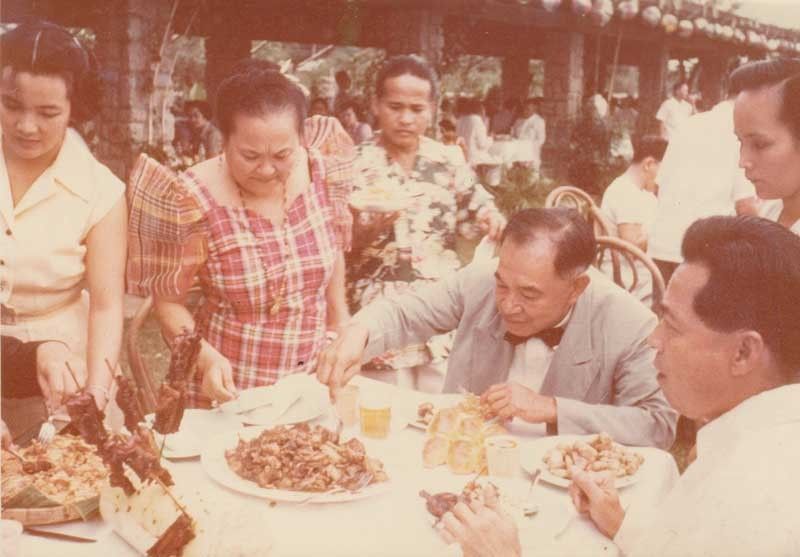 Doña Engracia Reyes plays host to Jose P. Laurel at the grand opening of the Aristocrat Beach Resort in Las Piñas.
The love story behind the Aristocrat — and the back story of their barbecue
In 'Joe Remembers,' Joe Reyes shares his memoirs and stories about how The Aristocrat began and how it was rebuilt after the war. It's a rags-to-riches story and a part of social history.
Millie: When you've been in the restaurant business for 80 years, as my family has been, it is so heartwarming when you hear people say, "My first date was at The Aristocrat on Roxas Boulevard," or "My wedding was held at The Plaza!" It's amazing how many lives we've touched and how we've become not only a part of tradition, but also more precious than that, someone's treasured memory.
On Dec. 7, 2010, my dad passed after a life well lived, but he left me a manuscript for a book, which he'd worked on for months. He wanted to share his memoirs and tell stories about how The Aristocrat began and how it was rebuilt after the war. It's a rags-to-riches story and, as someone once told me, it is a part of social history.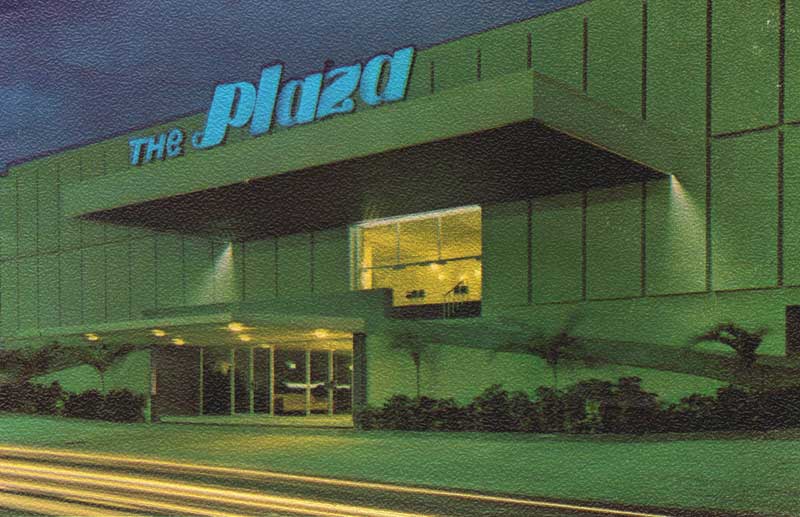 The Plaza Restaurant at the Makati Commercial Center, inspired by The Plaza Hotel in New York City on Fifth Avenue, housed five concept restaurants: A Chinese restaurant called Willow Court, a French restaurant called Plaza Café, a smorgasbord or buffet concept restaurant called The Plaza Royale, a steakhouse called Branding Iron and a Presidential Hall that could fit 800 people for big events.
Dad narrates how my grandmother Engracia Cruz Reyes, also known as Aling Asiang, developed the famous Aristocrat barbecue out of a need to prevent losses of utensils, so she served the chicken barbecue on sticks.
Grandma Asiang used to serve her adobo sandwiches in her traveling store at Luneta in 1936. Coming home from a trip to America in 1950, Dad told grandma Asiang about the latest food craze because of UFO sightings, which inspired her to introduce the adobo flying saucer. Today it continues to be one of Aristocrat's bestsellers.
Dad wanted his memoirs published so much that he even decided on a title for the book, calling it Joe Remembers. I came home one day to find all the family albums on the floor as he shyly admitted to me that he spent the day choosing all the photos for the book.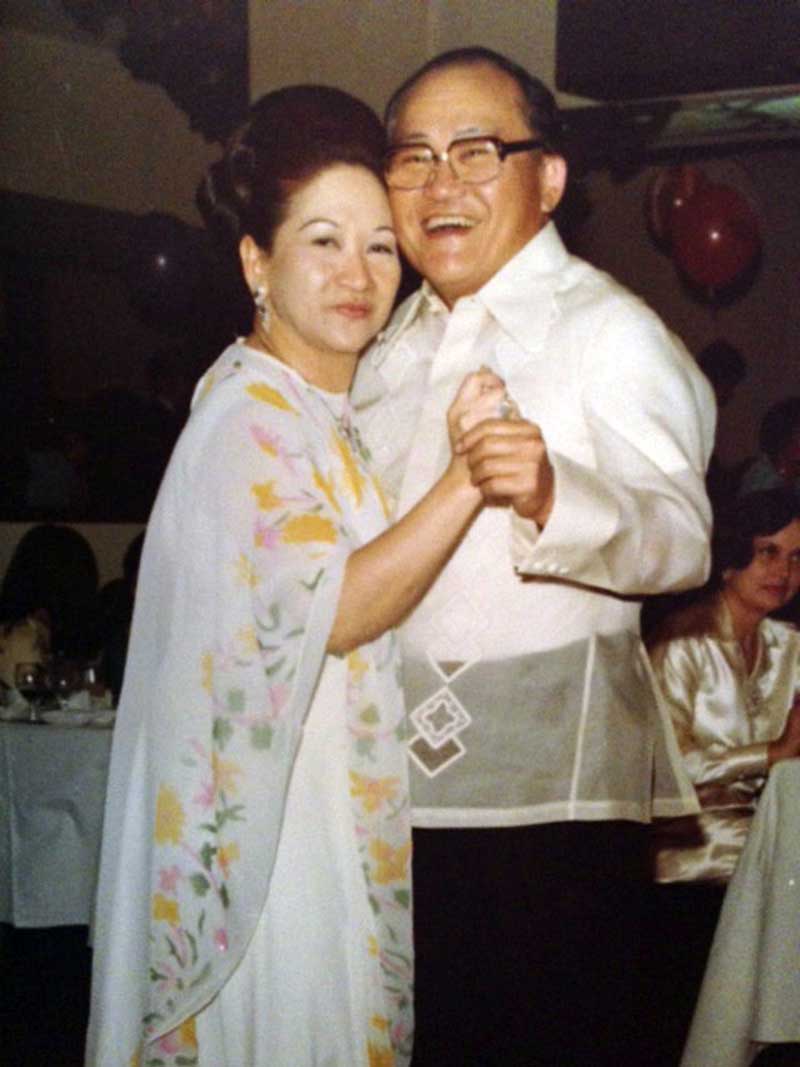 "She was the light of my life," Joe wrote about wife Meldy. "Even as she lay bedridden for the past seven years and eight months, unable to speak, unable to move, her presence still made me feel like I was the luckiest man on earth."
Karla : This book is about food as much as anything else. The Aristocrat wasn't always known for barbecue. Before that all came about, Lola Asiang was known by her "Big Four" specialties. You'll be able to learn more about them when you go through the book. But her talent and passion for cooking was brought about by cooking for a whole battalion of a family. Lola Asiang had 16 children, plus their friends, who would sometimes eat in their house, and the guests whom Lolo Alex would entertain, since he was a justice at the Supreme Court at that time.
In the book, Lolo Joe talks about how the name The Aristocrat was coined, the story of the traveling store, how they started in a school canteen, the hardships Lola Asiang had to endure to secure a location for The Aristocrat along Roxas Blvd., and much more.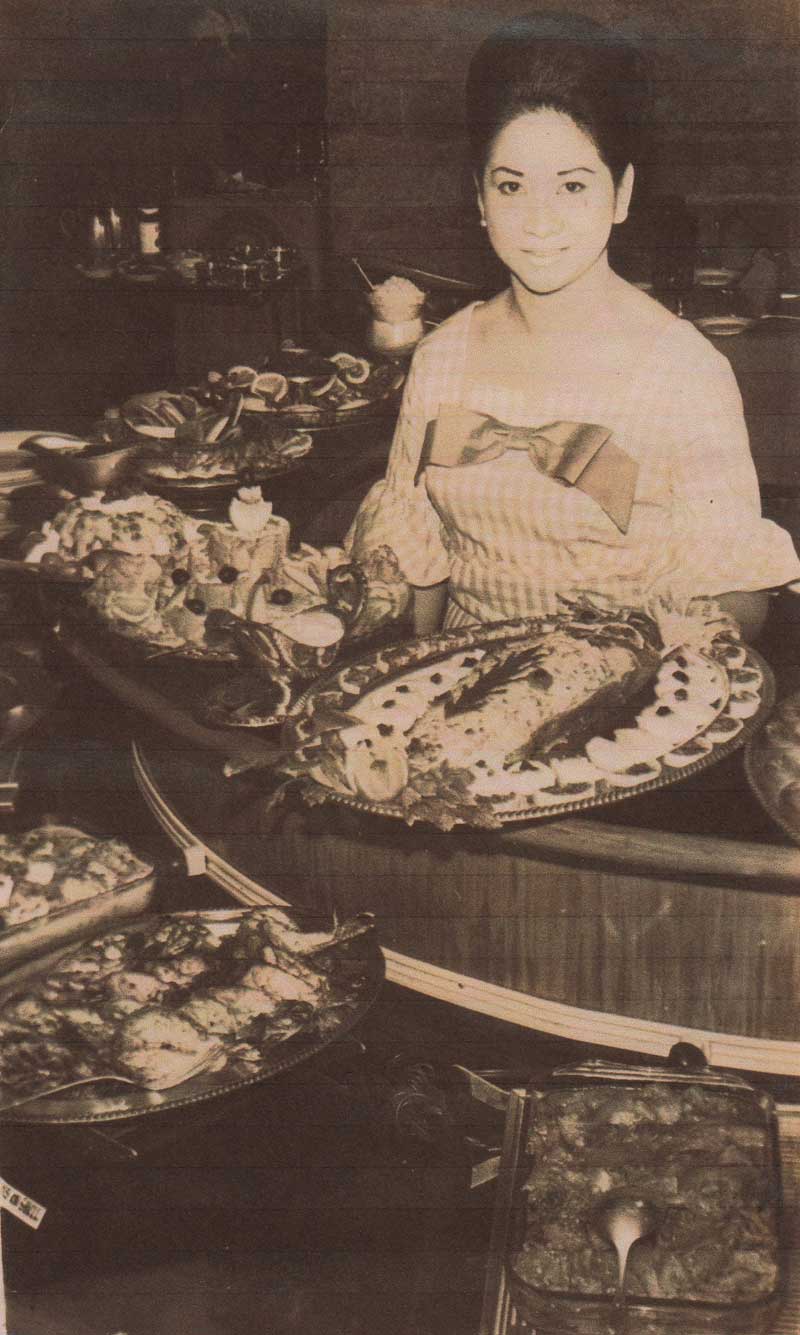 Imelda "Meldy" Reyes at The Round Table Restaurant, where the first smorgasbord concept was introduced in the Philippines.
Lolo Joe would always reminisce about the war. He often used to talk about how it was a difficult time, especially for such a big family. Being the right-hand man of Lola Asiang, Lolo Joe narrates the challenges they faced to keep The Aristocrat operational. He fondly talks about the first time Japanese soldiers came to Aristocrat Roxas. They were hungry and could not express what they wanted to order; they couldn't understand the menu, either. One of the soldiers saw a photo of melon a la mode and pointed to it. The rest of the company ordered the same item. Word spread around and soon, more and more Japanese soldiers were dining at The Aristocrat. He also loved talking about the loyal customers of The Aristocrat and what they ate, namely President Emilio Aguinaldo, Jose P. Laurel, Mayor Lacson and Mayor dela Fuente, to name a few.
The book touches on family and, of course, like any great story, romance. Lolo Joe tells of the love story him and Lola Meldy shared: how they met, how he courted her and that pivotal moment when he decided that she was the one. Together they built The Plaza, then a restaurant complex housing five restaurant concepts. Lolo Joe's vision had finally come to life through his hard work, passion and resilience, of course, with the help of Lola Meldy and her innate PR and managerial skills.
Former First Ladies of the Philippines attended the inauguration of The Plaza on Oct. 10, 1965: (from left) Leonila Garcia, Esperanza Osmeña, Imelda Marcos, Luz Banzon Magsaysay, and Trinidad Roxas
Millie: Joe built The Plaza in the '60s. It was a complex, housing a convention hall, eight meeting rooms and several restaurant concepts like Chinese, a steakhouse, a Parisian-style cafe, a restaurant featuring a smorgasbord, or what is known today as a buffet. It came as a need to attract international events, and earned such a good reputation for The Plaza that Central Bank Governor Gregorio S. Licaros chose and awarded it to manage the food services of the Philippine International Convention Center when it first opened in 1976 to cater for the IMF-World Bank meetings.
Joe, together with wife Meldy, is proud to have catered numerous international events, having served international dignitaries, from popes to presidents.
Joe's book serves as an inspiration for today's budding young entrepreneurs. It has a chapter, in fact, on "How to Succeed in Business," as he mentors his readers. It is a narrative and talks about experiencing birth pains when one starts a business and, no matter how big or small, there is the financial factor. It speaks of hardships and successes and gives business tips.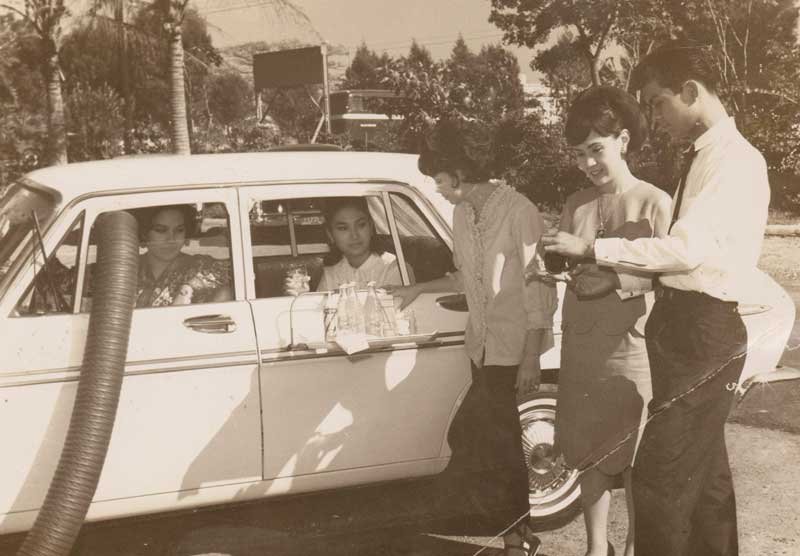 The Round Table Restaurant in Intramuros, Manila, first introduced air-conditioned curbside service to the Philippines.
My brother Raymund, who is chairman of The Aristocrat Group of Companies, says, "It is like Dad is talking to his reader, telling them his story and giving them lessons in life as well as in business, dealing and negotiating with people even during hard times. It speaks of 'Joe's Law' as opposed to Murphy's Law." Joe's Law is "just when you think you're down and out, salvation happens."
The book Joe Remembers was recently launched at Wack Wack Golf & Country Club. It was very well attended by friends, associates, and the Reyes clan. Distinguished readers of the excerpts from the book were Vicente Fernandez, a businessman and descendant of Concepcion Leyba, Spanky Enriquez of The Philippine STAR and Ambassador Delia Albert, former Secretary of Foreign Affairs and a dear friend of Joe's family.
Joe Reyes was a Go Negosyo awardee in 2007 and the book is endorsed by Joey Concepcion, presidential adviser for entrepreneurship and Go Negosyo founder. The foreword is written by Jullie Yap Daza, another friend.
Joe Remembers comes with a bonus material of kitchen recipes based on The Plaza's premium products written and compiled by my daughter Karla.
* * *
For those interested, limited edition copies of the books are available for sale at The Plaza outlets at Petron Square by the Dasmariñas Village gate and Petron La Vista, as well as The Plaza head office at BJS Compound, 1869 P. Domingo St., Brgy. Kasilawan, Makati. For more inquiries and book reservations, call 729-0001 to 03 or mobile 0917-817-2207.