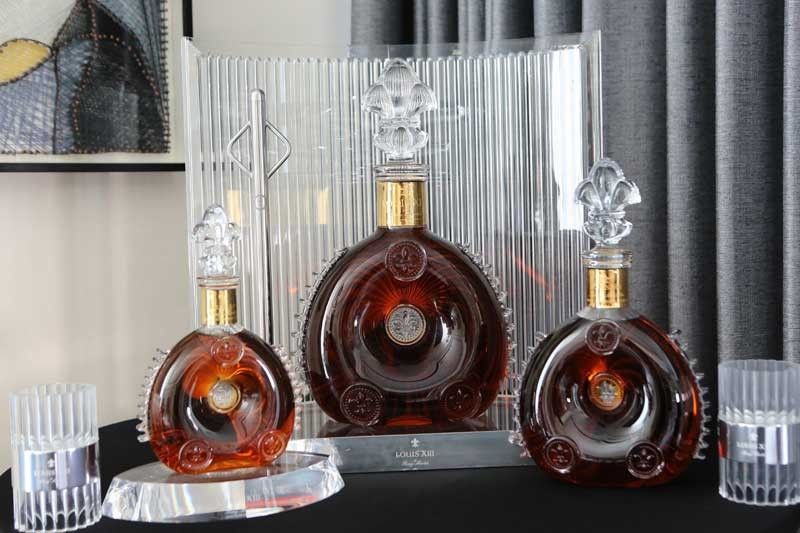 Time in a bottle: The Louis XIII Classic Collection. Created by Baccarat, each bottle is individually numbered.
How to distill 100 years into song
Rémy Martin, the makers of Cognac Grand Champagne Louis XIII, like to get you thinking about human endeavor and history. Start with that bottle: a distinctive decanter, said to be unearthed in 1569 after the Battle of Jarnac, inspired Paul-Émile Rémy Martin three centuries later to create the first Louis XIII, blended from hundreds of the best eaux-de-vie from the Champagne region.
Flash forward through centuries. Louis XIII (or "Louis Treize") has been served aboard the Orient Express, on the supersonic Concorde; it's been the spirit chosen by kings, queens, presidents and Winston Churchill.
How do you link that story with a younger generation who share mostly millennial concerns? Maybe put it in a time capsule — in a song written by Pharrell Williams. Record the song (titled 100 Years) on the same fragile clay that gave birth to the earliest Rémy Martin crus, and don't let anybody listen to it — ever — for a century to come. If the world survives environmental catastrophe, the song might eventually race up the charts.
It's like if the Beatles had decided to record a secret album before breaking up and just stuck it in a vault for a century, unheard by human ears, unless people all decided to come together to give peace a chance.
Yes. The delicate balance of time and fragility of our planet are very much on the minds of Rémy Martin today at Mireio's Salon Room in Raffles Makati. But mainly, we're here to sample Cognac.
Rémy Martin international brand ambassador Florian Hériard Dubreuil noses and pours us a taste of Louis XIII.
The other way Rémy Martin keeps relevant is by sending their young International Brand Ambassador, Florian Hériard Dubreuil — himself a fourth-generation ancestor — around the world to tout the mysteries and complexities of the brand. Thus we meet Florian while exploring Mireio's menu of marinated Norwegian salmon, free-range chicken stuffed with truffle butter and garlic confit, and Mont Blanc black currant sorbet, as he explains the legacy, tasting notes and rituals of enjoying Louis XIII.
He notes the crystal glasses arrayed near our table, lit up by a powerful amber decanter staged in the background. (We will take one of these crystal glasses home later.) After a brief history and intro, Florian enlists Tessa Prieto-Valdes to help pull off the cork from the Louis XIII — itself a descendant of 100 years of the region's best eaux-de-vie (basically, those are clear, colorless brandies made from fermentation and double-distillation, blended together with impeccable taste).
Taste-wise, Florian says Louis XIII is "unique because it's very light, yet it has a heavy density. So, dense and light. We say opulence, and then, in the air. So it's a paradox."
The color is fairly light, not much different from other Rémy Martins (with 100 or more blends, you might expect something darker). The cask aging adds a bit more color from the wood. And on the glass, the drops or "tears" stay on the surface longer, "an indication of what is going to happen in our mouths," says Florian. "It has a lingering taste that is unmatched, that stays with us through most of the afternoon, which is really nice."
We enjoy our two courses then Florian announces we will taste the Louis XIII before dessert. And literally, we do just that: have a small taste, about a finger or so of this precious amber fluid.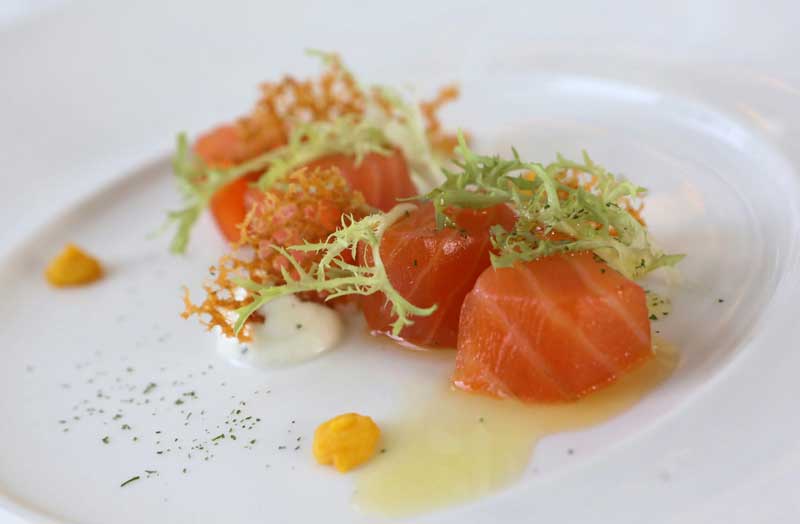 At Mireio's Salon Room, we enjoyed marinated Norwegian salmon, orange marmalade, dill cream and red peppercorn.
He notes that Louis XIII contains "a lot of aromas, more than we can experience in one time." It might be best to sample around noontime, and let its flavor linger on the senses throughout the day. "With modern tools, we can isolate about 250 aromas in its blend," he says. "Maybe you will experience more fruit notes, figs, orange peels; but also some light floral notes, white flowers, white roses, jasmine; and then some woody, cigar scents and aromas; you can also detect chestnuts, vanilla, honey." And on and on. "The more you taste, the more aromas you can feel. It's a training."
Louis XIII is not really meant to be paired with food, though Florian does allow that "actually, with salty, like Beluga caviar or jamón ibérico de bellota (acorn) from Spain, it works really, really well." And of course, Habanos cigars are a natural.
You can store Louis XIII for a long time. Unlike wine, the flavors won't change if the bottle's left unopened. "If your bottle is half-empty already, though, it's best to finish it off. Some collect and sell it unopened, because it gains in value. (A bottle like the one we uncorked today goes for about $3,000.) But I think that's a bit sad, because it's made to be tasted."
And indeed, it's that very bitin — yet very complex and precious — tasting that we're all here for.