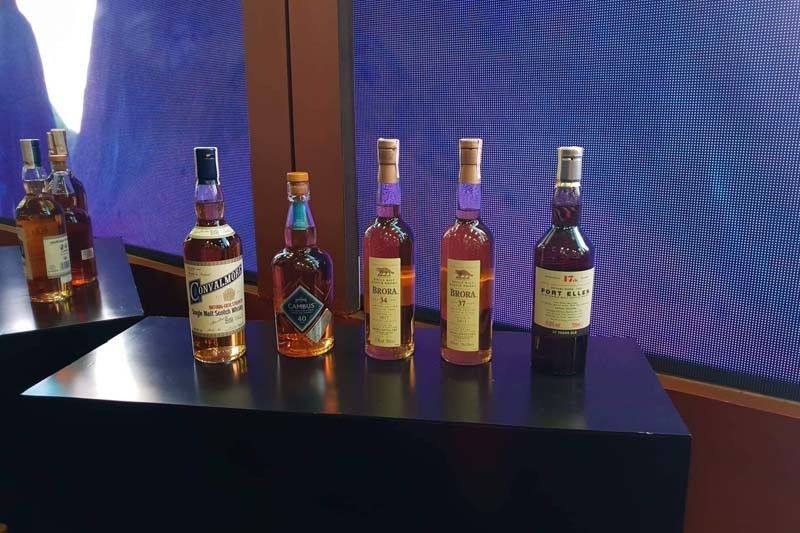 Johnnie Walker featured rare whiskies Convalmore, Cambus 40, Brora 34, Brora 37, and Port Ellen in its private area at the Whisky Live Manila 2018.
Philstar.com/Rosette Adel
World's best spirits showcased in Manila
MANILA, Philippines — Two evenings filled with over 180 different whiskies from all over the world concluded over the weekend.
One of the most prominent international whisky events in the world, Whisky Live, gathered liquor enthusiasts in the country at the Shangri-La at the Fort last Friday and Saturday.
Now on its third year in Manila, the event anticipated in the mixology and alcohol industry, showcased more than 180 varieties of whisky from all over the world including bourbon, Irish, Scotch, Japanese, Rye, single malt, among other blends in bigger and better booths. They also sampled out other spirits.
"The thing about Whisky Live is yeah, it's Whisky Live— it doesn't mean we can only showcase whiskies, it actually showcases all types of spirits. It's either brown or white," Gio Robles, marketing manager of Moët Hennessy Philippines told PhilStar.com
Booze all-you-can
Guests were treated to unlimited whisky tasting and free-flowing cocktails during the event. They offer a drink for every flavor palette—smoky, delicate, light and rich quadrant.
Among the powerhouse brands that participated are Ardbeg, Bruichladdich, Chivas Regal, Diageo, Douglas Laing, Glencadam, Glenfiddich, Glenmorangie, Glenrothes, Hennessy, Jameson Iris Whisky, Jim Beam Suntory, Michter's, Monkey Shoulder, Remy Martin, Scotch Whisky Malt Society, Teeling Whiskey, and Yamazakura, among several others.
Diageo handles Johnnie Walker, Talisker, Caol Ila, Lagavulin, Dalwhinnie, and The Singleton.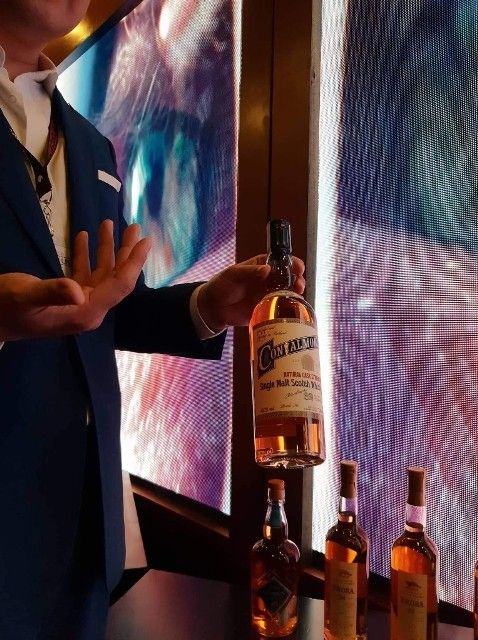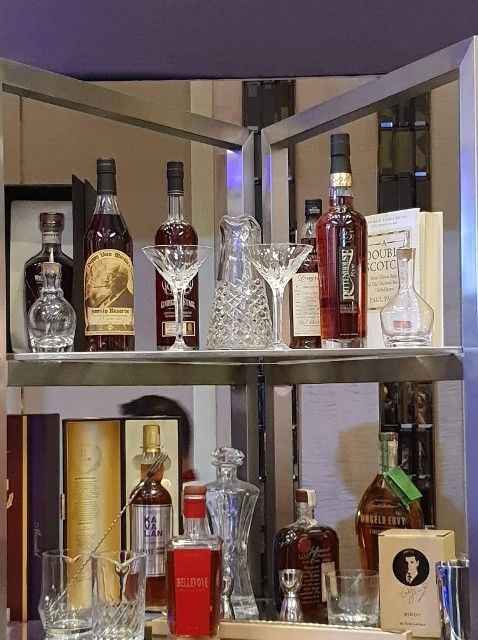 <
>
There was also a cocktail competition and 12 master classes facilitated by leading whisky experts.
The master classes include deconstructed tasting, cocktail 101, flavor distinction of different casks, art of blending, layering of the flavors and blending session, among others.
Those who did not join classes were still able to learn from brand owners and international ambassadors who manned their brand's booths.
The brand ambassadors present include "Keeper of the Quaich" and Glenmorangie's Murphy Chang, Hendricks' Charmaine Ann Thio, Balvenie's Neil Strachan, Chivas' Hamish Houliston, Macallan's Keith Nair, Beam Suntory's Jamey Merkel, and Pernod Richard's Fintan Cannon.
Industry experts Ian Chang (Kavalan Master blender), Giancarlo Bianchi (Technical director of Penderyn Distillery), Stephan Berg (Owner and creator of Bitter Truth) and Cedric Mendoza (Head bartender of the 3rd bar in the world, Manhattan) also graced the event.
Discovering old and new gems
Apart from learning from the experts, the sneak-peek of upcoming whiskies and private preview of rare bottles were still the stars of the event.
Johnnie Walker's South East Asian Marketing director Neil Skinner revealed that they would launch the "Game of Thrones" drink White Walker in December while Chivas' Houliston said they would unveil Chivas XV next year.
RELATED: Winter is Coming: 'Game of Thrones'-inspired whisky to launch in Philippines this December
For the first time this year, Johnnie Walker also set up a House Private Suite at Whisky Live where they let some guests taste and view the most-prized aged whiskies from ghost or silent distilleries.
Skinner explained that ghost distilleries are those distilleries that no longer make whiskies and are "seemingly non-existent."
The featured rare whiskies in the private area include Convalmore, Cambus 40, Brora 34, Brora 37, and Port Ellen 37. All of them are aged 30 years and above and are priced at no less than six-digits in Philippine peso.
The brand said the sought-after Port Ellen 37, also one of the most expensive and rarest, is no longer relaunching despite rumors that it would reopen in the market.
Meanwhile, Bruichladdich highlighted its famed products, Port Charlotte, the heavily peated version of its malt whisky and Octomore, the most heavily peated whisky globally.
"As people would know Bruichladdich is one of the genuine craft whiskies available in the industry. It's 100 percent islay. It represents islay as a brand, well not just by brand but also because of its liquid. It's one of the whiskies that we can claim each barley that's used in this whiskies are hundred percent 100% Scottish barley," the brand representative told PhilStar.com.
Some booths also featured award-winning liquors. Ardbeg boasted is newest product, Ardbeg An Oa, rated 95.5 points in single malt category by whisky authority Jim Murray.
Murray is a well-known whisky critic and author of the annual updated book on the liquor titled "Whisky Bible."
"It's a good score for us coming from the God of Whisky Jim Murray," Robles said.
On the other hand, Glenmorangie, one of the most awarded whiskies, took pride in its Glenmorangie Signet, the 2016 Whisky of the Year. The brand also showcased its Glenmorangie Lasanta 12, a gold medal awardee in the International Wine and Spirit Competition.
The fun does not end in drams, as participating brands also prepared interactive activities. Monkey Shoulder had claw machine and video games in its booth while Hendricks Gin had a bartender magician manning the booth and even offered free caricature to its guests.