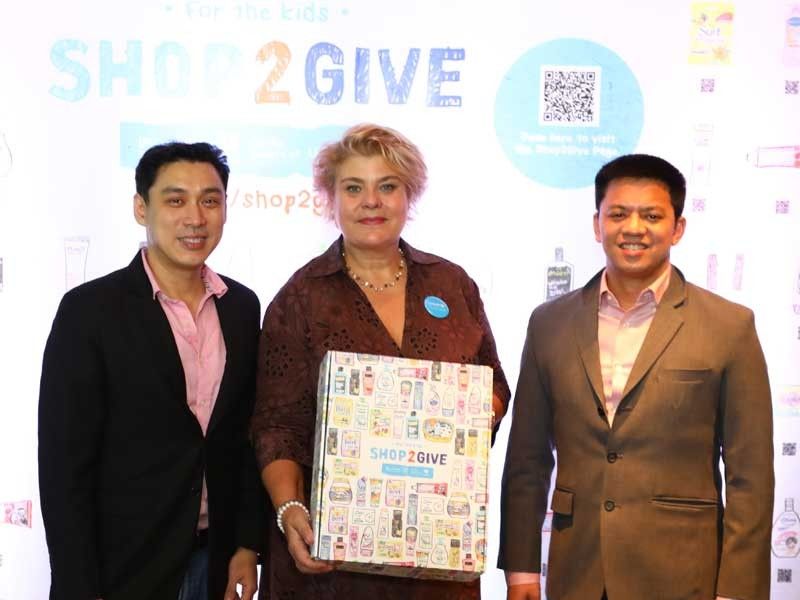 Unilever Philippines chairman and CEO Benjie Yap, UNICEF country representative Lotta Sylwander, and Lazada Philippines CEO Ray Alimurung at the launch of Shop2Give.
How did a day of online shopping benefit the children of UNICEF?
MANILA, Philippines — Online shopping has revolutionized the way we consume products — anything can be bought off of the internet. So how do you turn this consumer behavior into a force of good? Unilver Philippines has innovated to combine e-commerce and philanthropy through Shop2Give, a one-day shopping event on Lazada that benefits disadvantaged children through UNICEF.
Last Oct. 17, Unilver Philippines took over Lazada's interface, changing all the brand's product photos into quirky illustrations, reminiscent of a child's doodles. Apart from getting access to deals up to 80 percent off and even buy one get one promos, every purchase went towards Shop2Give's beneficiaries: Unilver Philippines matched each purchase with a donation to UNICEF.
As a brand that is present in almost 99 percent of Filipino households, Unilver could have easily held the promo in their physical stores and supermarkets. So why go online? Unilver Philippines CEO Benjie Yap explains that while the brand already has similar programs offline (a program with Domex aims to build more clean toilets around the Philippines), going online is a reflection of more Filipinos buying online. "More and more Filipinos are starting to shop online, and we follow where the consumers are. We follow where their habits go," Yap explains. "We want to make sure that winning with purpose happens everywhere."