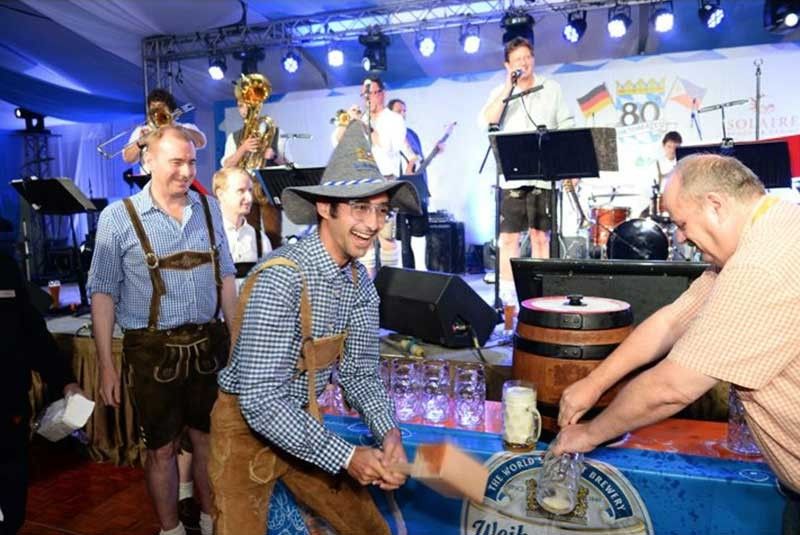 Hammer on: Enzo Razon presides over the "O'zapft is!" or "Tapping of the Barrel" during the opening night of the 80th Oktoberfest celebrations at Solaire Resort & Casino.
Photos by Joey Flores and Julius Sanvictores
Oktoberfest at Solaire: Drinking beer, watching a German band play funk — as 99 red balloons go by
Hey, Humanity, how's it hanging? Well, you could say that the state of the human race could be likened to a bus driver who is going through a very rough patch — around 40- to 60-grit industrial sandpaper roughness. There are extremists working with annihilative cookbooks, a president is lording over a post-"covfefe" world, and the strangeness of today's weather blows any Scyfy Channel Sharknado flick, well, out of the water. We are like that girl with a red, heart-shaped balloon in Banksy's painting at Sotheby's: once we start looking like a million dollars, we promptly and automatically self-destruct. Speaking of balloons, the last verse of 99 Luftballons makes me picture a man in the middle of some apocalyptic ruins, looking for a souvenir, letting go of that last red balloon of someone's memory.
But the beat of the song is no downer at all — as proven by the gyrating bodies during The Bavarian Sound Express' performance of the Nena song during opening night of the three-day Oktoberfest celebrations at Solaire, the country's official Oktoberfest venue.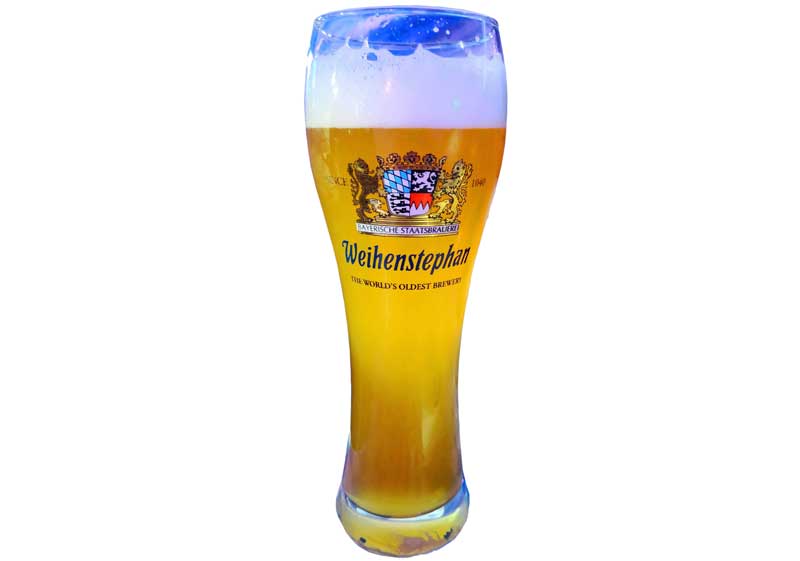 Weihenstephan is pure wheat beer in golden yellow — with white foam, a fragrance of cloves and, according to beer connoisseurs, a "refreshing banana flavor."
I need a drink. They need a drink. The whole world direly needs a drink after the augustness of August and sepulcher-like September. October could not come soon enough. Prost!
It is the 80th incarnation of Oktoberfest, and the good people at Solaire Resort & Casino and its partner The German Club saw to it that the 2,400-sqm Solaire tent had the same look and feel of an authentic German Oktoberfest shindig. It was like getting transported to Munich with its resplendent blue, ceremonious white and a procession of lederhosen.
Martin Scheile of The German Club (a 112-year-old membership club in Manila) was the host for the evening, and he was joined by Eiffelene Salvador as co-emcee. Tobias Rast, president of the German Club; Bastian Breuer, vice president for food and beverage of Solaire; and Felix Grasser of the Embassy of the Federal Republic of Germany in Manila welcomed guests.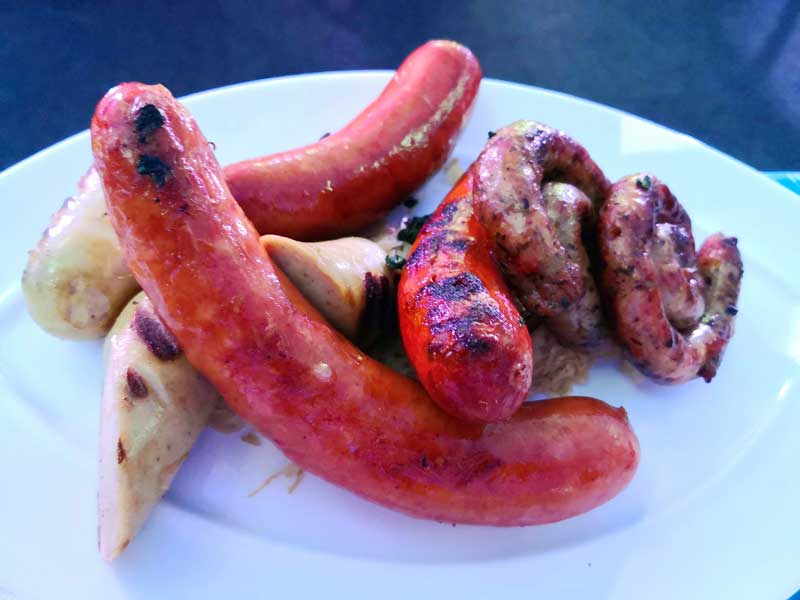 Solaire's Oktoberfest sausage platter is best paired with Weihenstephan beer.
"O'zapft is!" or the "Tapping of the Barrel" officially started the celebrations with artist-filmmaker Enzo Razon (son of Solaire chairman and CEO Enrique K. Razon Jr.) doing the barrel-tapping ritual. He was joined by Breuer, Rast as well as pop singer Martin Nievera, who went on to perform with The Bavarian Sound Express on a few numbers including Queen's Crazy Little Thing Called Love and The Beatles' Let It Be.
The German soul and R&B unit would also perform tunes such as Don't Stop Believing, Despacito and — surprise, surprise! — VST & Company's OPM boot-shaker Rock, Baby, Rock. The band's hot German female lead singer even took on the anthemic Manila Girl, an old Pinoy punk classic transformed into a ska hit by Pu3ska.
The evening's menu featured oven-fresh German breads and pretzels, three different kinds of salads (a German potato salad, Munich-style sausage salad and cabbage salad), and a platter of German cold cuts and various cheeses.
The sausages and main courses include Spaetzle Pan, a homemade noodle dish with cream, mountain cheese and crispy onion; an assortment of sausages in pots like the weisswurst; as well as platters of grilled coarse pork sausage, veal sausage, Swabia red bratwurst, Kaesekrainer, crispy pork knuckle, pork schnitzel and meat loaf.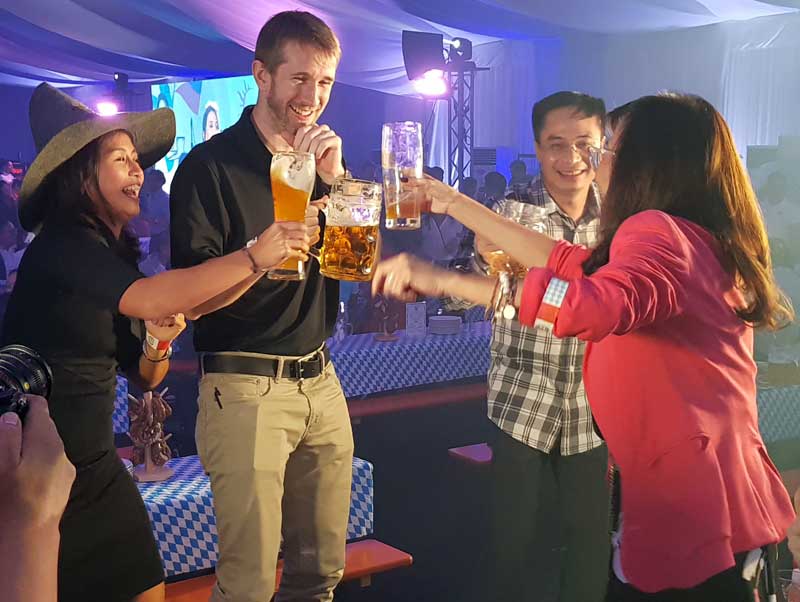 For those about to chug, we salute you.
The dessert takes on the classic strudel and Kaiserschmarrn, which is shredded pancake with rum raisin, berry compote and vanilla sauce.
But the king or queen of Oktoberfest is undoubtedly the beer (not the European beauties in black my drummer-friend Julius Sanvictores posed with for a souvenir photo). My band mates in The Black Vomits (Jules and Bryan Escueta) were solid in declaring Weihenstephan as one of the best beers they have ever tasted. And those guys are quite knowledgeable about the brews of the world, as well as Dream Theater LPs.
Weihenstephan is pure wheat beer in golden yellow — with white foam, a fragrance of cloves and, according to beer connoisseurs, a "refreshing banana flavor." It goes well with anything: from the tastiest sausages and cheeses that are staples in Oktoberfest parties, to a pack of all-time-favorite V-Cut. The beer is a full-bodied, smooth yeast-tasting beer brewed on the Weihenstephan hill.
I could just imagine standing on top of that hill on a magical October day — no more worrying, no more super-scurrying. With a mug of Weihenstephan beer in one hand, red balloon in another.
* * *
For details and information about Solaire Resort & Casino, call 888-8888 or visit https://www.solaireresort.com/.