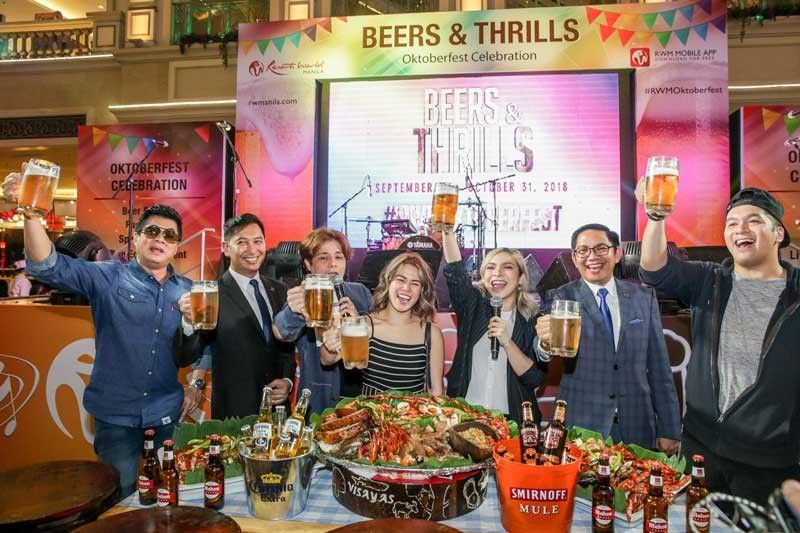 Bar 360 regular performer Randy Santiago, Resorts World Manila (RWM) corporate communications director Joee Guilas, host Reb Atadero, All Out of Love lead Tanya Manalang, host Candy Gamos, RWM integrated marketing director Gerald Magtoto, and guest performer Rox Puno at Resort World Manila's Oktoberfest kick-off party at Newport Mall.
Photos by Geremy Pintolo
Beers, thrills and that mad opera called Oktoberfest
The first time I really understood the meaning of the song Beer by The Itchyworms was the time guitarist Noli Aurillo played it in a half-empty bar in Malate — alone, kundiman-style, with all the shrunken heads in that joint along Remedios Street imagining empty glasses, absent gods and lost loves. And every one of those notes rang true. What do those beautiful losers inside the bar really want, as the classic OPM song asks: is it true love or a bottle of that lovely inebriating flow of golden brewski?
Fast-forward to this moment, as my friend Julius and I have installed ourselves around one of the tables inside Resort World Manila's Newport Mall for its inaugural Oktoberfest session. Of course, the Jules Man would rather have the girl, who is somewhere under Turkish skies and half a world away. But for now — holy guacamole — there is an ocean of beer before us (from SMB to Sapporo to Corona to what-have-you), a banquet of delightful flavors, as the guys from Itchyworms serenade everyone with their sunshiny riffs and that same song about beer and forgetting.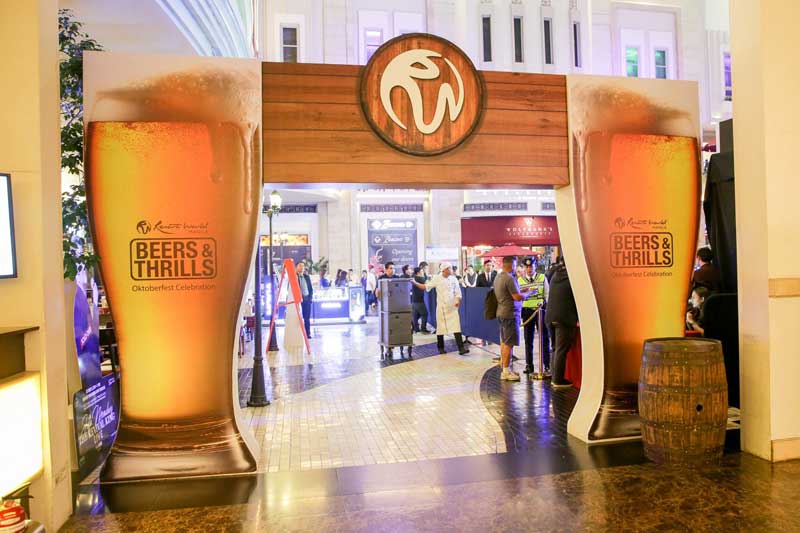 Through the looking glass: "Beers & Thrills" is ongoing at Resorts World Manila until Oct. 31.
Cheers, dudes, and welcome to the October country.
The good people from Resorts Worlds Manila (RWM) have decided to give this year's Oktoberfest celebrations a more Pinoy twist with the "Beers and Thrills Festival." Picture this: a neighborhood gathering where there are benches, free-flowing beer, hot and spicy pulutan in pots and pans, parlor games, and a couple of people picking up guitars and sound-tracking the entire enterprise (only in this case, you have the likes of The Itchyworms and Barbie Almalbis performing their own unforgettable numbers).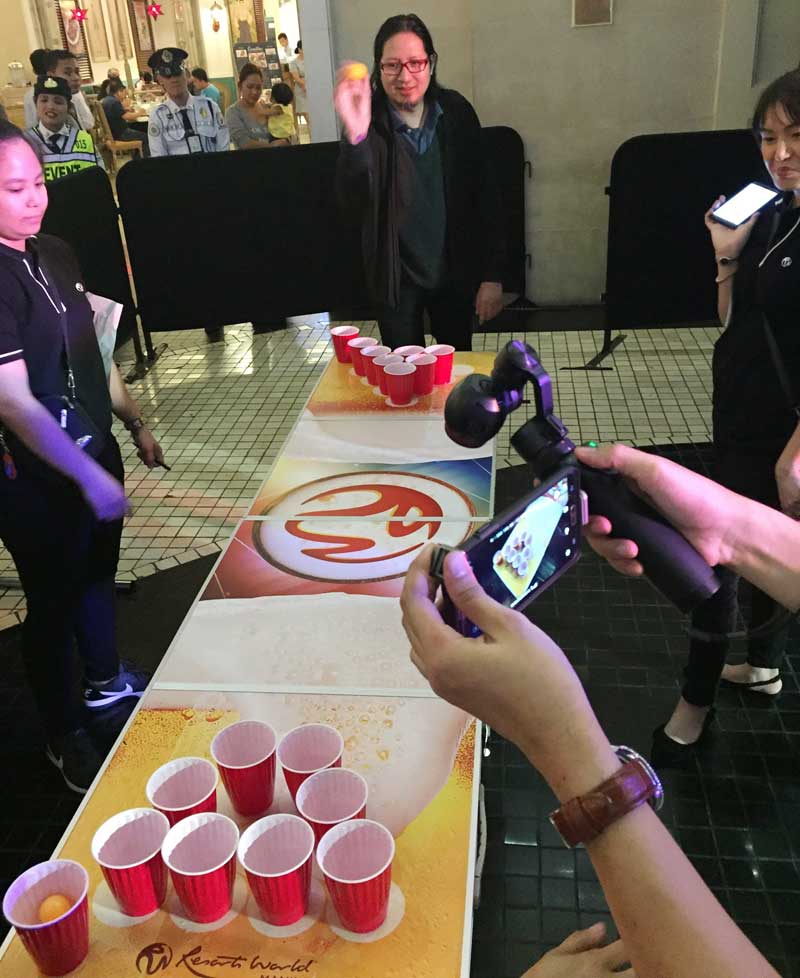 The Black Vomits drummer Julius Sanvictores plays a round of beer pong.
The festival is a combination of "German tradition, American drinking games and the effervescent Pinoy spirit." For the month of October, RWM and Newport Mall restaurants will offer innovative beer-match cuisines as well as beer-infused dishes.
Cantonese Restaurant Passion serves a spicy Szechuan wok-fried chicken dish with a bottle of Tsing Tao beer large enough for a couple (P588+). Café Maxims boasts its sausage-and-mash special — a traditional German wurst smothered in rich onion gravy and partnered with a side of mashed potatoes (P390+).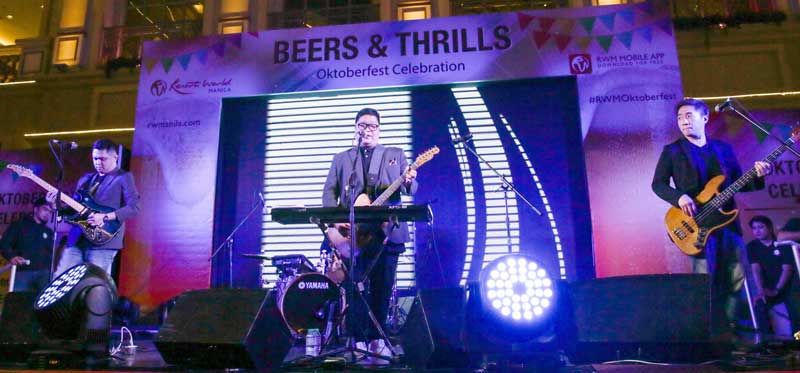 The Itchyworms serenade guests with their song Beer.
Franks sports bar gives its all-American hotdog a German flavor with the bratwurst sandwich, a meaty and flavorful sausage on a bun filled with toppings of your choice and a side dish to boot — plus, some beer and soda (P335+).
For customers who want to rev things up, they might want to check out RWM's fine-dining restaurant Impressions which offers "Recipes for Cheers": a platter loaded with 200 grams of authentic bratwurst, strips of grilled pork belly, biscuits, special pie, and ice-cold beer (P1,400+).
Other signature RWM outlets like Ginzadon, Victoria Harbour Café, Silogue, and The Terrace have also cooked up their own "Beers and Thrills" specials.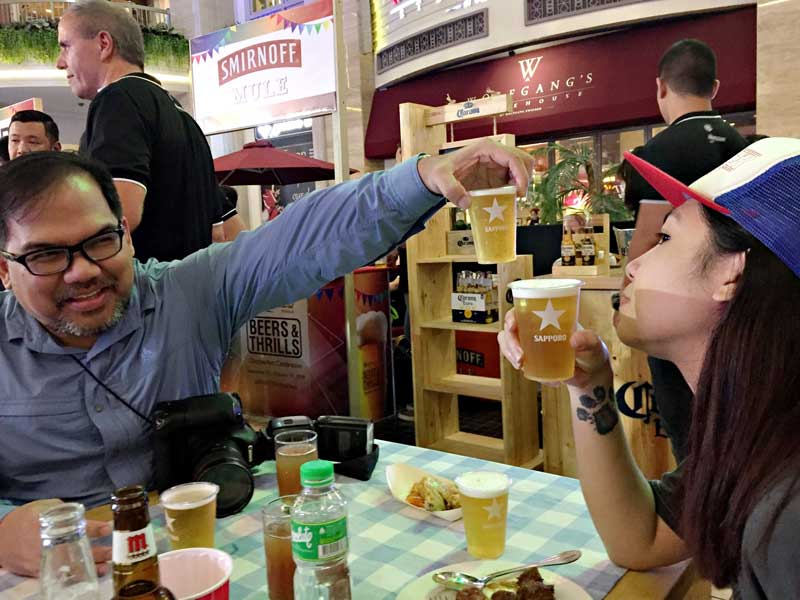 More revelers at the Oktoberfest gig in Newport Mall
Belmont Hotel joins the festivities with promos such as "Barbeque and Beer All You Can" on all Saturdays of October from 8 p.m. to 11 p.m. As the joint promises, "Eat to your heart's content with unlimited barbeque on offer and guzzle down as much draught beer and cocktails for only P1,500+."
Marriott Hotel Manila's famous Cru Steakhouse offers great deals on its German beef slider, a mouthwatering homemade meatloaf garnished with tomato, onion, and quail egg (P390+).
Our friends at RWM inform us that various lagers and pilsners from around the world are available for quaffing, including Asahi, Hoegaarden, Stella Artois, Heineken, Corona, Tsing Tao, Budweiser, and San Miguel, to name a few.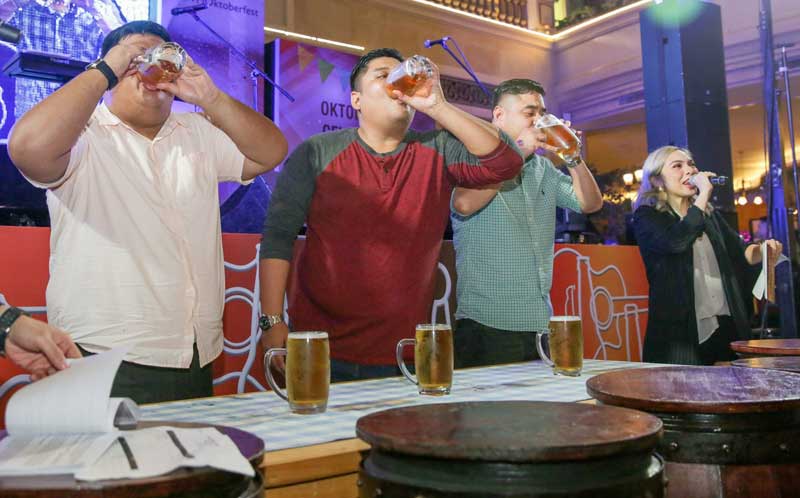 The beer-drinking challenge
Before the "Beers and Thrills" launch is over, guests would get to sample the beer-matched cuisine (with Cru Steakhouse chicken wings making the best pairing), participate in beer-drinking contests, play beer pong, and listen to Pinoy musicians. Through beer-induced fogginess, I would make Jules choose between: "more beer or the belle?" And he would answer, "Both."
Well, that might work. At Resorts World Manila, beneath the Oktoberfest moon, surrounded by drinkers and dreamers, magic may transpire at any moment. If not, just ask the bartender for more Hoegaarden.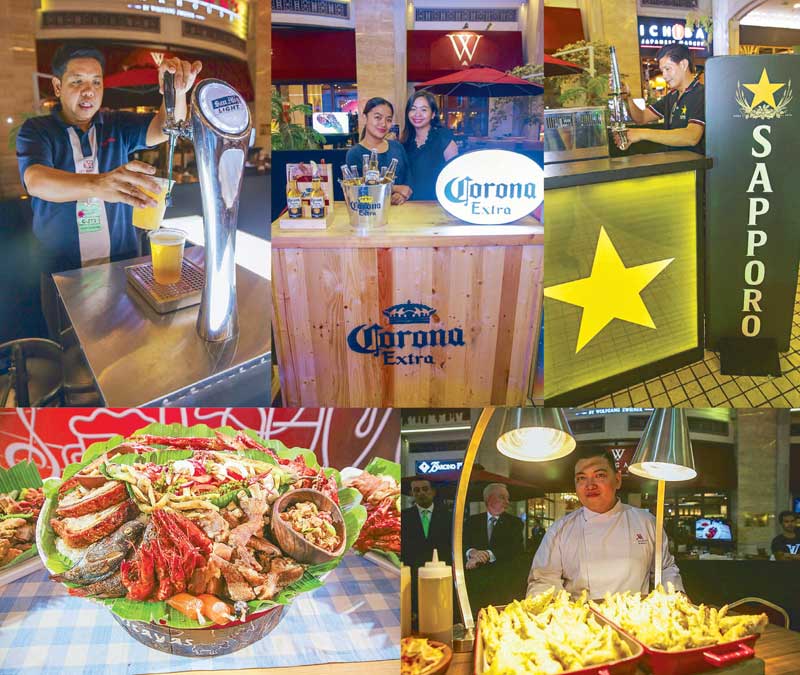 Let's drink to the hardworking people: Beer-infused dishes paired with the world's best beers (Corona, Sapporo and SMB, among others)
* * *
For information about Resort World Manila's Oktoberfest offerings, visit www.rwmanila.com or call the Tourist/Visitor Hotline at 908-8833. Follow #RWMOktoberfest on social media.