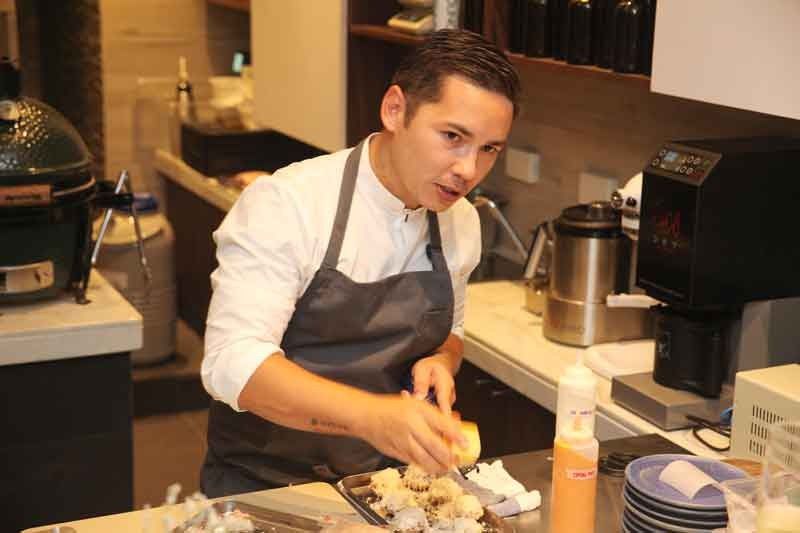 At the helm: Chef Josh Boutwood at his signature restaurant Helm in Bonifacio Global City.
Photos by JOEY VIDUYA
Josh Boutwood Helms His Dream Restaurant
MANILA, Philippines — 'When I moved to Manila from Boracay I realized that I wanted to have a place that I could call my own, be my own, express myself and have it exactly like this,' Boutwood says about Helm.
We food writers like to ask chefs about their dream restaurants. Well, Helm, Josh Boutwood's newly opened signature resto at Arya Residences in BGC, is where this chef expresses himself fully in the never-ending quest for culinary knowledge and the perfect dish.
Those who loved Boutwood's innovative cooking in The Test Kitchen will adore Helm: it's his dream restaurant realized.
You want to know what makes chef Boutwood tick? Just eat at Helm.
"Like with the majority of my restaurants, I plan them so they challenge myself," he says. "Helm has been a process for the last six years since I moved to Manila, even before Test Kitchen."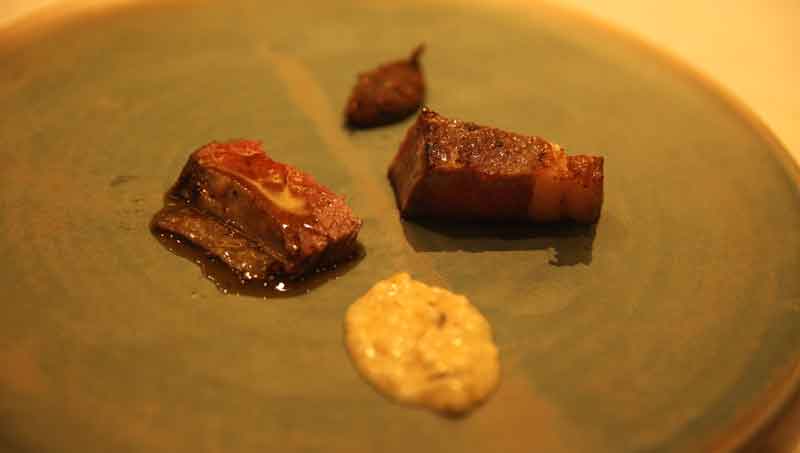 Beef, Mushroom features two kinds of beef: Braised Kitayama short rib glazed in oxtail and tamarind jus, and pan-cooked strip loin with mushroom quenelle.
Test Kitchen was literally Boutwood's test kitchen — a laboratory to develop culinary ideas that would also inform his daily work as corporate chef for The Bistro Group's 60 restaurants. "All we did was knock down a couple of walls and put in dining tables," he admits. "It wasn't what I had in mind for my signature restaurant. When I moved to Manila from Boracay I realized that I wanted to have a place that I could call my own, be my own, express myself and have it exactly like this."
"This" is a 30-sqm space located right underneath another of the chef's restaurants, Savage. Helm's signage is so small and subtle you might miss it, but enter the main door leading up to Savage and Helm's entrance is to your right.
An L-shaped counter greets you, with space for 10 seats. Boutwood and his team of young chefs work quietly at the center, assembling plates with a minimum of drama and a maximum of efficiency. The mise en place has all been done, the herb oils are in their bottles ready to be squeezed and powders in their containers waiting to be scooped, and the timings for the bread and proteins are spot-on.
Boutwood is a chef with nothing to hide: no temper, screaming or pans thrown. The knives are drawn only to cut food.
"That's not how I am," he chuckles. "I have a very calm temperament."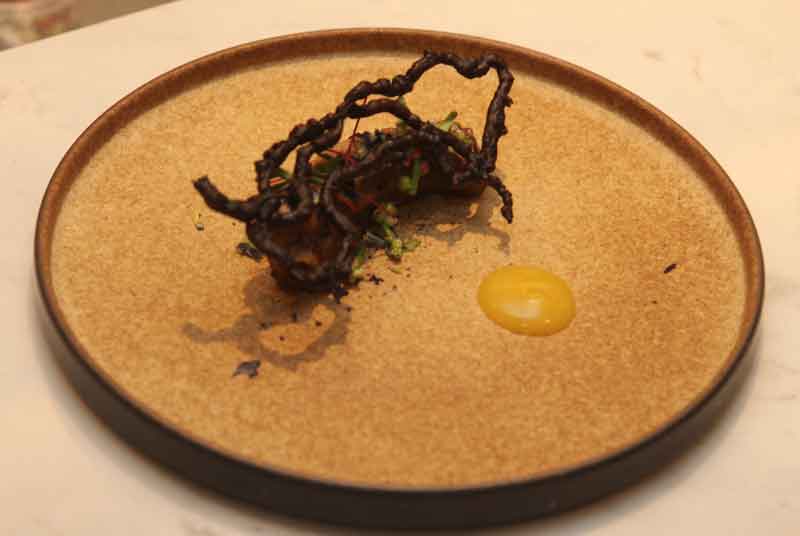 We want to go savage on the Pork, Pineapple dish, with its fall-off-the-bone pork rib and spicy pineapple gel topped with fried pig's blood.
Before the first main dish he serves an assortment of snacks. A single crab tart is stunning in its flavor and presentation. Made of blue crabmeat on a crisp tart shell with crab fat underneath, grated Malagos queso rustico on top and a fennel flower for punch, it's a whole undersea world in a bite, and an extremely auspicious start.
Next is Kitayama beef tartare on a crunchy pancake, with Cryovac-ed egg yolk gels, pickled red onions and young chervil. The chef likens it to a breakfast pancake, but we're thinking more gourmet mini-pizza.?
Blood clams from Batangas that we drink straight from the shell remind me of that fresh-oyster scene in Tampopo. Boutwood says they're in season for only two months, so act accordingly.
Helm focuses on Filipino ingredients sourced from all over the country, from Batanes to Mindanao. Boutwood makes it a point to travel regularly with his team to discover the best farms and suppliers.
"We're going as local as we possibly can, taking advantage of the abundance that we have here in our country and exploring ways that we can create dishes using local produce, but using techniques that would benefit the produce or improve it," he says. "Hence the name Helm as well. You steer a ship from the helm, you set down the anchor — this is where I would be — you would go in multiple directions but pulling the ship in one direction."?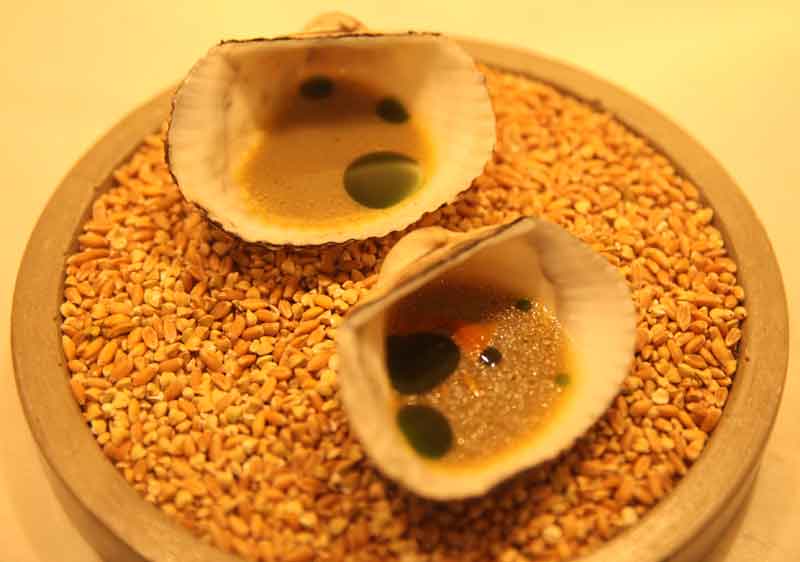 Drink it straight from the shell: Batangas blood clams with herb and pandan oil .
We love how the sourdough bun pulled seconds ago from the oven is piping-hot, but before we can dig into the butter, Boutwood explains how it's not butter at all, but rendered pork fat. "There was no butter here in the Philippines," he notes. "Margarine came in the '80s. So we've taken the back fat, cured it, blended it, taken pork scratchings and crisped those up." ?
The first actual course on the menu is simply listed as "roots, dried fish." Boutwood calls this his "humble potato," cooked in dashi made from local dried fish, reduced and evaporated. The flavor is very unexpected, the sheer saltiness of the tuyo elevating the bland tuber, and we really liked the savoriness of it.
Next comes oyster smoked in hay for 40 minutes, hidden under a bed of pickled banana heart and cucumber. We loved the wild mulberry vinegar and herb oil (you could drink it), this night using gotu kola instead of purslane due to the weather.
Throughout this, Boutwood is busy putting finishing touches on dishes and talking about the food. We mention his arm tattoos. "I have a strong belief in the number three and the triangle," he says, noting the two tats echoing this theme. "It's my favorite shape, favorite number." The kitchen itself is set up as a triangle, with three points, his post being the helm. "All of our dishes are composed of three main ingredients. From those three we're able to create a balance." The three points all connect in some way with his food. "For me, it's a happy number." ?
We next feel like going savage on the pork and pineapple dish, with its fall-off-the-bone braised pork rib, spicy pineapple gel, pure essence of pork gleaned from pig's trotters, beetroot shoots and alugbati flower, topped with an interesting choice: fried pig's blood. What inspired this dish, we ask? "Pork and blood stew (aka dinuguan)." Interestingly, both are nods to Boutwood's Filipino and British roots.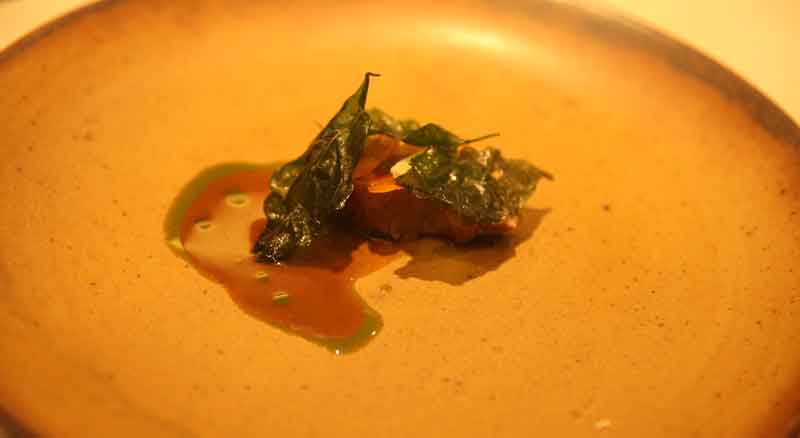 Helm's duck dish is a winner — extremely tender and flavorful.
We have duck next, sourced from a Laguna farm that provides all of Helm's poultry and eggs. Extremely tender and flavorful, this dish would give all the roast duck places currently popping up a run for their money.
For his final dish Boutwood gives us two types of beef on a plate: braised Kitayama short rib glazed in oxtail and tamarind jus, and pan-cooked strip loin with an accompanying mushroom quenelle made of seven kinds of mushroom. (Heavily reduced to bring out optimum umami flavors, we notice Boutwood applies this technique to the majority of his Helm dishes.) A little pool of adlai porridge gives it an earthy kick. The beef is heavenly; Josh knows his way around a cut of meat, no doubt bolstered by his Savage experience.
Dessert follows: refreshing yellow and green Guimaras mango bathed in warm duck-egg custard and cashew powder. Boutwood manages to draw surprising apple flavor from the green mango, and brightens the bowl further with a sprinkling of yellow cosmos petals.?
Showcasing two of Davao's finest products is his Chocolate, Durian, Milk dessert with 70-percent Davao chocolate ice cream mingling with creamy durian, and chocolate Pop Rocks, burnt-milk puree, milk wafers and milk skins adding fun textures. It's a great way to sneak in durian under the radar, and so good you might feel like licking the plate.
Josh's version of petits fours finishes up: handmade meringues that look like little garden snails on a "soil" bed of cocoa nibs; chocolate truffles with pili nut butter; and a lime yema that Therese said she'd be dreaming about later. It's served with dark-roasted Sagada coffee that Josh plunges in a French press.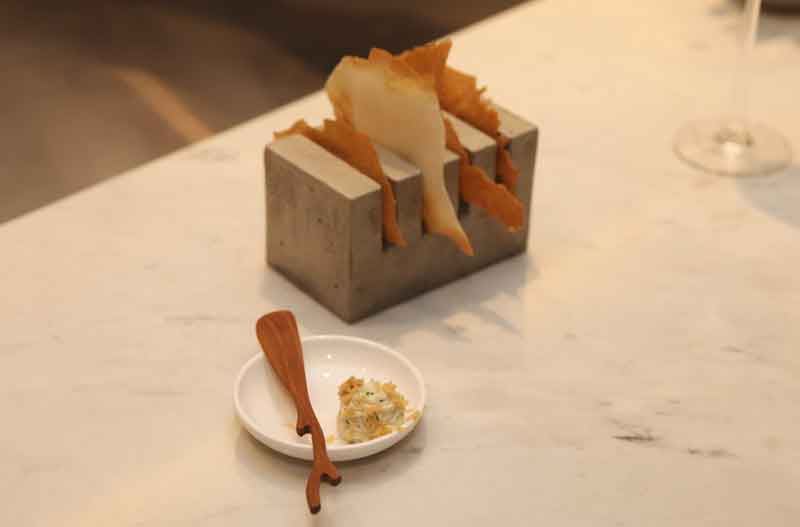 I can't believe it's not butter: Helm's lavash served with a spread of rendered pork fat with herbs and crispy pork scratchings
Expect the Helm menu to change every four months, following the seasons. "I should've done three because of the number, but the seasonality here in the Philippines goes in a four-month wave."
Another surprise is the menu design, with brief food descriptions scattered across the page. For the official opening last Tuesday, Aug. 21, it would have been overlaid with Japanese rice paper showing a map of the Philippines: you can trace on the map where each menu item comes from.
A trip to Helm helps us appreciate how Josh's food is so Filipino, yet also so global; it's not in your face, but it's very present, and true to its roots. With Helm, he highlights topnotch Pinoy ingredients in deliciously creative, surprising and modern ways on a world-class plate.?
* * *
Helm is open for dinner only with two seatings at 6 p.m. and 8:30 p.m. at G/F The Plaza, Arya Residences, McKinley Parkway, Bonifacio Global City, Taguig. The eight-course tasting menu is P3,200+; for wine pairing add P1,900+, for juice pairing add P595+. To reserve, call 0906-234-1900 or email helm@bistro.com.ph. Visit www.facebook.com/helmmnl, www.joshboutwood.com.ph or @helmmnl on Instagram.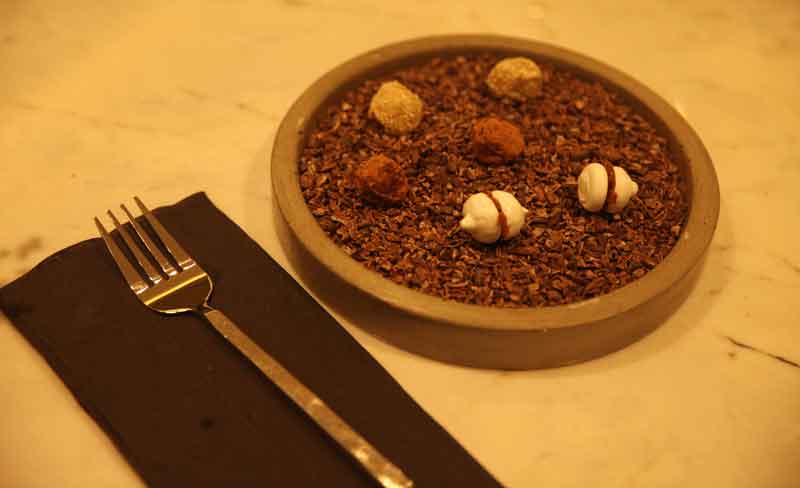 I can't believe it's not butter: Helm's lavash served with a spread of rendered pork fat with herbs and crispy pork scratchings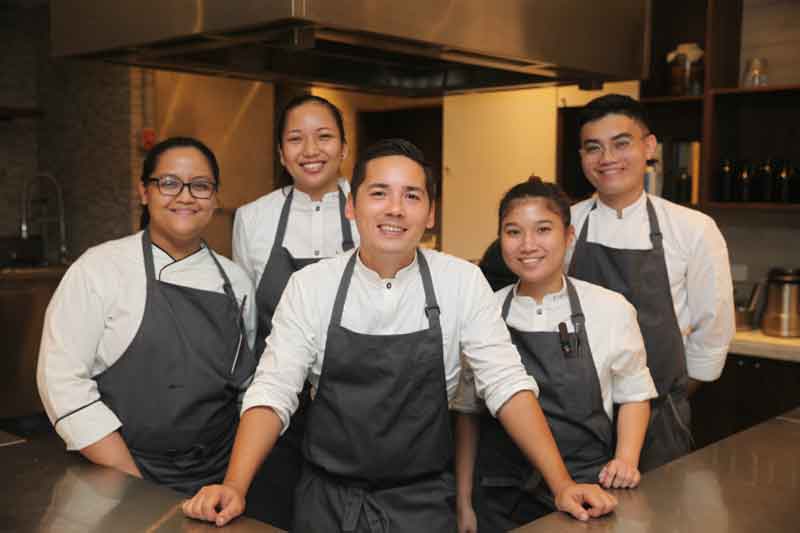 Boutwood and his team (from left) Eloisa Osias, Kristina Lopez, Joanne Calabia and Lorenzo Joaquin