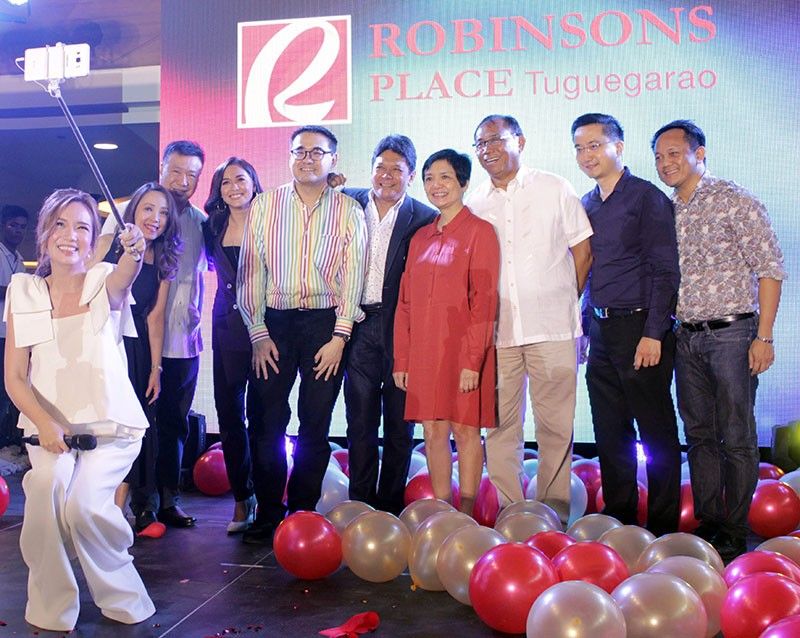 Opening selfie: Robinsons Retail Holdings Inc. president and CEO Robina Gokongwei-Pe (fourth from right)with (from left) host Karen Dupalco-Kabuhat, RLC business unit general manager for commercial centers division Arlene G. Magtibay, Cagayan Rep. (3rd Dristrict) Randolph S. Ting, RLC brand ambassador Maja Salvador, RLC president Frederick D. Go, Tuguegarao City Mayor Jefferson P. Soriano, Gov. Manuel N. Mamba, RLC executive vice president Faraday Go, and Tuguegarao City Vice Mayor Bienvenido C. De Guzman II at the opening of Robinsons Place Tuguegarao.
'Eatsplore' Tuguegarao at Robinsons Place
Epicures planning a food trip to Tuguegarao need look no further as they can satisfy their cravings for delicious Pancit Batil Patung, tapang kalabaw, garlic longganisa, even dinakdakan at the newly opened Robinsons Place Tuguegarao. Here, local restaurant players share the 60,000 square meters of retail space with not just national brands but global ones as well.
As they say, you know you're in Tuguegarao City when everywhere you look there's a panciteria — offering their versions of Pancit Batil Patung —waiting to be "eatsplored."
This famous Cagayan delicacy is not just your ordinary pancit. As its name implies, (batil means mix, while patung means topping) this noodle dish has a merry mix of carabao beef, pork liver, bean sprouts, sliced leeks and carrots topped with chicharon and freshly cracked egg, which will be cooked by the heat of the pancit. Pancit Batil Patung isn't complete without a cup of kaldo (soup), which is poured over the noodles.
At Robinsons Place Tuguegarao, you can have your fill of this famous noodle dish at Criselda's, while those craving for the pancit Malabon variety should check out Alice Pancit.
Baker's Percent bibingka and other kakanins
More pasta dishes await diners at Franco's by Manio's Pampangueña, a restaurant that serves Kapampangan cuisine and local fare with a twist. It's a spinoff on one of Tuguegarao's popular restaurants, Manio's Pampangueña, which opened in Tuguegarao City in 1958.
"My grandfather, who was a posporo (match) agent, moved here because he saw a lot of potential," related Franco's owner Rea Manio Driz. "He was offered a space and started a restaurant business. My grandma was the cook in our family."
Franco's Dulong Pasta doesn't look as festive as the Pancit Batil Patung, but it's packed with so much flavor!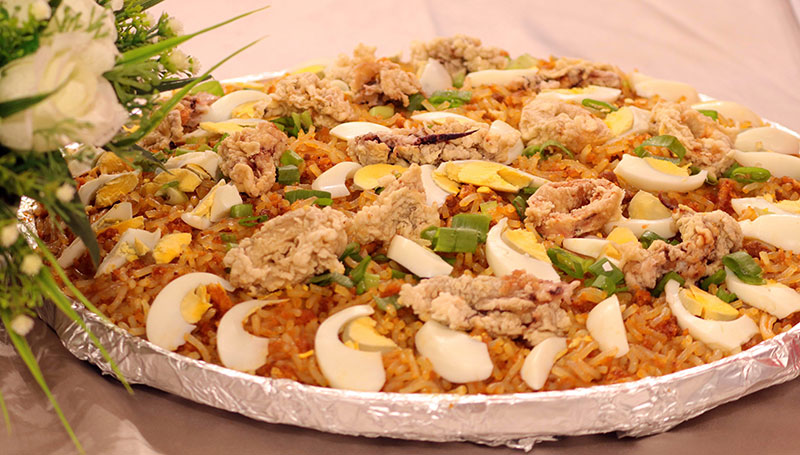 Alice Pancit Malabon
Franco's garlicky crispy pata and kare-kare are highly recommended. But don't leave the resto without trying the egg foo young (Chinese omelet), which tops the menu.
Just like Rea's grandfather, another entrepreneur who made it big in Tuguegarao is Fernando Penzon Borja of Baker's Percent, a thriving local bakery shop, which opened its newest branch at Robinsons Place Tuguegarao.
At 13, the hardworking Mang Fernando started as a helper at his aunt's bakery just so he could have baon for school. He wanted to learn how to bake but his chores in the bakery and studies ate much of his time.
"What he did was saved some of his earnings to pay the master baker for one-on-one baking sessions," shared Rose Borja-Mendoza, daughter of Mang Fernando.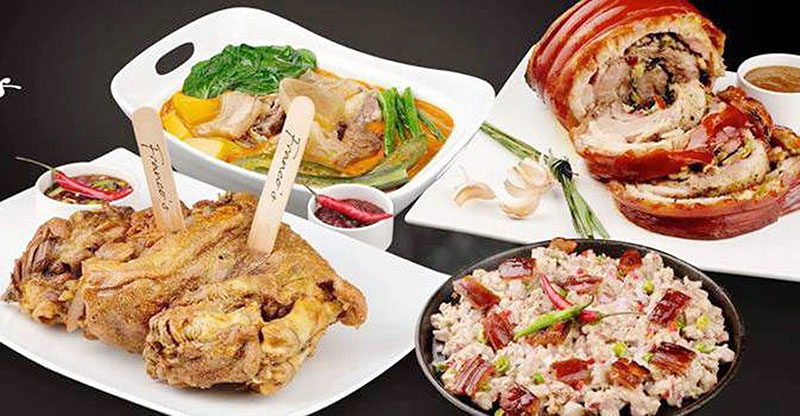 Franco's Pinoy treats
But it was only when Mang Fernando started his own family that he was able to put his baking skills to good use.
"In 1980, my dad learned that Jollibee Foods Corporation (JFC) was in need of a baker so he tried his luck," continued Rose. "The only thing the interviewer asked of him was to make a good bread out of the dough they had. To make the long story short, my dad was hired right away."
Mang Fernando served as production manager of JFC for 19 years. In 2001, he was assigned to Tuguegarao to look for a bakery that could supply breads for Jollibee stores in Cagayan and Isabela. However, no bakeshop met JFC's standards. And that's when Mang Fernando decided to resign and put up his own bakery instead to cater to JFC's bread needs.
"Right now, Baker's Percent is the biggest partner and supplier of bread products of Jollibee Foods Corporation," added Rose.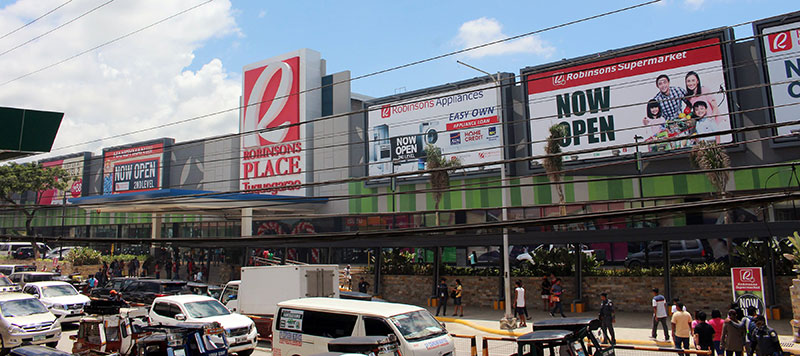 Robinsons Land Corporation opens its 50th mall — Robinsons Place Tuguegarao — in the country.
A native of Cabanatuan, Nueva Ecija, Mang Fernando now calls Tuguegarao his home.
Baker's Percent, which has several branches in Tuguegarao City, Cagayan, Isabela and Ilocos, offers freshly baked breads, pastries, cakes and savory breads such as Pizza Bread and Crispy Empanada.
Maritel's, on the other hand, is a bakery and cake shop that's famous for its potato bread and Mango Bravo cake, layers of sponge cake with mango cream frosting topped with mango slices.
Another restaurant that drew in crowds during the opening was Slobber Lab, a hip laboratory-themed burger joint that serves gourmet burgers, chicken and pasta.
A homecoming for Maja Salvador
Robinsons Place Tuguegarao's opening was a huge success as droves of Cagayanons trooped to the mall hours before it opened. In fact, RLC president and chief operating officer Frederick Go was surprised by the turnout.
"I wish we built a bigger mall to accommodate everyone," Go said. "Thank you, Tuguegarao for the overwhelming response."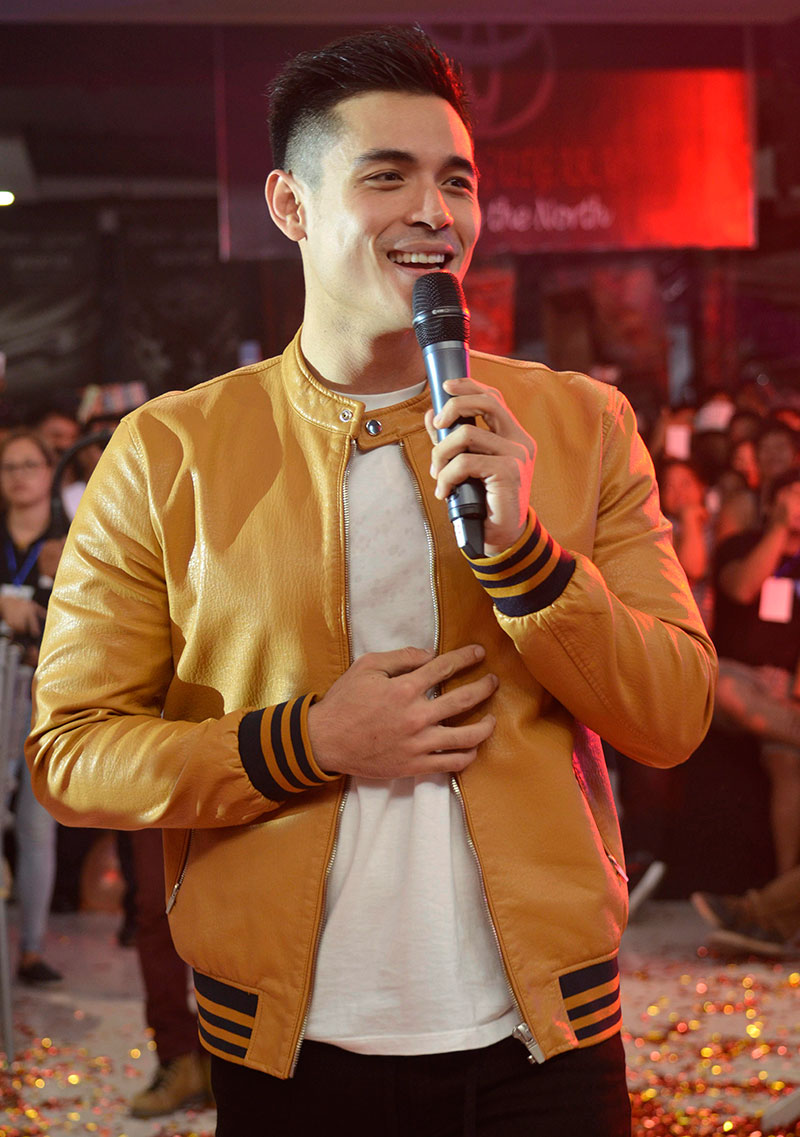 Xian Lim performs during the opening of Robinsons Place Tuguegarao.
It also helped that Robinsons Land Corp.'s celebrity endorser Maja Salvador, who attended the opening, is a native of Cagayan. She was born in Aparri and speaks the dialect, which made the event more special for the people of Tuguegarao.
The crowd stayed long after the ceremonies were over just so they could have a glimpse of the Kapamilya star, who gamely posed for photos.
RLC'S Golden Mall
Robinsons Place Tuguegarao is Robinsons Land Corporation's 50th entertainment and leisure center.
Situated on a 5.7-hectare lot, the mall offers 60,000 square meters of retail space. It's located just a few minutes away from the airport and from several universities, including Cagayan State University and St. Paul University.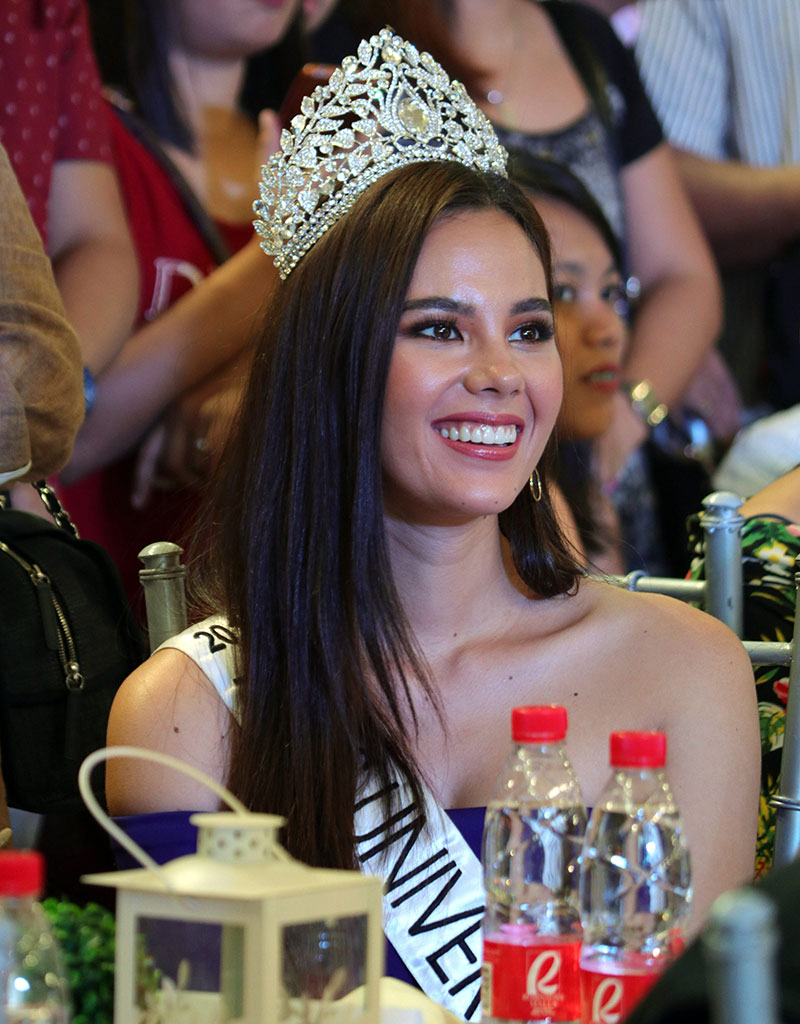 Bb. Pilipinas Universe 2018 Catriona Gray
"RLC first went to North Luzon with the opening of Robinsons in Ilocos Norte," said Arlene Magtibay, general manager, RLC. "Since that time, we were thinking of where to build our next mall. The more we did our market research, the more we were convinced that we really should open a mall here because the economic fundamentals are very solid."
Robinsons Place Tuguegarao is welcome news to Cagayanons because, for one, it houses Robinsons Movieworld, Tuguegarao's first after three years of not having one.
During the opening, tickets were sold out due to high demand.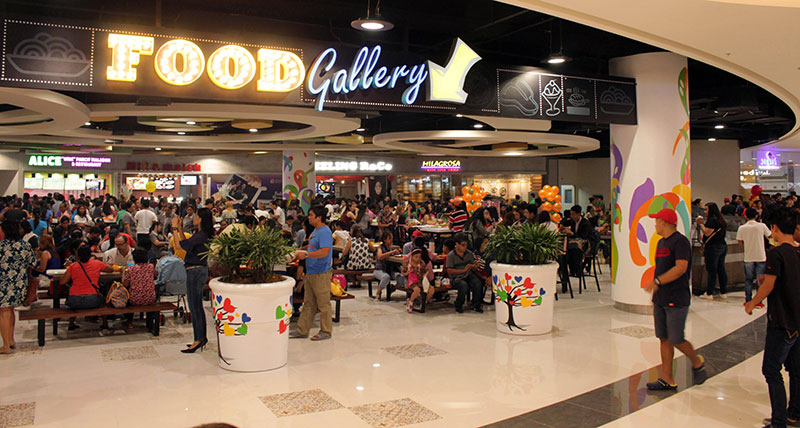 The Food Gallery tempts diners with its wide variety of food choices from popular resto chains and local players.
"Before this, the locals would have to drive for two hours to Cagayan in Isabela just to watch the latest movies," Magtibay added.
Robinsons Movieworld in Tuguegarao boasts six digital cinemas with 3D capabilities.
There are also several amusement brands that cater to families such as Tom's World, Kidzoona, Kid's Paradise and Quantum Amusement.
Home of the best
Like most Robinsons malls, Robinsons Place Tuguegarao brings in important brands to the local retail market. There's Robinsons Malls affiliate brands like Robinsons Department Store, Robinsons Supermarket, Robinsons Appliances, Handyman, Daiso Japan, Robinsons Bank, Toys R Us and Southstar Drug.
We loved Daiso's new look. The Sakura-inspired store boasts a better layout, natural wood elements and cherry-blossom accents.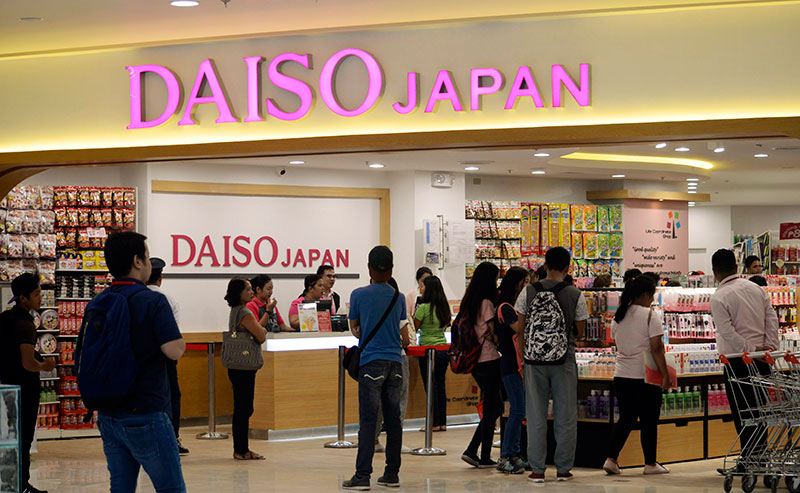 Daiso, where everything is reasonably priced
Several local brands that originated from Tuguegarao/Cagayan Valley area also have shops inside the mall. A total of 40 brands — or 20 percent of the total number of tenants — are local. These brands include homegrown restos such as Slobber Lab, Alice Pancit Malabon, Griselda's, Mix & Match, Sensei and Sizzling Race.
International fashion brands such as Uniqlo, Mango, Guess, Levi's and Vans are set to open at Robinsons Place Tuguegarao. Local brands like Bench, Penshoppe, Bayo, and Plains & Prints, among others, are now open.
Lingkod Pinoy, the public service arm of Robinsons Malls, will house full-service Pag-Ibig and SSS offices.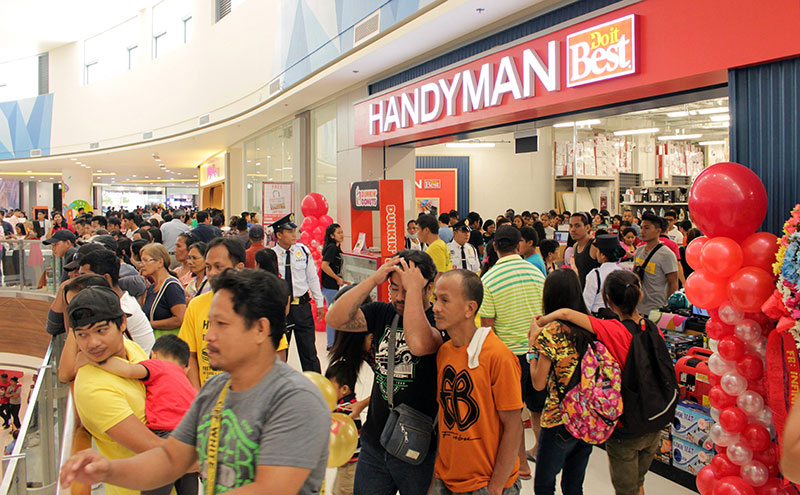 Handyman has everything handy dads and moms need for the home.
"Robinsons Place Tuguegarao ups the ante as the first full-service mall in the city. It gives residents a complete and unique shopping and dining experience that only Robinsons Malls can provide," added Magtibay.
Now, it's Cagayanon's turn to create valuable experiences with a world-class entertainment, leisure and retail center. Eats all here at Robinsons Place Tuguegarao!