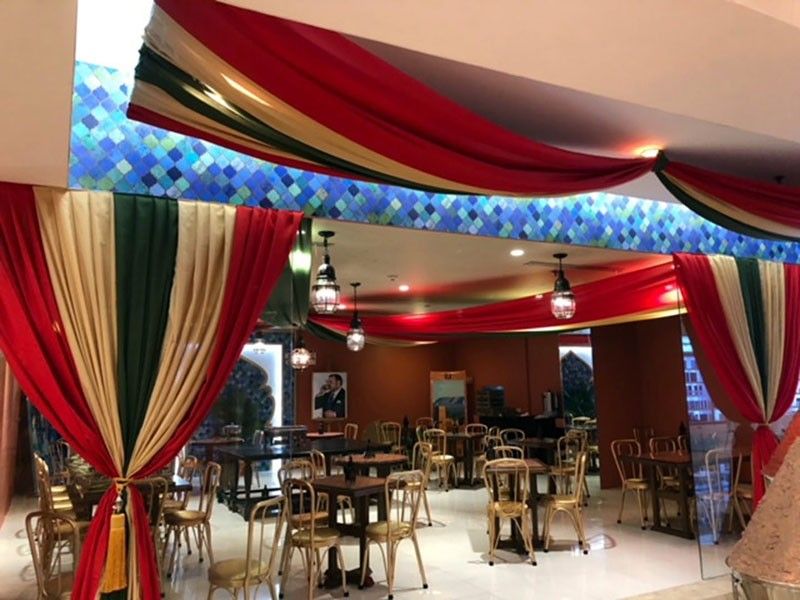 Cafe Casablanca at the 5th floor of Rustan's Makati
A taste of Morocco at Café Casablanca
Rustan's Makati brings the flavors of Morocco's tables to Manila. Like Humphrey Bogart said in the movie 'Casablanca', 'This is the beginning of a beautiful friendship.'
It has always been the vision of my grandmother, the late Gliceria Tantoco, to bring the best of the world to the Philippines. In fact, that is what Rustan's is all about. I remember when we were kids, I would look forward to the festivals highlighting different countries and meeting the ambassadors and important figures, and most exciting of all was seeing products from all over the world. At that time, travelling was a luxury so the festivals were a way of getting to know about other countries through their merchandise.
Rustan's VP for home merchandising and Philippine Honorary Consul General to Morocco Marilen Tantoco
To this day, Rustan's features different countries and I still get that same excitement because even if I have been to those places, I am happy that we can share the experience with the Filipinos.
Chef Moha Fedal
Last year, I went to Morocco with our travelling group and it was such an amazing experience, and I was so happy to find out that this month of August, Rustan's is featuring Morocco not only with products but also showcasing it in the most authentic way possible.
Fatima and Miriam, sous chefs of Chef Moha
They flew in Moroccans to showcase traditional Arabic calligraphy, Henna hand tattoos, Moroccan music by four Moroccan musicians, and Moroccan food at a café they set up for the event called Café Casablanca on the 5th floor of Rustan's Department Store in Makati.
Beef couscous with vegetables and onion confit and sultanas
You can have a taste of authentic Moroccan meals by chef Moha Fedal from Dar Moha in Marrakech, which is the former home (dar) of the designer Pierre Balmain. Chef Moha's food is amazing! Make sure to meet him because he is such an enthusiastic and passionate chef. He is a graduate of the Ecole Hôtelière de Genève and lived in Geneva for 14 years. He went back to Morocco and opened his own restaurant 20 years ago. He has reinvented Moroccan cuisine and promotes it all over the world.
We'll always have Morocco: Vegetable salads and more
"I would like to be an ambassador of Moroccan food," he says. "Last year I went to the US and won Embassy Chef Challenge 2017 in Washington, DC among 46 countries."
Here's looking at you, kid: Lunch buffet at Cafe Casablanca at the 5th floor of Rustan's Makati
For lunch it is buffet style at P1,300 per person and for dinner it is a choice from three set meals at P895. You start with Harira or lentil soup, which is served in a bowl at your table with fresh Moroccan mint tea which you can have with or without sugar. The buffet has four kinds of tagine which are all so delicious. And even if they only eat couscous on Fridays in Morocco, you can have it any day at Café Casablanca. Pastilla, which is a dish served on special occasions in Morocco, is also part of the lunch buffet. They usually serve it in one big round portion but here they have it in mini versions good for one person.
Lentil soup is a staple in a Moroccan meal
Thank you to my aunt Nedy Tantoco, president of Rustan's Commercial Corporation, for spearheading this event with Marilen Tantoco who selected and curated all the beautiful Moroccan home merchandise in the store. She's the Philippine Consul General to Morocco for the past 13 years. Make sure to stop by Rustan's Makati this month and experience Morocco.
Beef served the Moroccan way
* * *
Cafe Casablance at Rustan's Makati is open from 11 a.m. to 9 p.m. For reservations and inquiries, call 813-3739 local 296.