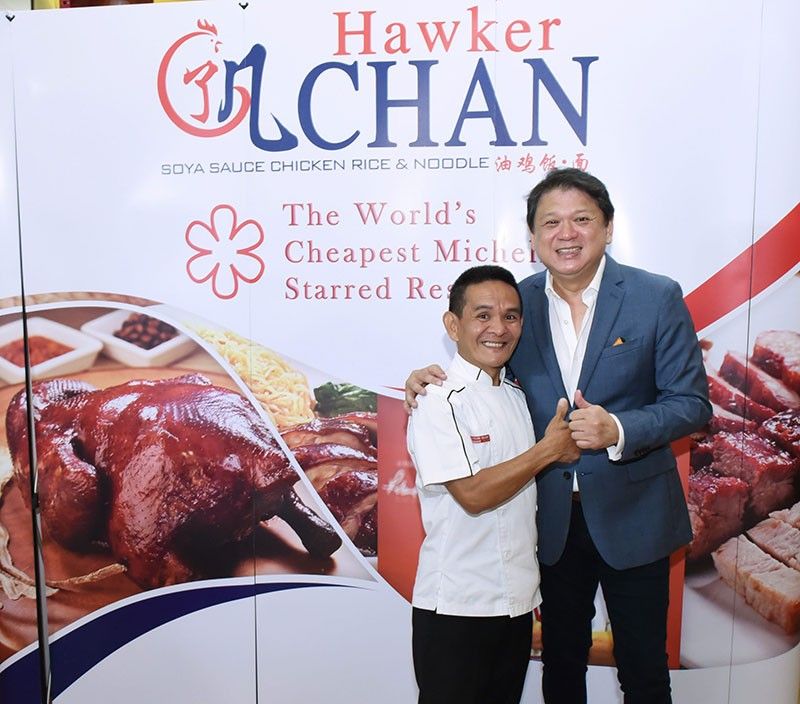 Foodee Global Concepts Inc. CEO Rikki Dee and Hawker Chan, Chan Hon Meng
A Michelin-Star meal for P128
'We hope to open 50 stores,' says Foodee Group CEO Rikki Dee.
It was the day before the 2018 Michelin Guide Singapore unveiling and Singapore-based Malaysian chef Chan Hon Meng — Hawker Chan himself — is in the kitchen of Hawker Chan Mall of Asia, preparing the all-important first batch of lo shui, the master sauce to all his dishes, with the same Filipino staff he trained with for a month and a half in his Singapore kitchens.
"It's a tradition to do it for all his restaurants," explains Foodee Global Concepts Inc. CEO Rikki Dee. "The secret of the magic is in the lo shui. And then we just refill and refill. But the original concoction came from him."
The head of a family and family business of true-blue foodies who travel the world for the most delicious and unique food experiences, the group has also brought in Michelin-starred concepts Tim Ho Wan, Foo'd by Davide Oldani, and Tsuta Japanese Soba Noodles, with Hawker Chan as its latest addition.
Even with all the recognition and global expansion deals Chan's getting, he is hands-on and focused on his food. Chan prepped the plates served during the exclusive media tasting with servings of char siew rice, roasted pork rice, and pork rib rice with the option to switch the rice to noodles or hor fun.
And then he's off to Singapore to receive his one Michelin star, a distinction his nine-year-old hawker stall Liao Fan Hong Kong Soya Sauce Chicken Rice and Noodle in Chinatown Complex has retained for three consecutive years since the Singapore guide debuted in 2016, making it the first hawker stall to ever get a star. Its restaurant version Liao Fan Hawker Chan is also listed in the Michelin Bib Gourmand. Fans need not worry because Chan will be back in Manila for the grand opening on Aug. 6.
To have a Michelin-starred experience, one typically had to shell out at least SG$45 per head, but not at Hawker Chan. All over the world, his dishes still hold the title of "Cheapest Michelin-Starred Meal." In Manila, you can have his famous soya chicken rice for P128. The most expensive item on the menu is a whole chicken at P598, which is not bad, too. That's getting more than your money's worth.
Rikki shares that at the time of Foodee's proposal to bring Hawker Chan to Manila, they were one of 10 multinational food companies "lining up, either just to get him for Asia Pacific or just to buy him out," he recalls.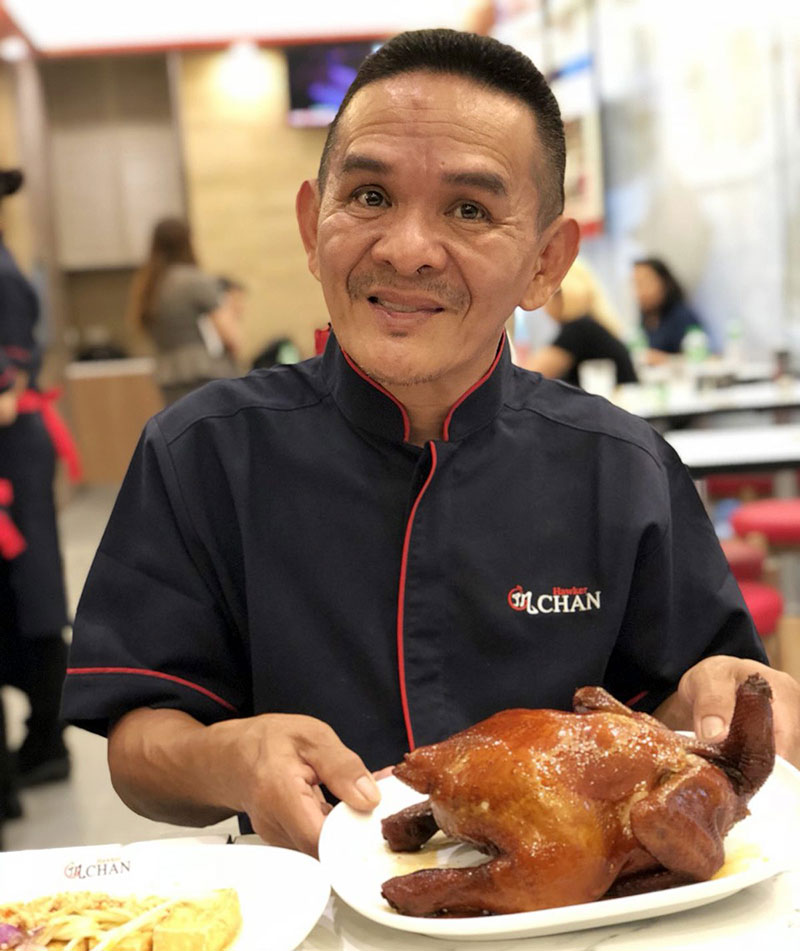 Hawker Chan's soya sauce chicken is the star, but the roast pork is also a must-try.
Rikki's passion for food is evident with Foodee's 30-year portfolio encompassing homegrown restaurant concepts like Mesa Filipino Moderne and fashion cafes Sunnies Cafe and Bench Cafe, as well as franchises Spanish yogurt bar Llaollao and American celebrity chef Todd English's food concepts.
Chan recognized it in a different way. "He told me, 'I know you know food because the moment I sat down with you to let you try my chicken, you took the white meat first,'" Rikki shares. "'And then you ate all the dark meat, so I know you like dark meat, but you really wanted to taste my chicken.'
"For me, the gauge for good chicken is the white meat. Dark meat is easy because it's soft. If you can cook white meat and make it very soft, then you must make really good chicken," Rikki explains.
Rikki's personal favorite on the menu is the three-combination plate, which has char siew, chicken, and roast pork (P270) with noodles. "I love my food with a kick, so we're putting up a chili bar which has sambal, pickled chili, and Hong Kong-style chili sauce, and our concoction of chili-tomato sauce," he says. "Our sambal — I'm so proud of it. I prefer eating with noodles so I can put the sambal on the noodles. It's not that spicy but it really brings out the fullness of flavor."
The vegetable side dishes are meant to cut the tender, savory richness of the combos with platters of seasonal vegetables, soya bean sprouts, Thai-style tofu, and wonton soup. As required of the franchise, all ingredients are sourced from Singapore.
To complete the meal, Hawker Chan will introduce desserts on the menu during the official launch, with authentic Singapore sweets like bubur cha ha, cendol, and ais kacang. They're thinking of including Chan's durian cake, too.
We no longer have to fly to Singapore and line up for hours, but I'm expecting long lines for the 86-seater space in MOA, too. "We hope to open 50 stores. Because of its reasonable price, we can expand regionally in the Visayas, Mindanao, and northern part of Luzon because of our price points. It'll be hard to maintain but it's a ballgame," says Rikki. "Filipinos will love it. It's very simple!"
* * *
In the Philippines, Hawker Chan is on the G/F of Entertainment Mall, SM Mall of Asia Complex. Dine by Aug. 5 and have a chance to win a trip to Singapore with three days-two nights full board and meals sponsored by Foodee and the Singapore Tourism Board.