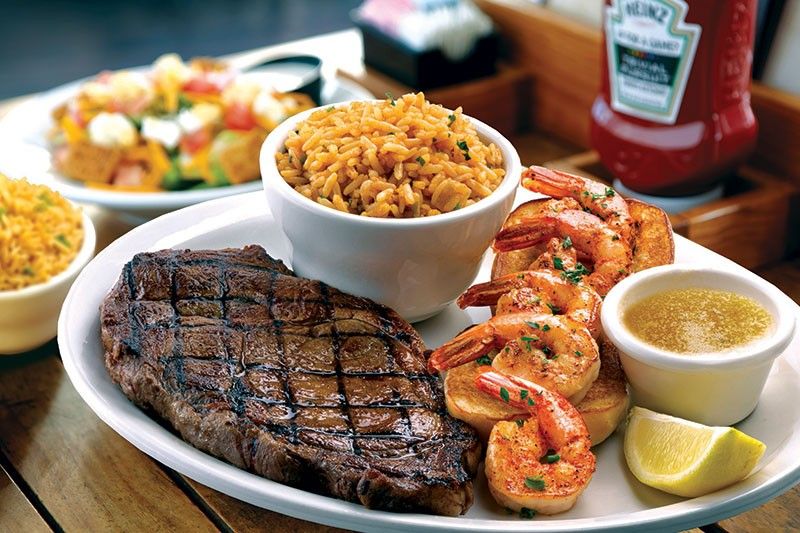 He makes the 'cut' at Texas Roadhouse
Butcher Noel Driz brings his expertise to Texas Roadhouse, home of the legendary US-grade hand-cut steaks, where he works as a meat-cutting trainer/meat production manager.
He cuts through flesh, chops through bones and slices off tendons until the animal was reduced to hundred of individual cuts of meat.
For over 20 years now, Noel Driz takes the dying art of butchering to heart, a skill he learned as an apprentice in various meat shops around the metro.
"I was only 17 when I started learning the craft. I badly needed a job that time so I grabbed every opportunity I could get," Noel recalls. "Thank goodness, I got accepted in one of the leading meat shops in the country."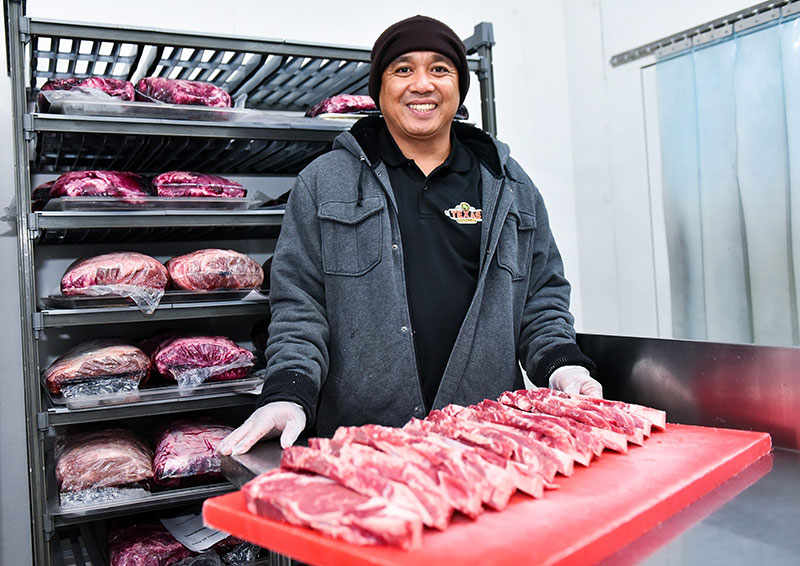 Noel Driz, meat production manager, Texas Roadhouse, meticulously handles and prepares hand-cut steaks that speak of the best quality and flavor.
But his stint didn't last long. His trainer wasn't so generous in sharing his knowledge. And so after two months, Noel had to pack his cleaver and go.
"That experience didn't dampen my spirit," shares Noel. "I practiced cutting meats at home. Then I met this guy — in one of the meat shops I worked for — who taught me how to break down (butcher) a whole pig and a cow."
The art of butchering, Noel explains, is not something you'll learn just by watching videos on YouTube or reading books. It has to be hands-on training. You can also cost someone a lot of money if you come untrained.
"I almost lost my job when my superior put me on the spot. With just little training, he asked me to break down a whole animal. I just didn't know what to do. I literally butchered everything," relates Noel. "This experience fueled my desire to improve my craft further."
A cut above the rest
"Butchering is definitely not one for the squeamish. As you get out your knife, be prepared to get blood on your clothes," Noel says with an impish grin.
Noel brings his expertise to Texas Roadhouse, home of the legendary US-grade hand-cut steaks, where he works as a meat-cutting trainer/meat production manager.
According to Noel, a great steak starts with a good meat grade and the perfect cut.
"That's the reason why a meat-cutter has one of the most vital jobs in the steak market," he explains.
It takes exemplary skill and meticulousness to handle and prepare hand-cut steaks that speak of the best quality and flavor.
The length, width and cut of steak can affect the texture, flavor and juiciness of the meat.
"At Texas Roadhouse, the meat undergoes tender loving care. Here, we adhere to the strict guidelines in meat-cutting. This is also where I learned to use a ruler just to get the measurements right. We just have to get the exact width and length of a particular steak cut," the amiable butcher adds.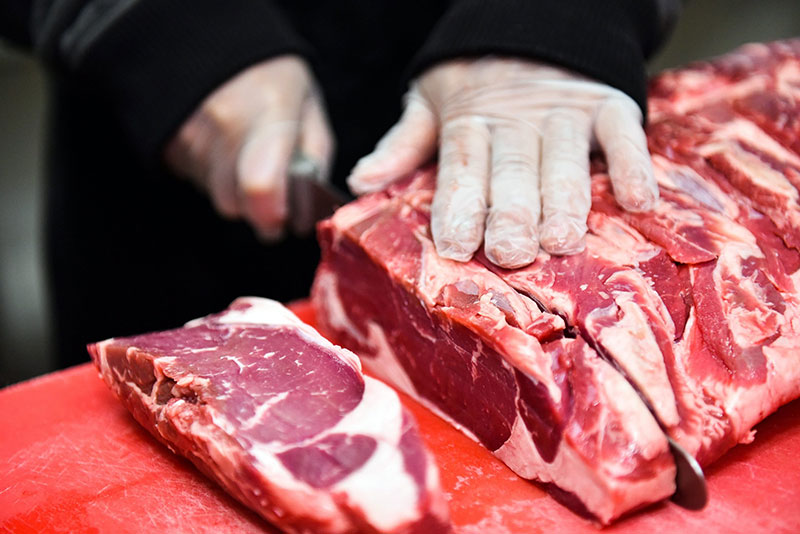 Texas Roadhouse is known for its flavorful, hand-cut steaks.
For example, the length of a 10-oz. ribeye should be 7 to 7.5 meters, while the width should be three to 3.5 inches. If you don't get it right, the texture and the juiciness of the steak will suffer.
"I takes 15 minutes to grill a 10-oz. ribeye. If you cut the meat thicker or thinner than what's specified, the cooking time will be different. Ergo, you might overcook or undercook the steak,"explains Noel.
At Texas Roadhouse, steaks are legendary because of the meticulously defined hand-cut steaks that are grilled to perfection — according to guests' preferences.
Sirloin, for instance, are cut into 6-oz., 8-oz. and 11-oz. portions, while the bone-in ribeye steaks are at exactly 22-oz. All other transformations are cut in accordance to the criteria of Texas Roadhouse all over the world. And while other butchers use machines in slicing frozen meat, Noel and his team use knives and carving looks to skillfully cut each fresh primal and turn them into steaks.
"Imported meat, like the ones we use at Texas Roadhouse, needs to be thawed for three to five days before we can actually clean fat trimmings and cut them accurately into specific steaks," Noel explains.
In the international front, Texas Roadhouse USA holds the annual Meat-Cutting Challenge where butchers compete locally, then advance to the international cut-off for a chance to win the grand prize of US$20,000 and the coveted "Meat-Cutter of the Year" award.
Let's meat at Texas Roadhouse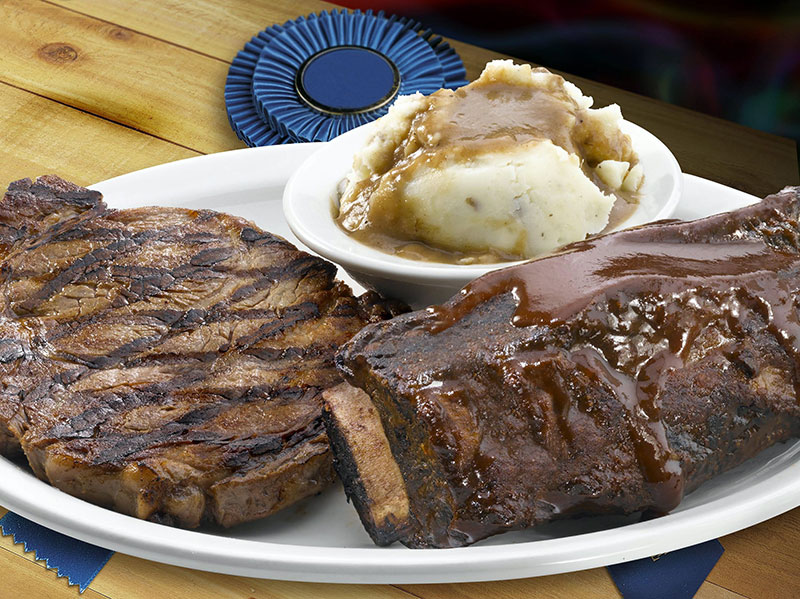 Ribeye Ribs combo at Texas Roadhouse
The meat expert knows how to spot a good steak at a glance.
"The meat should be red and shiny, not reddish-brown with black spots on the edges," says Noel who also encourages steak-loving foodies to be more discerning. At Texas Roadhouse, you can be assured of the meat's quality.
Texas Roadhouse has everything spot on for a quintessential steakhouse experience — from the rustic interiors to the menu, the big serving portions down to the big, bold Southern flavors.
There's a complimentary bucket of peanuts, which we nibbled on while waiting for our steak orders. Then came a basket of Texas Roadhouse's signature freshly baked rolls served with cinnamon butter. One bite and I was hooked. It's soft, buttery and perfectly light. So special are these that the kitchen staff makes them every five minutes — in small batches to guarantee its freshness.
Sirloin Steak
Finally, the long wait was over. Right in front of me was a big, fat steak with visible grill marks. Noel, who I assumed cut the meat, surely knew how to work with the natural grain of the muscle.
"Always cut the meat against the grain," Noel stresses.
The ribeye steak, which contained generous amount of marbling, was so tender, juicy and grilled to perfection.
While Texas Roadhouse lays claim to some of the best steaks in town, it is also known for its fall-of-the-bone ribs, pork chops, beef steak tips, shrimp platter, sirloin, and beef plate.
All entrees include a side dish of your choice — steak rice, sweet potato, baked potato, steak fries, buttered corn, coleslaw, mixed vegetables, mashed potatoes, house salad, steamed rice or season rice — made from scratch.
For two years since its launch in Manila, Texas Roadhouse continues to take American cuisine to even greater heights, making it clearly a "cut above the rest."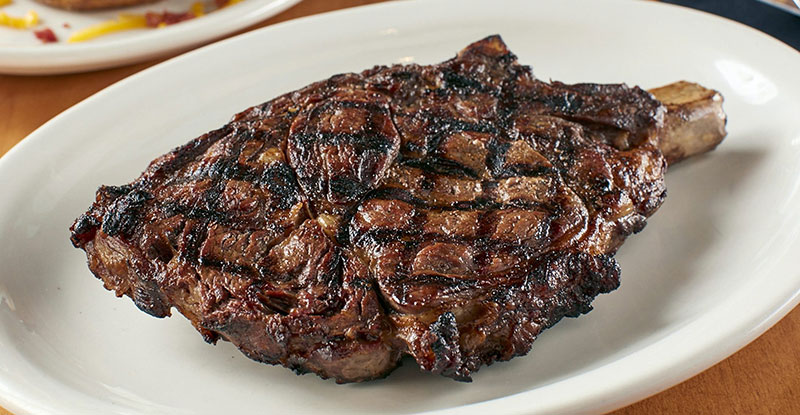 Bone-in Ribeye
* * *
Texas Roadhouse has branches at the 4th Floor, The Deck, Uptown Bonifacio and on the ground floor of S Maison, Conrad Manila.
For inquiries, check out Texas Roadhouse Philippines on Facebook and IG @texasroadhouseph.