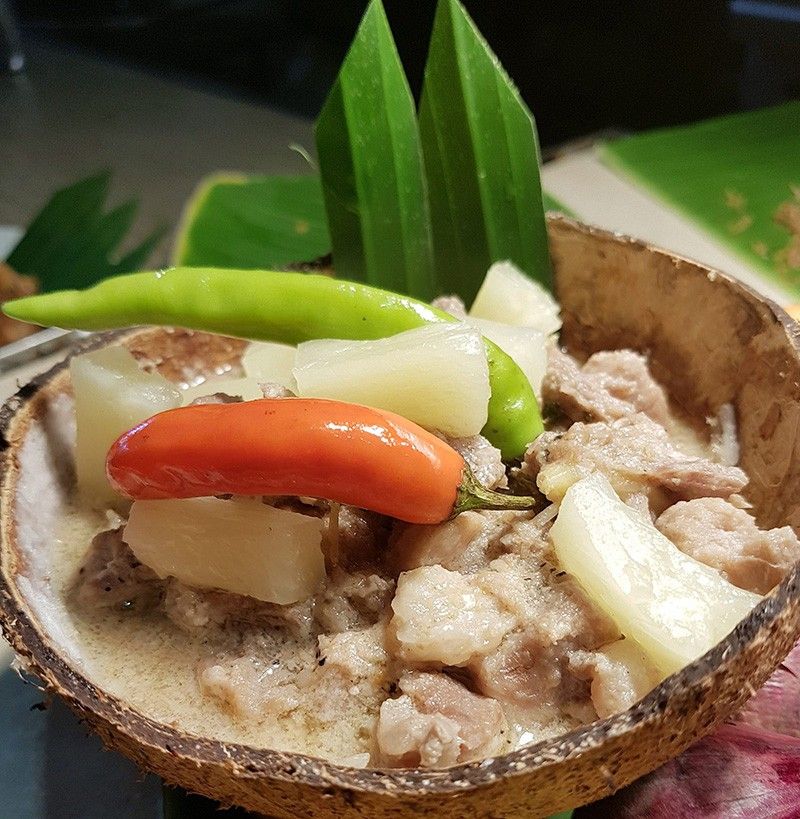 Regional favorite: Bicol Express is composed of pork belly with ginger, garlic, onions, shrimp paste, pineapple, coconut milk, and of course, chili.
Laing, Tinutungan and Sili ice cream? only in Bicol!
Millie: It was an invitation we could not resist, so despite our busy schedule, Karla and I took off on another nature adventure, this time to the Bicol region, the land of pili nuts and chilies. Upon disembarking from the plane when we arrived at Legazpi airport, we were awed by the majestic view of Mayon Volcano and started taking pictures. It is as beautiful and perfect as I remember it to be the first time I set eyes on it some 18 years ago.
We stopped for a quick lunch at Hotel St. Ellis in Legazpi and were served shrimp off the grill, tasty Hoisin pork belly and a delightful pili-nut cheesecake!
As we drove to Misibis Bay, we caught sight of Mount Mayon again and stopped to take a few more pictures. Misibis Bay is on the island of Cagraray, off the western coast of Albay, the principal province of the Bicol region.
We were warmly welcomed at the resort managed by Enderun Hospitality Management. Our corner suite at the Pacific view rooms had a picturesque view of serene waters and mountains in the background. What luck! We toured the sprawling, five-hectare property on a golf cart to check out the cluster of accommodations surrounded by swimming pools before we settled down to sunset cocktails at the beach.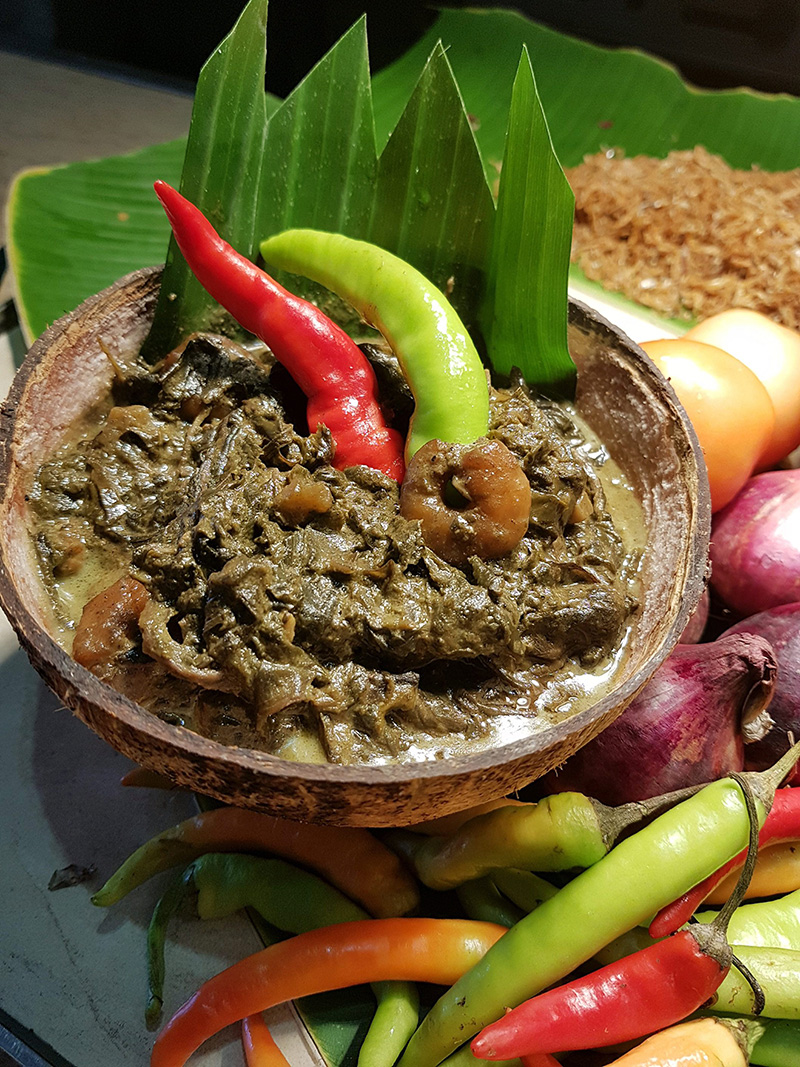 Laing is a classic Bicolano specialty made with shrimp paste, taro leaves, coconut milk and chili peppers.
Karla: Soon it was time for our welcome dinner. We were served nilasing na hipon, which was deep-fried to a crisp. Next came a Bicol sampler with crispy pork tinutungan, Bicol Express and laing all on one platter. Something new to my palate was the tinutungan. It is made of the milk of grated coconut or what we call gata, but before squeezing out the milk, the grated coconut is first burnt in charcoal, thus it's called tinutungan. This gives the dish a deeper, smoky flavor.
The next day was the most action-packed day. We scheduled a series of water sports. We started out with scuba diving assisted by Jeff Angeles, Misibis Bay's recreations supervisor and also our dive master. I learned that before the Misibis Bay development, dynamite fishing was prevalent in that area. Therefore, the corals are still recuperating. They only grow one inch per year, so they imported giant clams from Pangasinan that would attract fish to the area and aid in the rehabilitation of the corals.
Millie: As Karla and friends engaged in water sports all morning, I enjoyed a leisurely breakfast overlooking the pool. Special champorado was served with tiny dilis, or long-jawed anchovies, and crispy espada, or beltfish, both locally sourced and said to be abundant in tropical oceans. It reminded me of merienda on rainy days with my mom. The buffet spread was quite extensive with breakfast favorites, an egg station, an assortment of breads, fresh fruits and all the usual yummies, but I zeroed in on the adobo sa asin — not the usual adobo version I like but it was so tasty, I even went back for seconds! Coffee was good and served at the right temperature.
After breakfast, I took a stroll through the garden pathway back and managed to make a few calls to the office as I enjoyed the picturesque view from our suite. Soon, Karla came knocking and it was time to go island hopping. We rode a speedboat to Pinaghulugan for our island picnic lunch by the beach.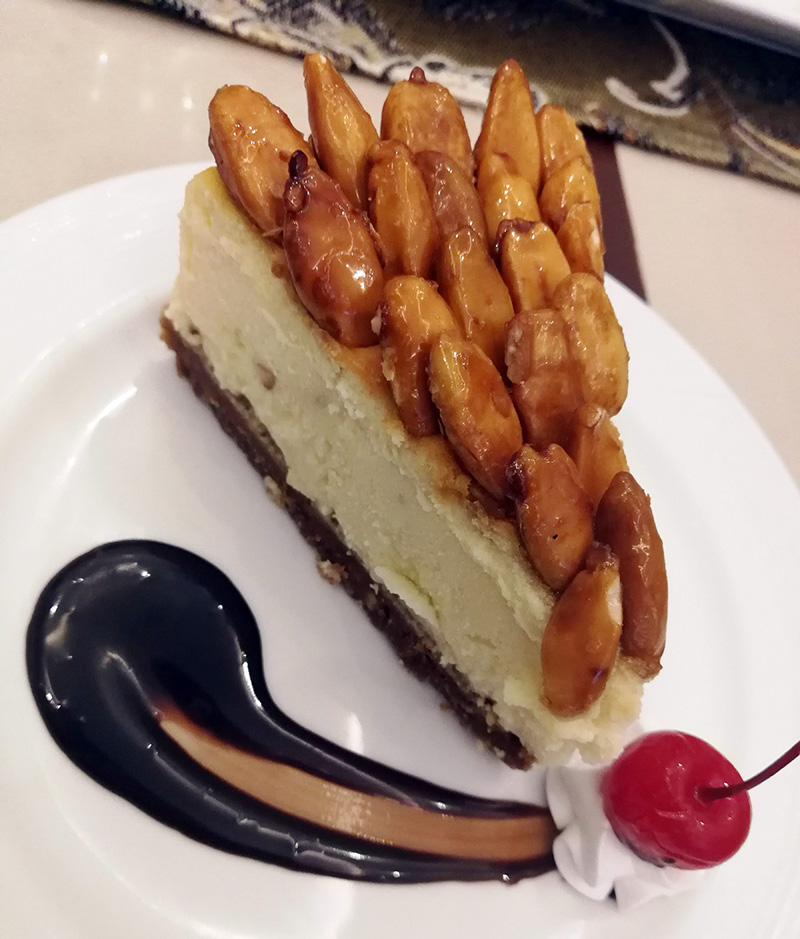 Pili nut cheesecake from Hotel St. Ellis in Legazpi, another hotel managed by Enderun Hospitality Management
Karla: After diving, naturally I was starving and couldn't wait for the island picnic lunch. Misibis Bay set up a private picnic area for us on the beach. We were greeted by Capt. MacDonald, the service captain, who personally made sure that we had everything we needed for a comfortable island picnic lunch. The setup included tables and chairs, beanbags on the sand and to top it all off, full kitchen service. We had our own chef grilling sea crabs, pork belly, fish, chicken and squid on the spot. For dessert, we had assorted fresh fruits.
After lunch, we headed back to the island for more fun water activities in the afternoon. We were able to jet-ski and paddle-board. They also had kayaks, but I felt like trying new things. The rest of the afternoon was spent with good music, sun, sand and occasionally dipping into the water when it got too hot.
Millie: Shortly before sundown, we took a shuttle a few kilometers outside the resort to a scenic place called Five Views for our cocktails-at-sunset experience with a breathtaking view of the five mountains, namely Isarog, Masaraga, Malinao, Asog and the cone-perfect Mayon.
We sat on beanbags in a grassy area and were served pizza bites, kropek and made-to-order cocktails as a bar set up with a dedicated barman was on hand. We exchanged pleasantries and shared stories as we took endless photos. It was a wonderful prelude to another beachfront dinner back at the resort.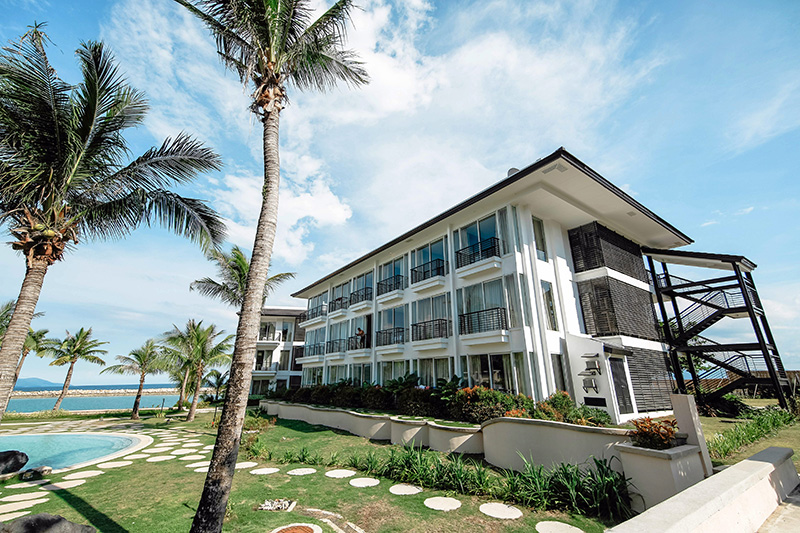 Pacific View Rooms at Misibis Bay Resort on the island of Cagraray, off the western coast of Albay
Karla: For dinner that evening, we had laing and assorted grilled specialties, including prawns and sausages. The highlight of the meal came at the end when we were served three unusual ice cream flavors: sili, tinutungan and pili. The sili variant comes in three levels of spiciness.
Millie: I decided to rent a car to go to Naga City to visit the Carmelite nuns. I called the day before to ask if I could visit and they were more than happy to welcome us, even insisted that we stay with them. Early morning, as we were leaving Misibis Bay, we chanced upon Mount Mayon in all her splendor as she revealed her total self, sans any cloud wrapped around her shoulders. We couldn't help but get off the road for another photo op.
It was a long drive from Misibis Bay to Naga, but Karla and I enjoyed the smooth and traffic-free ride. Upon reaching the Carmelite Monastery, we were welcomed by no less than Mother Margaret Mary, the mother superior, and Sisters Socorro and Teresita.
We were offered a lunch of steamed fish, roast chicken and lo and behold, banana fritters! My eyes popped with joy as I remembered my dad's younger sister Minia, who became a Carmelite nun and was called Sister Mary of the Child Jesus. This is the reason why I feel close to the Carmelite nuns, my spiritual guardians, who have been a source of inspiration and strength.
I was hoping to spend some time in prayer, but chatting with the nuns, whom I had not seen for quite a while, took much of the visit. We walked through the garden and laid flowers on Sister Mary's grave as it was her birthday. Soon we had to depart to catch our flight back to Manila from Legazpi.
As our Carmelite friends bade us farewell and wished us a safe journey, we were offered a carton filled with "crispies" to give to family and friends as pasalubong. These are unblessed bits and broken pieces of host flavored with garlic and salt. Instead of throwing out the edges and rejects as they produce hosts, they recycle them into cookies, crispies and other products and sell it so nothing goes to waste. Surely, a trip to Bicol will never be complete without visiting them.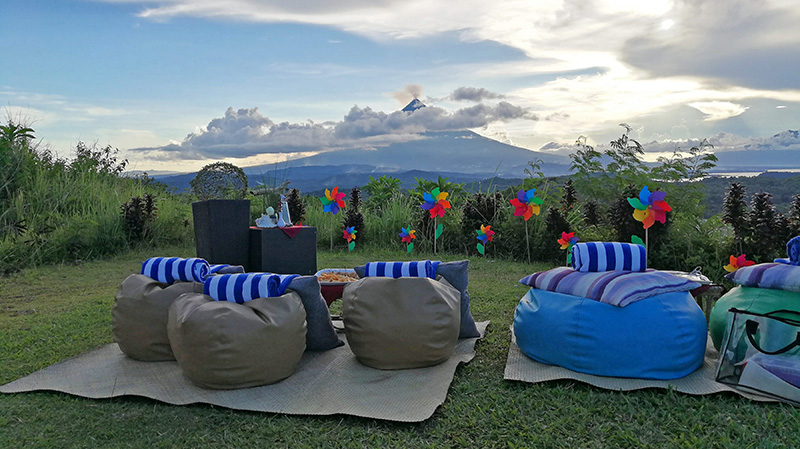 Lounging with a view and cocktails, too! Chill lounge set up with a personal bartender and waiter, while we watch the sunset and the Mayon volcano.
* * *
Send email to milliereyes.foodforthought@gmail.com. and quichethecook.ph@gmail.com. Find us on Facebook: Food for Thought by Millie & Karla Reyes.